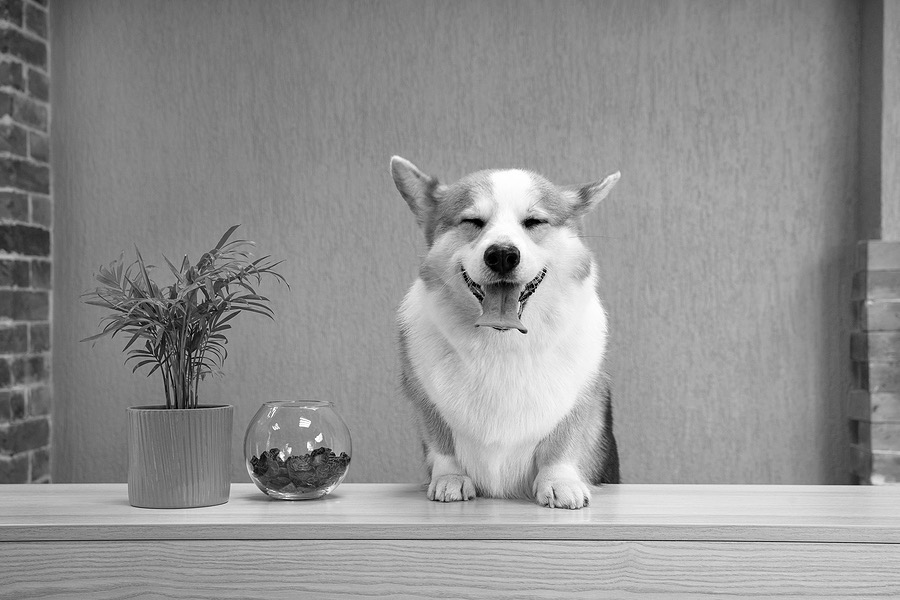 Their faces are adorable. Their butts are irresistible. They're Corgis, and they can be found on all kinds of stamps, envelopes, notebooks, planners, and washi tape, so let's dive right into the world of Corgi stationery and show you some of the best!
1. Corgi Butt Sticky Notes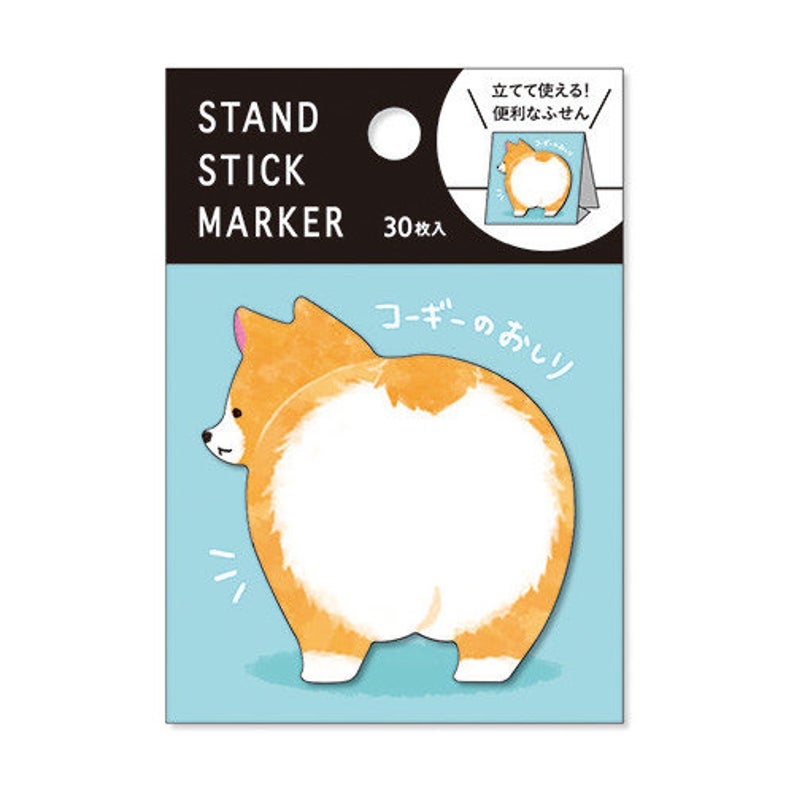 There's nothing more iconic than a Corgi butt, and with these sticky notes, you can imagine their furry little wiggles all day long. The backside of the Corgi will be your writing space as you dash off messages to your co-workers or stick reminders and appointments on the fridge. The notepad is made in Japan, the land of eternal kawaii, so you can rest assured of its commitment to cuteness.
---
---
2. Super Corgi Stickers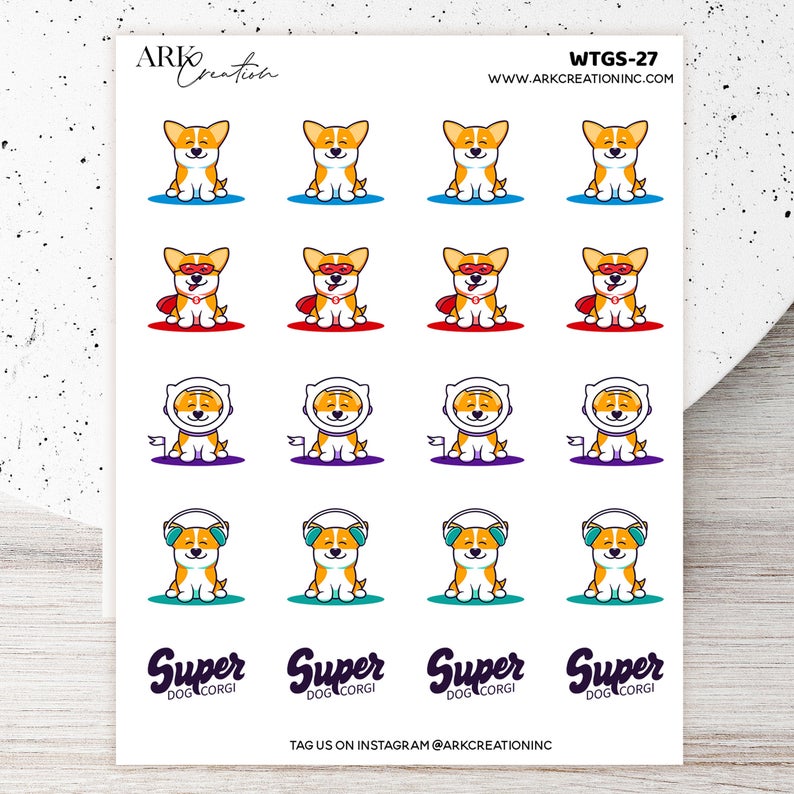 It's a bird! It's a plane! It's a Super Corgi! These ultra-cute stickers can be used in journals, letters, lesson plans, and more. Each one depicts a cartoon Corgi living its best life, including life as a superhero and an astronaut. It'll be adorable and inspiring all at once.
---
---
3. Faux Leather Corgi Notebook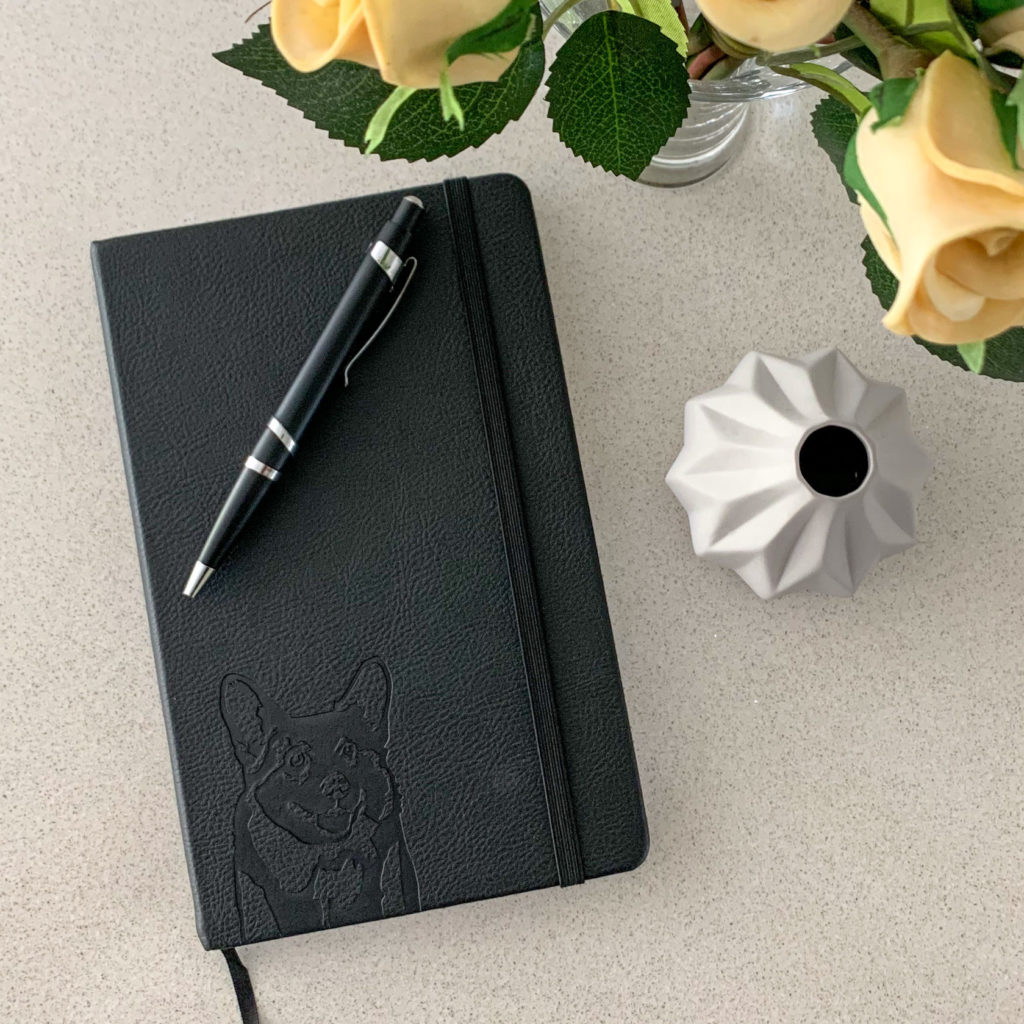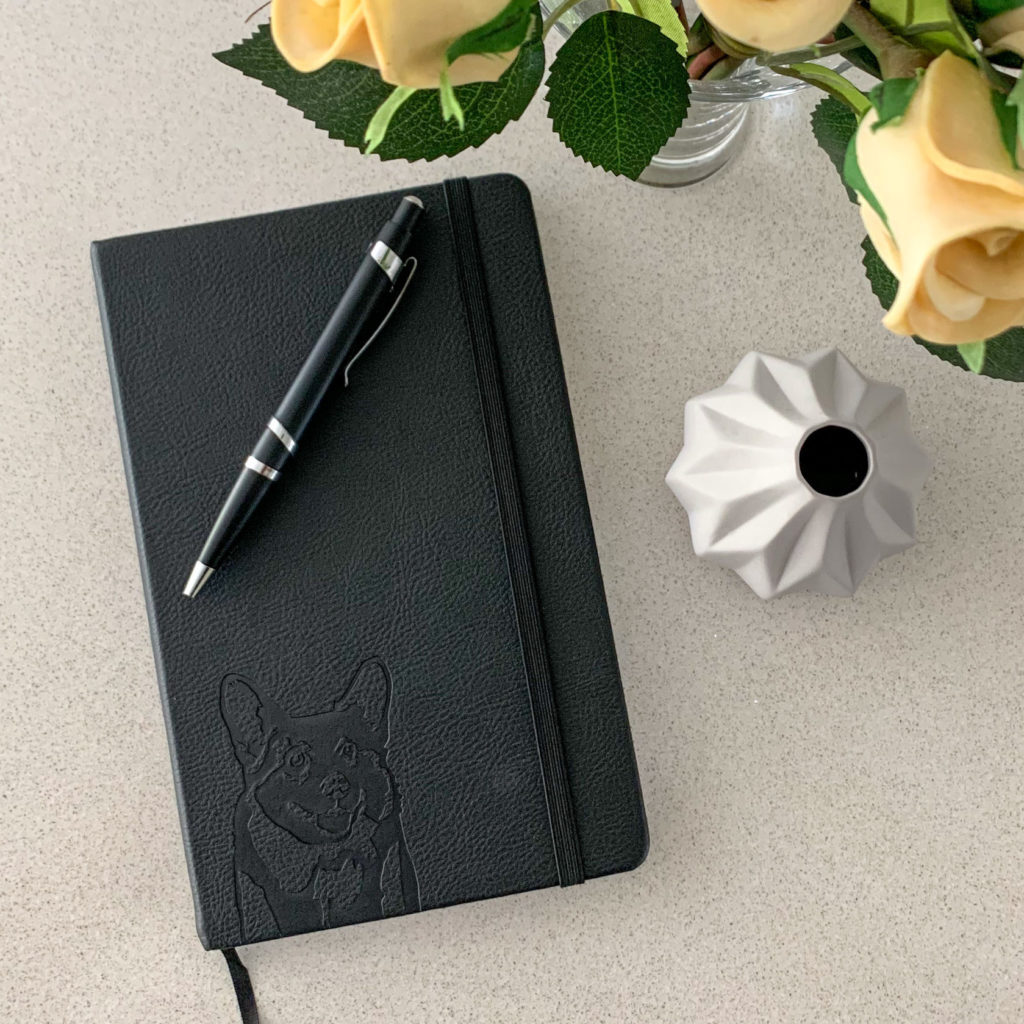 With its matte black faux leather hardcover, you might think that this notebook is more chic than quirky… but that's until you look a little closer and see the debossed Corgi print on the front! There are also cute dog silhouettes on the flyleaf. This is the notebook to buy if you want something stylish enough for work or school but cute enough to fully display the charms of a Corgi.
---
---
4. Happy Corgi Washi Stationery Tape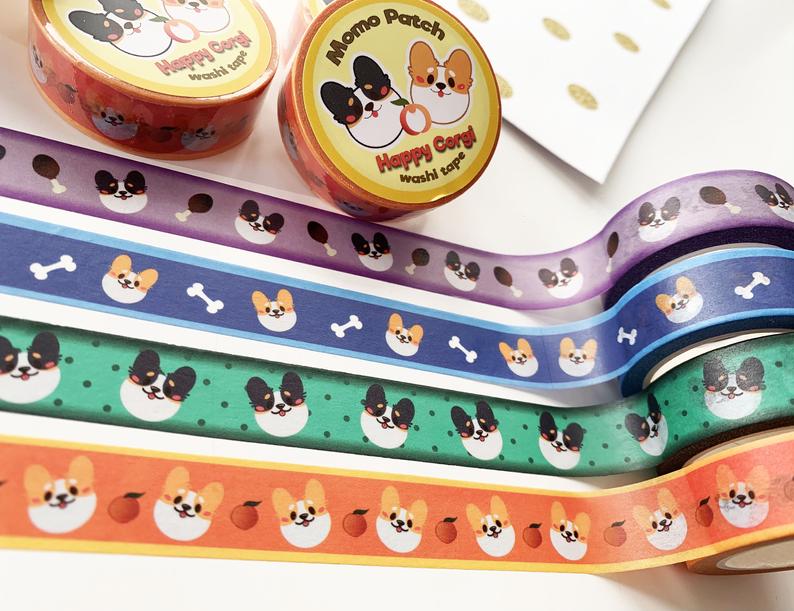 Available in four different colors and a rainbow bundle that includes them all, this washi tape can be used everywhere from labels and letters to arts, crafts, and gift wrapping. Its cute print includes dogs, bones, fruits, polka dots, and more. Each roll has a "theme" like peaches or mint with a corresponding color scheme, so you can choose your favorite or collect the whole set!
---
---
5. Peeking Corgi Dog Square Rubber Stamp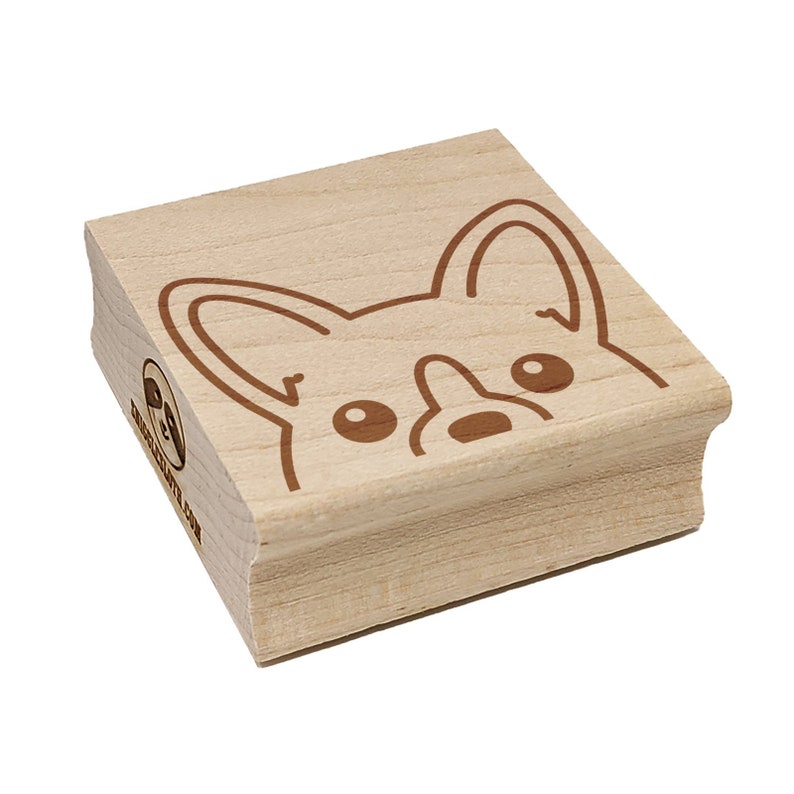 If you own a Corgi, you're probably familiar with the wide-eyed look of a pup that's peering over the arm of the couch in hopes of getting a bite of your dinner. How would you like to have it on a stationery stamp? It's made with a combination of wood and rubber, and you can use it with paints, acrylics, watercolors, and traditional ink pads. As the seller says, it's "small in size but big in character."
---
---
6. Corgi Personalized Notepad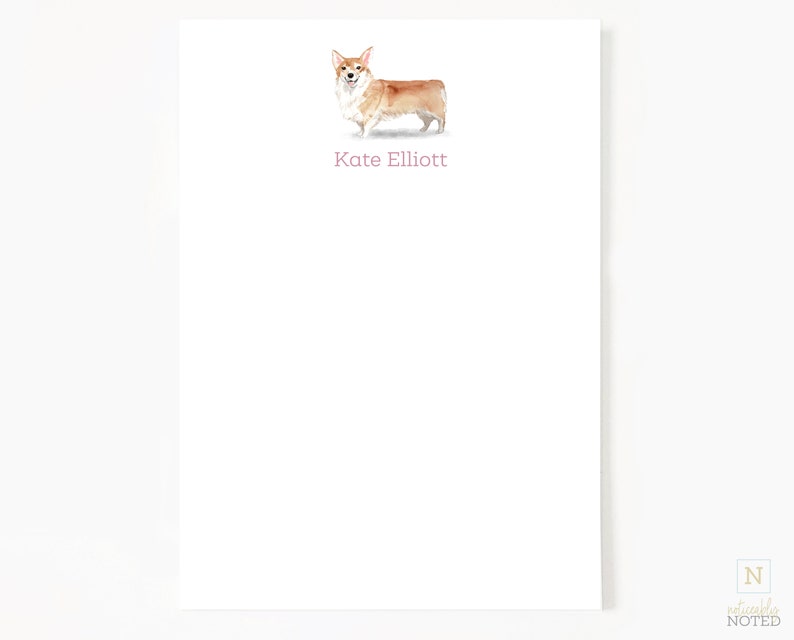 Perfect for the office, this notepad comes in sizes ranging from 4.25″ x 5.5″ – 8.5″ x 11″ with options for both 40- and 90-count sheets. Each page has a lightweight card stock backing for additional support, and the paper itself is a premium, extra-bright variety that's thicker than regular paper. Best of all, there's a Corgi on every sheet, and you can personalize the notepad with your own name right under them. It'll be great in a group setting where you need to easily distinguish your own materials.
---
---
7. Corgi Gel Pens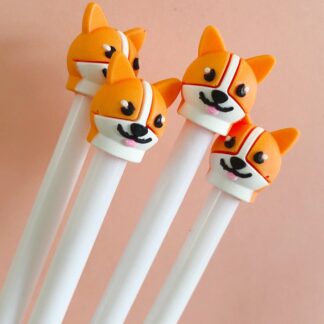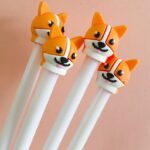 The only thing better than writing on Corgi paper is writing with Corgi pens! These delightful little "Corgi heads" have the big ears and orange-and-white faces of your favorite breed, and they can be stuck to the top of any standard-size writing utensil. For your convenience, they're shipped with a black gel pen at the time of purchase, but you can easily detach and reattach them to whatever you'd like. They'll last far longer than the lifespan of a single pen.
---
---
8. Corgi Kaleidoscope Blank Greeting Card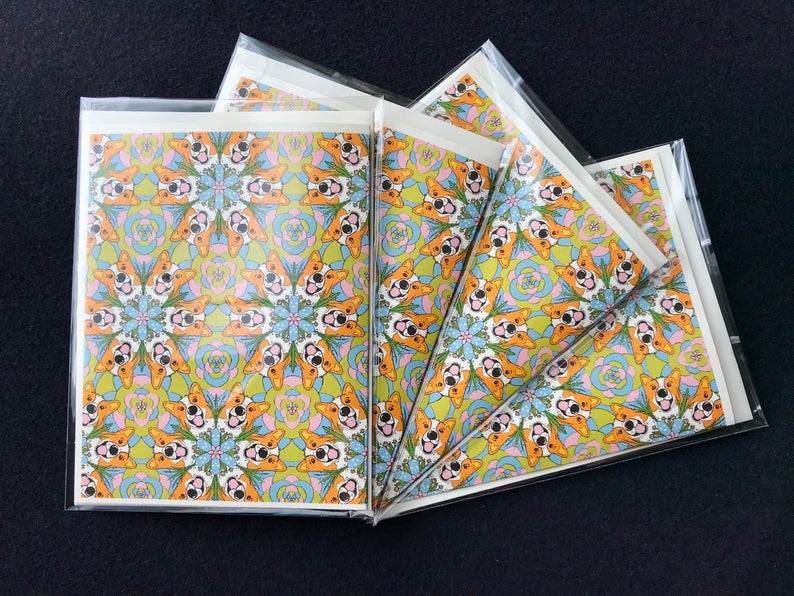 Are you so obsessed with Corgis that you feel like your entire brain is swimming with them? If so, this might represent a little of your passion. The inside is plain white that you can customize for any occasion, but the outside has a "psychedelic" design with bright, busy patterns of Corgi heads blossoming out of colorful flowers. It's just as memorable as it sounds, so if you're looking for a greeting card that will really leave an impression, this is the one for you.
---
---
9. Watercolor Corgi Spiral Notebook
Watercolors are a wonderfully artistic way to add flair to home and office stationery, and this notebook makes full use of both color and style. A trio of Corgis decorates the cover with a splatter design that makes their rainbow hues "melt" down the front. Inside, more than 100 lined pages are ready for your writing and doodling, and a spiral binding holds them all together. There's even a document pocket inside to hold loose-leaf photos and papers.
---
---
10. Corgi Sticky Bookmark Set for Planners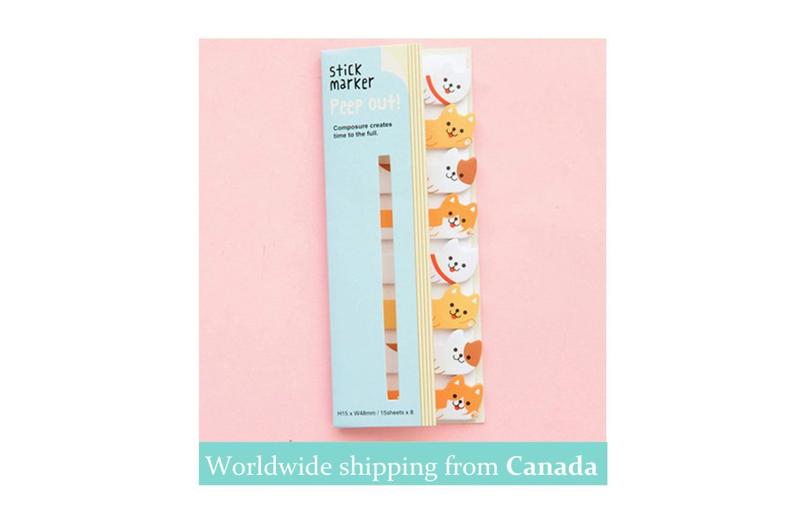 These "peep out" bookmarks are ideal for planners and binders where you need to keep things organized. They come in two sets of four, and each one in the set looks like a different kind of Corgi. Some are them are even smiling and waving their paws to help you hold your place. If you're looking for cute, quirky stationery that will put you in a good mood whenever you use it, consider these peep-out bookmarks.
---
---
11. Corgi Face Smushed Vinyl Weatherproof Sticker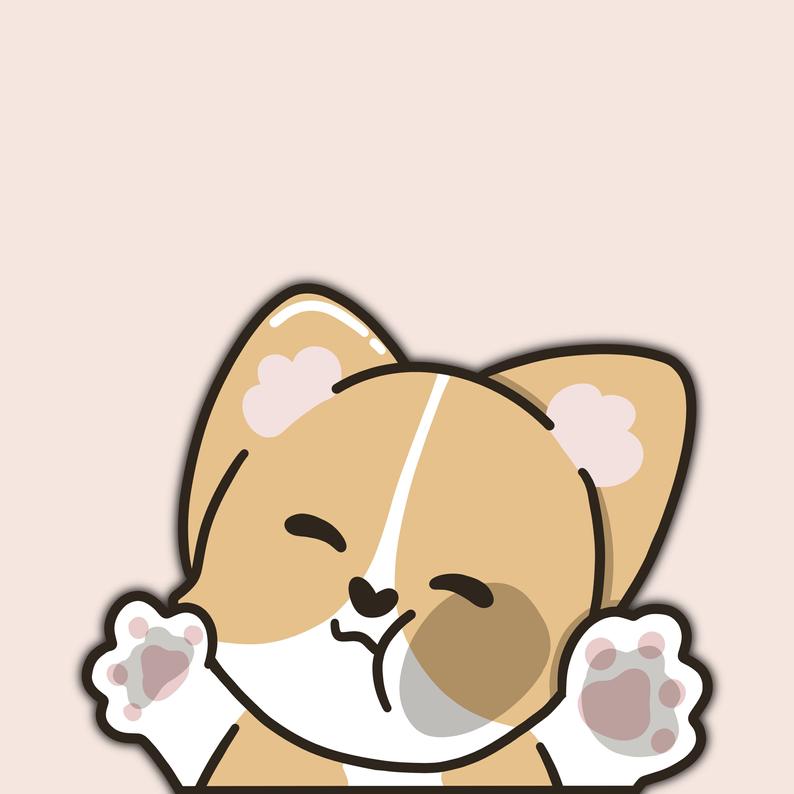 Another Corgi face that you're probably familiar with is the "smushed face Corgi" that's pressing against the window or patio door because they're eager to join you outside. This sticker is a squeal-worthy version of it, and it can be applied to cars, windows, bumpers, laptops, water bottles, and more. Its weatherproof vinyl material is suitable for both indoor and outdoor use, so go nuts.
---
---
12. Pembroke Corgi Stationery Set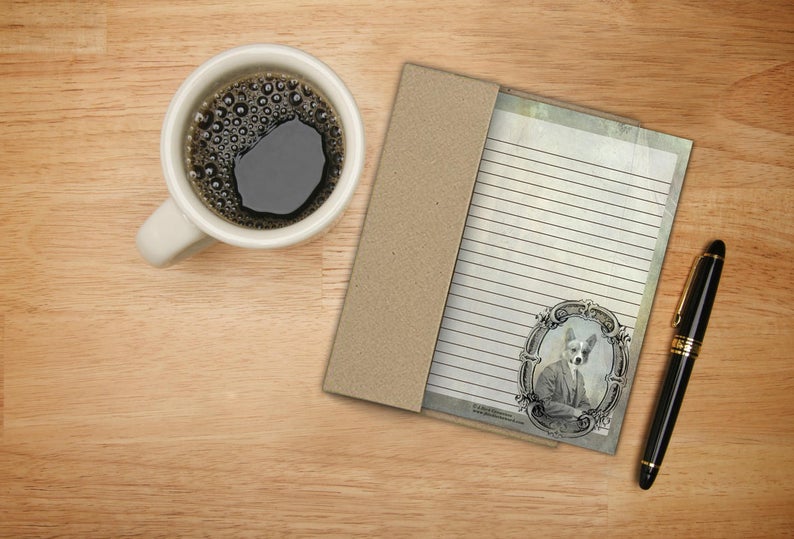 This is the kind of stationery set that will make you do a double-take. It has a formal, old-fashioned look with its aged paper and brown envelopes, and there's even a vintage portrait print of a man in a suit at the bottom. However, the man has the head of a Corgi! The print actually depicts Mr. Corgi Flutterbutt, Esquire, and he's here to help you deliver your missives like a proper gentleman.
---
---
13. 35-Piece Kawaii Corgi Stickers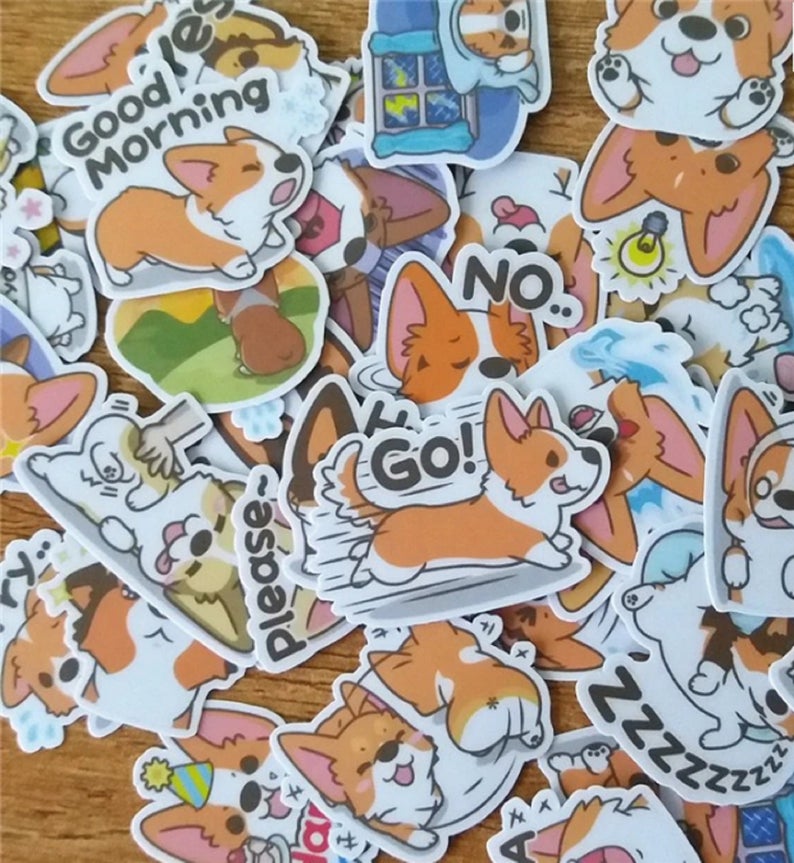 Delight the dog lover in your life with this pack of stickers. There are almost three dozen in total, and like the name promises, they all have cute kawaii-style Corgis. Some are happy and energetic; some are lazy and grumpy; some are wearing birthday hats or expressing sentiments like "Good Morning!" or "On the Go!" Simply put, there's a Corgi for every occasion, so these stickers will make a great gift for someone who likes creativity and versatility.
---
---
14. Corgi Dog Return Address Rubber Stamp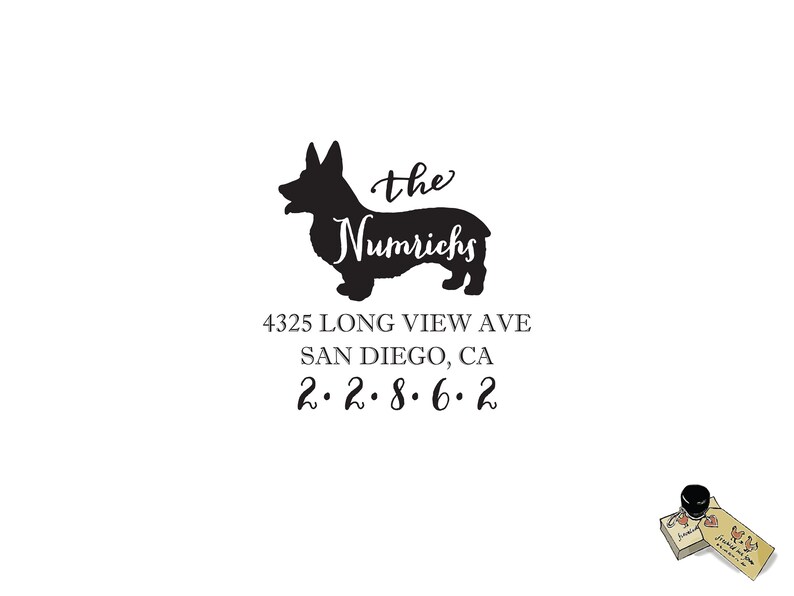 This is another stamp for people who like putting a personal touch on letters and documents. Not only does it have the fun, unmistakable silhouette of a Corgi, but it can also be customized with your name and address to function as a return label. It's available in both regular and self-stamping varieties, and you can order the stamp alone or the stamp with a handle. Overall, it's a cool stamp with a lot of time-saving potential.
---
---
15. Corgi Planner Stickers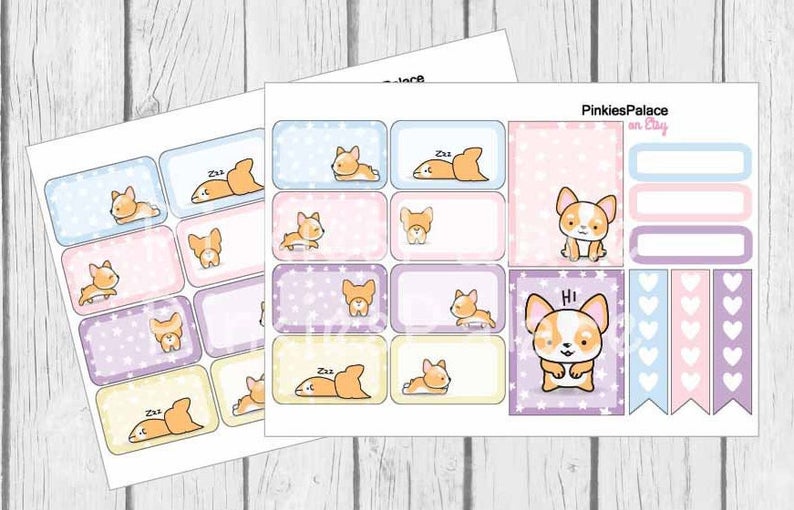 With pastel colors and cute cartoon Corgis, these stickers are sure to bring a smile to your face as you carefully place them into planners, diaries, and notebooks. They come in various shapes and sizes to suit different journaling needs, and they'll work just fine with both vertical and horizontal writing tablets. They're even handmade for that extra charming factor.
---
---
16. Handmade Lined Corgi Memo Pad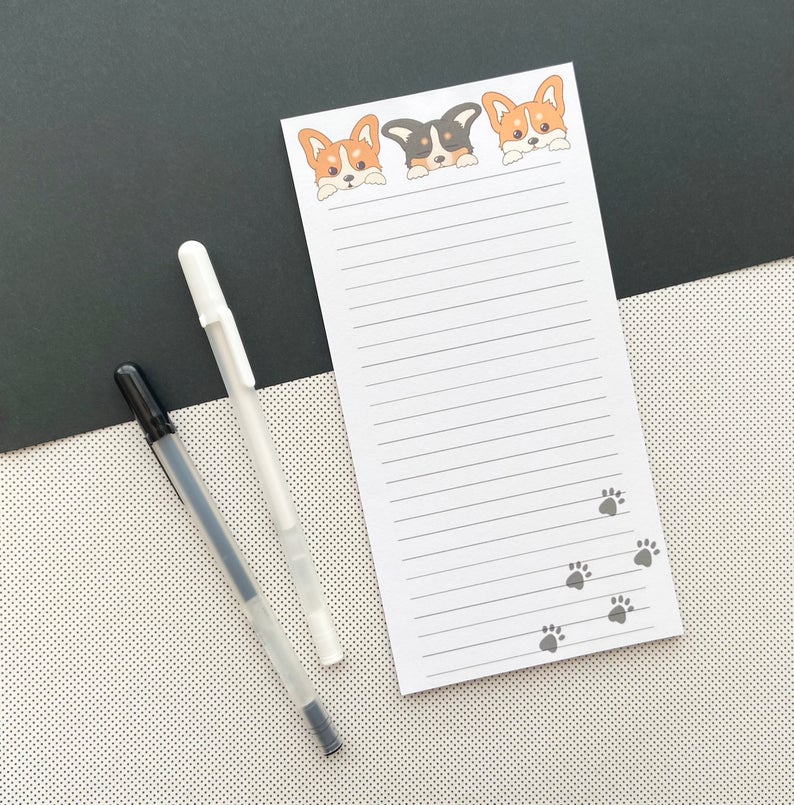 Another great tool for busy folks, this memo pad measures 8″ x 4″ with lined sheets for easily keeping track of names, dates, appointments, and grocery lists. You can also order it with a magnetic clipboard backing to hang it on fridges and lockers. Three Corgis peer down from the top of the sheets while paw prints walk along the bottom. If you want to stay organized with a little flair and style, this is the way to do it!
---
---
17. Extra-Long Corgi Bookmark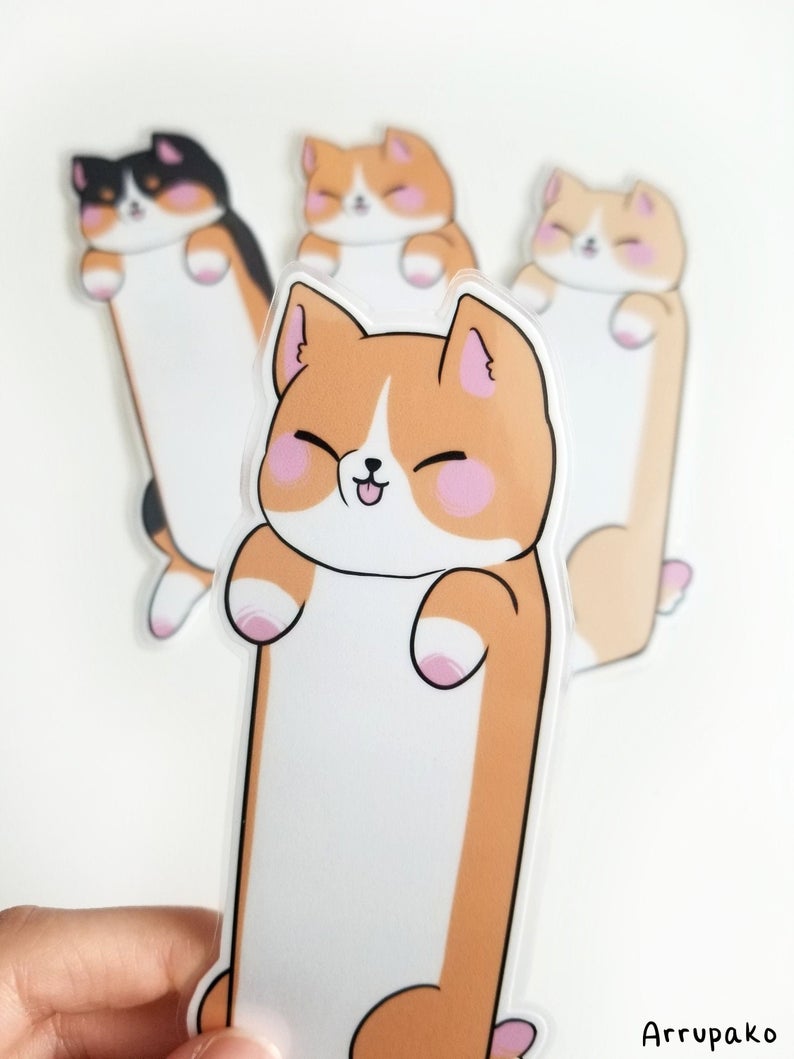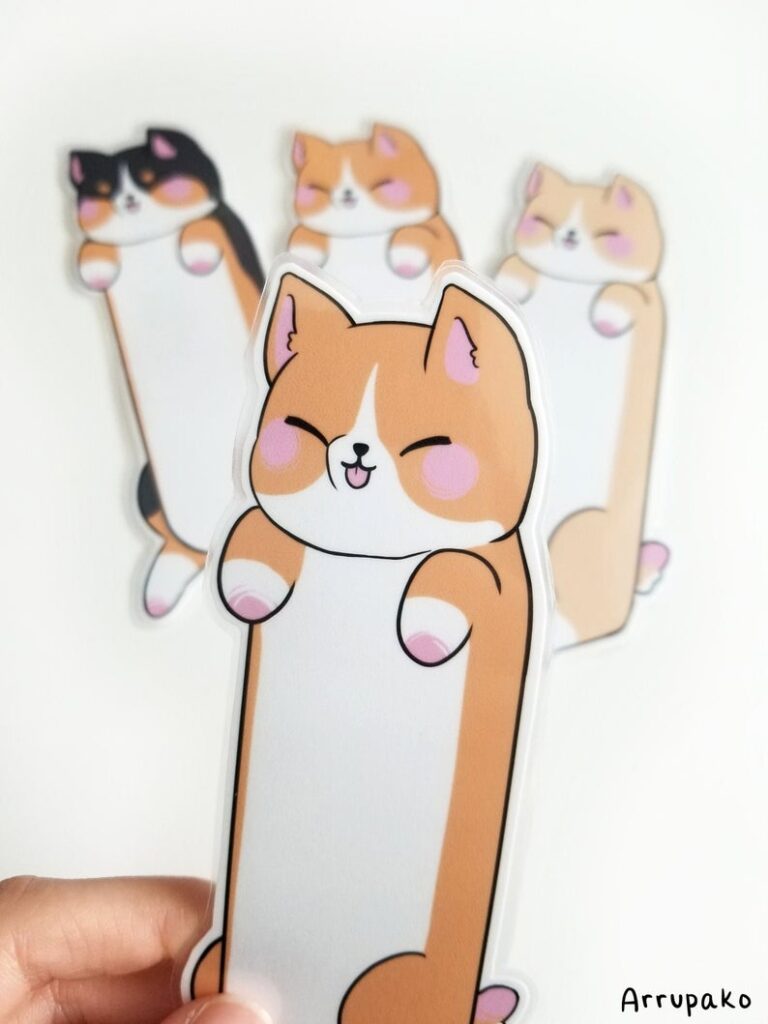 Available in three color schemes that are common to Corgis, these bookmarks are so cute that they'll turn you into a voracious reader just for the chance to use them. The pups have extra-long bodies to hold your place in the book. Below their smiling faces, their curled paws hang over the pages. They'll be reading To Kill a Mockingbird right along with you.
---
---
Corgi stationery is a great way to bring your passion for the breed into your everyday life. Whether you're a student, scrapbooker, office worker, letter writer, note-taker, or general stationery lover, use these Corgi accessories for some extra pizzazz!