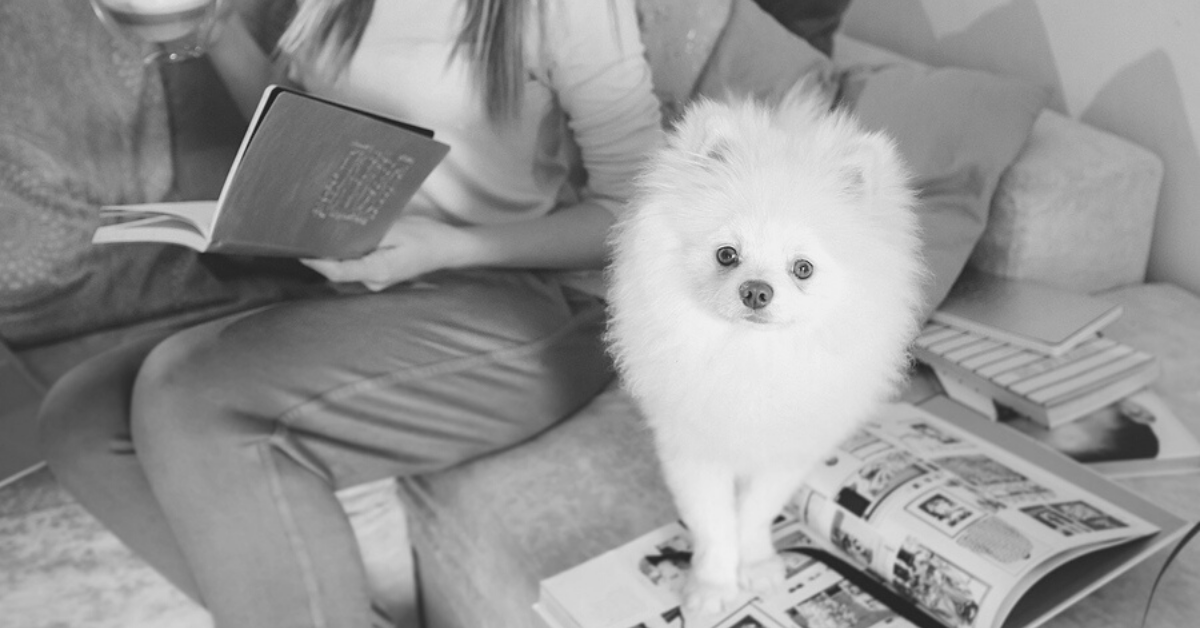 The best dog books are ones that combine the love, humor, whimsy, and hilarity of their subjects. Whether your pooch is cuddling into your side or making you chase them around the house while they're sopping wet, they definitely leave an impression.
Here are just a few of the best dog books that embody their spirit!
1. Dog People
"What kind of person would this dog be?" It's a simple question that spawned an entire book, and the results have to be seen to be believed. In Dog People, photographer Sandra Muller dresses up Collies, Poodles, Beagles, and Bulldogs in funny outfits that reflect a dozen different careers and lifestyles. From bowtie-wearing professors to motorcycle-riding rebels, you've never seen canines quite like this!
---
---
2. Finding Home: Shelter Dogs and Their Stories
Finding Home: Shelter Dogs and Their Stories is a touching tribute to lost, abused, abandoned and neglected dogs who found new lives through animal rescue organizations. From a retired racing Greyhound to a mutt who lost his hearing during a drug bust, every dog has a story, and this book shares them. It will definitely make you appreciate your pet. You might even give them some extra snuggles just for being them.
---
---
3. Treat!
You'll never see a greater expression of joy than when a dog is receiving a treat. There's simply nothing else like it. Treat! captures this pure and wholesome energy with a series of before-and-after snapshots of dogs receiving snacks. Some are sweet; some are hilarious; some are surprisingly heartfelt. All of them will leave you smiling like you just received a treat, so this book will be a great investment for feel-good moments.
---
---
4. The Book of Dachshunds
With their big eyes and little sausage body's, Dachshunds are some of the cutest dogs on the planet, and The Book of Dachshunds celebrates this fact by offering more than 100 photos of the breed. It's a high-quality coffee table book, but beneath its chic and minimalist cover, the Doxies are displayed in their full glory. The book doesn't skimp when it comes to portraying their fun, feisty personalities with color and vigor.
---
---
5. The Dog Encyclopedia: The Definitive Visual Guide
The Dog Encyclopedia is a definitive guide to all things canine. It covers more than 400 breeds in total, and every page is jam-packed with information on their health, habits, temperament, training and history. There are also plenty of pictures for identification and education! Whether you're an owner, breeder, trainer or just a general doggie enthusiast, you can get a lot from this encyclopedia.
---
---
6. Susie's Senior Dogs
Susie's Senior Dogs became a viral sensation when the world first learned about over-the-hill dogs being given a second chance through a seniors-only adoption center. This book is the result of the owner compiling her favorite stories and photos into one large collection, and it's more heartwarming than you could ever expect. An elderly dog has just as much love to offer as a young pup, and Susie's Senior Dogs will prove it!
---
---
7. The New York Dog
There's a lot to love about the Big Apple, including its canine residents. The New York Dog will take you on a journey throughout NYC from the eyes of its dogs. They walk the sidewalks, visit the cafes, ride in the taxis, and lounge in the high-rises just like their human counterparts. Every picture will tell a story, and every story will make you smile. Even if you've been to New York City before, you've probably never considered it from a dog's eye view.
---
---
8. At Home in the English Countryside: Designers and Their Dogs
At Home in the English Countryside: Designers and Their Dogs is just as quaint and charming as its subject matter. It showcases all kinds of houses, gardens, and cottages as well as the Pugs, Spaniels, and Terriers that live within them. You might even get some style inspiration from their decor! Grab a notebook and jot down your own ideas for oriental rugs, winding staircases, sunny napping nooks, and vine-filled trellises.
---
---
9. Devoted: 38 Extraordinary Tales of Love, Loyalty, and Life With Dogs
You've probably heard of Hachiko, the eternally loyal dog who waited at the train station every day for his deceased owner, but did you know that there are millions of other Hachikos out there? Devoted covers just a few tales of love and faithfulness. From dogs who act as emotional support animals for combat veterans to dogs who have been trained to sniff out cancer and other diseases, you'll be amazed at some of these uplifting, inspirational stories.
---
---
10. Norbert's Little Lessons for a Big Life
Norbert is a pint-sized pooch with a lot of love to give. He's a therapy dog, so he's quite experienced at delivering support to those who need it, and he's willing to share his know-how with the rest of us in Norbert's Little Lessons for a Big Life. Each page comes with both an adorable photo and a valuable lesson. If you don't know who to trust in this crazy world, trust Norbert.
---
---
11. The Big Book of Tricks for the Best Dog Ever: A Step-by-Step Guide to 118 Amazing Tricks and Stunts
Gone are the days when "sit" and "rollover" would amaze onlookers. In the world of viral videos and elaborate dog shows, you'll need something special to make your dog stand out from the crowd, and The Big Book of Tricks for the Best Dog Ever will show you how. You don't even have to be a professional trainer! As its name suggests, it breaks down every trick into small, detailed steps, so you'll be filming dog stunts in no time.
---
---
12. Wet Dog
Bath time can be a very special, intimate time with your dog. It can also be a wild ride filled with suds, splashes, full-body shakes and hilariously soapy mohawks. In Wet Dog, photographer Sophie Gamand takes you through the full range of emotions that are experienced by pet owners when it's time to get their charges clean. You'll laugh; you'll sigh; you'll sympathize with every slobbery towel and ruined pair of shoes.
---
---
13. I'm a Good Dog: Pit Bulls, America's Most Beautiful (and Misunderstood) Pet
Pit Bulls are highly stigmatized animals, but author Ken Foster lays those stereotypes and misconceptions to rest in I'm a Good Dog. Offering stories, photos, jokes, and fact-checks, he explores this misunderstood breed with humor and heart, and he makes a very compelling case for why Pit Bulls are actually good boys who deserve lots of treats.
---
---
14. Puppy Styled: Japanese Dog Grooming: Before and After
Dog grooming is a booming industry in Japan, and when you see these before-and-after photos, you'll understand why. Puppy Styled showcases all kinds of clipping, cutting, dying and styling techniques, and you'll be amazed at the way that the pups go from shaggy to stylish. You might even find yourself looking at your own dog and saying "hmmm." When's the last time that you had Fido groomed?
---
---
15. 101 Salivations: For the Love of Dogs
Covering everything from the tiniest of Chihuahuas to the largest of Great Danes, 101 Salivations: For the Love of Dogs is a portrait book that will keep you turning the pages to see what cutie pie is next. As promised, there are exactly 101 featured dogs, and they range from adorable little snoozers to big, excited goofballs who are ready to bound off the page. It's definitely a book that will put a smile on your face, so if you need a little extra serotonin, this is the way to get it.
---
---
16. Dog Shaming
Every dog owner can tell you about the time that their beloved little pet ate something gross or peed on something that shouldn't have been peed on. Dog Shaming is a laugh-out-loud compilation of some of the world's worst doggie sins, and to make things even funnier, each dog has a homemade sign that details their crimes. You won't know whether to commiserate with the owners or giggle at the dogs who thought that they could get away with some truly bad behavior!
---
---
17. Chicken Soup for the Soul: Life Lessons from the Dog: 101 Tales of Family, Friendship & Fun
Last but certainly not least, if you're in need of a little pick-me-up, a Chicken Soup for the Soul book is always a good choice. This one is even devoted to our canine companions for an extra dose of sweetness and tenderness. Dogs are some of the best creatures on the planet, and once you read these stories, you'll want to go out and adopt a new pooch right away!
---
---
Wrapping up
These are just a few of the best dog books that chronicle the joys, sorrows, triumphs, and hilarious mishaps of our four-legged friends. Whether you're giving a gift or shopping for yourself, consider picking up one of these titles!
From Our Store