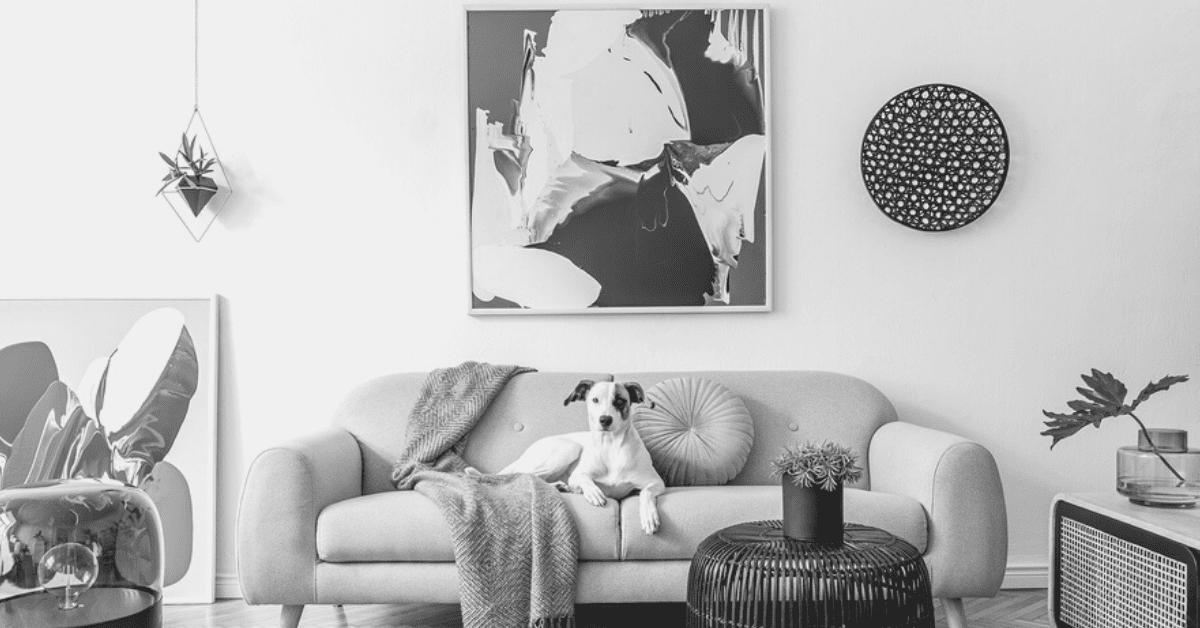 Love your dog more than words can describe?
There's no better time than now to rejuvenate and refresh your living space. So, why not include some dog-themed decorations in your home to show the world how much you love your pooch?
They don't have to be kitschy. Modern dog decor can be sophisticated, and we'll show you how.
Here are 33 dog decor ideas for a chic, modern, and sophisticated home experience.
33 Chic, Modern, and Sophisticated Dog Decor Ideas
1. Grayscale
You can add elegance to any print or portrait when you turn it into a black-and-white picture. This is especially true if you arrange it in an artistic frame.
2. Bookends
Perfect for offices, libraries, and fireplace mantles, doggie bookends can add visual interest along a horizontal line. They can even make chuckle-worthy pairs like "dog lifting his leg" and "fire hydrant."
For example, check out this quirky Dachshund bookend from April & Oak: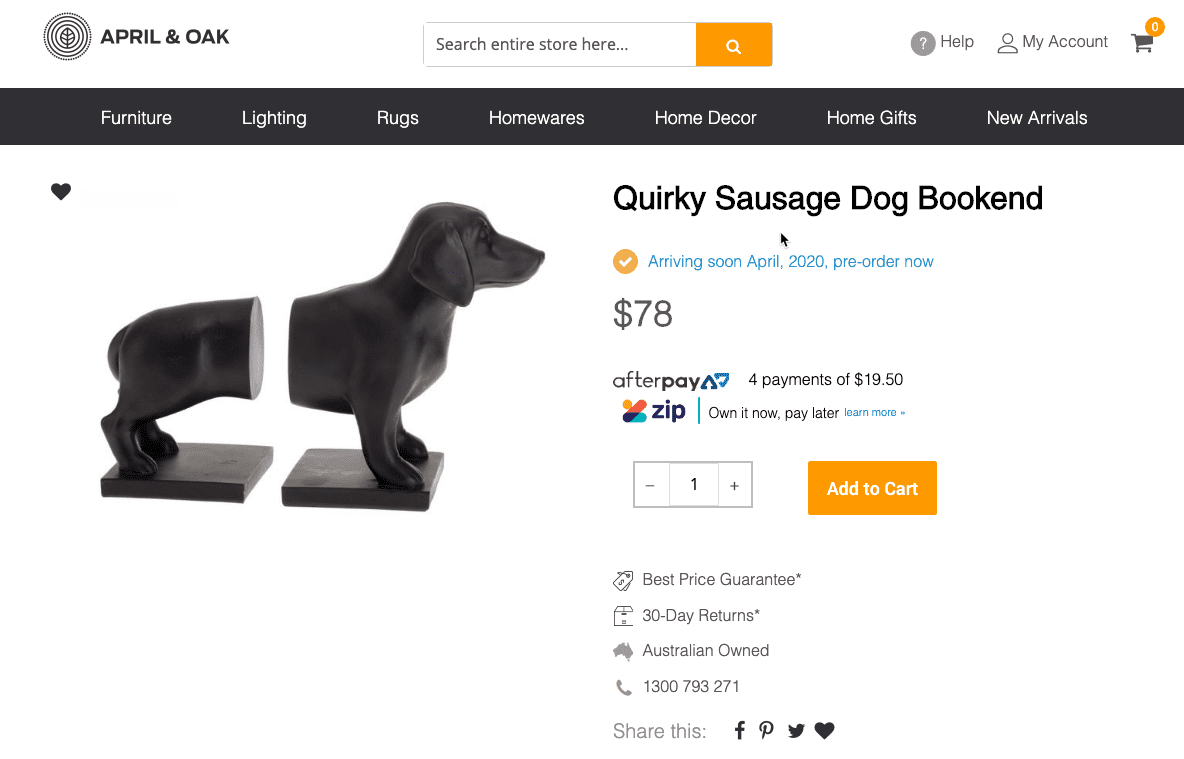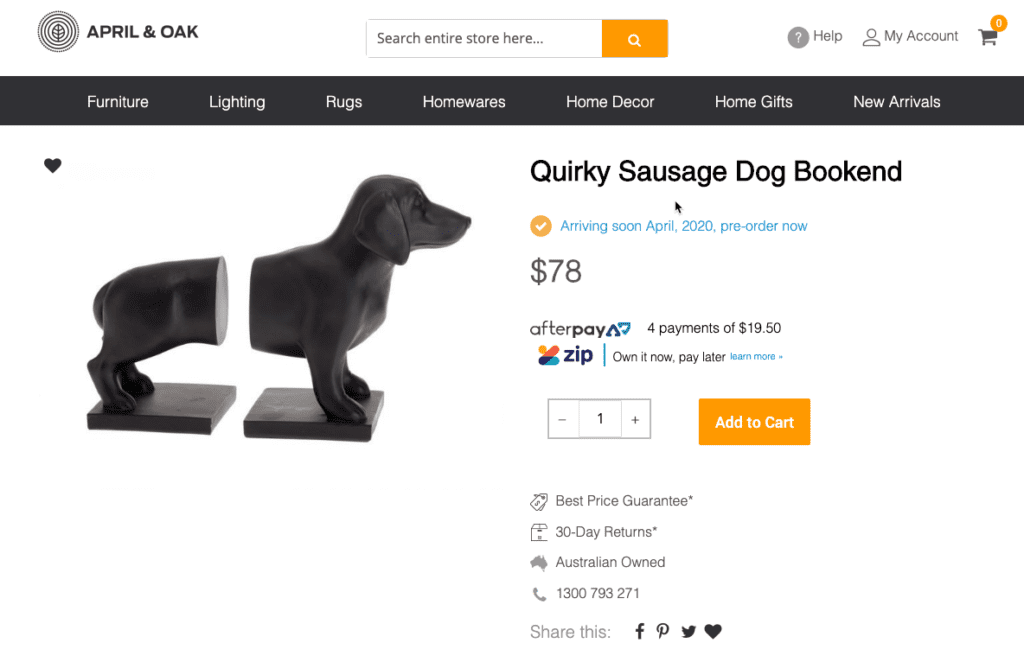 3. Coffee Table Books
Coffee table books are both fashionable and functional for the modern home. Hardcover, modern-design books are particularly good at offering a sharp addition to your buffet or coffee table. Check out our range of coffee table books here or shop Frenchies, Pugs, or Dachshunds individually. The Book of Frenchies is in the picture below: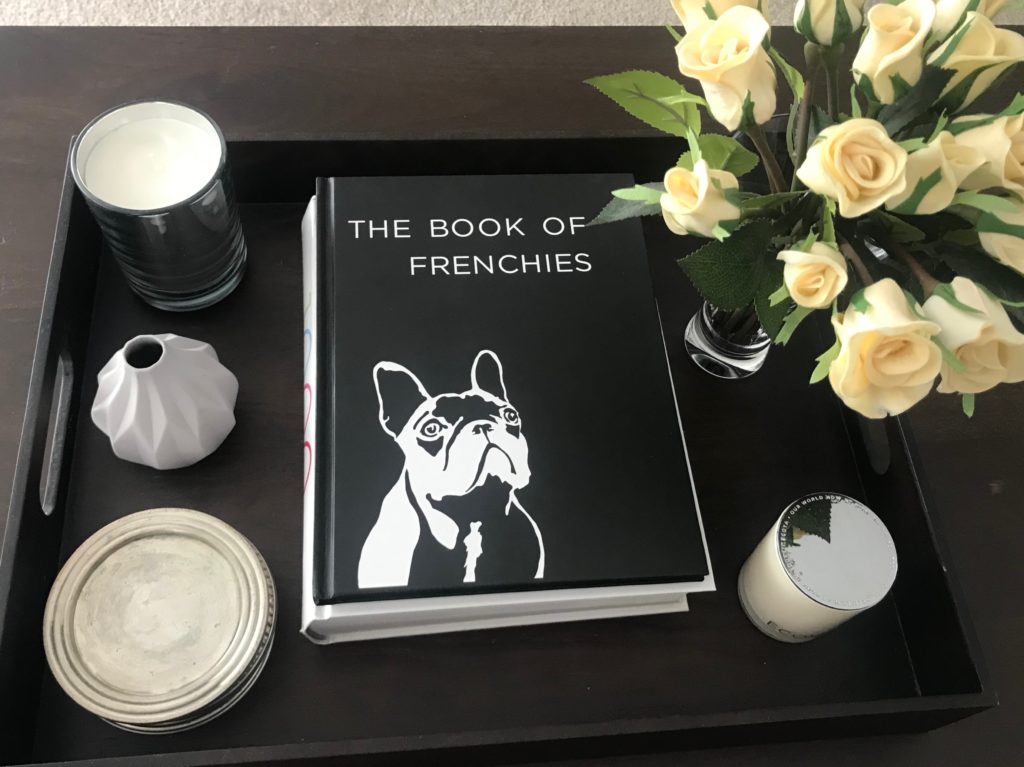 4. Silhouettes
A striking silhouette is an automatic head-turner, and you can find dog silhouettes in everything from art prints to wooden block carvings. It's just a matter of choosing the right products to match your personal home decor.
5. Typography Prints
You've probably seen interesting flowing scripts with motivational sayings printed on coffee mugs and wall hangings. They also come in canine varieties!
6. Dalmatian Spots
Dalmatian spots are the zebra prints of the canine world. You don't have to own one to appreciate the aesthetic or incorporate it into your interior design.
Check out this unique stencil for painting Dalmatian spots in your home: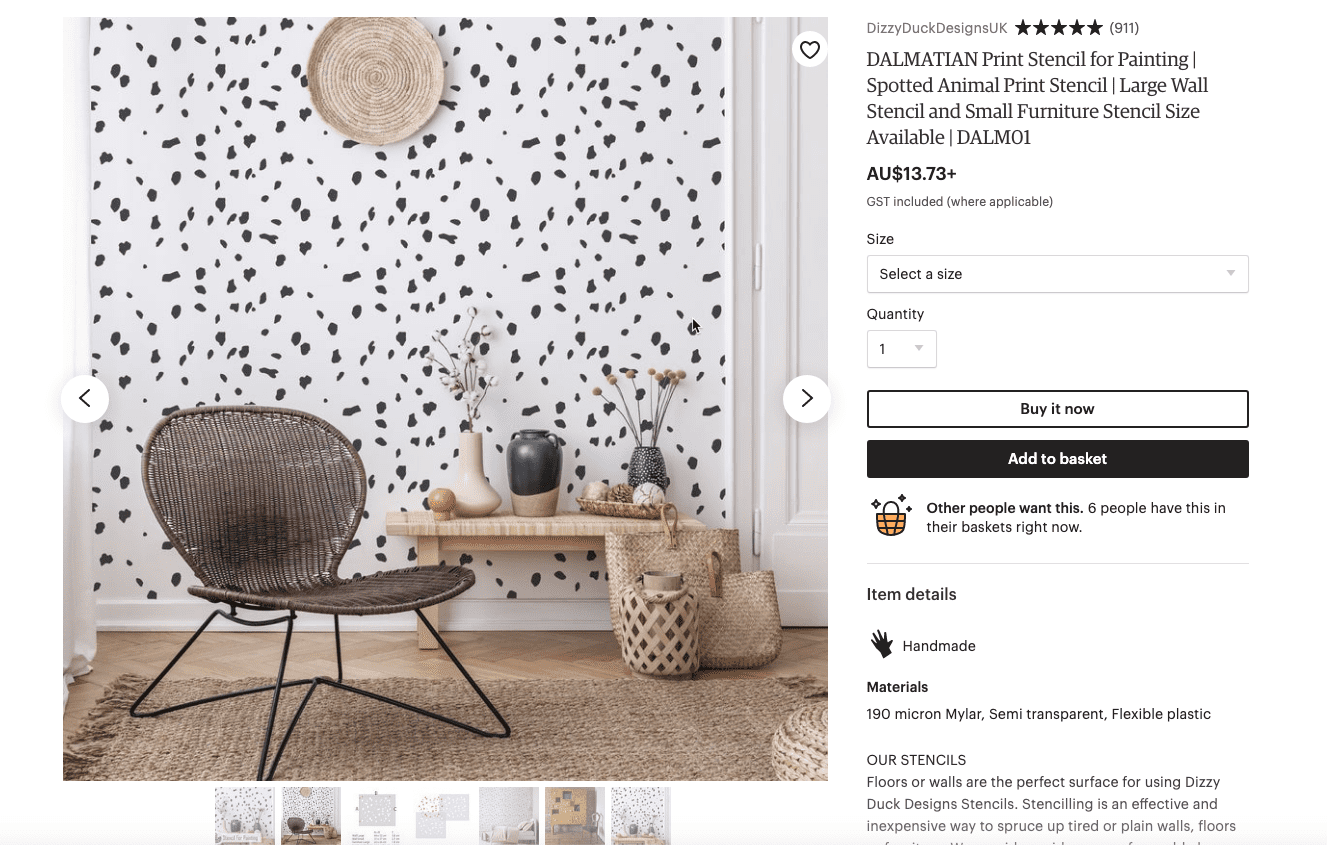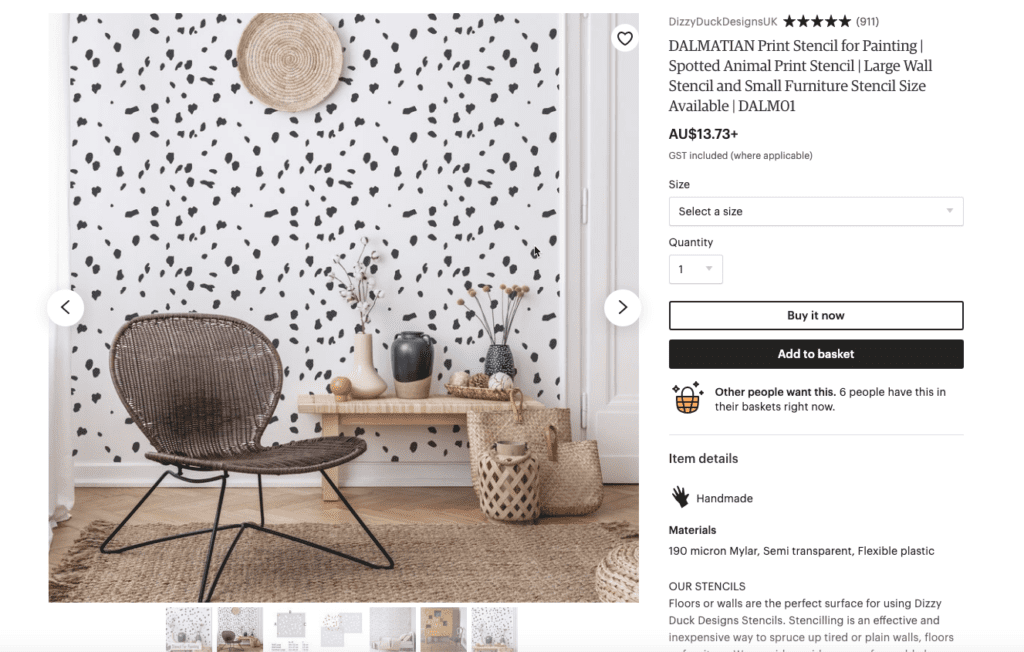 7. Wallpaper
If you're going for a chic, sophisticated look, you'll want to steer clear of bright colours and cartoon dogs. Find wallpaper with subtle canine themes instead. For example, a tiny patterning might reveal itself as bones or paw prints on closer inspection.
8. Light Fixtures
Let there be light with dog-shaped fixtures and features. They're available in everything from plastic lampshades to brass sconces. Below is an intriguing example of a dog lamp available in a variety of breeds: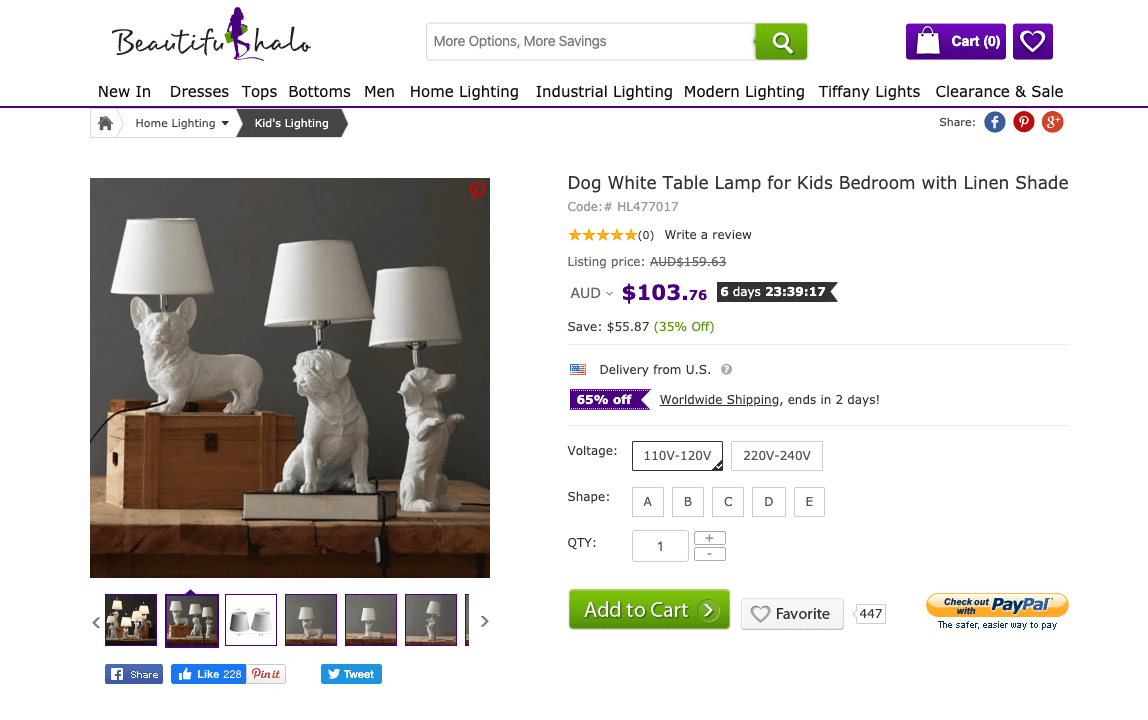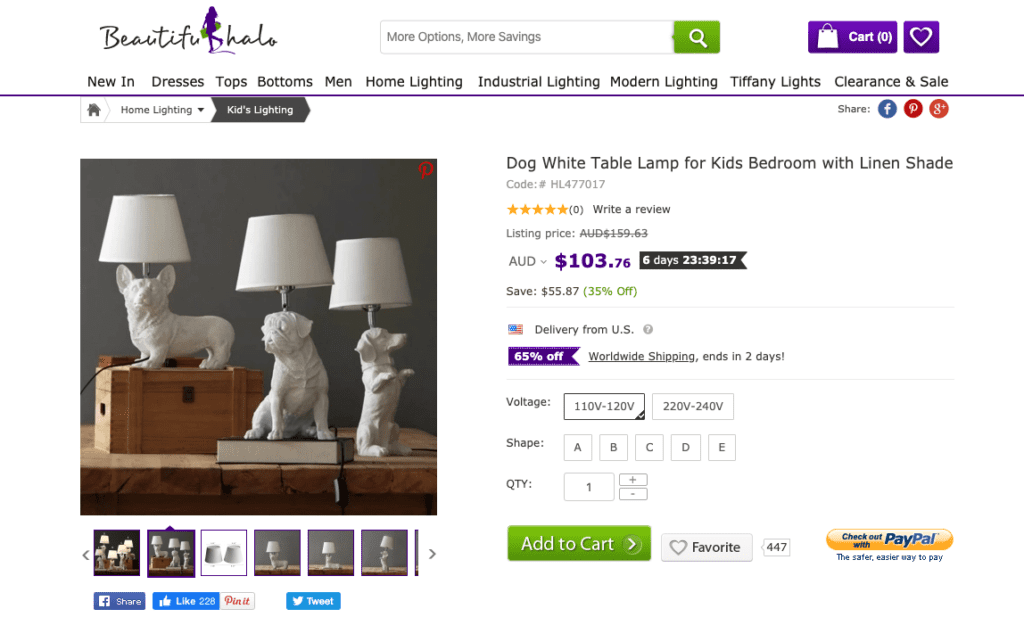 9. Decorative Wood Pallets
If you're rocking a rustic theme, a decorative wood pallet can bring some of the wild west right into your living room. Dog pallets will celebrate a sheepdog at the same time.
10. Photo Clips
This is a great way to display personal photos of your dog. Instead of hiding them in scrapbooks or tucking them behind glass frames, prop them up with photo clips that are shaped like dogs, collars, bones or other canine paraphernalia.
11. Paw Print Rug
Nothing says luxury like a thick, fluffy rug. Order one with paw prints for a subtle doggie design that won't overpower the other themes of your living space.
12. Gallery Walls
If you love your dog and want the world to know it, consider a gallery wall. It's like a feature wall, but the feature is Fido!
13. Timepieces
Dog clocks can be made from many different materials, including wood, metal, acrylic, glass and even vinyl records. For an extra laugh, order a dog clock with a pendulum that swings back and forth in the shape of a tail.
The dog clock below is an excellent example of modern design: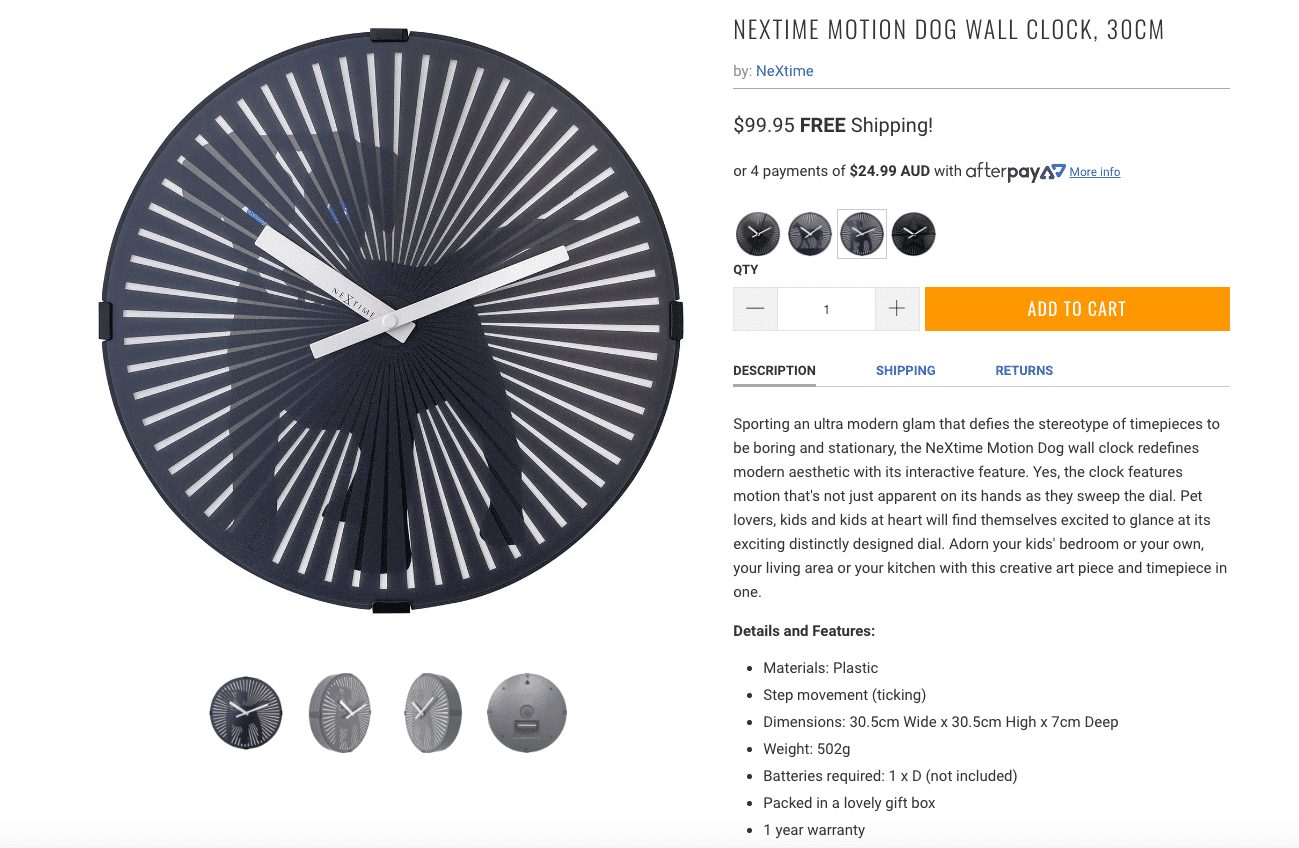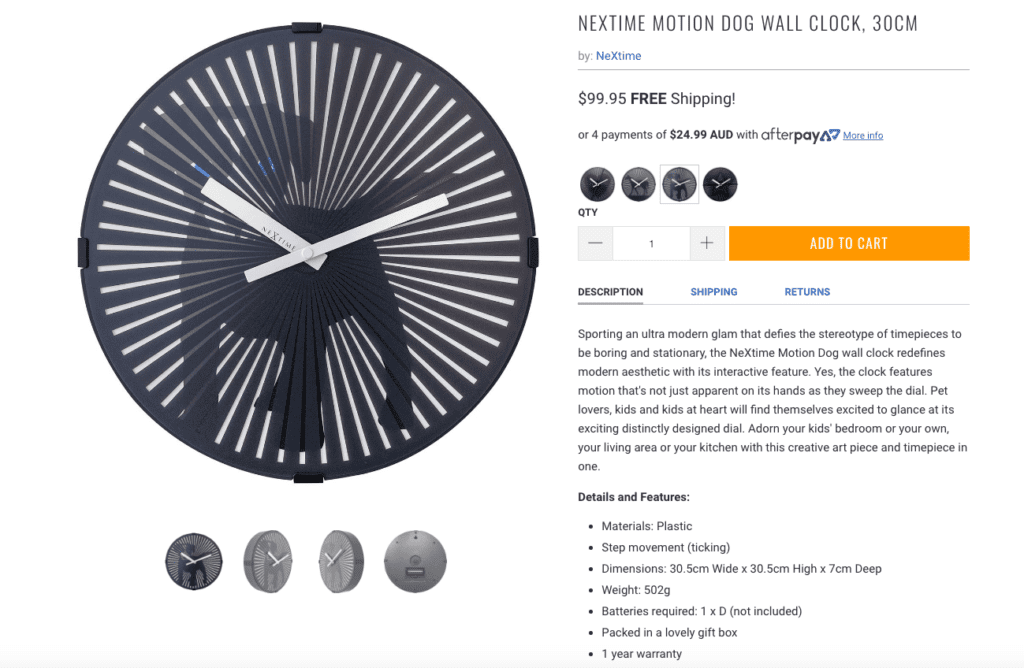 14. Wire Art
You've probably seen wire sculptures in museums and art galleries, but did you know that you can buy pieces online for your own home? You can even find dog-themed wire art for something truly outside of the box.
15. Full-Year Dog Calendars
Monthly calendars tend to be garish, but a full-year calendar can be a sophisticated styling piece for a living room or den. You can find them printed with all kinds of animals, including dogs.
16. Complementary Colors
Celebrate your dog's unique colouring with an interior design that matches it. For example, if they have a brindle coat, decorate your walls and furnishings in shades of gold, beige and chocolate brown. Put a big portrait of your dog over the fireplace to bring it all together.
17. Throw Pillows
The great thing about throw pillows is that you can customize them to match any home decor. If you want them cute and silly, you can order a slobbery face printed on top of an overly stuffed cushion. If you want them with a certain amount of refinement, you can order them with muted colours and chic cursive fonts.
Etsy, for example, has an interesting range of dog throw pillows to choose from: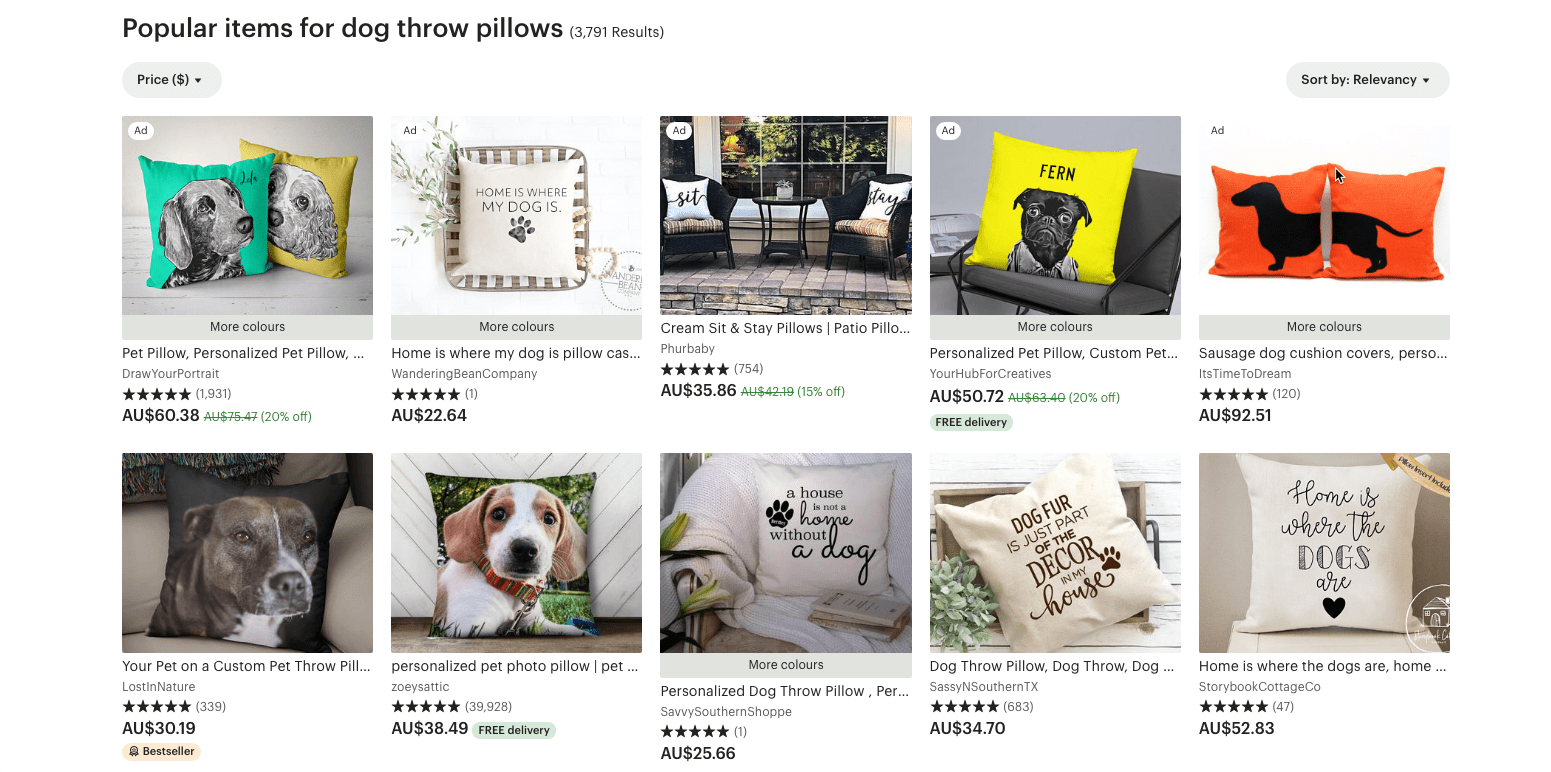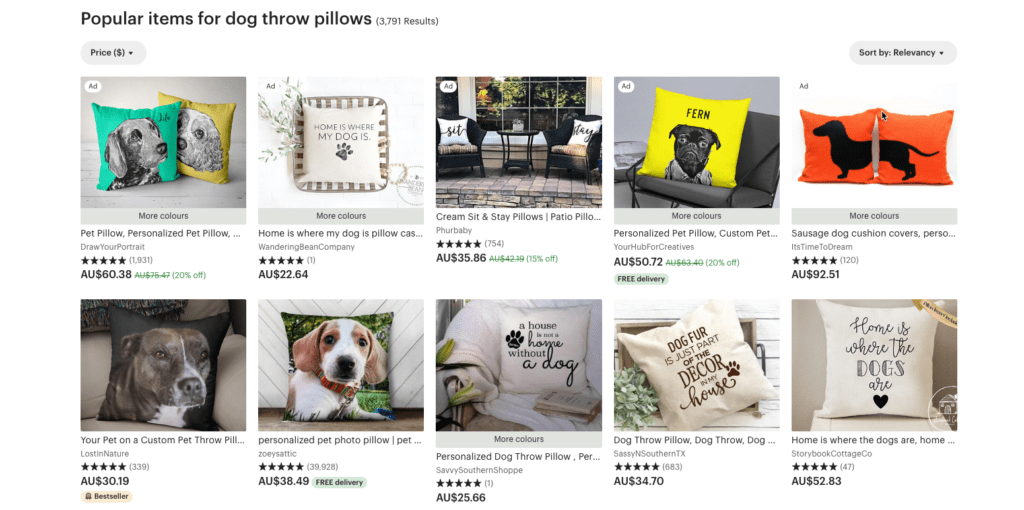 18. Statues
A stately statue can be a regal addition to your home. Who wouldn't want to be guarded by a proud dog standing tall in the foyer? The perfect addition to your dog decor vision.
19. Embroidery
There's something inherently classy about embroidery, and you can take advantage of it with embroidered hoops, patches, and holiday ornaments. They come in all shapes and sizes!
20. Fashionable Dog Beds
Your pup needs a place to sleep, and there's no reason to make it an ugly one. Give their bedding the same care and attention as your own. Nothing makes more of a decorative statement than this luxury dog bed from Ask Frankie: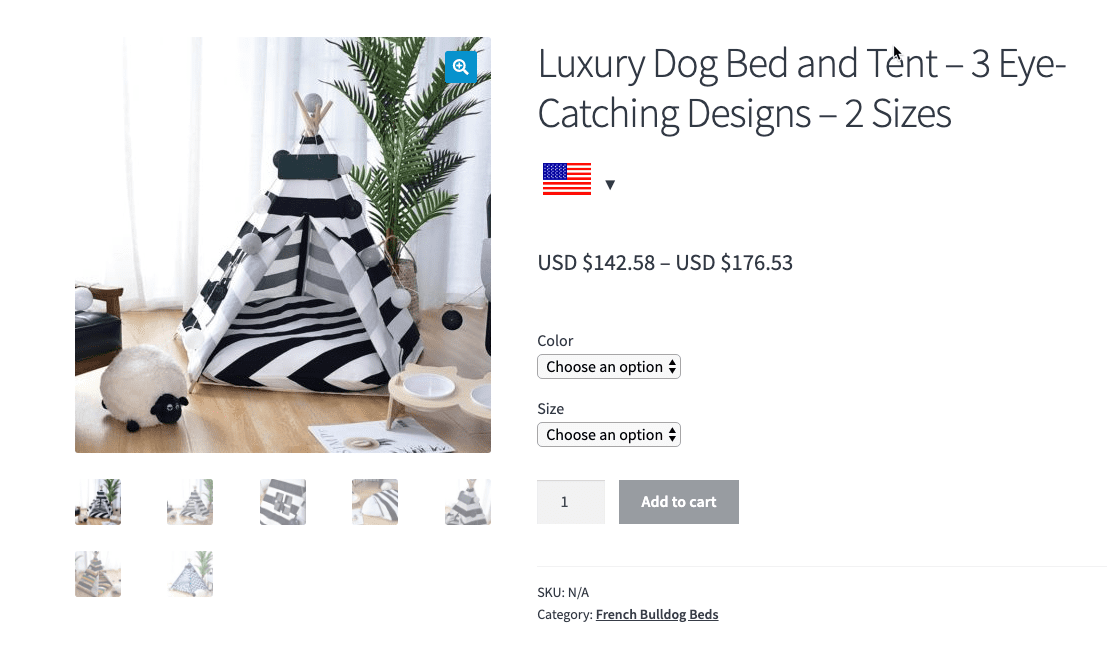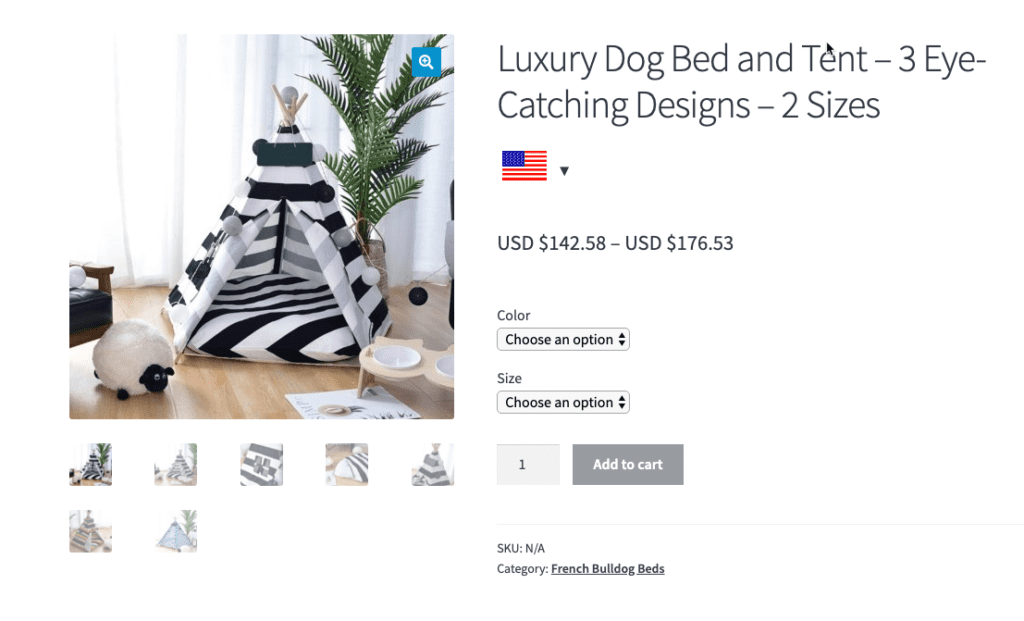 21. Porcelain Figurines
You might be surprised at the beauty of high-end porcelain figurines. They aren't like the cheap knickknacks that you find at the dollar store; they're often hand-painted or hand-blown, and they can come with truly stunning details.
22. Candle Holders
Candles are great at masking the everyday smells of your dog. The candleholders can be cutely shaped like their breed, too.
23. Coasters and Cozies
Do you like bringing your friends over for brunch? You'll find all sorts of dog-themed drink accessories online. From cork coasters to knit tea cozies, sip in style while appreciating your favourite dogs.
These coasters from Everten are one example: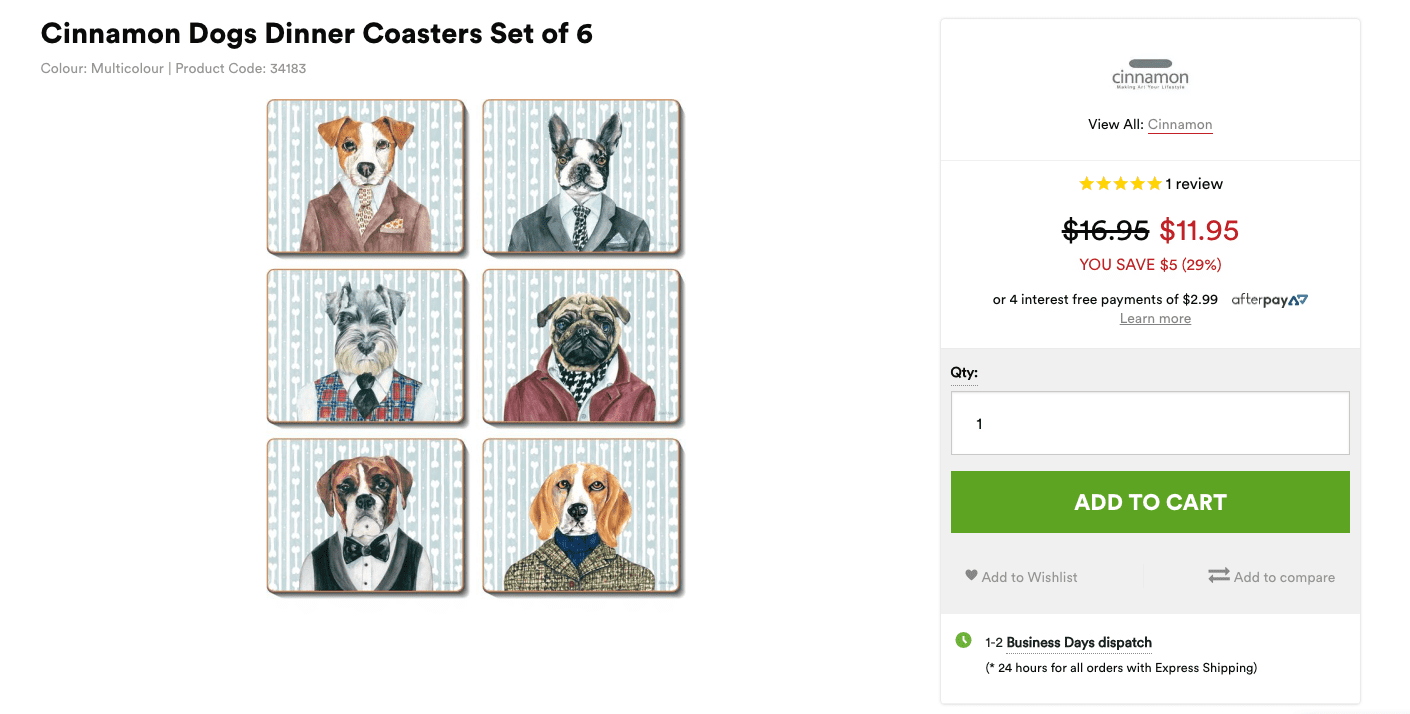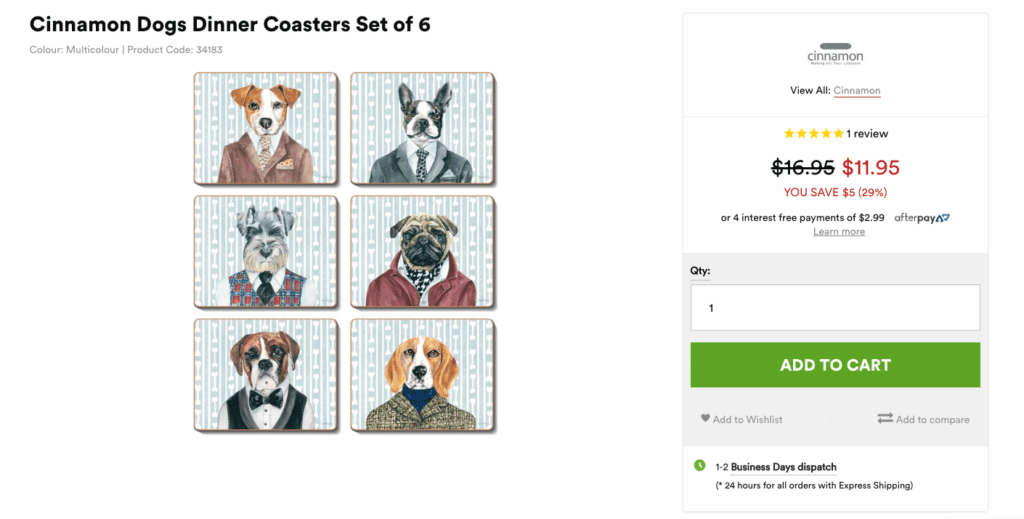 24. Multi-Piece Prints
Anyone can hang a dog print, but it takes dedication to arrange a three- or five-piece print as the centerpiece of your wall. The effort, however, will definitely pay off.
25. Planters
There's nothing like a splash of green against a minimalist black-and-white space. If your interior decor could be spruced up with a few succulents, get a dog-themed planter to go along with it.
26. Door Plaques
A hanging door plaque lets your guests know when they're about to enter a dog-friendly space like a basement or kennel room. It's a nice gesture for people with allergies and also a great addition to your dog decor.
27. Pop Art
Bring a little Andy Warhol into your environment with dog-themed pop art. It'll be jazzy, creative and colorful, and it'll definitely get your guests talking.
28. Wicker Baskets
These are especially nice for bedrooms or playrooms where you need organisational efficiency. Wicker furniture is already stylish, and ordering it in the shape of a bone will make it cute, too.
29. Word Blocks
Word blocks can spell out anything, including "woof," "love," "pug life" or even just your dog's name. Rearrange them according to your mood.
Personalised word blocks and signs are a favourite for dog decor enthusiasts!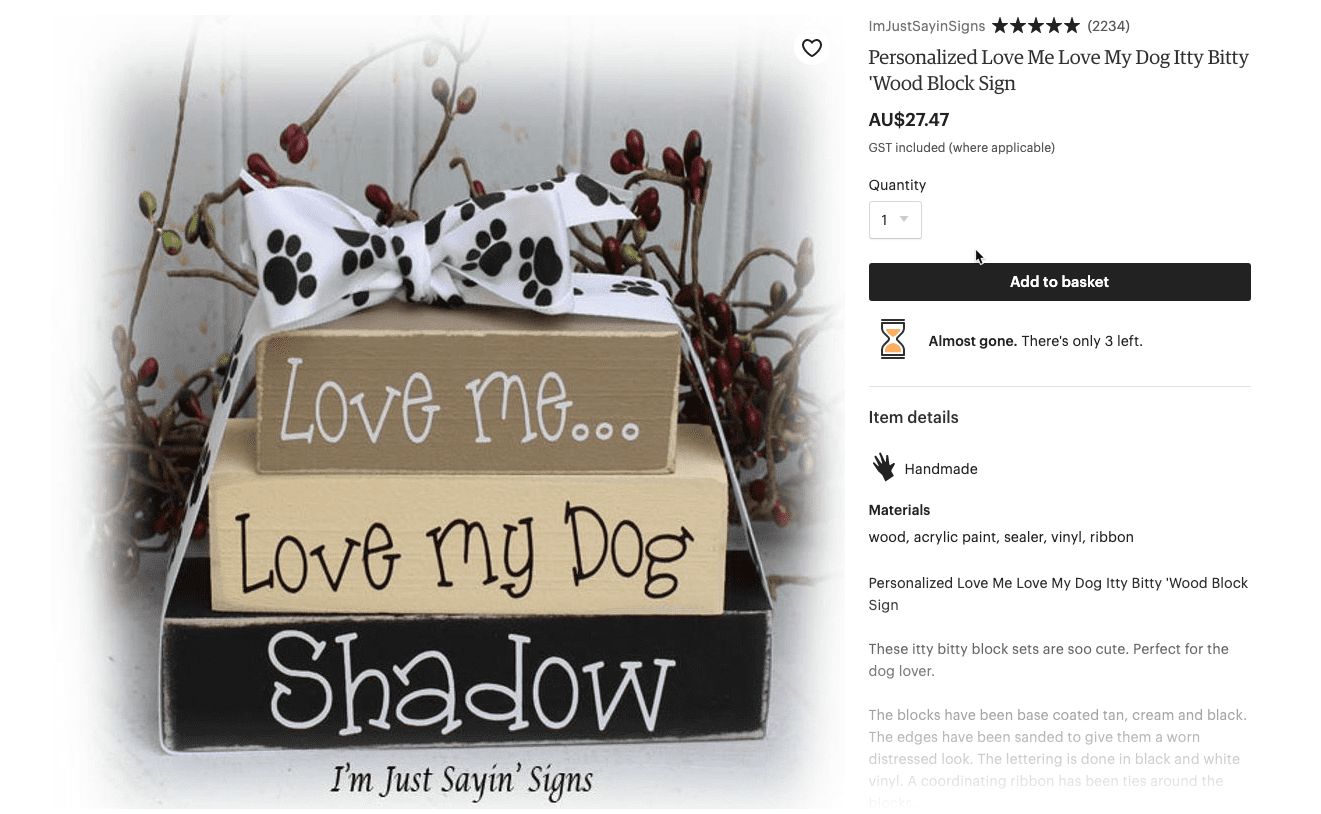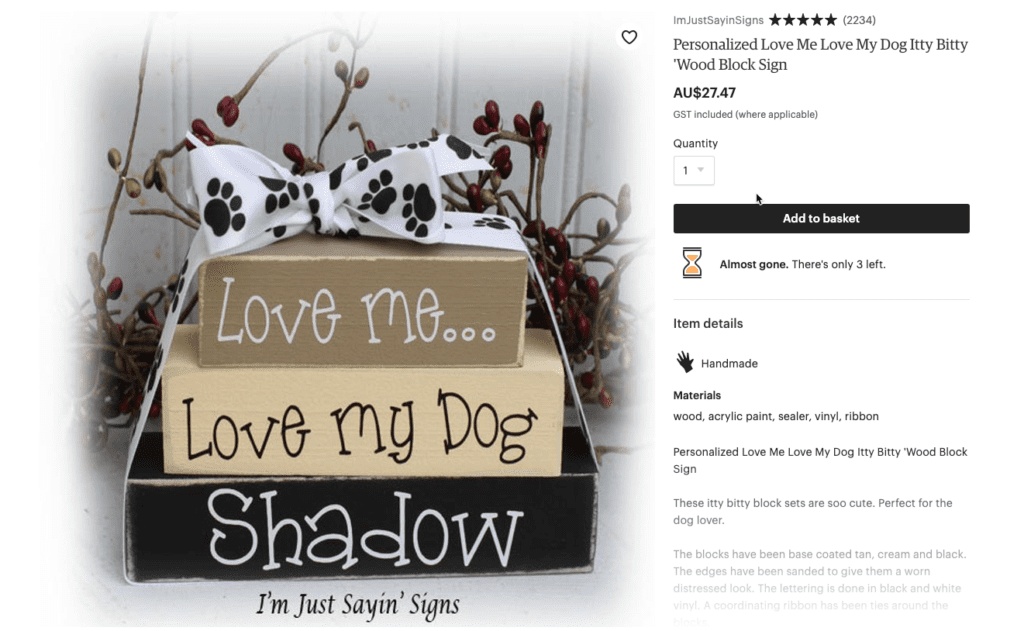 30. String Art
Much like wire art, string art is an eye-catching decoration that will make your guests look twice. It's creative, beautiful and utterly unique.
31. Wall Stickers
Wall stickers don't have to be gaudy. You can find sedate, stylish ones that show off your pride as a pet owner without getting too extreme.
32. Under-the-Stairs Doghouse
This might require a bit of renovation, but if you're already working on your house, convert the space under the stairs into an indoor doghouse. Your pup will love having a space that's all for themselves.
33. Dog Treat Jars
Last but certainly not least, when the love of your life has been a very good boy (or girl), give them a reward out of a dog-themed treat jar!
Wrapping up
These dog decor ideas can really showcase your passion as a pet owner. Whether you're interested in bold wallpapers or quaint candlesticks, use these suggestions as inspiration for a modern, dog-loving lifestyle.
From Our Store