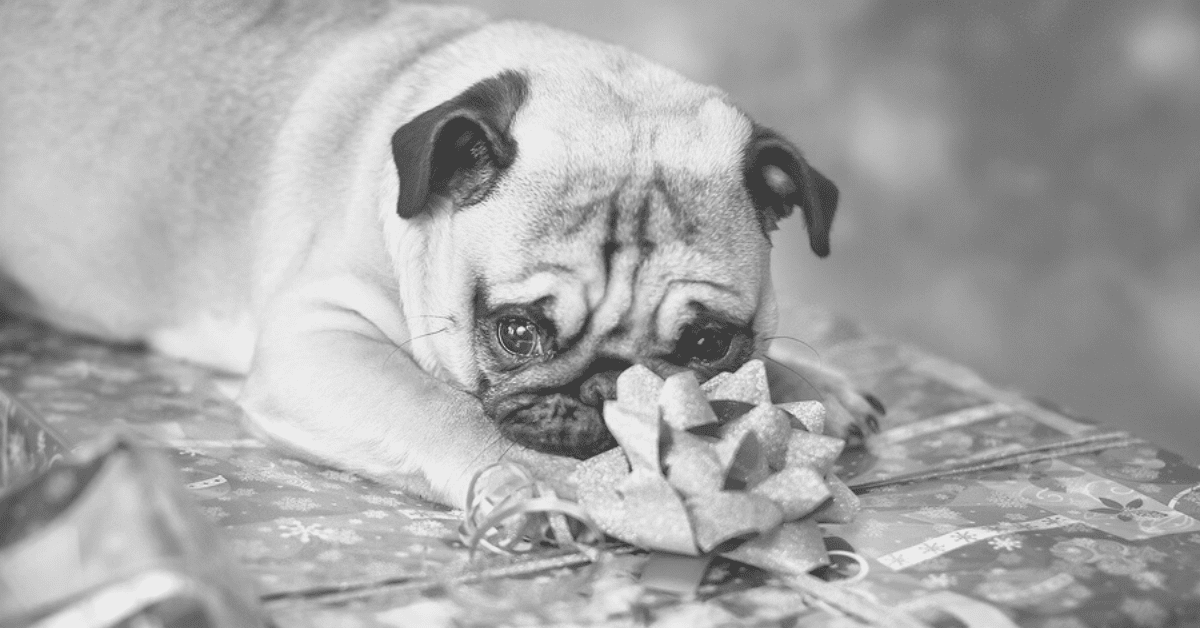 If you know someone who is always pampering their dog, it's time to give them some of that love back. Owners deserve to be spoiled, too!
Here are 73 gifts for dog lovers that will get their 'tails' wagging. Dog gifts for her, gifts for him, and then a list of gifts for lovers of the world's most popular dog breeds.
Dog Gifts for Her
#1. Paw Print Keepsakes
Sweet and sentimental, a paw print will last forever. You can have them molded into clay, pressed into paint or engraved into a tangible memento like a holiday ornament. The possibilities are just as unique as your pooch.
---
---
#2. Dog-Themed Journals
Our range of dog-themed notebooks and journals is both stylish and functional. Made with an elegant matte black faux-leather cover and embossed with the realistic imprint of a dog, this is the perfect gift for a dog lover. The range of breeds and journal colors we stock is expanding all the time, so check to see if something fits the dog-lover in your life.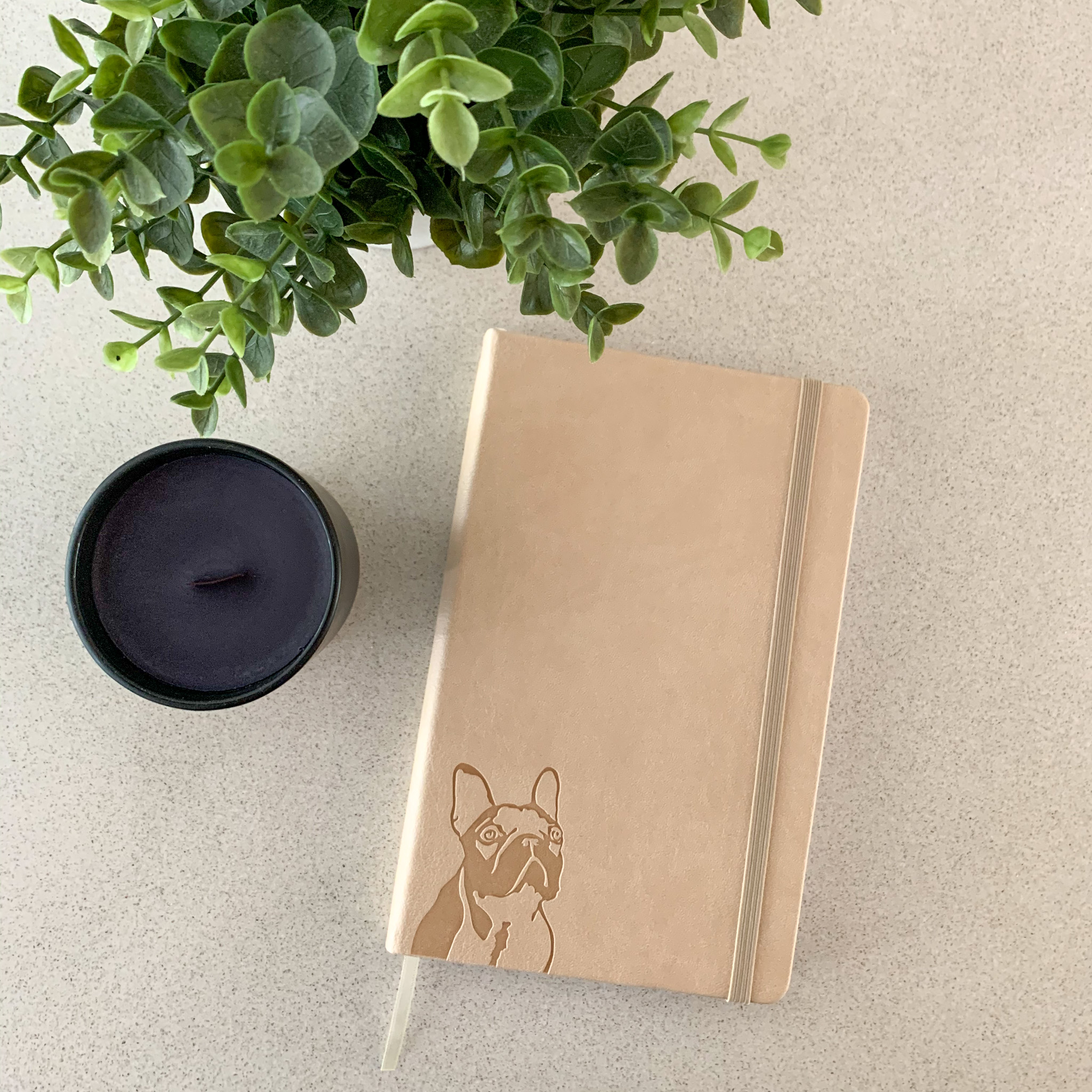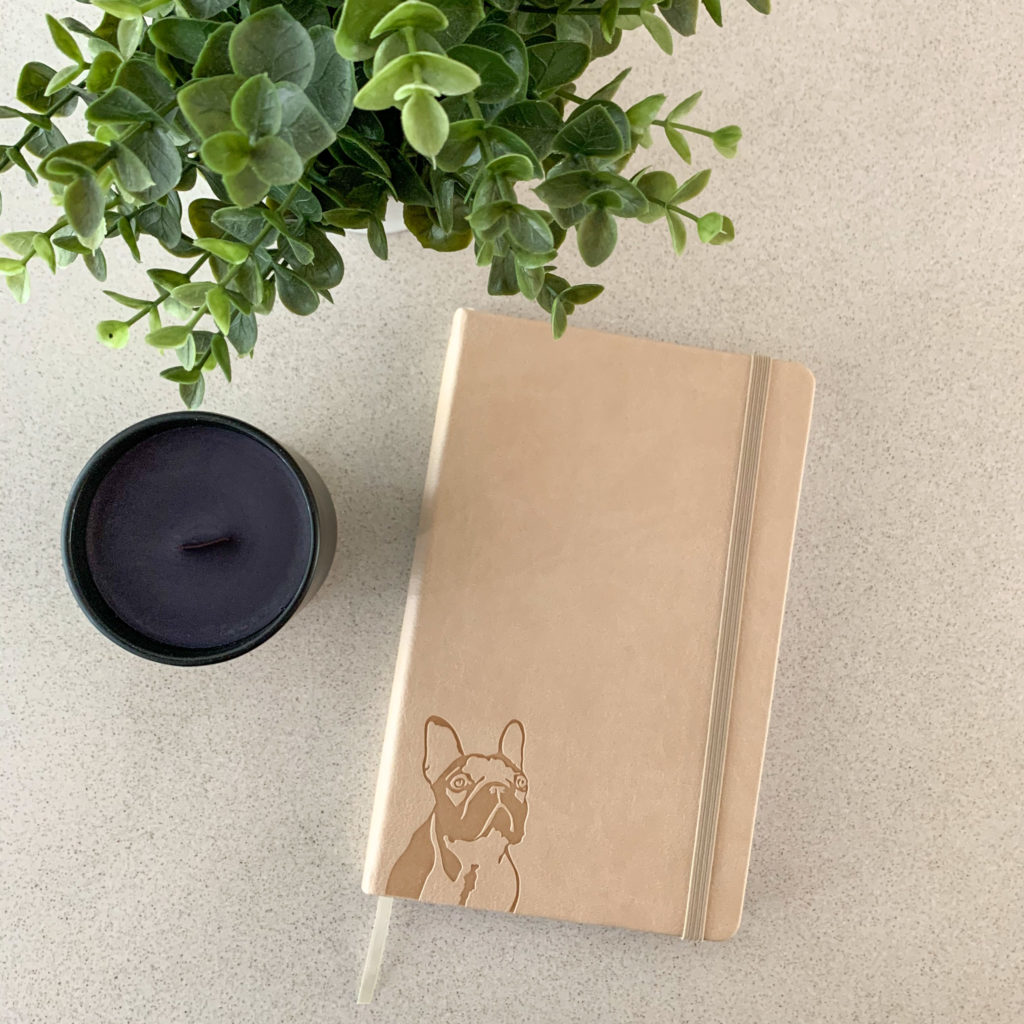 ---
---
#3. Throw Pillows
The great thing about throw pillows is that they come in a wide range of styles. Whether you're looking for cute, colourful gifts or sophisticated black-and-white dog home decor, you can find throw pillows to suit the occasion!
Etsy, for example, have a huge range of unique dog-themed throw pillows: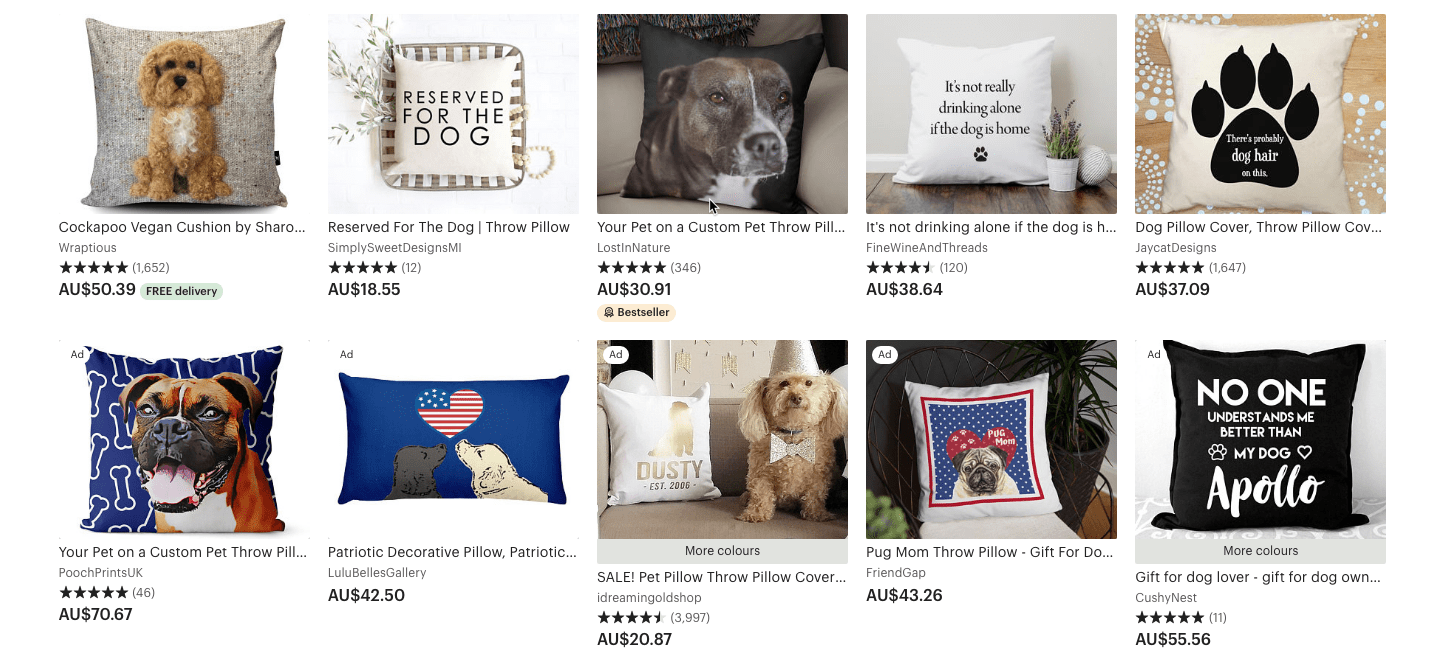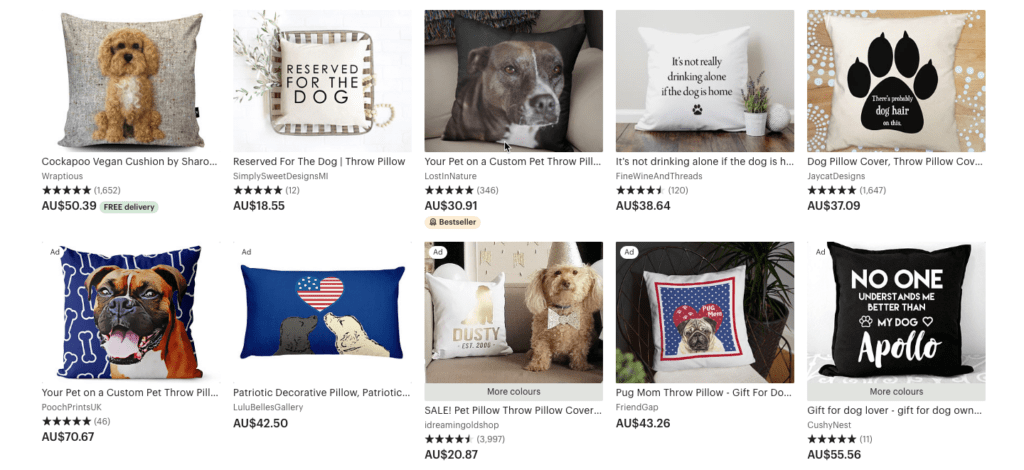 ---
---
#4. Figurines
Dog figurines can be true works of art. The trick is to look for hand-carved or hand-painted ones with lots of attention to detail. These high-end figurines are the ones that will look great on a mantle or coffee table alongside a dog book.
---
---
#5. Wine Tumbler
If she likes to relax with a bottle of wine in the evenings, a wine tumbler will make an excellent gift. You can find them printed with everything from paw patterns to cheeky "fur mama" jokes.
Here's a dog wine tumbler from Etsy: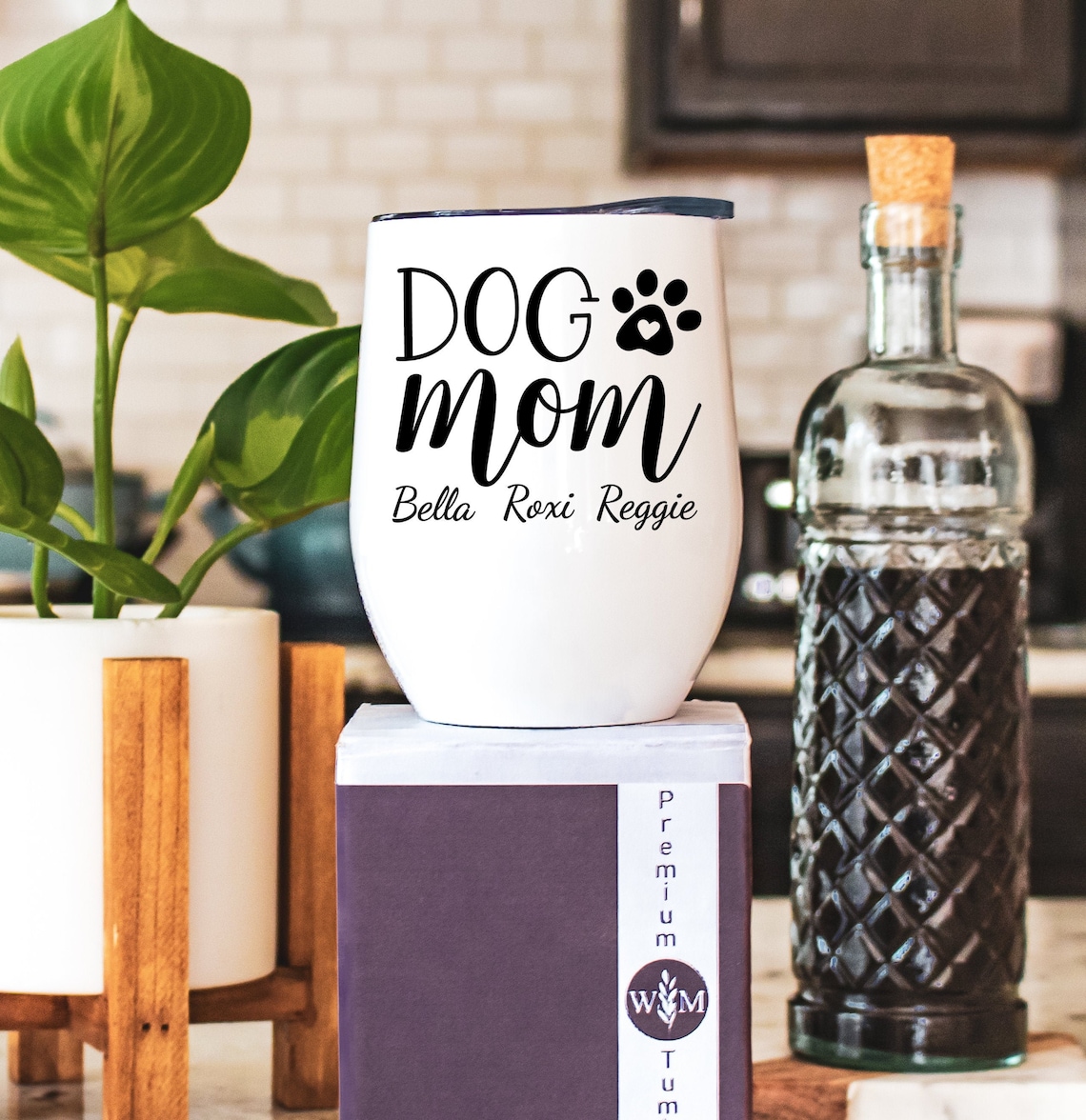 ---
---
#6. Charm Bracelet
Charm bracelets come in all shapes and sizes, so they're easy to customize for a particular pet or pet owner. For example, you can find a bone-shaped charm to represent a dog that really loves treats, or you can add a cross for a furry friend that still lives on in her memory.
---
---
Dog Gifts for Him
#7. Bookends
If he's a bibliophile, he could probably use some bookends. They're available in an assortment of colours, styles, materials and even breeds, so you can buy him some bookends that reflect his real-life dog.
---
---
#8. Coffee Mug
The best gag gifts are ones that are actually useful, so a coffee mug serves multiple purposes. Not only will it make him laugh, but he'll also be able to use it at home or at the office when he needs his caffeine fix.
Look at this awesome dog dad mug from Porkie Penguin that lets you choose the breed!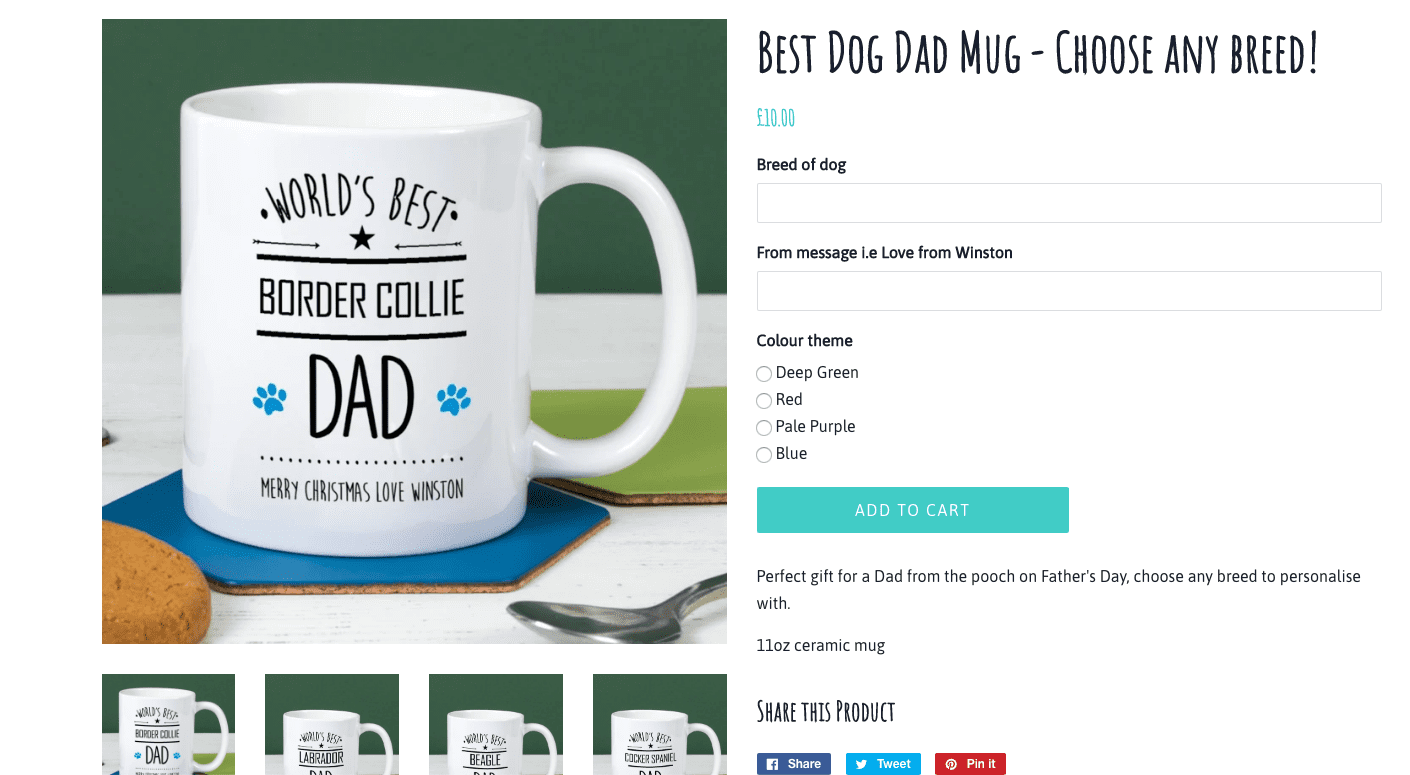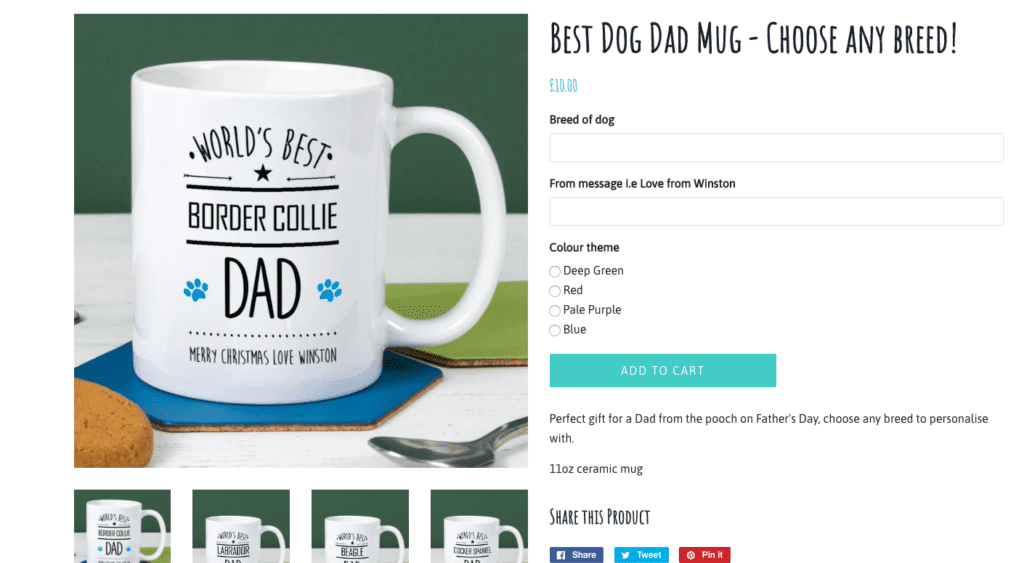 ---
---
#9. Watch
A dog-themed watch is another gift that will offer both style and substance. As a bonus, he'll think of you every time that he wears it.
---
---
#10. Calendar
Dog calendars can range from adorable to outlandish, so you'll have your pick of the litter when you shop for one. If he's a softie at heart, he might like a calendar of puppies. If he's more of a goofy guy, consider a calendar filled with slobbering Frenchies.
---
---
#11. Coasters
If he takes pride in his possessions, consider getting him some dog-themed coasters. They can be used everywhere from the car to the dining room table, so it's just a matter of finding the right ones for the job.
---
---
#12. Personalized Dog-Shaped Pillow
This is one of the most unique gifts for dog lovers that you'll find on the Internet. For starters, it's customized with a personal pet photo, so you can send in the likeness of their pooch for a one-of-a-kind print. It'll also be shaped like their dog, so whether they own a long, lean Greyhound or a perky little Poodle, they'll see that form reflected in the pillow. If you're looking for a completely novel gift, try creating one from scratch!
---
---
Dog Gifts by Breed
#13 & 14. French Bulldog Gifts
Pardon My Frenchie
It would be a crime not to pass on this joke when you own a French Bulldog. The good news is that you can find the phrase printed on all kinds of shirts, scarves, key rings, wine glasses, and phone cases.
---
---
French Bulldog Coffee Table Book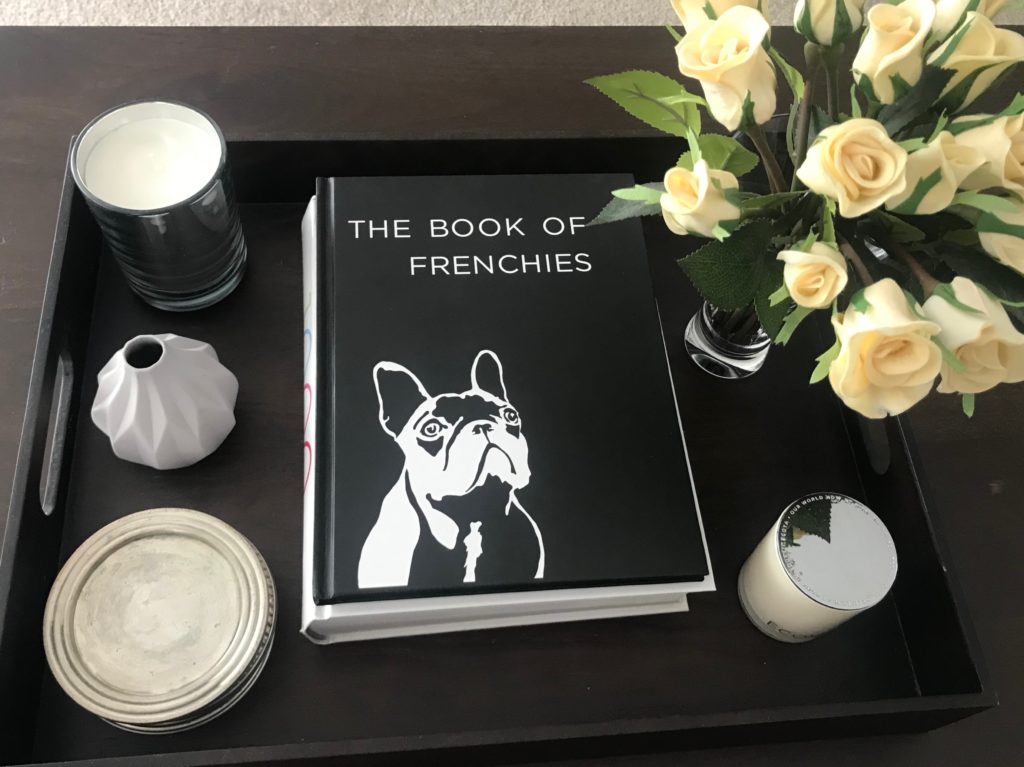 The Book of Frenchies, our best-selling book of all-time, is the perfect addition to a dog lovers coffee table, mantle, or buffet. It was created for French Bulldog lovers who take pride in their home decor and want the opportunity to show off their love for Frenchies in a modern and sophisticated way.
---
---
#15 & 16. Pug Gifts
Pug Mug
There's something about the squishy face of a Pug that makes it an excellent choice for coffee mugs. For bonus points, find a Pug mug in a cute sweater!
---
---
Pug Coffee Table Book
Inside The Book of Pugs, you'll find over 100 quality colour photos of Pugs as well as a series of unique facts about this breed. The hardcover exterior offers a clean, sophisticated, black and white design.
---
---
#17 & 18. Dachshund Gifts
Corn Holders
For a hilarious stocking stuffer, consider a pair of Dachshund-shaped corn holders. Their long bodies make them perfect for the job.
Pet My Wiener have some hilariously cute ones available: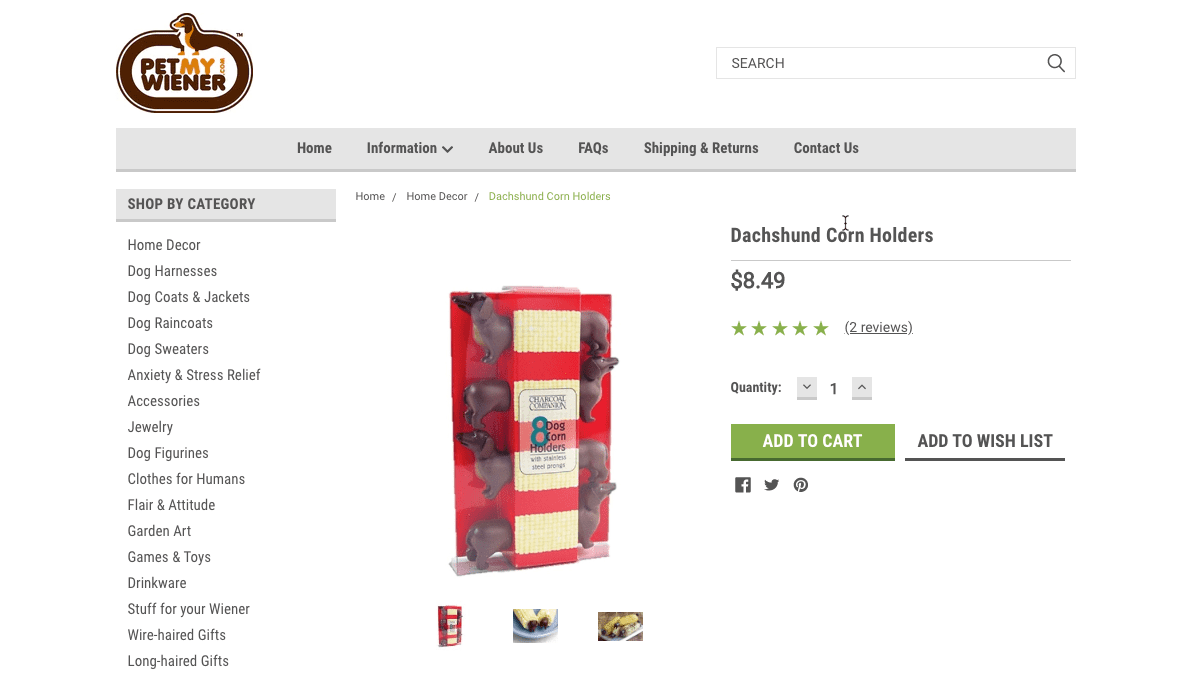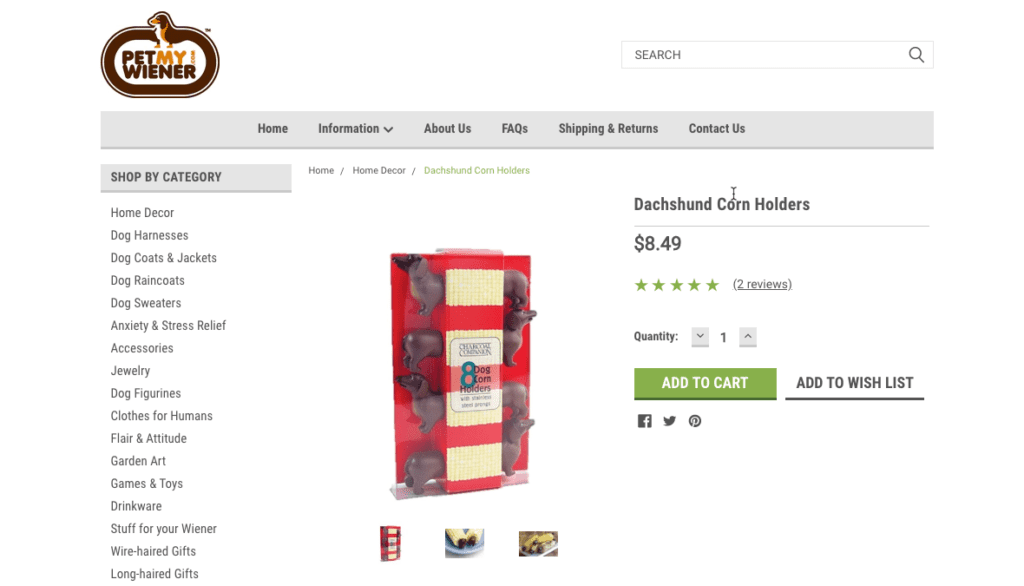 ---
---
Dachshund Coffee Table Book
Just like our Pug and Frenchie decorative books, The Book of Dachshunds showcases over 100 high-quality photographs of Dachshunds along with a select group of interesting and intriguing facts about the breed. Its chic and modern design makes it an unmissable accompaniment for a Doxie lover's coffee table.
---
---
#19. Chihuahua Gift
Sling
Chihuahuas are so tiny that it's easy to carry them around, but with the help of a wearable body sling, your favorite chihuahua owner can enjoy their cuteness all day long without straining their arms.
---
---
#20. Pomeranian Gift
Plushie
Stuffed animals are always adorable, but they get even more delightful when they're shaped like a Pomeranian. Maybe it's because some Pomeranian plushies are actually larger than their real-life counterparts!
Here's a cute one from Teddy Bear Treasures: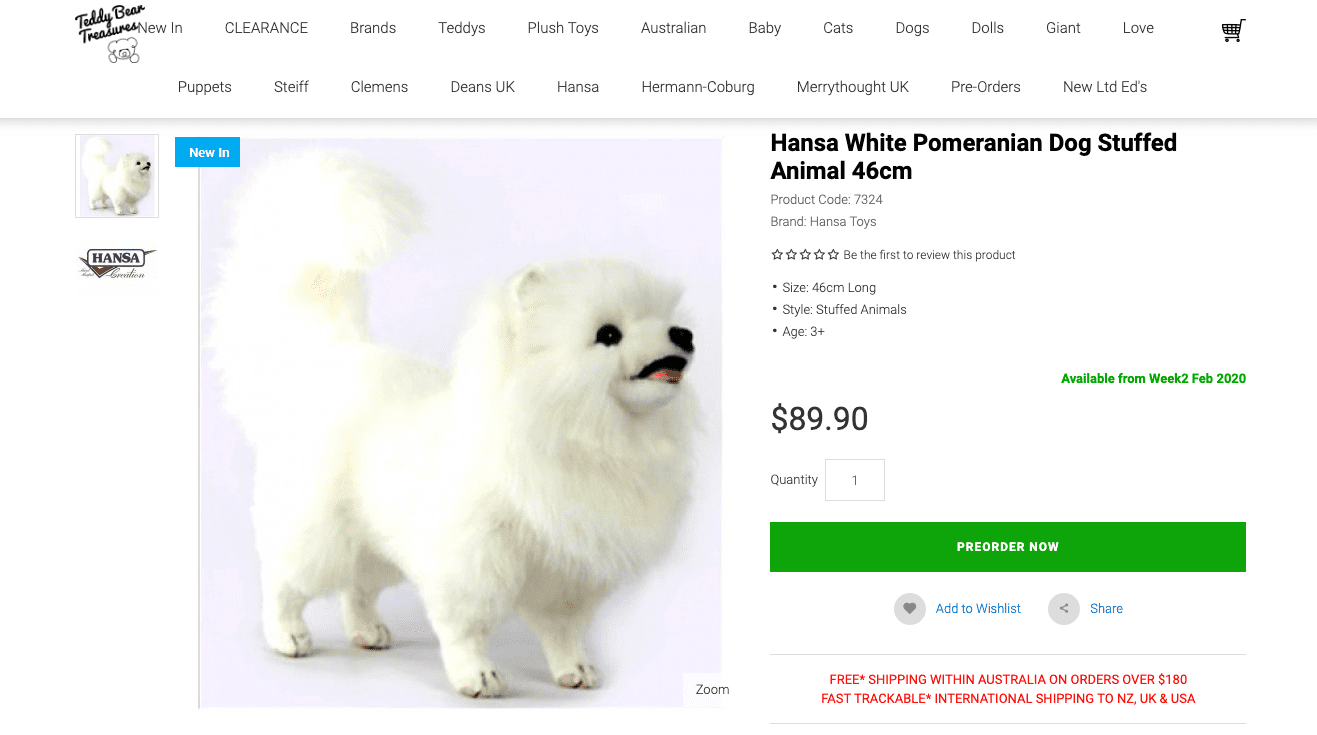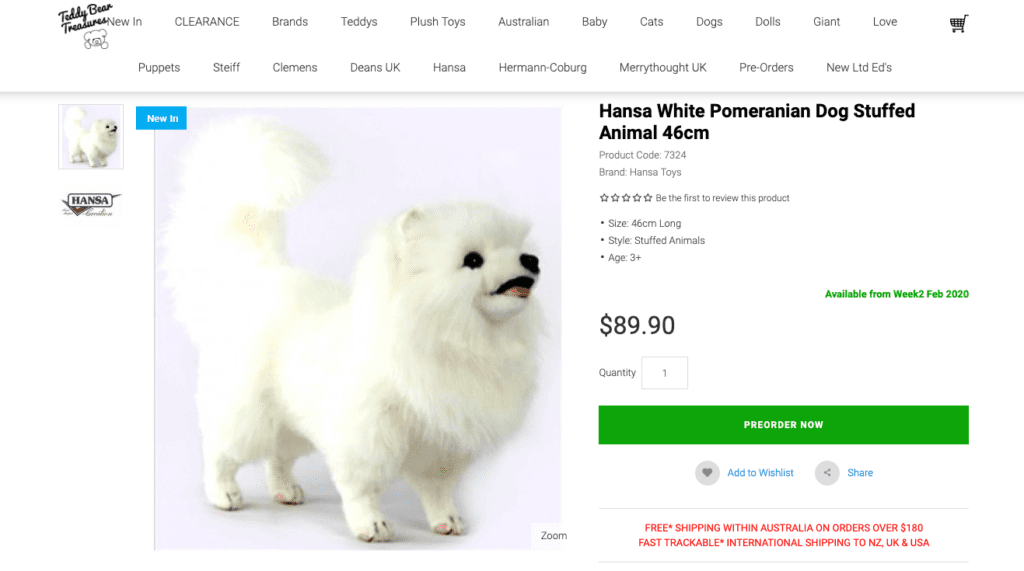 ---
---
#21 & 22. Cavoodle Gifts
Grooming Set
It takes a certain amount of work to maintain the lustrous fur of a Cavoodle, but with the help of a grooming kit, it can turn into a real bonding experience for owner and dog.
---
---
Cavoodle Notebook
Our Cavoodle notebook is made with a stylish matte black faux-leather cover. You can use it for writing, sketching, journaling, list-making, note-taking, and more.
---
---
#23. Yorkshire Terrier Gift
Slippers
There's nothing like a Yorkie to put a smile on your face, and an extra-fuzzy set of Yorkie slippers will keep a Yorkie owner warm from the inside out. Just make sure that the pup doesn't mistake them for chew toys!
---
---
#24. American Bulldog Gift
Pillow
Despite their appearance, American Bulldogs can be some of the cuddliest dogs around, and a soft, printed pillow will make the bed even cozier.
---
---
#25. Afghan Hound Gift
LED Lamp
One of the most striking things about an Afghan hound is its silhouette. With a lamp, especially an LED or 3D lamp, you can showcase that silhouette in all of its glory.
They really stand out!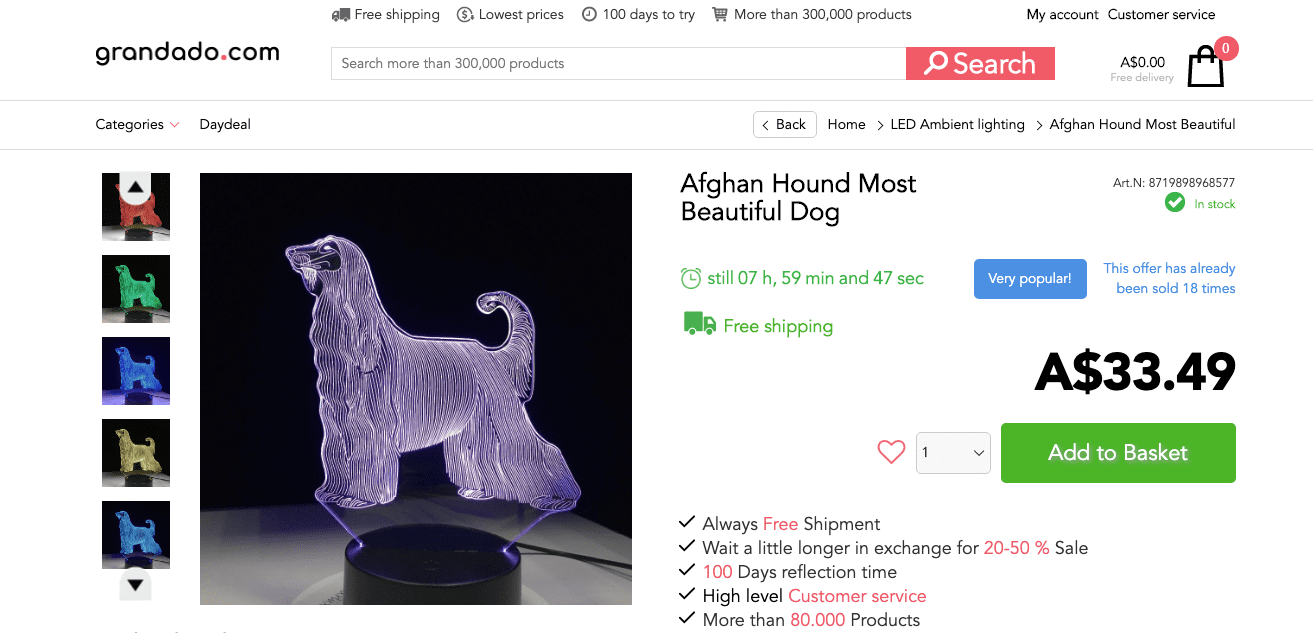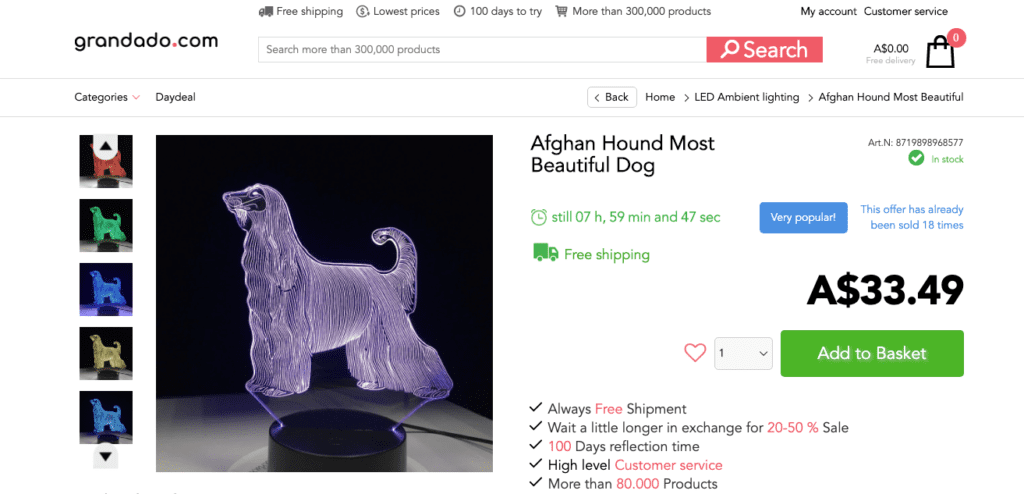 ---
---
#26. Husky Gift
Picture Print
Huskies are known for their piercing blue eyes, and they can come out in full force with a picture print. You can frame it, clip it, scrapbook it or make it part of a feature wall in the home.
---
---
#27. Beagle Gift
Coloring Book
If you know someone who likes to soothe their stress through art, this might be a good gift for them. Beagles are popular enough as a breed that they have multiple types of coloring books available.
---
---
#28. Dogue de Bordeaux Gift
Decals
Also known as French Mastiffs, these dogs are another breed that can be instantly identified by shape and size. They look great on decals, stickers and bumper banners.
---
---
#29. German Shepherd Gift
Bottle Holder
German Shepherds are known for being playful, and if you buy a bottle holder that's shaped like a fun, boisterous puppy wrangling a bottle between his paws, you can bring that spirit right into your home.
---
---
#30. Samoyed Gift
Microfiber Blanket
Evoke the snow-white coloring of a pure Samoyed when you purchase a soft, fuzzy blanket in their natural hue. It might even mask some shedding in the winter months!
---
---
#31. Jack Russell Gift
Cookie Cutters
The only thing sweeter than a Jack Russell terrier is a plate of chocolate-chip cookies in their distinct shape. With the right kind of cookie-cutter, your gift recipient doesn't even need to be a master baker. The molds will do all of the work for them.
Like this unique example from Bakerlogy: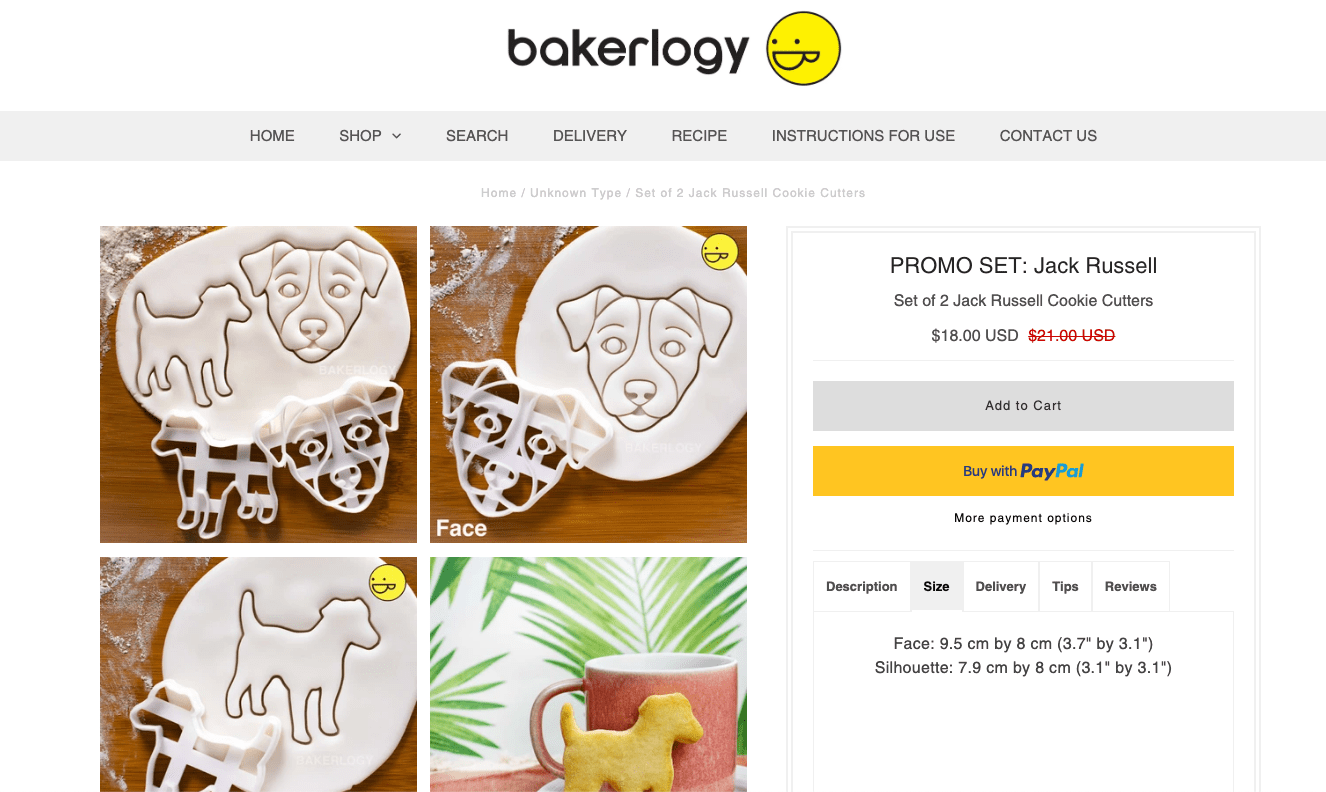 ---
---
#32 & 33. Hungarian Vizsla Gifts
Customized Print
It isn't always easy to find gifts for rare dog breeds like the Hungarian Vizsla, so if you're struggling with the task, consider taking a picture of your friend's Vizsla and having it framed, printed, painted or mounted.
---
---
Vizsla Journal
Our Vizsla journal has an embossed stamp of a Hungarian Vizsla on the front cover, so it's cute without being kitsch. The flyleaf inside of the journal is also decorated with a pattern of gray dog silhouettes against a white background.
---
---
#34. English Bulldog Gift
Stud Earrings
English bulldogs might not be the first breed that you'd expect to see in dog-themed jewelry, but they make a fantastic pair of stud earrings. Their faces are just the right shape for it.
---
---
#35. Labradoodle Gift
Kitchen Towel
If they have the cutest little beggar in the world, consider giving them a kitchen towel to wipe up the scraps after they've spoiled their Labradoodle rotten.
---
---
#36. Bernese Mountain Dog Gift
Wall Calendar
It's hard to find a more photogenic breed than the Bernese Mountain Dog, and with a wall calendar, your gift recipient can enjoy 12 months of their proud faces and majestic poses.
Booktopia have a great range of calendars, including one that heroes the Bernese Mountain Dog: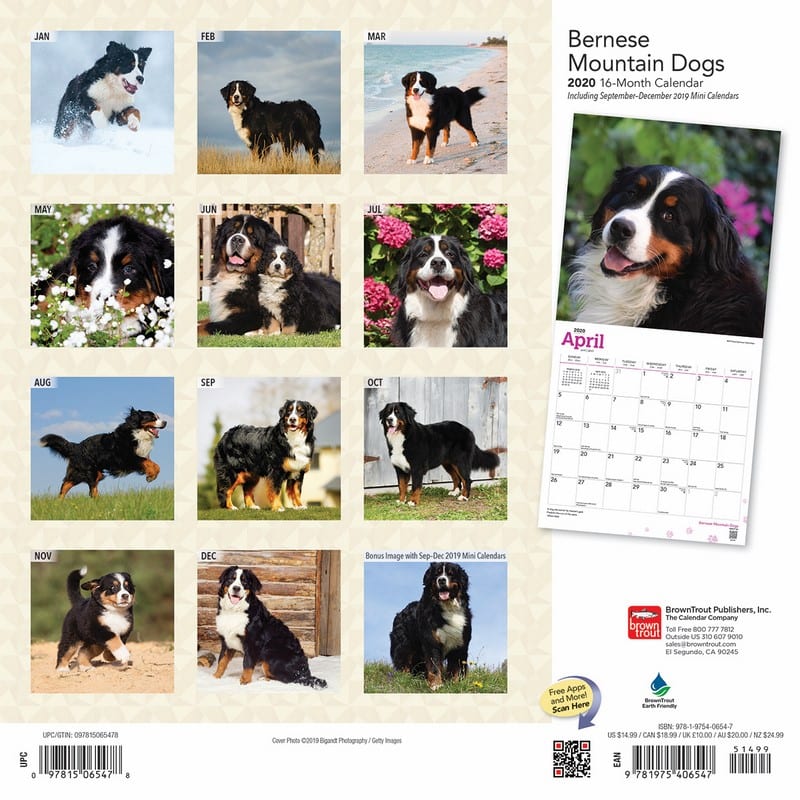 ---
---
#37. Boxer Gift
Boxers
It's a punny gift, but aren't those the best kind? If you're looking for a way to make someone laugh, give them a pair of Boxer boxers.
---
---
#38. Staffy Gift
Ugly Christmas Sweater
While it's true that Staffordshire Terriers are the toughest-looking dogs on Earth (despite their kind personalities), it's equally true that their faces are the perfect match for ugly Christmas sweaters. Sorry, Staffies!
---
---
#39. Pitbull Gift
Watercolors
Are they frustrated with the stereotypes that surround Pitbulls? Give them a soft, delicate watercolor that they can hang on the wall. It will serve as a fashionable home accessory and a reminder of their Pitbull's softer side.
---
---
#40. Kelpie Gift
Clock
Dog clocks can be made with everything from vinyl records to wooden cut-outs, and they look especially nice with a Kelpie design. These sheepdogs are famous for their big ears and long tails.
As with a number of these gifts for dog lovers, Etsy has a series of dog clocks: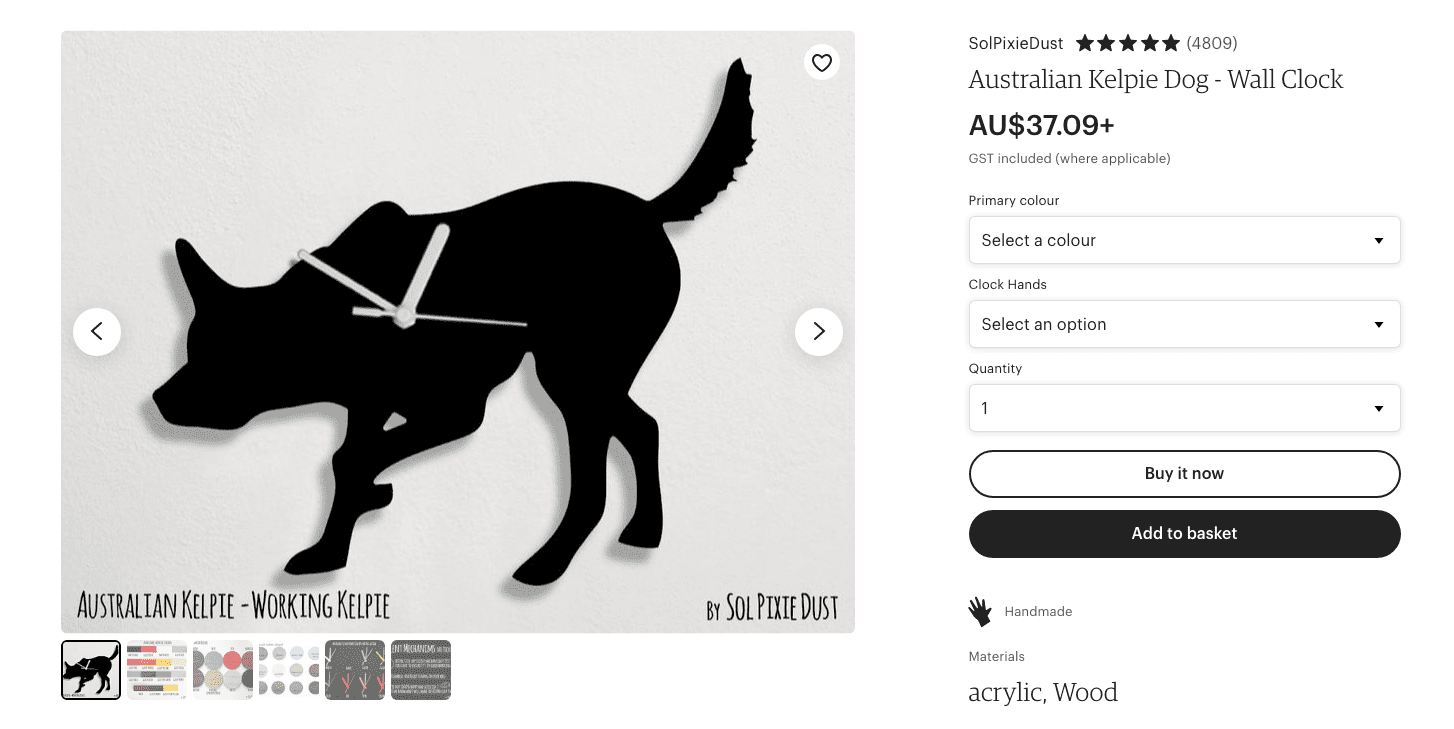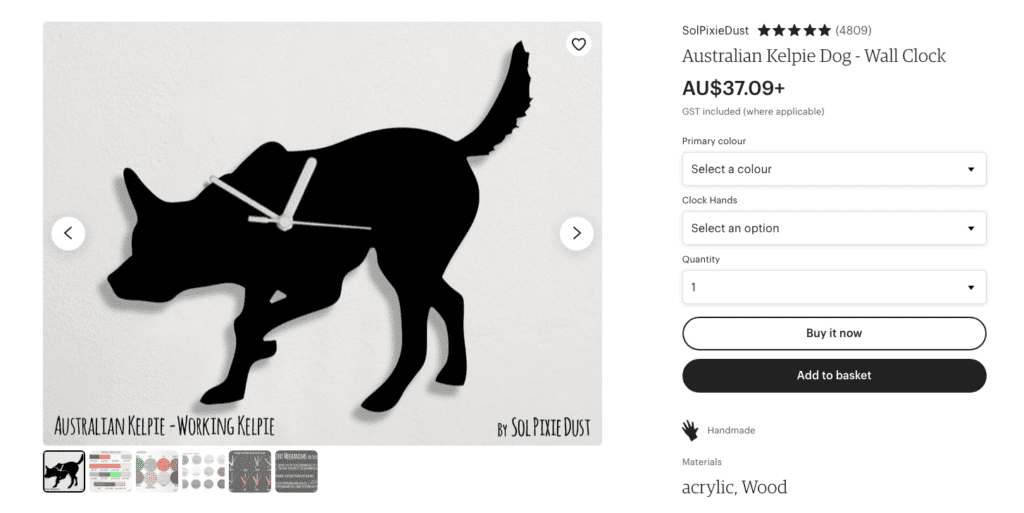 ---
---
#41. Basset Hound Gift
Wallet
If they're the type to spend too much money, give them a wallet with the mournful face of a Basset Hound. That should prompt them to re-think their third coffee order of the day.
---
---
#42. Border Collie Gift
Socks
Put on your socks and get to work. That's the attitude that an energetic working dog like a Border Collie would want you to have, and you can turn it into a gift with a pair of cute, fuzzy socks.
---
---
#43. Bull Mastiff Gift
Ornament
Bull Mastiffs have a hangdog kind of look, which makes them perfect for "aww"-worthy Christmas ornaments. Their faces are just too delightful not to put on the tree!
---
---
#44. Great Dane Gift
Box Sign
"All you need is love and a Great Dane." "I was a normal person… two Great Danes ago." These pithy quotes fit nicely on wooden box signs, and they can be displayed in homes, offices, dorms, studies, and libraries.
---
---
#45 & 46. Welsh Corgi Gifts
Corgi Notebook
Celebrate someone's love of Corgis with our sleek and stylish Corgi notebook. It's portable enough to be slipped into a bag or backpack but also sturdy enough to serve as a journal, scrapbook, dream diary, or daily planner.
---
---
Computer Accessories
Welsh Corgis are a popular design choice for mousepads. But you can also find keyboards, monitor stickers and other computer accessories that show off this breed.
Urban Outfitters offers a cheeky Corgi Mousepad: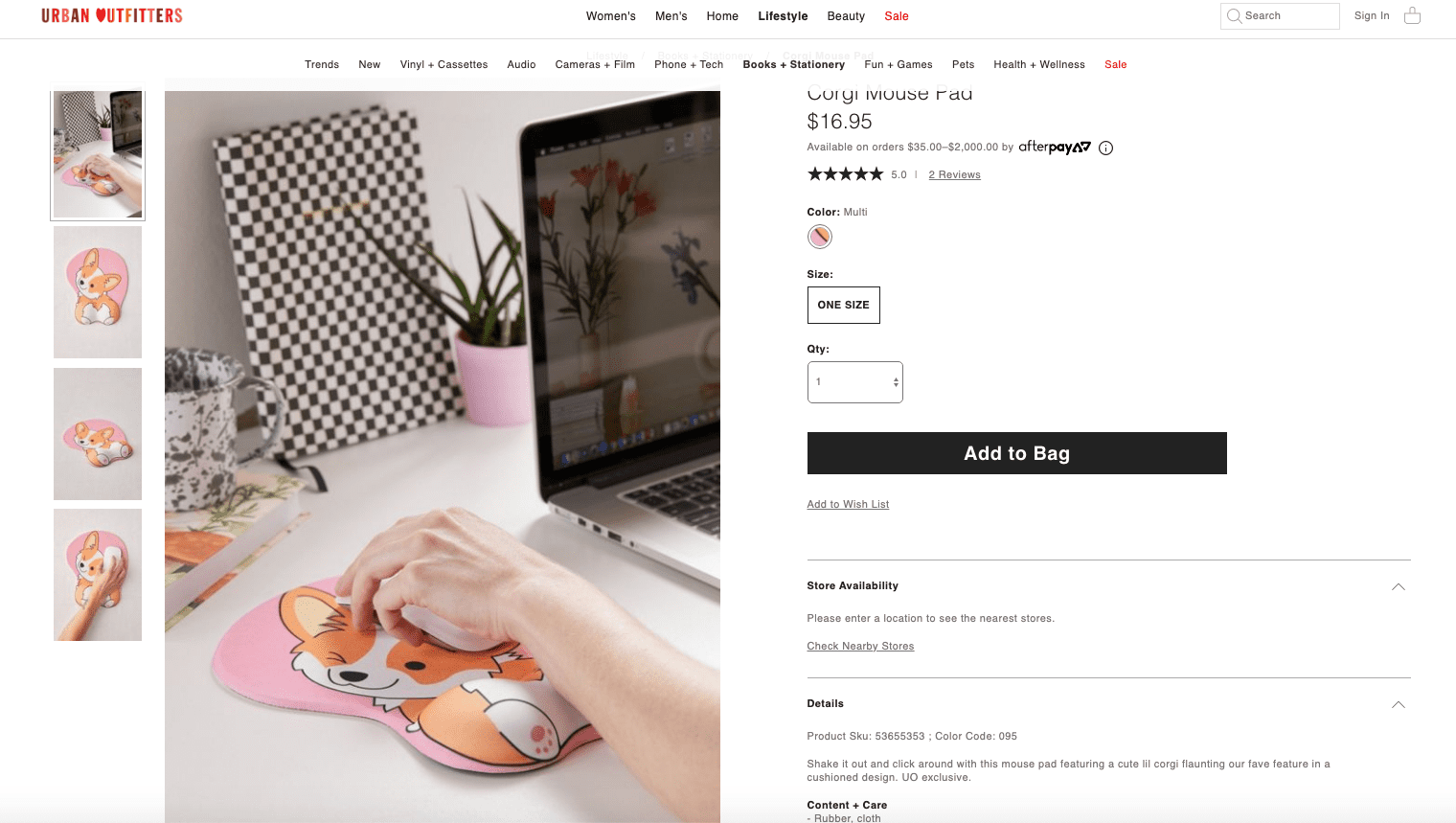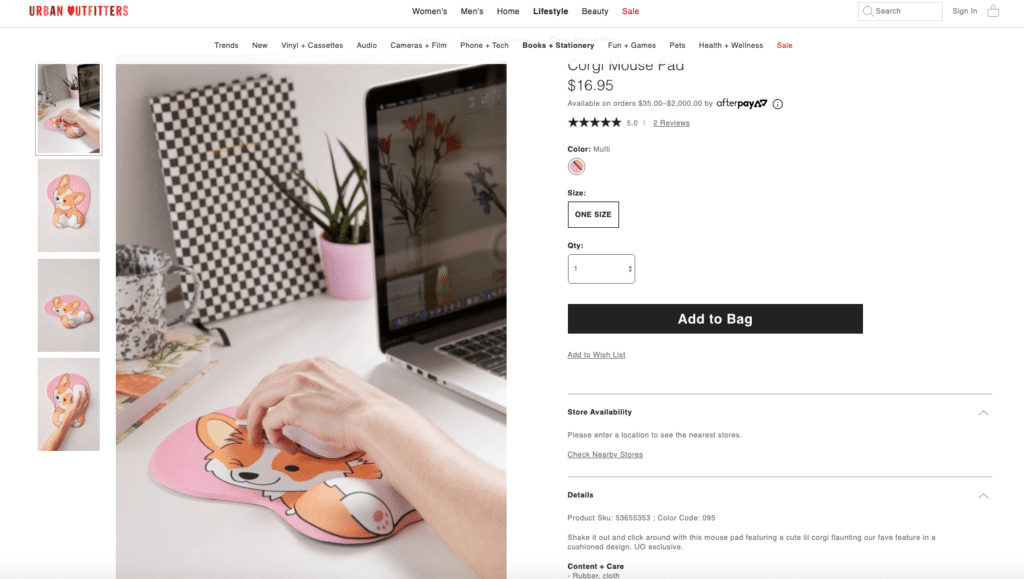 ---
---
#47. Boston Terrier Gift
Bobblehead
Spend five minutes with a Boston Terrier and you'll get the iconic head tilt. Your friend will bust out laughing when they receive a bobblehead that emulates it!
---
---
#48. Australian Shepherd Gift
Baby Clothes
If they have a fur baby and a human baby, this is the perfect time to buy some onesies and sleepers printed with Australian Shepherds. Let the former guard the latter.
---
---
#49. Australian Cattle Dog Gift
Jewelry Box
As a herding breed, these dogs can be as fierce as the wolves that they guard their flock from, so they're ideal for watching over jewelry and other valuables. They'll bring protective energy to their design.
---
---
#50. Cockapoo Gift
Figurine
The Cockapoo is another breed that's famous for its fur, and with the right kind of intricate, detailed figurine, you can bring every curly strand to life.
---
---
#51. Dalmatian Gift
Spotted Gifts
You can't pass up the opportunity for a spotted Dalmatian gift. Whether it's a mug, blanket, tapestry, hoodie or something else entirely, you have to embrace the gift of nature's design.
---
---
#52. Doberman Gift
Doormat
Dobermans are another breed that gets a bad rep, so help their owners fight the stereotypes with a cute, friendly doormat. Let them show their guests that Dobermans can be welcoming dogs.
---
---
#53. Akita Gift
Luggage
Akita dogs originated in Japan, so if you know someone else who enjoys traveling the globe, consider gifting them luggage or luggage tags. They can show off their love for their Akita to the entire world.
---
---
#54. Rough Collie Gift
Lassie Gifts
Did you know that Lassie was a Rough Collie? Take a walk down memory lane with the DVD set, or buy something from the mountain of Lassie-themed memorabilia. Timmy will appreciate it.
---
---
#55. Schnauzer Gift
Paper Clips
If they work in an office, they'll get a kick out of Schnauzer-shaped paperclips. These neat little office supplies will be perfect as a casual, low-key gift for Secret Santa swaps.
---
---
#56. Labrador Gift
Keyholder
Keyholders are quite versatile as an interior design piece. They're pragmatic, but stylish ones can be used as a conversation starter as well, especially if they're shaped like a Labrador.
---
---
#57. Golden Retriever Gift
Keepsakes
Golden retrievers are known for their faith and loyalty, so there's no shortage of heartwarming keepsakes that feature the breed. You can find them paired with children, angels, spirits, other animals and all kinds of nature scenes.
---
---
#58. Greyhound Gift
Themed Card
Want to keep things simple? Why not get your dog-loving friend a themed card. Whether it's their birthday, a Christmas gift, an anniversary, or something else, there are Greyhound card designs for every occasion.
Just like this one from Zazzle: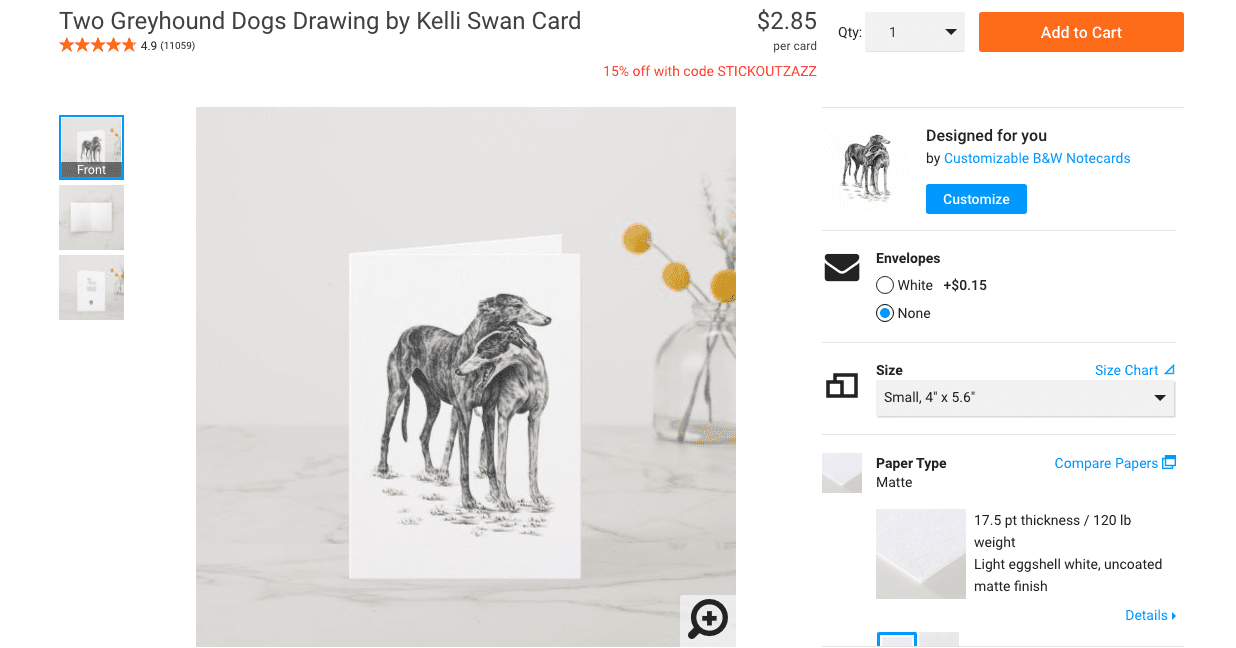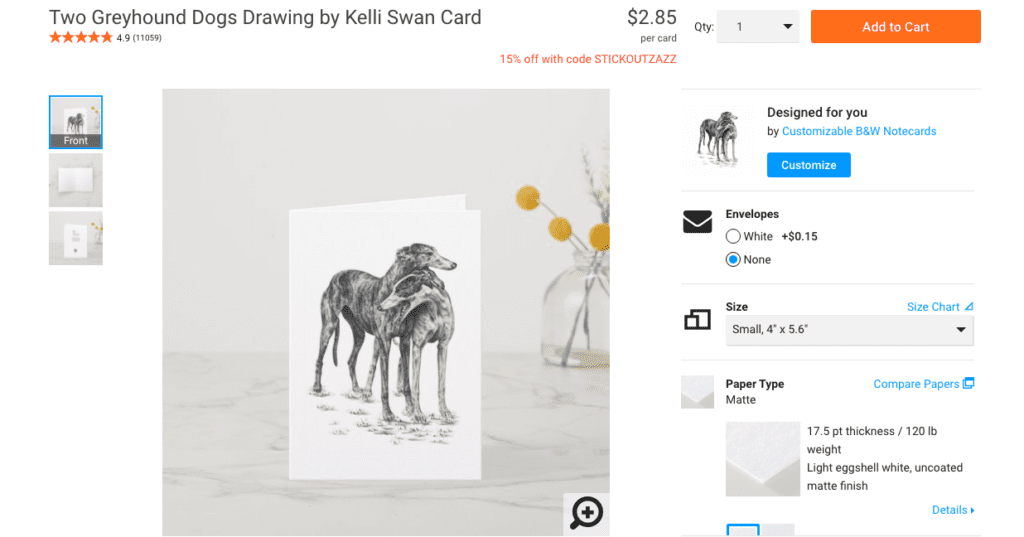 ---
---
#59. Maltese Gift
Bedspreads
Wrap them up in their favourite pets with a Maltese bedspread. The designs can range from subtle paw prints to huge, colourful portraits of Maltese dogs in profile.
---
---
#60. Chow Chow Gift
Hoodie
Help them become as soft and fluffy as their Chow Chow with a big, down-filled hoodie. They can even invite their pooch inside of the zipper for some extra-close cuddles.
---
---
#61 & 62. Cavalier King Charles Gifts
Coasters
These fun, friendly dogs aren't nearly as hoity-toity as their name would suggest. But if their owners want to live like royalty anyway, get them a set of coasters. Let them protect their furnishings.
---
---
Dog Carrier Backpack
The Cavalier King Charles is listed as one of the top 13 breeds that use a dog carrier backpack on the K9 Sport Sack blog. Their small size and placid nature make this gift perfect for dog owners who want to take their pup on outdoor adventures.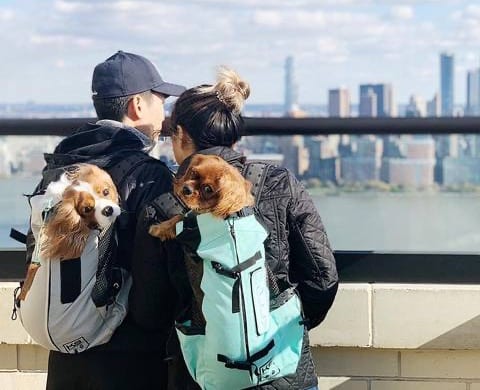 ---
---
#63. Shih Tzu Gift
Tote Bag
Some of these dogs can be so small that they'd actually fit into a tote bag! Either way, however, their owners should be proud to carry a tote bag with their face on it.
---
---
#64. Mutt Gift
Paw Cleaner
If you aren't sure of their dog's breed, buy them a multipurpose gift that will suit any dog. Every dog owner on the planet could use a paw cleaner for rainy or muddy days.
---
---
#65. Sheepdog Gift
Beer Glass
Herding is hard work, and everyone deserves a break now and then. Crack open a cold one and enjoy a frosted beer (or any cold drink!) from a special glass printed with sheepdogs.
---
---
#66. Pekingese Gift
Eyeglass Holder
Pekingese have such sweet, memorable faces that it's almost a shame to hide them behind glasses. But if you know someone who is always misplacing their shades, this can be a fun and practical gift.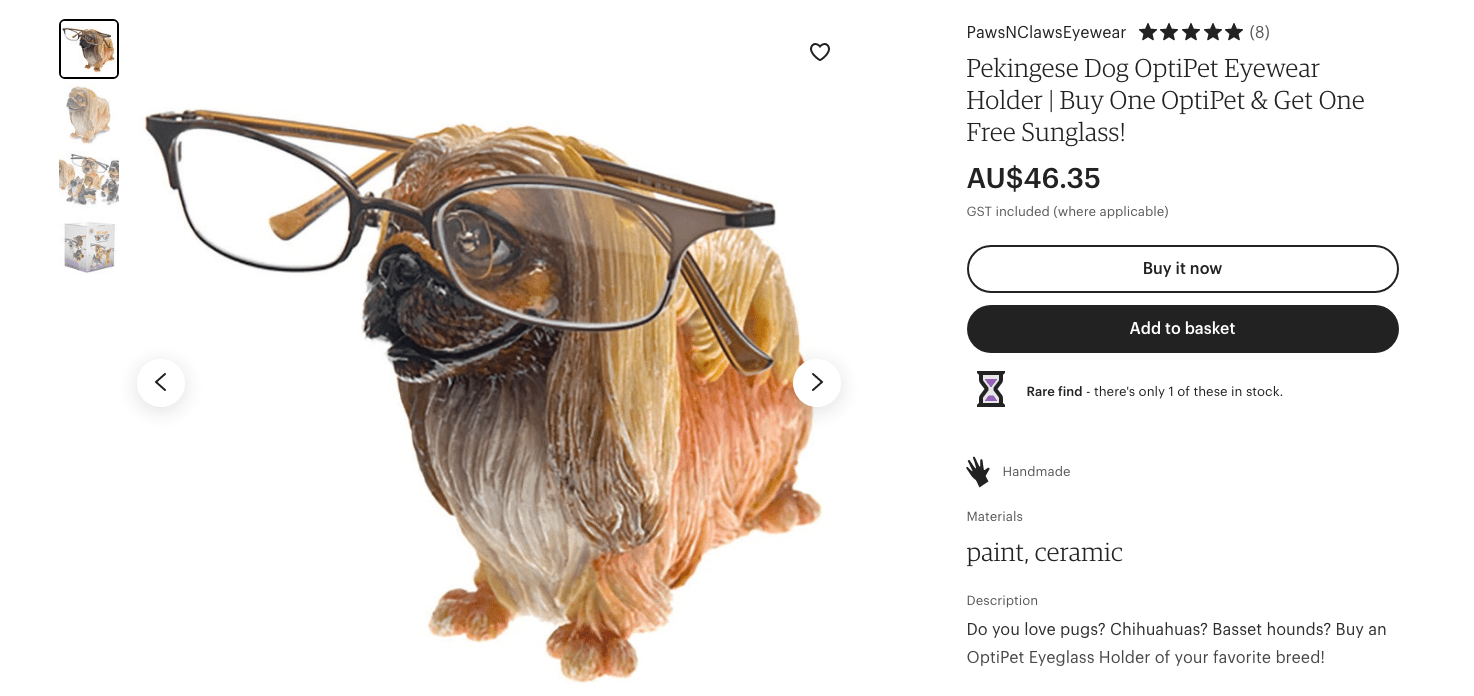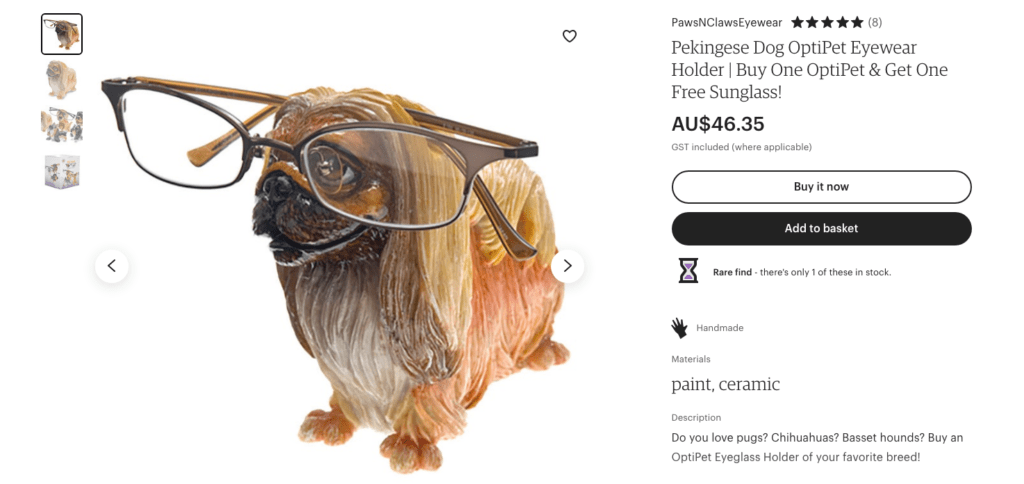 ---
---
#67. Poodle Gift
Skirt
The traditional Poodle skirt might have died out in the 1950s, but you can still gift a stylish, Poodle-printed outfit to your favorite fashionista.
---
---
#68. Cocker Spaniel Gift
Outdoor Statues
Cocker Spaniels are such sweet, affectionate dogs that they'll add cheer to any garden. You can find statues made of everything from antique brass to heavy natural stone.
---
---
#69. Ridgeback Gift
Pajamas
Ridgeback pajamas are available in a wide variety of colors, patterns and materials, so it's just a matter of choosing the right ones for your gift recipient. Do they like soft flannel or fuzzy velvet? Do they prefer baggy sweatpants or formal pajama sets?
---
---
#70. Rottweiler Gift
Planter
Who says that Rottweilers are scary? You can turn them into a beautiful, life-giving force with a Rottweiler-shaped planter. Look for something small and ceramic for indoor use or big and rustic for outdoor gardening.
---
---
#71. Weimaraner Gift
Scrapbook
As a family dog, Weimaraners are often with their owners for a long, long time. Help them document every happy memory with a scrapbook.
---
---
#72. Whippet Gift
Dog Sweater
You'll need to get their measurements for this, but since Whippets have long, skinny legs and low body temperatures, they could always use a fun dog sweater!
---
---
#73. Shiba Inu Gift
"I'd like to tell you that I'm happy spring has come." This is the message written in beautiful Japanese calligraphy on cream, pink and gold postcards. Cherry blossoms gently drift from the top, and a Shiba Inu stares upward, watching them fall. It's a gorgeous postcard set, and it'll be a sweet and loving gift for any occasion, including a simple "thinking of you" occasion.
---
---
Wrapping Up
These are just a few gifts for dog lovers that will showcase their commitment to man's best friend. Whether they like to cuddle with their Poodle or drown themselves in the fluff of their Samoyed, these presents will let them be loud and proud about their pooch.
From Our Store