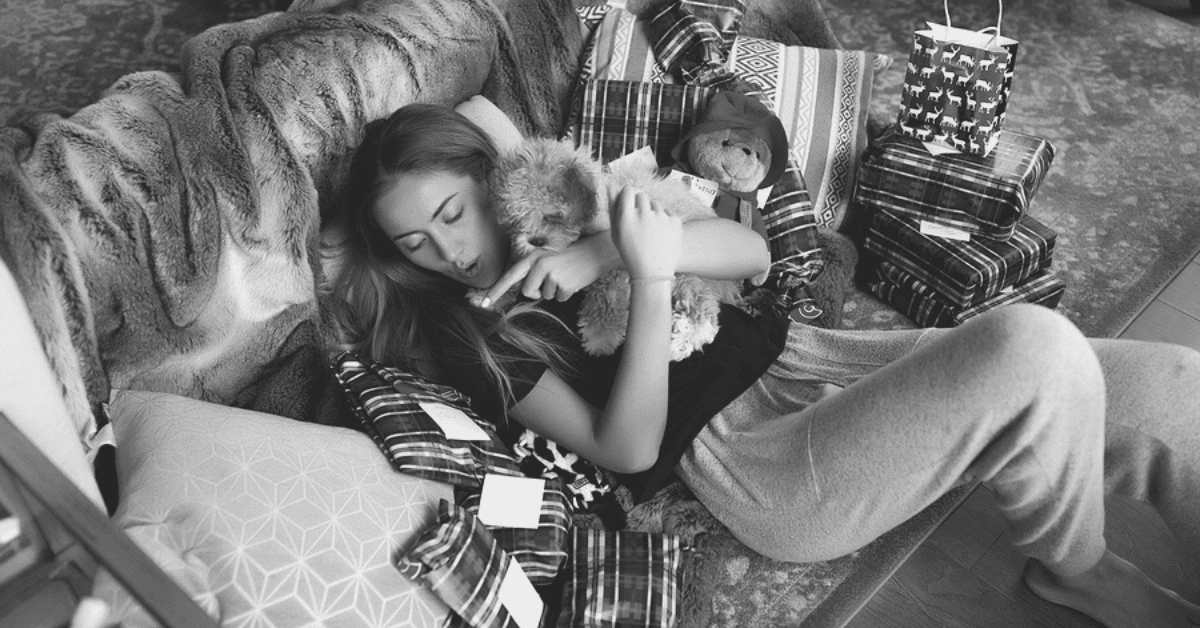 Dog gifts range from adorable to awe-inspiring, but they'll always be a delight to the fur mamas that receive them. Here are just a few must-have dog gifts for her that are pawsitively incredible.
1. Welcome Mat
If she's a dog lover and proud of it, she can usher guests into her home with the help of a dog-themed welcome mat. They're made with everything from subtle, sophisticated designs to bold and funny sayings like "Dogs Allowed, People Tolerated."
Here is a cute Dachshund welcome mat from Bed, Bath, and Beyond: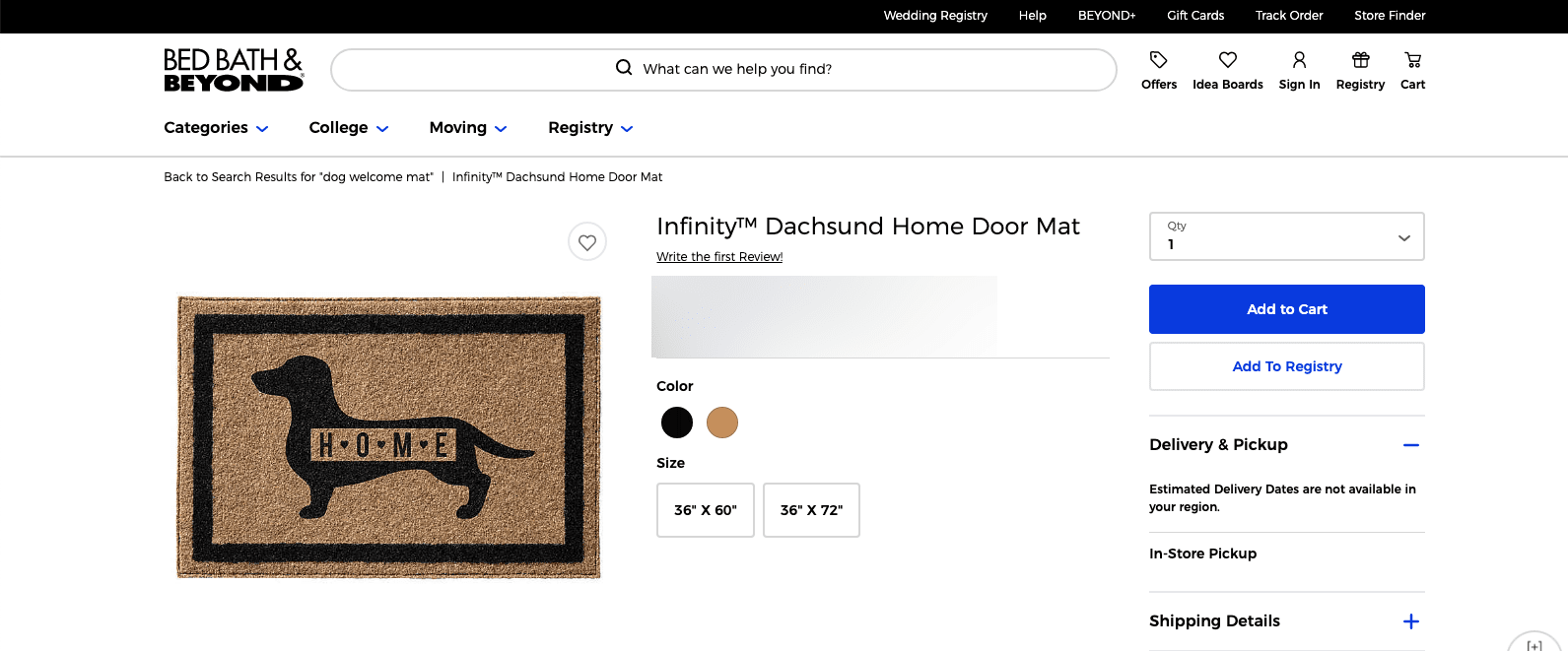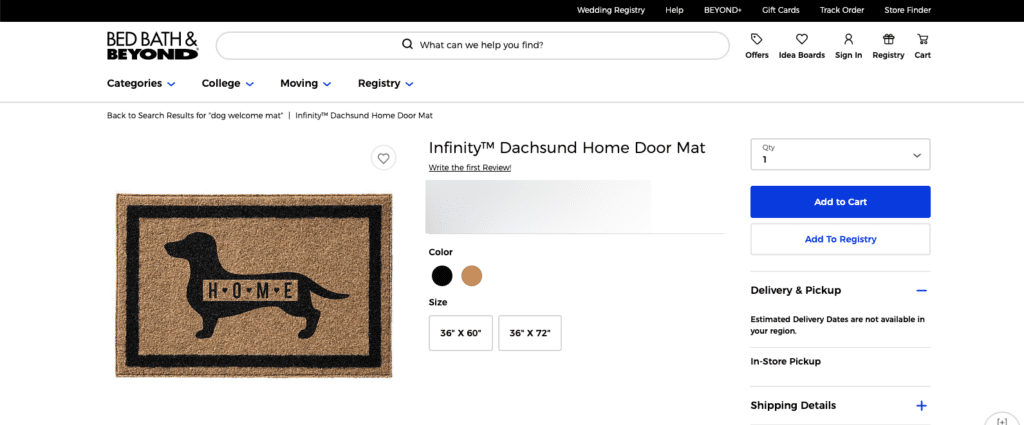 2. Jewelry
There's a wide range of dog jewelry out there, so it's just a matter of choosing something that fits her personal style. Would she be charmed by a bracelet? Would she enjoy a sterling silver necklace or a rose gold anklet? Maybe she would tear up at a customised paw print ring? Jewelry is always a winning dog-themed gift for that special fur mama in your life.
3. Leash
A luxury dog leash is the kind of thing that she might not want to buy for herself, but if she gets one as a gift, she'll be glad to show it off to the world. These ultra-indulgent leashes can be made with the finest fibers or bedazzled with all kinds of beads, bells, ribbons, and gemstones. They'll definitely make a statement.
4. Wine Glass
There's nothing better than relaxing after a long day with a nice bottle of red. If she has something like a "dog mum" wine glass, she might appreciate the experience even more than usual. You can order them as traditional, long-stemmed goblets or classy stemless glasses.
5. Wooden Art
Wooden art never goes out of style, so if you're looking for top-notch interior design gifts, you might consider something that celebrates her Husky or Labrador. She can hang it on the wall, display it on a shelf or mount it to a door or mantle. The possibilities are endless.
Check out this unique wooden artwork depicting a German Shorthaired Pointer on Etsy: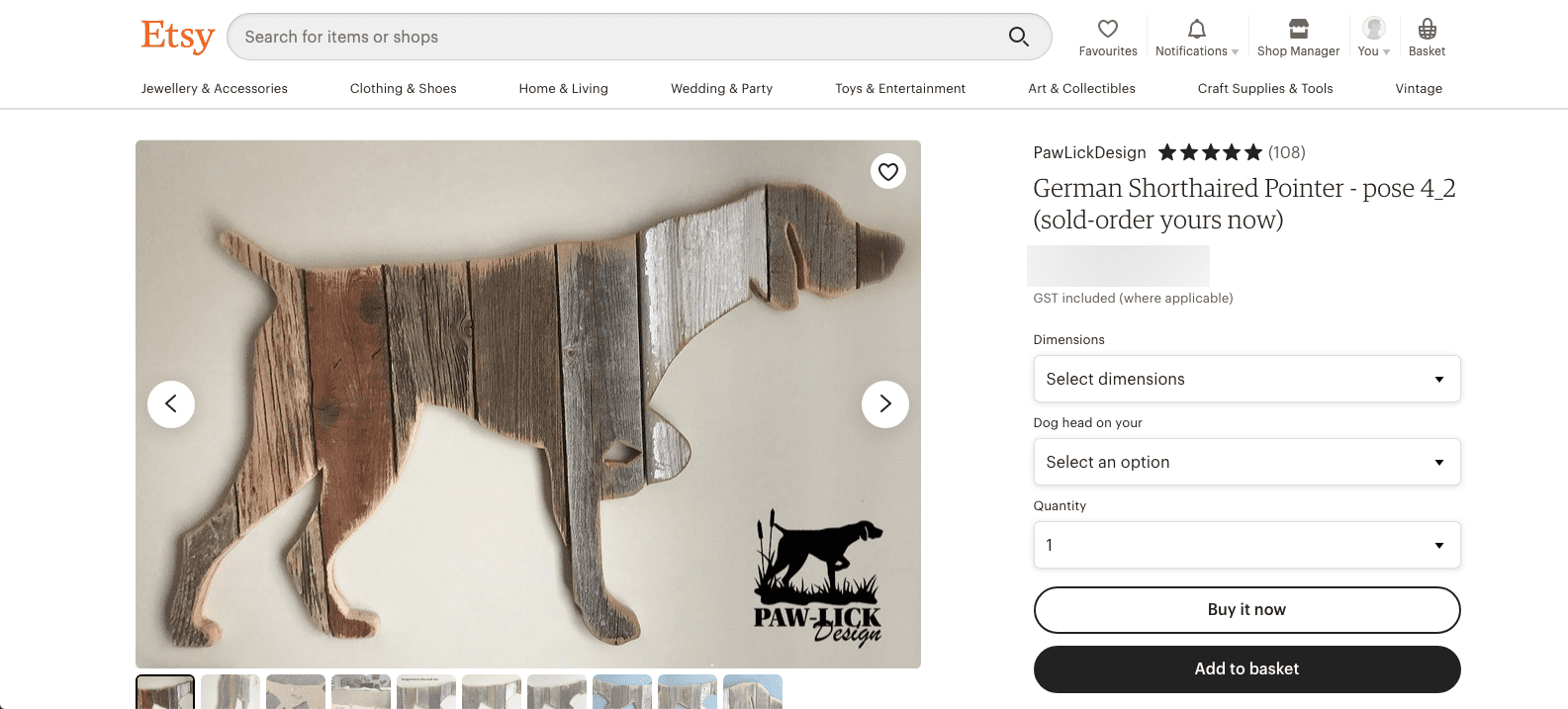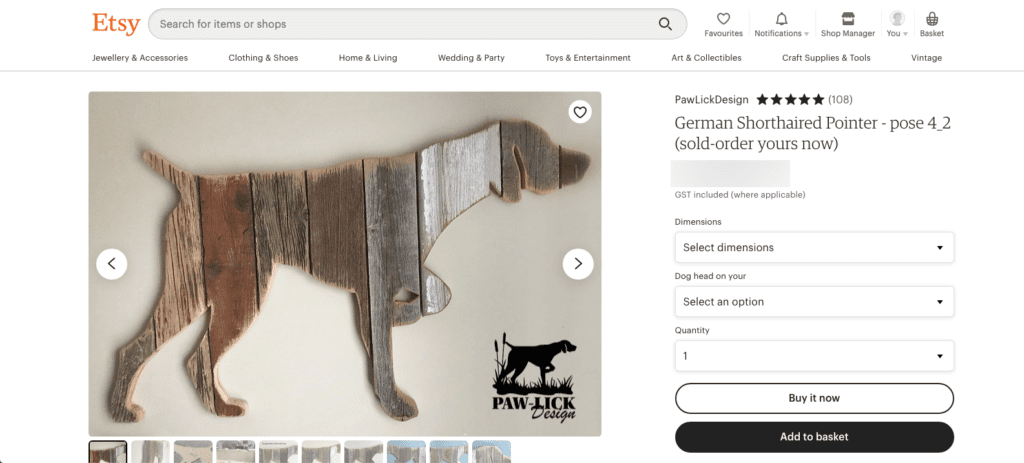 6. Notebook
Stylish notebooks have become a trendy gift for females. They're ideal for writing, doodling, sketching, listing, and couponing, and they can be decorated with the world's cutest canines.
7. Garden Sculptures
Put a Poodle in the petunias when you gift her with dog-shaped garden sculptures. They can be commemorative statues of her own dogs, or they could just be cute little figures that enhance the garden with life and colour. If she plays her cards right, she might even be able to use them as scarecrows to keep pests away!
8. Paw Print Keepsakes
A paw print is one of the most heartwarming mementos that you can own as a dog lover. Not only will they serve as precious, treasured items while a dog is alive, but once they pass on, the paw prints will ensure that he or she are never forgotten.
9. Bath Towels
Bath towels are always useful, so if she's the type to appreciate a practical gift, get her something soft and fluffy. Neutral tones will look great in a marble bathroom, or kitschy, colorful towels can be used for fun afternoons on the beach. You could also buy tea towels for display in the kitchen.
10. Coffee Table Books
If she enjoys entertaining, dog-themed coffee table books can be a nice conversation starter during parties, brunches and other gatherings. They can also make excellent decor items for a stylish home. Despite their name, you don't actually have to store them on a coffee table!
This is The Book of Pugs, one of our top-selling coffee table books: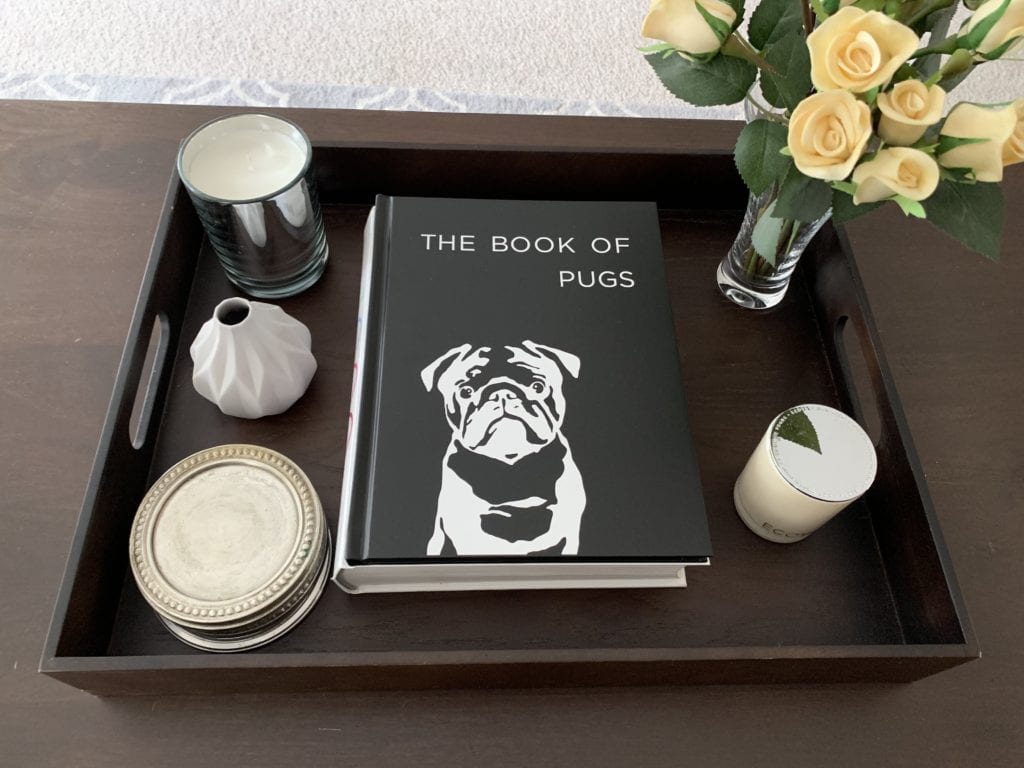 11. Scented Candles
It's a cliche for a reason. A good scented candle can mask pet odors, and it can bring fresh, complex fragrances to a home or office. There are even candles made specifically for dog owners! They have cute designs and non-toxic ingredients that won't harm wet, curious noses.
12. Seat Covers
Does she have a fur baby that sheds like crazy? Does her puppy love to scamper in the mud and bring it back to mum after a day in the park? You could save the car with some high-quality seat covers. They'll keep the shedding at bay, and they can add a little colour and texture to a vehicle's interior as well.
13. Tapestry
A tapestry can adorn her walls for years to come, so it's definitely a gift to consider if you want something that will last. A large one can dominate a feature wall, or a small one can be a fun design element along with framed pictures and hanging calendars. Take a look at her decor and see what will match it.
14. Cosmetics
You can find brushes and palettes with all kinds of designs, including paws, bones, treats and furry little faces. Buy her a "puppy palette" that hides a dozen different colours of eyeshadow, or look for "pawdicure" tools to give her luxurious nails. When you're done, get her a doggie-themed makeup pouch to carry it all.
15. Figurines
You get what you pay for in terms of figurines, so if you want to give her a hand-blown, finely-detailed ceramic Pug, you'll need to look for artisan crafters who take a lot of pride in their work. Only then will you find gifts that she can take pride in as a homeowner, too.
16. Matching Accessories
If she's the type to coordinate her outfits, she might enjoy matching accessories with her dog. The most common kind is a collar for the canine that matches a friendship bracelet for the human, but there are other fun, fashionable ideas as well. For example, she could wear complementary sweaters with her pooch!
Friendship Collar, for example, have a range of matching dog collar and bracelet combinations: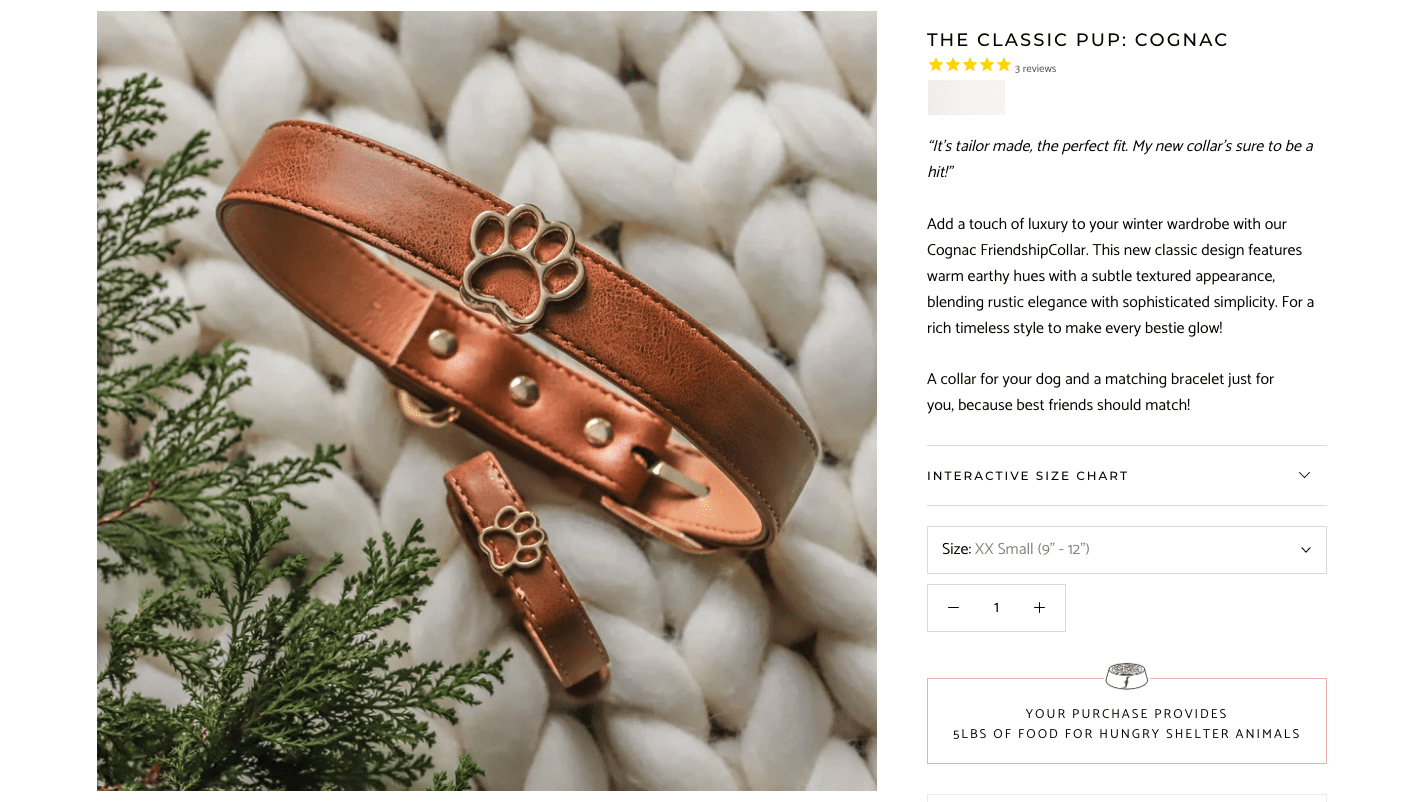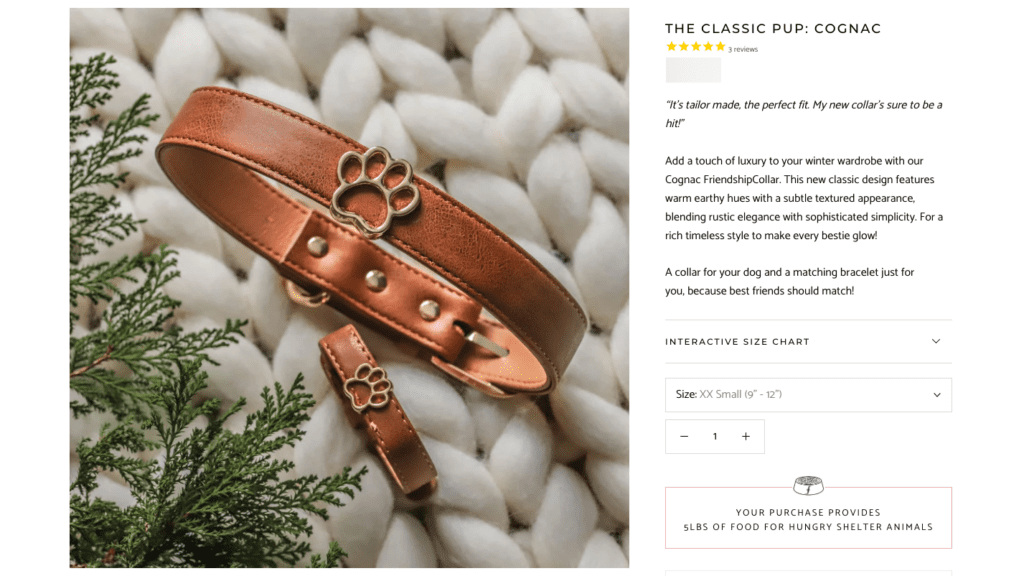 17. Phone Case
Another great gift for practical dog mums, phone cases can be cute, fun, stylish or all of the above. You can order one with a customised picture of her pup, or you can find one that has an attractive print or adorable saying. Just make sure that you're buying the right size for her phone!
18. Magnets
The key to a well-organised mind is a well-organised fridge, and with some cute, slobbery magnets, she'll be able to keep things nice and neat. For laughs, buy something like "dog butt" magnets. For style, look for engraved magnets in silver, gold, bronze, and other precious metals.
19. Coffee Mugs
"Everything tastes better with dog hair." or "I work hard so my dog can have a better life." You can't go wrong with dog-themed coffee mugs, especially when they're clever. She can use them to either sip her favourite java or stash her favourite pencils.
20. Dog Bed
Humans aren't the only ones who deserve to be spoiled! If you purchase a fancy dog bed, you can help her furry friend live a life of luxury just like their owner. Options include sinfully soft down-filled beds and heated beds that can stave off winter's chill.
21. Customised Pet Portrait
Last but certainly not least, a pet portrait can be an everlasting icon of a beloved companion. You can order them in every shape and size imaginable, and they can be painted, printed, sculpted and otherwise commissioned to look just like the real thing. If she's at all sentimental about her dog, she should love this one.
Wrapping up
These are just a few great dog gifts for her. There are many more, but these should be enough to get you started. Happy shopping!
From Our Store