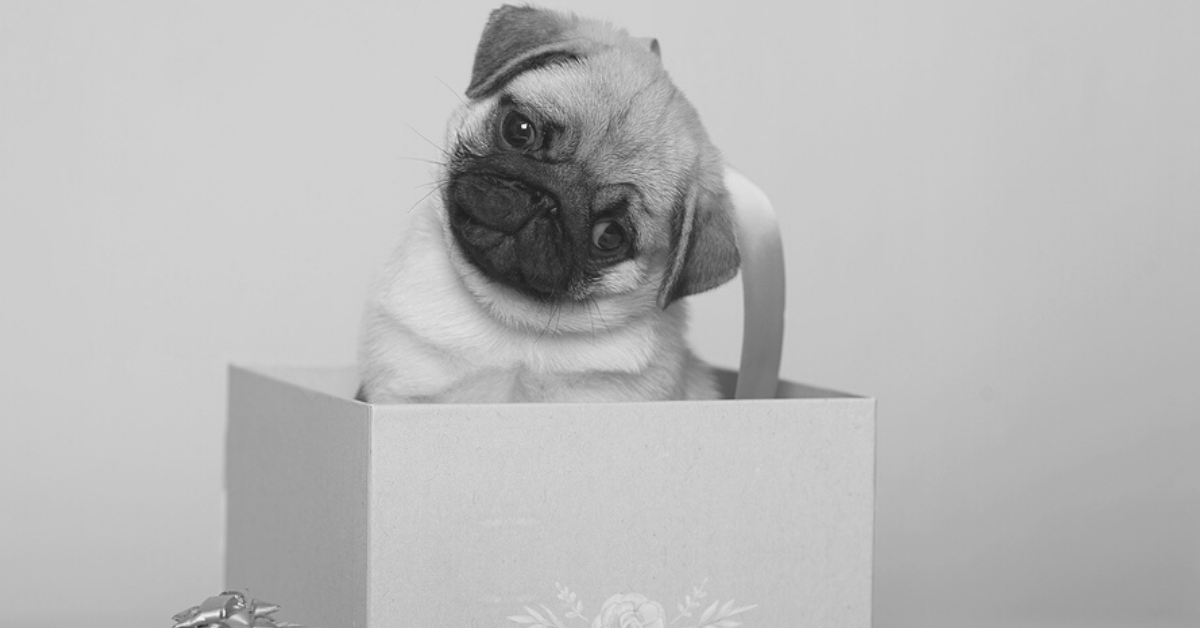 Do you know someone who loves their Pug more than people? Do they enjoy collecting Pug-themed ornaments and trinkets?
Here are just a few gifts for Pug lovers that will really get them barking!
Note: This article contains affiliate links, which means we receive a small commission if you make a purchase after clicking on some of my recommendations.
1. Coffee Mugs
There's nothing like a Pug mug to inspire a smile. They come in every style imaginable, and the puns range from "I Puggin' Love You" to "I Didn't Choose the Pug Life; The Pug Life Chose Me."
You can even find 3D mugs with handles that curl like pug tails!
Just make sure that you're buying the right kind of mug for your gift recipient; while some can serve as functional mugs for coffee and tea, others are only meant to be pencil holders or display items.
Zazzle has over 3,000 Pug-themed mugs to choose from.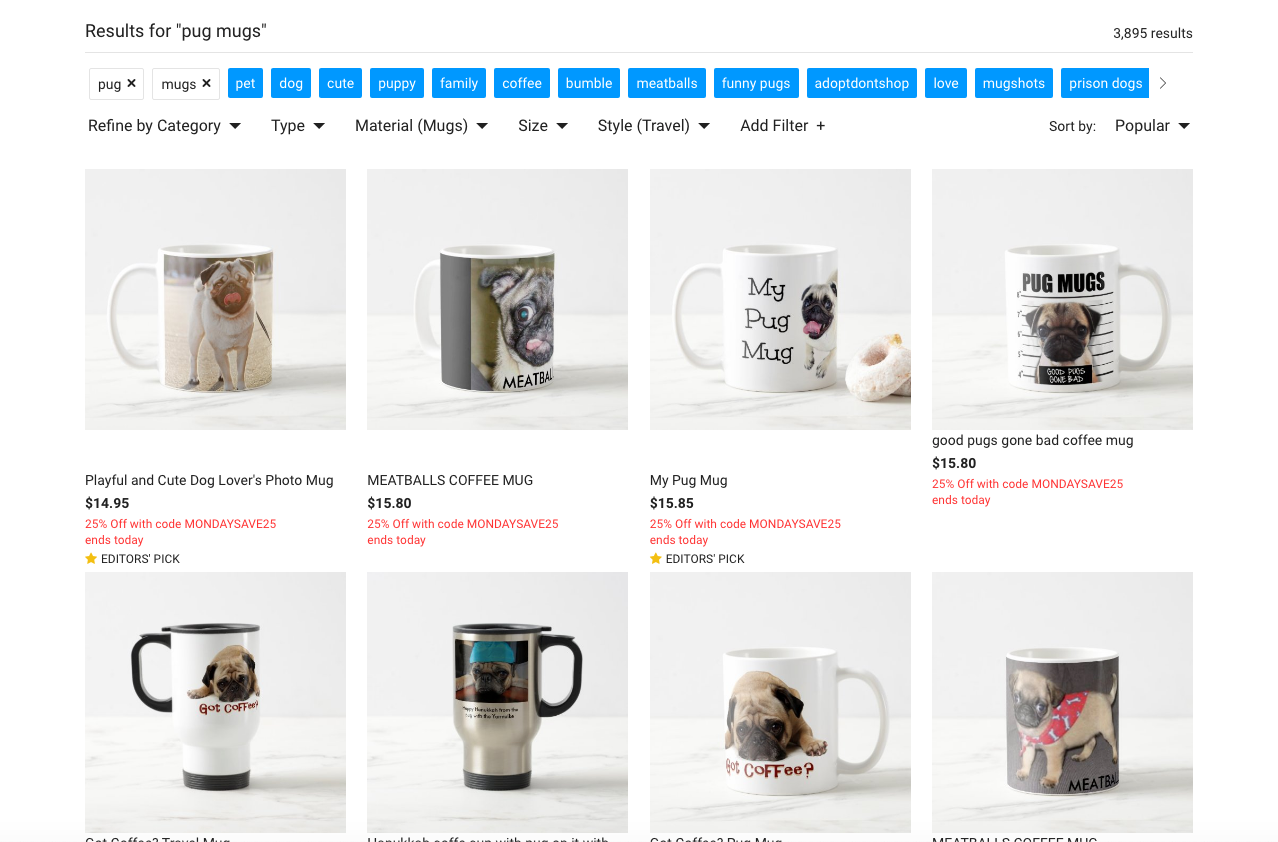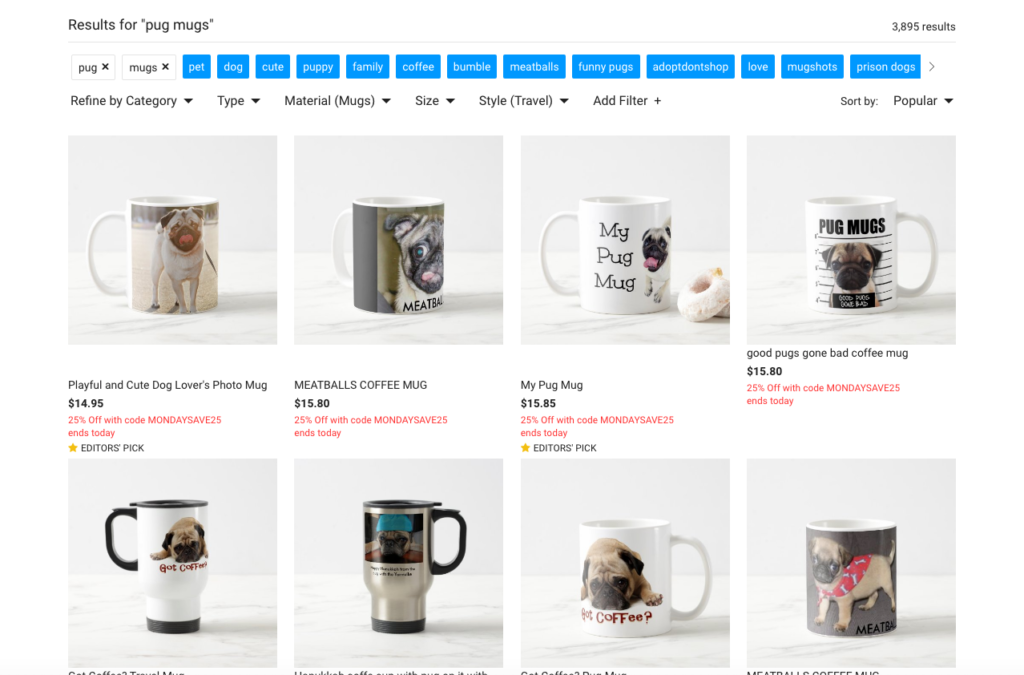 ---
---
2. Coffee Table Books
Sleek and stylish, a coffee table book will look amazing against the right kind of backdrop. Arrange it in an artful display with candles and tea lights; prop it up against a lamp or a stack of glossy magazines.
There are books devoted to Pugs and to dogs in general, so you'll have plenty of buying options. For example, The Book of Pugs has more than 100 full-color photos bound within a hardcover casing that will look chic in a living room or den.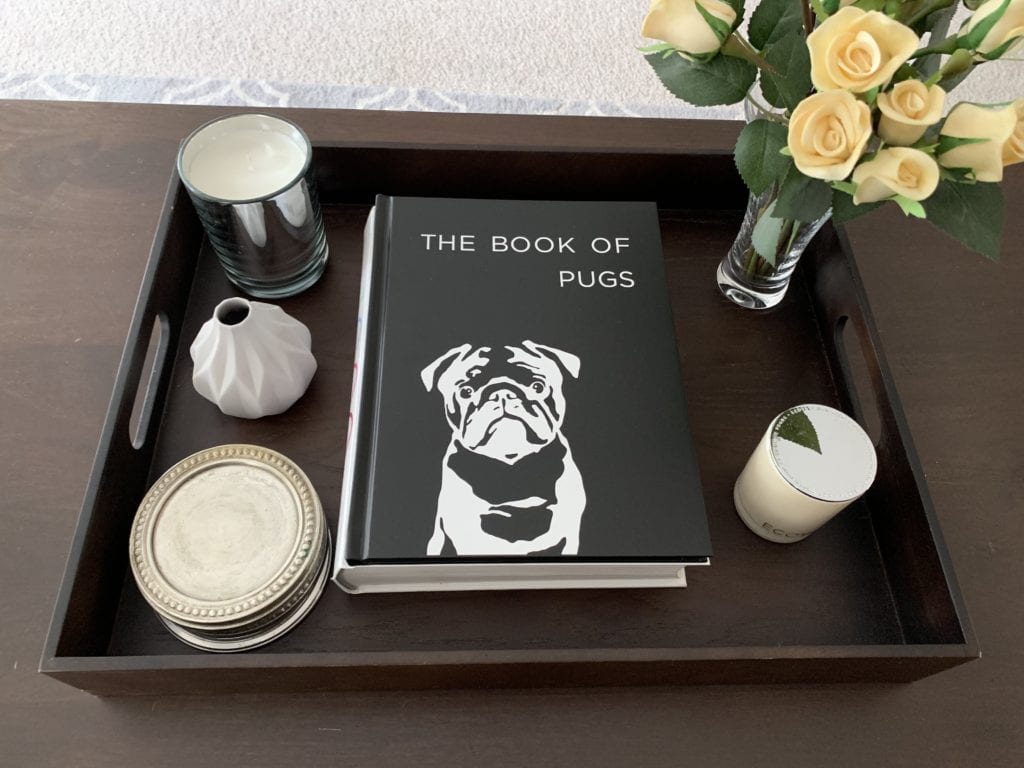 ---
---
3. Candy
If you know someone with a sweet tooth, they should be delighted by Pug-themed cakes and cookies. You can order them from a variety of sellers online, and you'll have so many tasty options that it's just a matter of choosing the right treat for your gift recipient.
Would they appreciate some "Pugs and kisses" in the form of chocolate dollops? Would they like some gummy candy shaped like Pug faces or some luxury fudge in a tin decorated with Pugs? Their dentist might not like this gift, but they will.
---
---
4. Clothes
You won't see it on the cover of Vogue, but Pug fashion can be pretty chic. You just have to look for genuinely cool clothes instead of gag gifts.
For example, instead of buying a t-shirt with a silly saying on it, look for a finely-cut blouse with a subtle Pug pattern. Instead of buying strange socks and slippers, try a kimono-inspired Pug robe with a matching sash.
You can even find loungewear sets with Pugs printed on suit-style pajamas that button up, so your friend can wake up and go to bed surrounded by Pug love. That's true happiness right there!
Zazzle has over 20,000 Pug-themed clothes to choose from.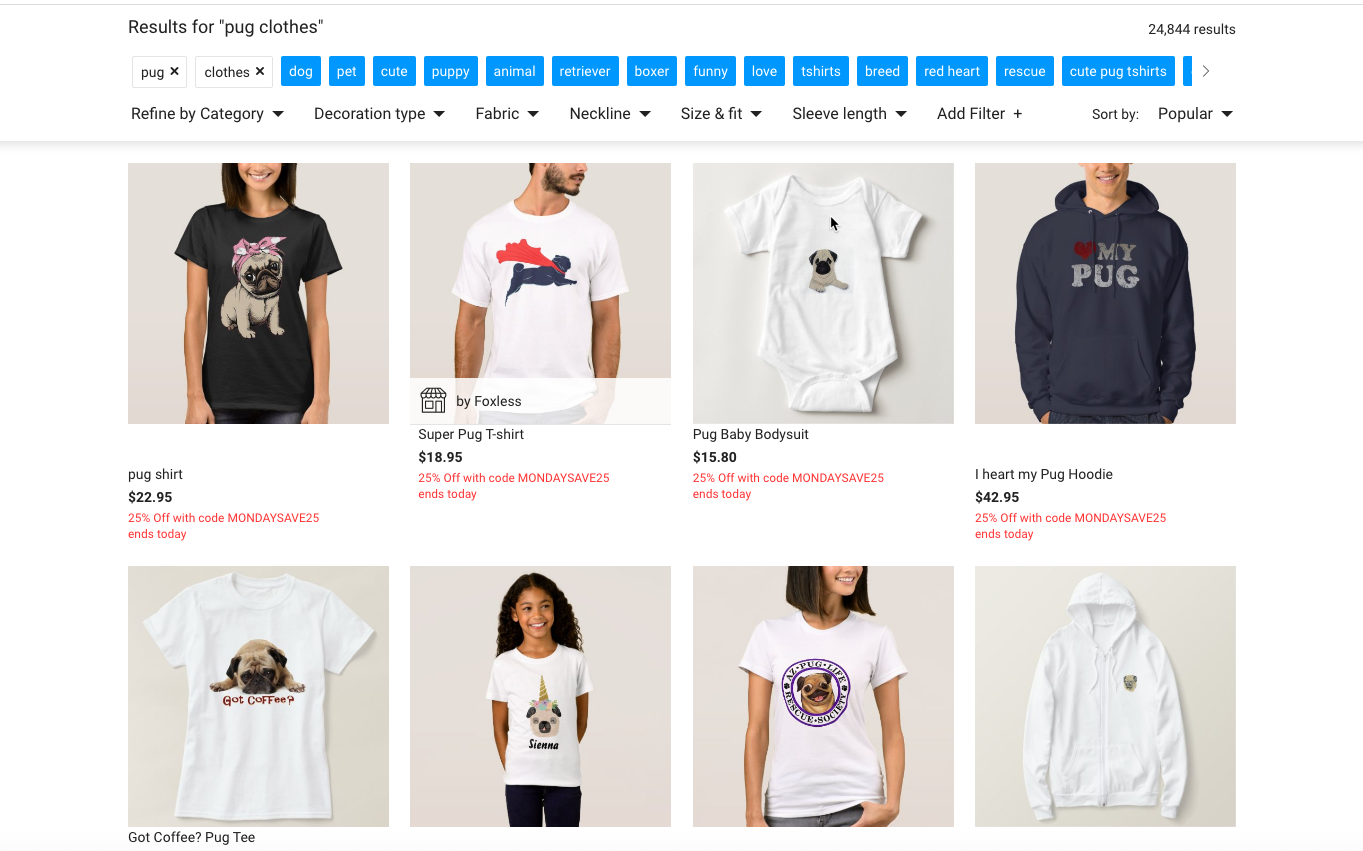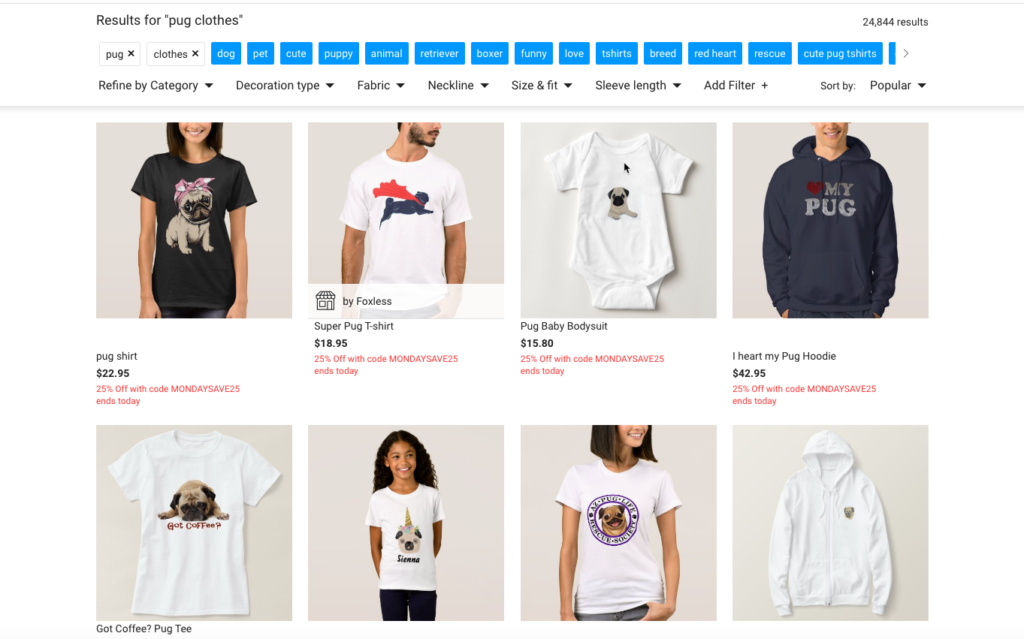 ---
---
5. Figurines
Cute figurines can be used to decorate their desks. Lifelike figurines can be displayed on shelves and mantels as collector's items. You can even find sweet, sentimental figurines with angels holding Pugs; these can be used to honor a canine companion who has passed away.
The world of Pug figurines is a vast one, so it's up to you to decide whether your gift recipient would prefer goofy cartoon Pugs or emotional keepsakes. There's no right or wrong answer here; it just depends on their personal preferences.
---
---
6. Yard Decor
Anyone can buy a garden gnome. How many people can buy a garden gnome riding a Pug into battle?
From ceramic statues to wooden planters, there are all kinds of Pug-themed lawn decorations out there, and they can really elevate a person's curb appeal. Let the pugs sit prettily in a flower garden; have them stand watching over a driveway or treehouse. They can even be shaped into moss heads or water fountains!
Etsy has some great finds if you're looking for Pug yard decor: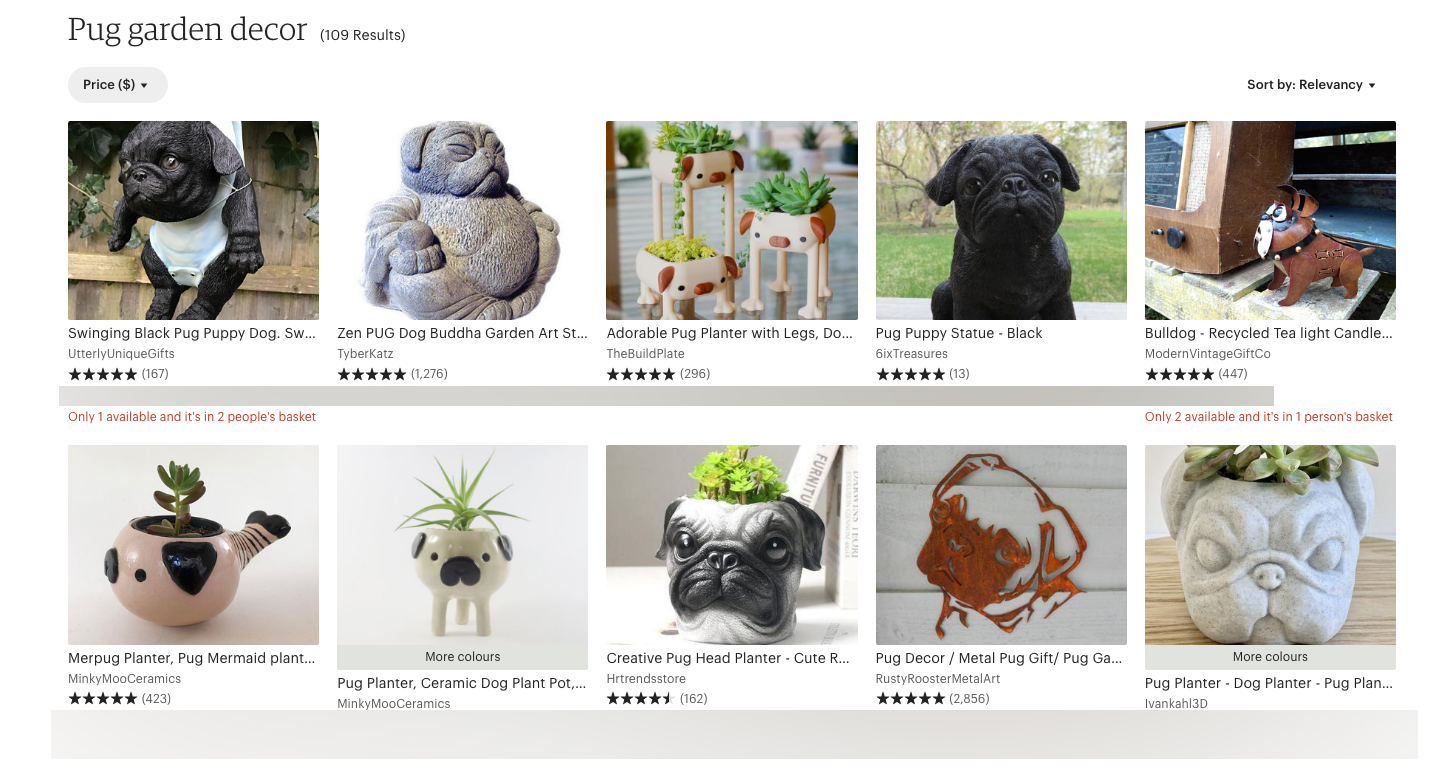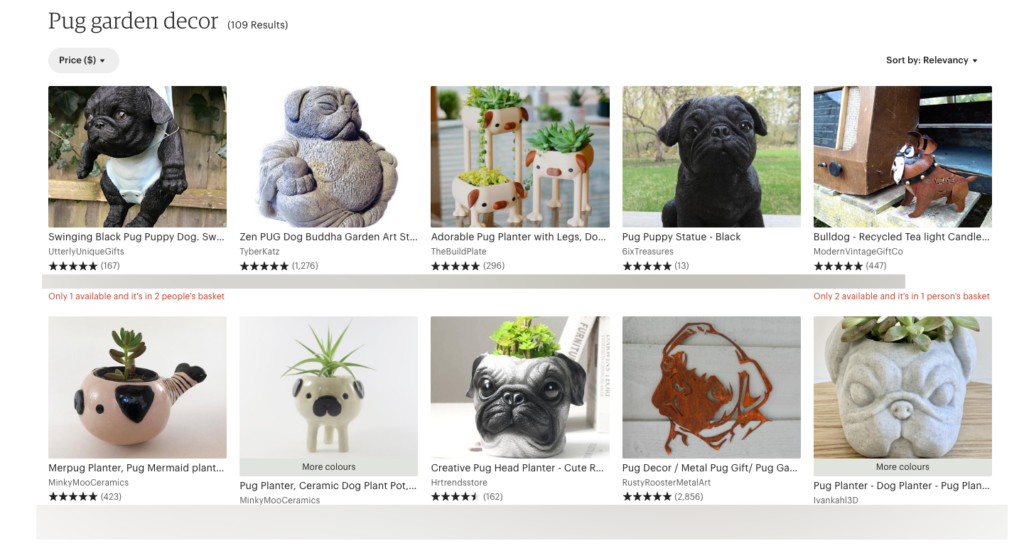 ---
---
7. Dinnerware
You've probably seen wine glasses with jokes like "Pugaholic." However, that's just the beginning of Pug-themed dinnerware. You can find everything from bowls to cutting boards with cute little Pug faces printed on them, so with the right gifts, you could transform someone's entire kitchen into a Pug paradise.
Give them a fun teapot with a Pug design. Replace their plain plates with Pug plates. Upgrade their noodle dishes with Pug chopsticks!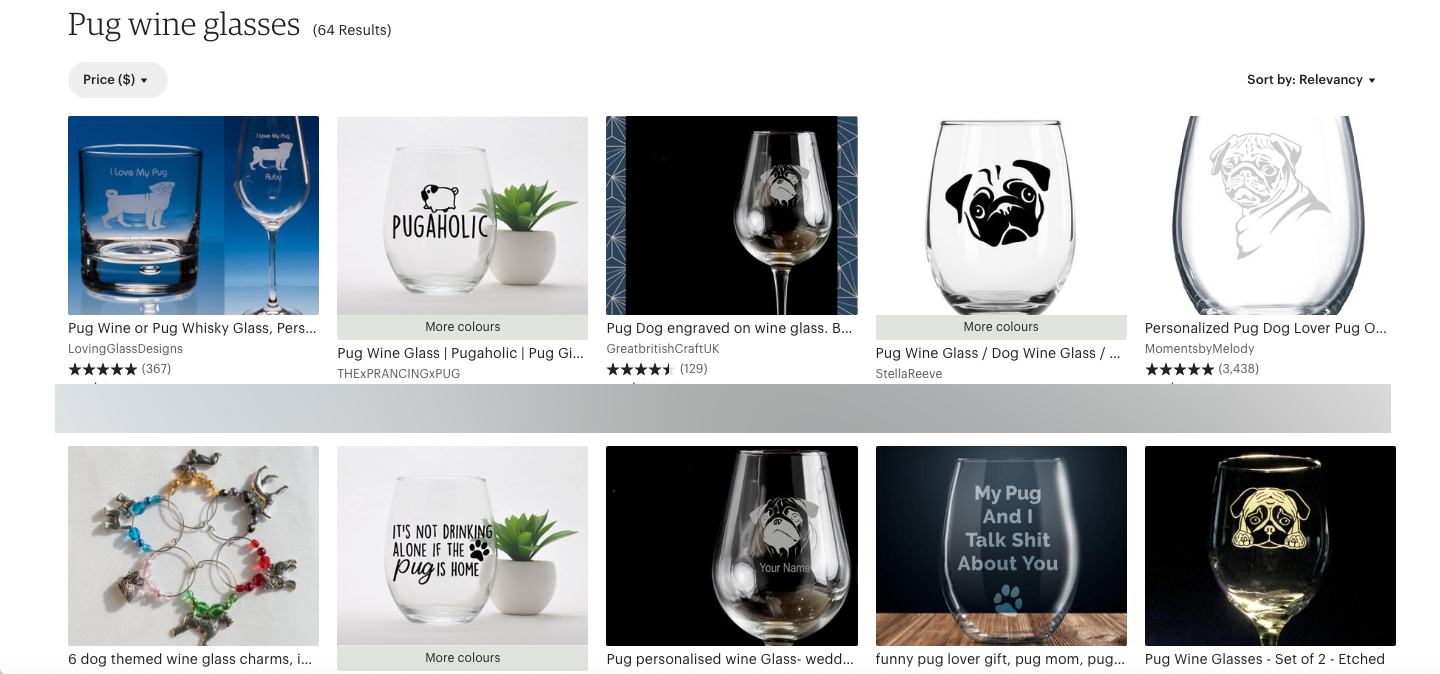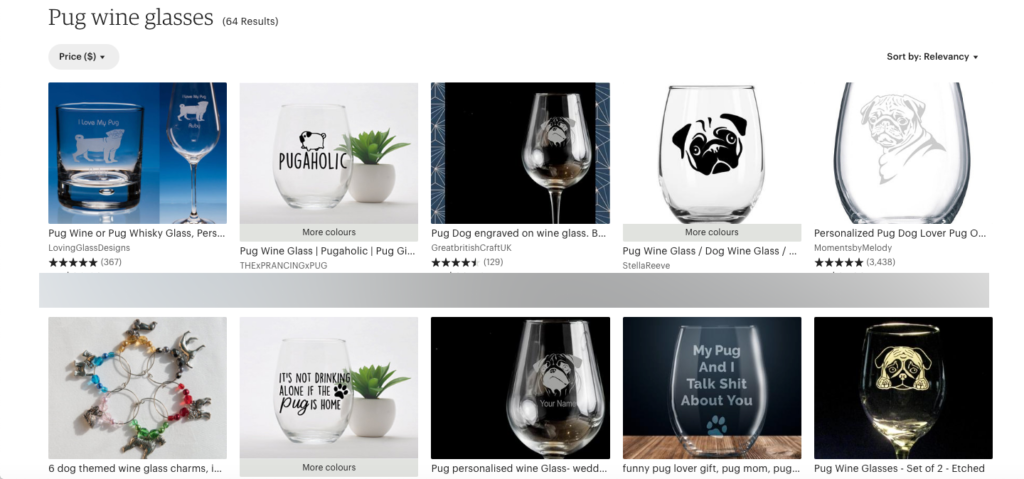 ---
---
8. Stationery
Perfect for students and office employees, Pug-themed stationery will brighten their day even as they're slogging through desk work. You can find pens, pencils, notepads, calendars, sticky notes, paper clips, and even washi tape with Pug designs.
Some of it's bold and colorful; some of it could be mistaken for regular office junk until you look more closely at it. Either way, your friend can look down at a sweet little Pug every time they staple documents or organize file folders. Paperwork doesn't get much cuter than that!
---
---
9. Jewelry
The most important part of buying jewelry is making sure that it complements the other person's style. Don't get a crystal rhinestone Pug bracelet for someone who'd prefer a casual, funky anklet; likewise, don't purchase a kitschy Pug-shaped toe ring for someone who regularly wears diamond chokers.
You have to think about the type of Pug jewelry that they would like, not what catches your eye as you're shopping. If your gift recipient is just going to throw the studs into a jewelry box without wearing them, it isn't the right jewelry for them!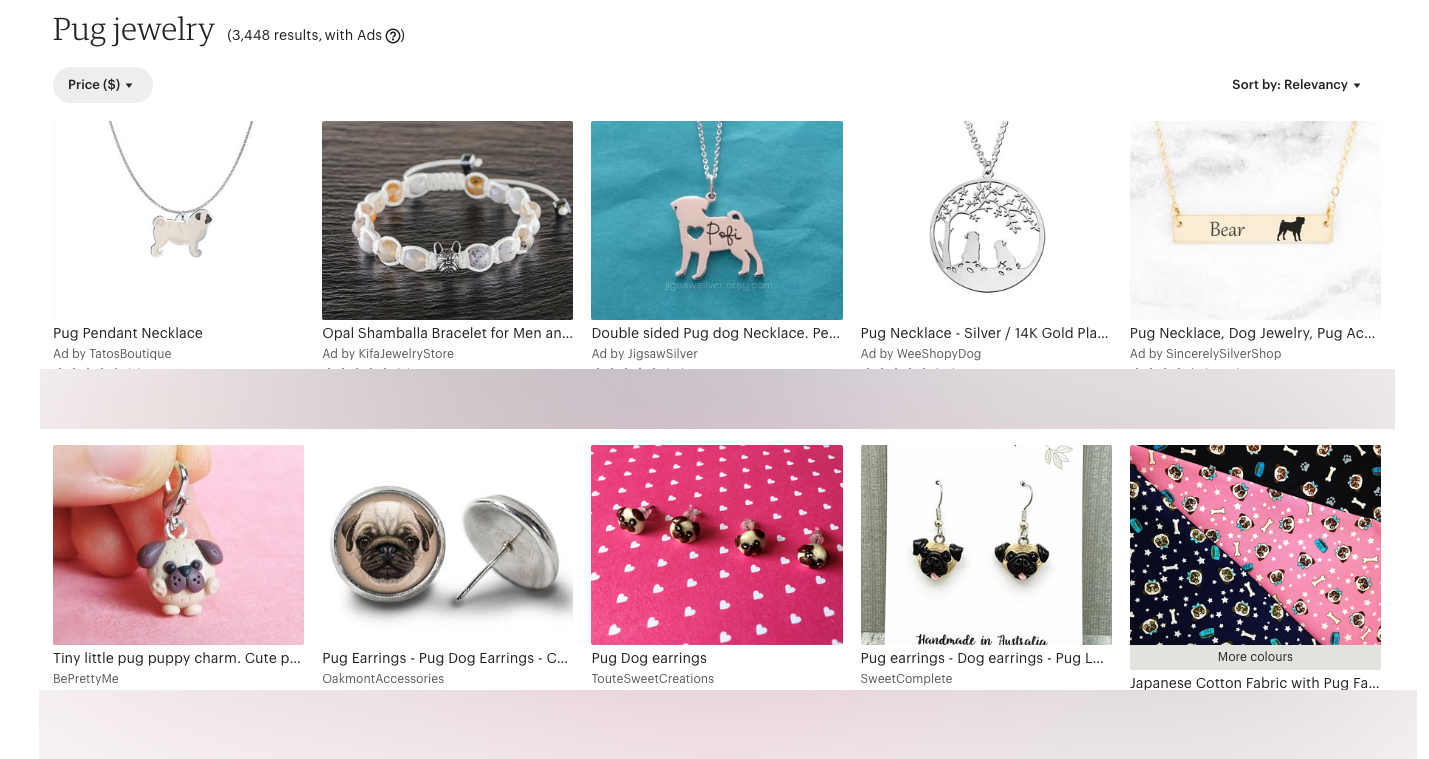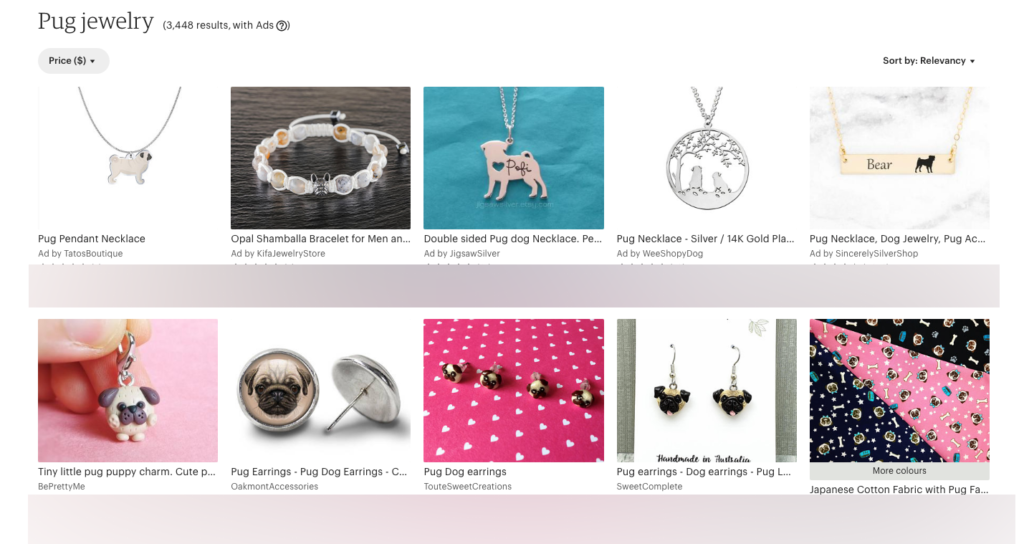 ---
---
10. Linens
For a gag gift, buy them a Pug tablecloth that will stare hungrily at their plate while they eat. For a more sincere present, consider a customized Pug blanket with pictures of their pooch and some loving or inspirational words.
You might also look into Pug-themed sheets, towels, duvets, and dust covers. There's no shortage of Pug-themed linens, especially if you're willing to buy unique, handmade gifts from specialty shops. Those people can knit designs that you'll never see in a store!
---
---
11. Signs, Stickers and Stencils
Decorative signs can add a lot of style to the home. The trendiest ones right now are wooden box signs, but you can also find boards, plaques, pallets, and hanging signs that can become feature elements of someone's interior decor.
Stickers are another possibility; there are many different vinyl Pug stickers that can be applied to walls, windows, desks, dressers, and bookshelves. If they're handy with a paintbrush, you can also give them Pug stencils to use on flat surfaces.
They could decorate everything in their home and garden with their own unique Pug designs.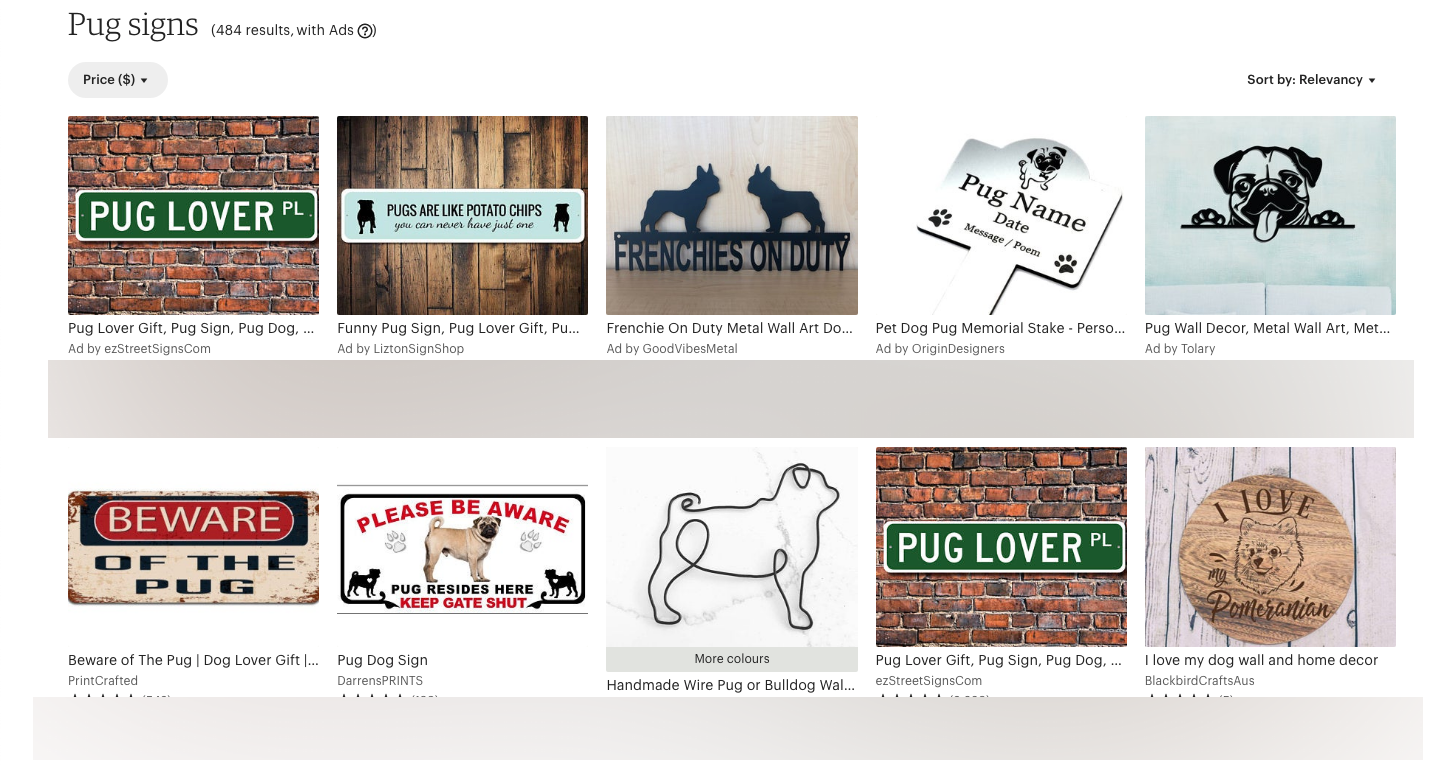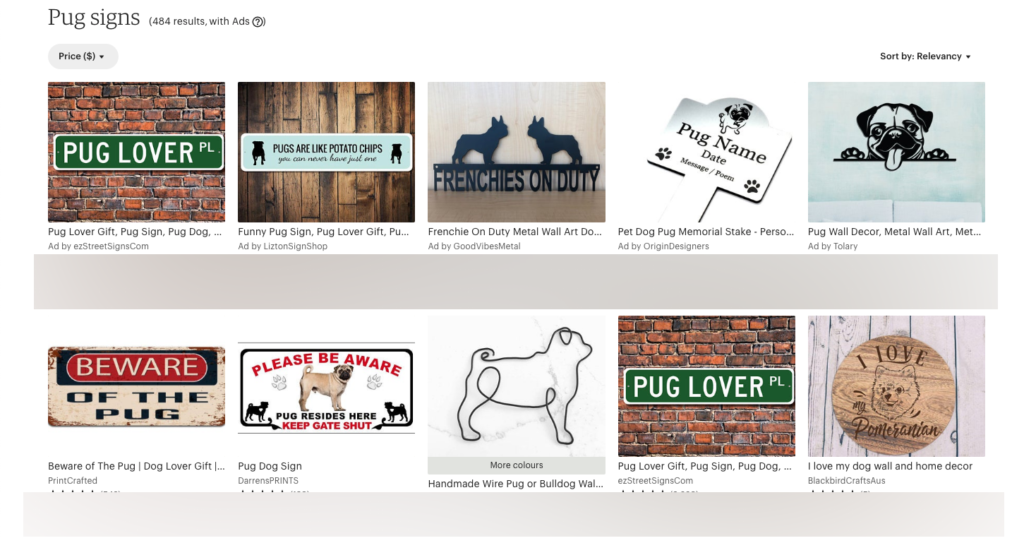 ---
---
12. Bags
Maybe they'd like a mini-backpack with a gigantic pair of anime eyes around a Pug-shaped zipper. Maybe they travel a lot, and they could use some stylish luggage with a Pug print or Pug identification tags. Maybe they just want a cute little clutch with a Pug's face on it!
There are many bags for Pug lovers out there, including purses, totes, and duffels, so figure out where their need lies. Whether it's carrying makeup or hauling groceries to the car, the best bags will serve a purpose for them.
---
---
13. Lamps
Some Pug lamps are heavy, ornamental things that are plated with gold or bronze. Other Pug lamps have color-changing LED lights that glow on 3D models. All of them will make excellent gifts for Pug enthusiasts!
Whether they're looking for decorative home elements or just cool stuff to add to their Pug collection, a Pug lamp will be a unique, memorable gift that they'll remember for a long time.
It'll also be a functional item that actually gets used on a day-to-day basis, so if you hate when your presents are forgotten in a closet somewhere, this might be something that pleases you and your gift recipient.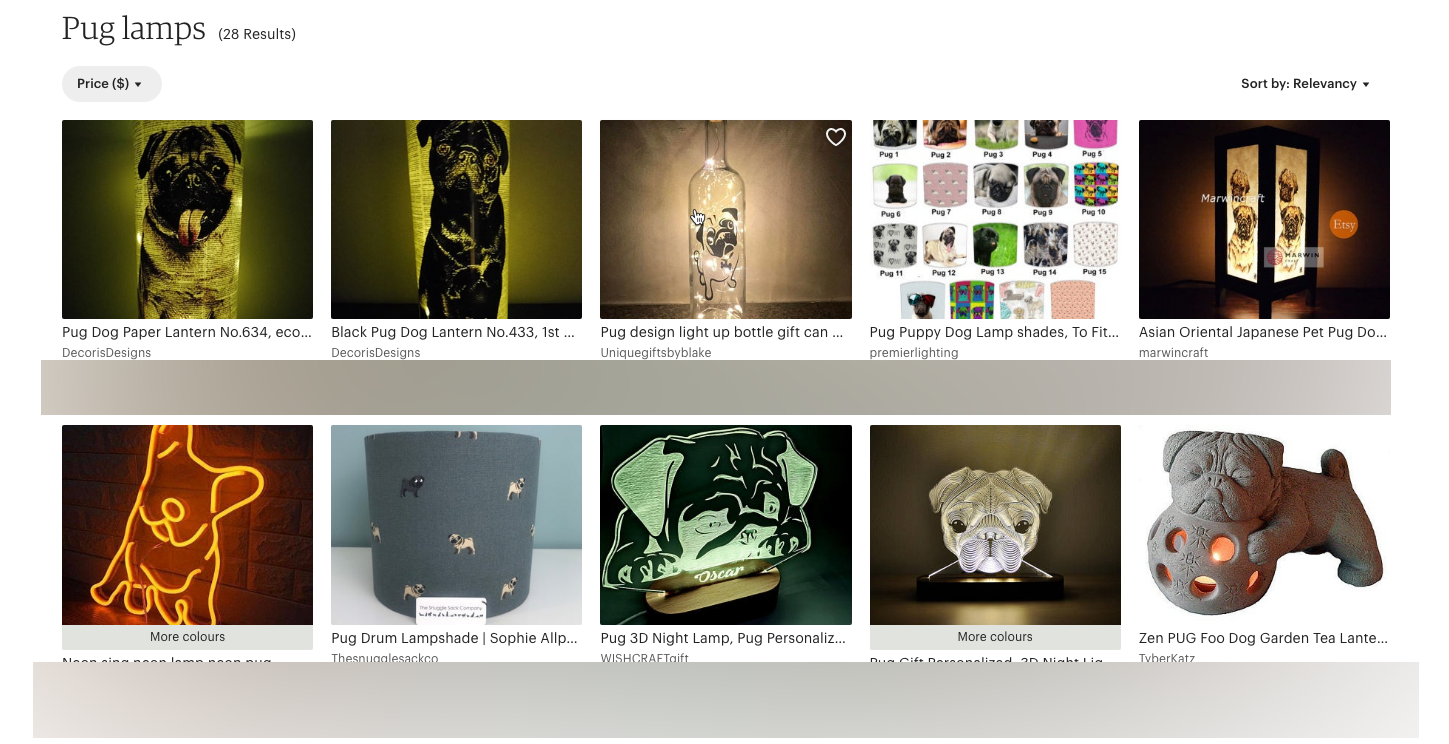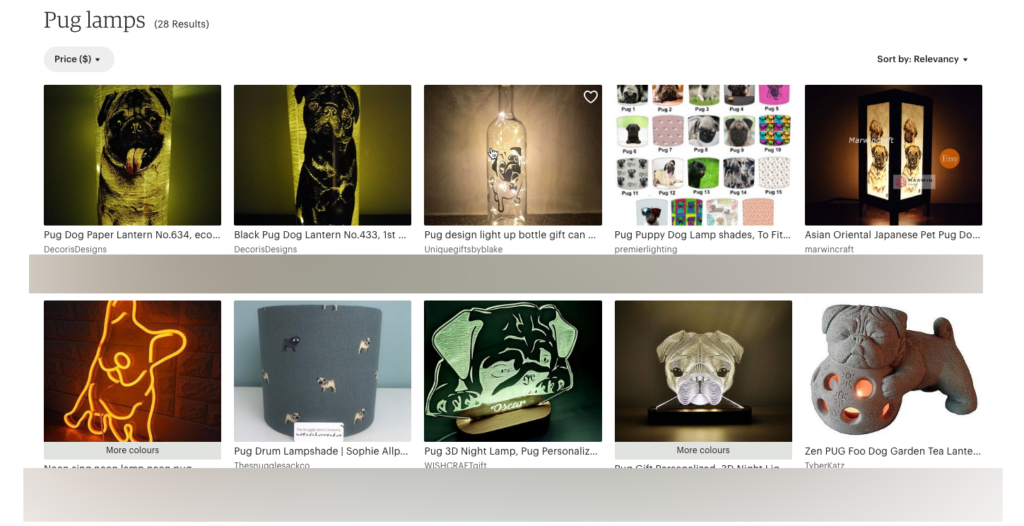 ---
---
14. Accessories
From socks to scrunchies, there's no end to the amount of Pug-patterned accessories on the market. Women might like bows, pendants, scarves, leggings, and charm bracelets; men might like wallets, sunglasses, watches and cuff links.
You can also say "screw the gender binary" and buy things like umbrellas and rings that will suit anyone. Pug faces have been printed on just about every accessory that you can think of, so the sky is the limit. Those stubby little legs are just too cute to resist!
---
---
15. Artwork
Inspire the dreamers with an art print of a Pug looking into the swirls of Van Gogh's The Starry Night. Bring some color into their living room with a pop art painting of Pugs in David Hockney's style. Get really weird with abstract art Pugs that would make Picasso proud.
If you can name it, someone has recreated it, and they've added Pugs to it. You'll have endless gift options for Pug-themed artwork, so buy some frames and get to mounting.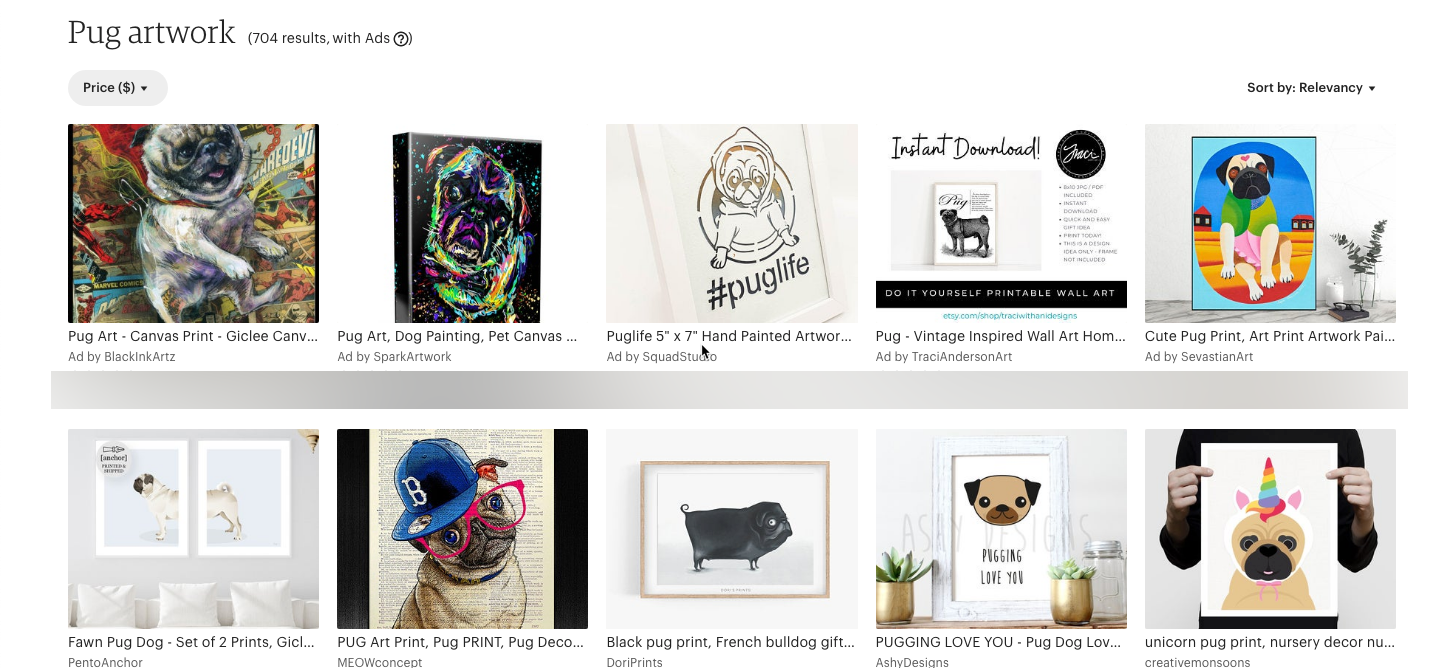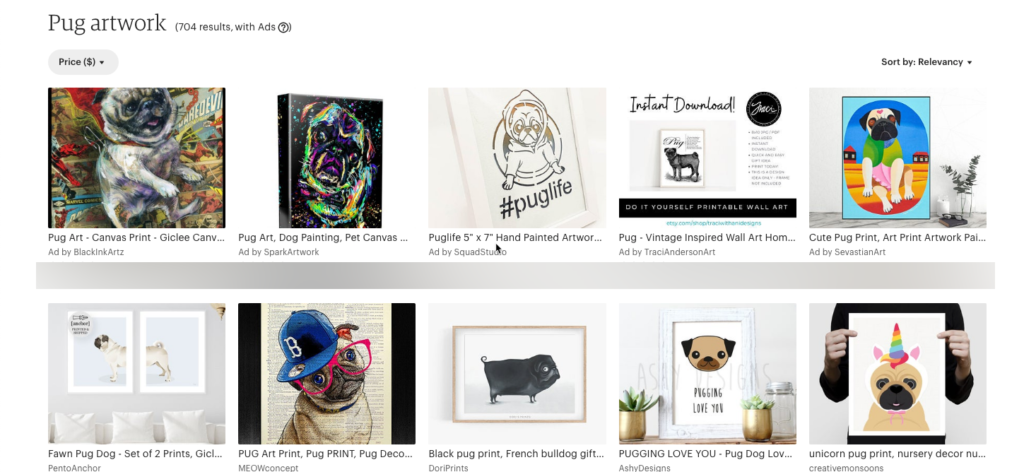 ---
---
16. Stuffed Animals
They aren't just for kids. An adorable little Pug plushie might be just the thing to cheer someone up during a difficult time!
You can also look into specialty plushies that double as therapy wraps. Depending on their material type, they can be filled with everything from warm rice to cooling gels, and they often come with soothing scents like lavender, eucalyptus, peppermint, and violet leaf.
The right kind of plushie can really help with ailments like anxiety and muscle pain, so it's worth looking into the possibilities even if the person is outside of the usual age range for stuffed animals.
---
---
17. Pillows
The fun ones might be shaped like Pugs or have fun prints of Pugs being silly, but there are also fashionable choices with more refined designs. For example, there are Pug pillows with mandala prints or watercolor images, or you can splurge for a customized, handmade pillow with special embroidered details.
The smallest pillows are fit for Pugs themselves while the largest can cover a queen-sized bed.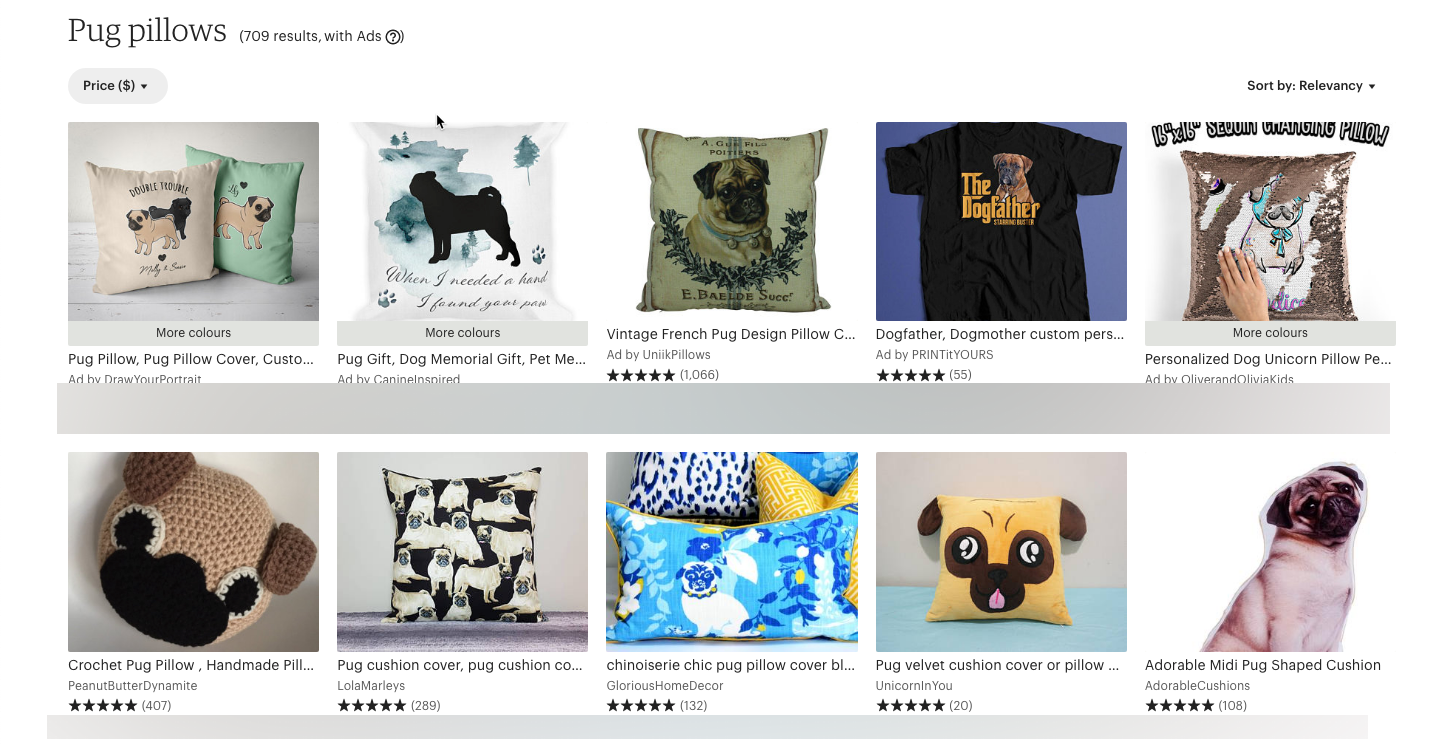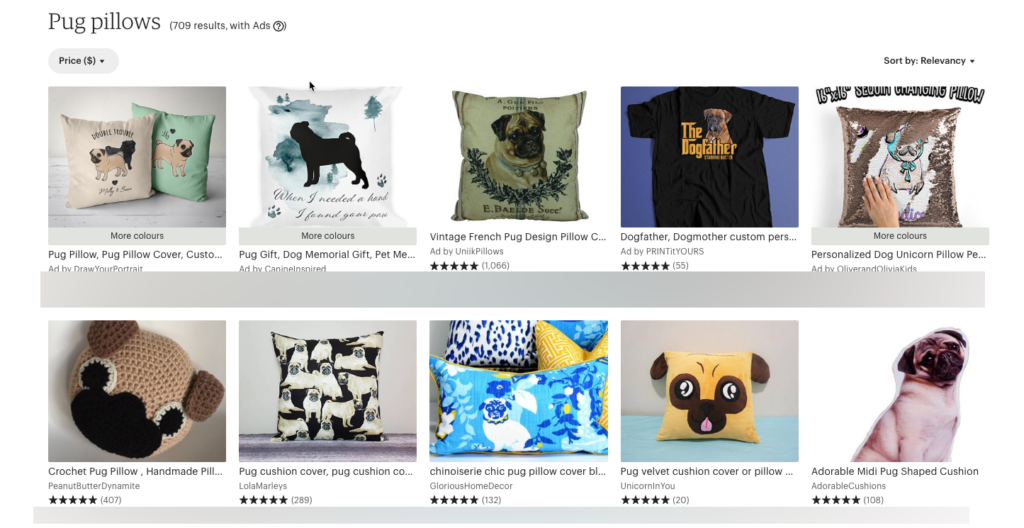 ---
---
18. Technology
You might be surprised at the way that dog designs have integrated with modern technology. For example, did you know that you can find Pug-themed Bluetooth speakers? Were you aware of the existence of Pug-themed headphones and charging stations? There are also grips, stands, cases and holders for your smartphone that have been decked out in true Pug style.
If your friend is a tech junkie, they might enjoy combining their love of Pugs with their love of gadgets and gizmos, so venture into the digital world and see what's new.
---
---
19. Games and Activities
The most iconic game for Pug lovers is Pug-opoly. In the spirit of the original, you'll send your mail carrier or fire hydrant around the board to collect toys while avoiding the dog house.
If you aren't a fan of board games, you can also buy Pug-themed jigsaw puzzles and card games. There are even Pug crafting kits that will teach you how to make dolls, cushions, key chains, origami pieces, and sequin art.
If you're shopping for a creative soul, think about entertainment options where they can unleash their imagination in the best, most Puggy way.
---
---
20. Household Goods
Are they always losing the remote? Give them a Pug remote holder with outstretched arms to cradle all of the buttons. Do they hate wasting wine? Give them a Pug-shaped bottle stopper to keep their reds and whites in good shape.
You can also find clocks, aprons, oven mitts, soap dispensers, and salt and pepper shakers with Pug themes. Their entire house can get a Pug makeover. Don't be afraid to think outside of the box with this one.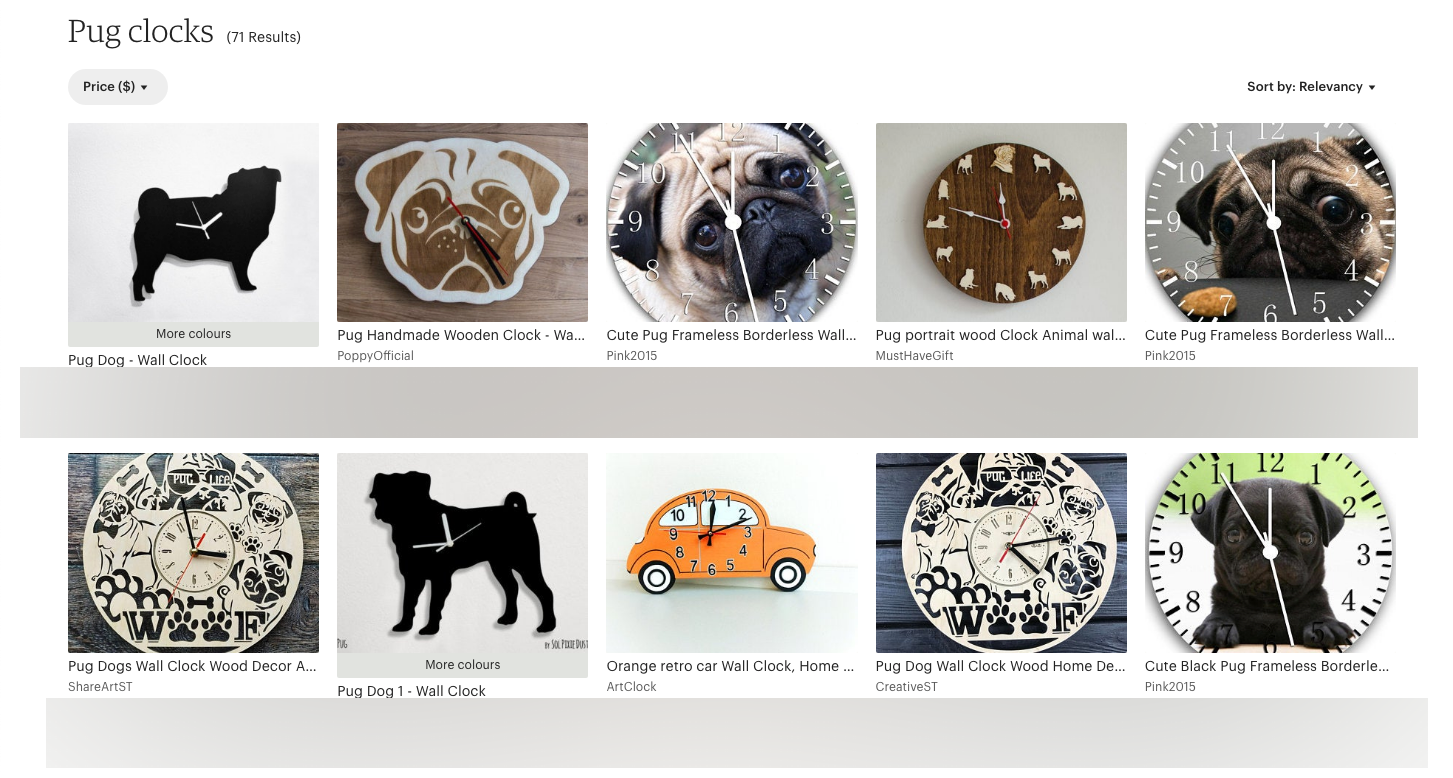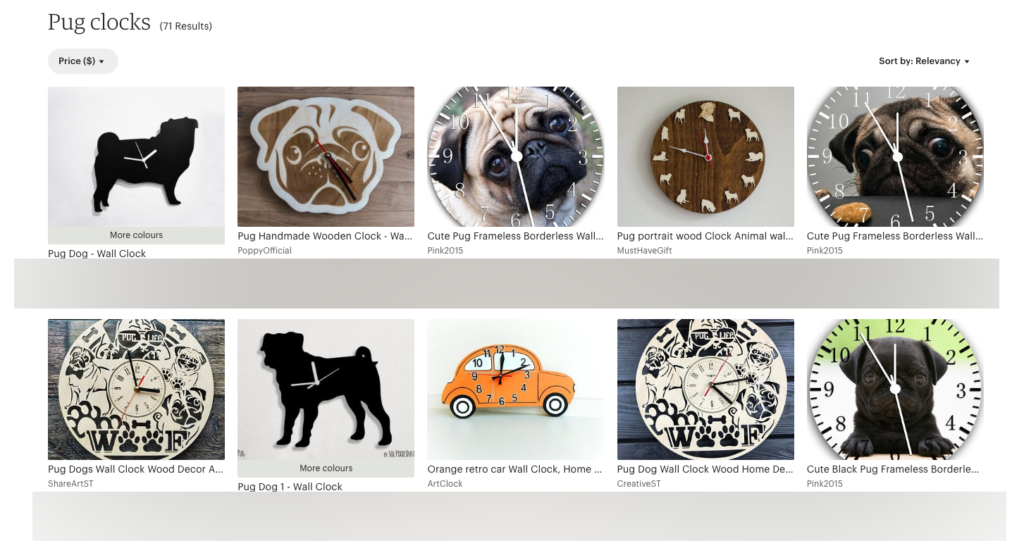 ---
---
21. Paw Prints
Last but certainly not least, consider a paw print gift for someone who really loves their Pug. You can get them made with ink, clay or dough, and they can be put on everything from photo cards to holiday ornaments.
Not only will they serve as sweet mementos to man's best friend, but they'll also immortalize the dog forever. Your loved one will never forget their Pug when they have a memorial item like this. It'll be a one-of-a-kind gift for a one-of-a-kind dog.
---
---
Wrapping up
These are just a few gifts for Pug lovers that will get their tails wagging. There are many more, of course, but these should be enough to get you started.
Whether you're looking for kooky accessories or sweet and sentimental keepsakes, consider these suggestions for a memorable present!
Discover more gift ideas for dog lovers here.
From Our Store