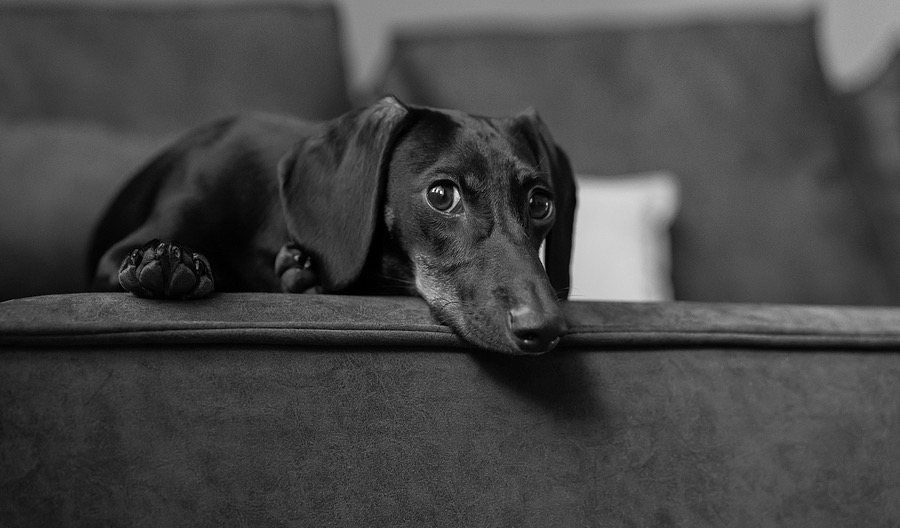 Are you in love with your Doxie? Do you want to express that love through cute and stylish home accessories that will bring a pet owner's passion to every inch of your living space? Here are just a few ways to go wild with Dachshund decor!
1. Wooden Dachshund Flower Stand
Carved by hand, this beautiful oak wood has been sanded, painted, and treated with a combination of oil and beeswax to give it a smooth, polished appearance. It has the signature shape of a Dachshund, and the "back" of the pooch can hold three sets of flowers. Glass tubes are included with every order, but you don't have to use them; you could replace them with any kind of flask or vase. This wooden dachshund flower stand is one of your very best options for a garden on the go.
---
---
2. Microfiber Wrinkle-Resistant Dachshund Sheet Set
If you like cute, quirky dog decor, you won't want to miss this bedding set. It comes with a flat sheet, fitted sheet, and pillowcase, and they all have a matching print of cute, sweater-wearing dachshunds. The fabric is made from sinfully soft microfiber, and the soft blue colors will look wonderful in everything from nurseries to spare bedrooms. Additionally, since you can order the set in sizes that range from twin to California king, you won't have to worry about fitting them to a particular bed. You can have Doxie dreams in any and every room of your home!
---
---
3. The Book of Dachshunds
The Book of Dachshunds is a piece of high-end home decor. Its matte black hardcover has a stylishly minimalist print, and its handsome binding will make it a sturdy centerpiece for any shelf or coffee table. Inside, a series of glossy photographs will delight you as a doxie lover, and fun facts about the breed might just teach you a thing or two. All in all, this book will be educational and entertaining, so it can serve a wide variety of purposes. Give it as a gift to a dog lover; keep it for yourself; or donate it to your local dog shelter. Everyone will love The Book of Dachshunds.
---
---
4. Dachshund Dog Watercolor Print
With its bright, eye-popping colors, this Dachshund takes wall art to the next level. It'll draw every eye in the room with a combination of its cute doggie print and splatter-style watercolors. Depending on where you'd like to hang it, you can order it in sizes ranging from 5 x 8 inches – 33 x 46 inches, and you can ask for it to be printed on paper, velvet, or canvas. Take your home decor into your own hands with a customizable print like this.
---
---
5. Monochrome Dachshund Shower Curtain
Do something a little different with your interior design when you buy this Dachshund-themed shower curtain. It has an unusual print, but it still retains a chic, stylish vibe thanks to its monochrome color scheme. It'll elevate your bathroom without overwhelming it. The Doxies are adorable, and the polyester material is nice and durable. You won't even have to fuss over measurements since it'll fit any standard-size bathtub! As a bonus, there are free hooks and top-header grommets with every order, so you could literally have it hanging in five minutes or less.
---
---
6. Dachshund Dog Paper Towel Holder
Made with high-quality bronze, this paper towel holder has the quirkiness of a gag gift but the craftsmanship of a fine art piece. Its Doxie is so realistic that you'll want to pat it when you see its soulful little eyes and flexing little toes! Use it in the kitchen for paper products; put it in the craft room to hold ribbon and lace; stick it right on the dining room table when it's time for dinner. Its portability and versatility will make it a great decoration since you can use it all over the house and then some.
---
---
7. Dachshund Custom Wood Bookends
Creative bookends are always fun, and with these Dachshund-shaped ones, you'll be able to bring your energy as a pet owner into your office or home library. One side has the pup's face and upper body while the other side has the lower half and tail. Polka dots decorate the middle to give it a little extra flair. You can order it in any color scheme that you'd like; just contact the seller to make the arrangements. Your doxie will watch over your bookshelf in a completely customized way.
---
---
8. DIY Dachshund Frameless Giant Wall Clock
If you're looking for unique Dachshund decor ideas, this clock is the way to go. For starters, it doesn't have any numbers; every marker around the clock face is a Dachshund in a different pose. It's also a frameless model that allows you to stick the markers around the middle in whatever order or at whatever distance that you'd like. Last but not least, the clock is available with three acrylic finishes that include black, gold, and silver, and the silver has a particularly striking "mirror" effect with its reflective surface. All of these design elements come together to create an amazing, one-of-a-kind Dachshund product!
---
---
If you're ready to give your home a fun, furry makeover, these are just a few ways to experiment with Dachshund decor. There are many more, so don't limit yourself to the suggestions presented here. Keep dreaming, doing and decorating until your living space truly reflects your love of Doxies!