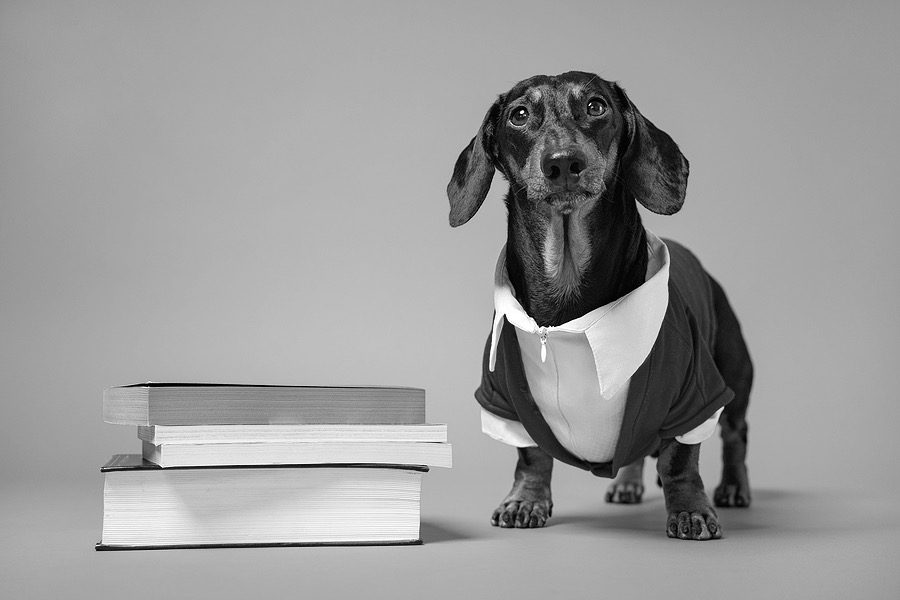 Maybe you're adding to your own personal collection of Doxie stuff. Or perhaps you're gift shopping for someone who loves their Dachshund more than life itself. Whatever your reason for looking for Dachshund books, here are just a few that'll make you laugh, cry and cuddle with your pet like it's the first day that you brought them home.
1. 101 Uses For A Dachshund
They're seat warmers. They're fitness trainers and personal coaches. When they lick your face, they can even serve as moist towelettes! 101 Uses for a Dachshund is equal parts hilarious and heartwarming as it explores all of the ways that these silly little dogs can make your day. It'll be a great purchase for yourself or any Doxie lover in your life who could use a laugh.
---
---
2. Everything Dachshund Book
The Everything Dachshund Book is a comprehensive guide to raising your Doxie. Not only does it offer valuable information on things like nutrition, health, obedience training, and emergency first aid, but it also covers topics such as strengthening the bond between you and your pooch and adapting to new changes in your shared lives. It'll quickly become your go-to guide for all aspects of dog ownership, and since it covers the entire lifespan, it'll be with you from puppy adoption to senior dog care.
---
---
3. The Book of Dachshunds
With its glossy, high-quality prints, The Book of Dachshunds will be a chic home accessory as well as a fun book about your favorite breed. There are more than 100 full-color photos beneath its matte black hardcover, and they're accompanied by interesting trivia about the breed. Put it on your coffee table for an elegant piece of interior decor that can also entertain your guests!
---
---
4. Be More Sausage: Lifelong Lessons from a Small but Mighty Dog
Dogs can teach surprising things to humans willing to listen. Be More Sausage offers everything from light-hearted jokes to surprisingly deep philosophical musings as it channels the inner spirit of a Dachshund. Doxies don't care what they look like or what people think of them, and with their help, you can also find the strength to overcome stereotypes, face down challenges, and live life to the fullest!
---
---
5. Short Adventures of a Loooong Dog
Adults aren't the only ones who enjoy Dachshund books. If your pup is a family pet, consider entertaining and teaching your children about the breed with the help of Short Adventures of a Loooong Dog. It offers a colorfully illustrated story filled with heart, humor, and plenty of life lessons suitable for school-aged kids. It's also part of a series, so once you're finished with the first book, you can take the kiddos to the library for the next.
---
---
6. Day of the Dachshund
The sepia-toned photograph on the front cover might make you think that Day of the Dachshund is a serious book, but once you flip it open, you'll realize the truth. This book is dedicated to Dachshunds looking goofy! It's what they do best, after all, and "petographer" Jim Dratfield has captured them in all of their short, stubby, silly, and sausage-like glory. Some wear costumes; some are caught in moments of naughtiness; some are just plain adorable. He's also included howl-worthy puns and captions along with the pictures to make the book a true crowd-pleaser.
---
---
7. Twenty-Six Dachshunds: An Alphabet Book
You've never seen Dachshunds quite like this! Represented by photos, paintings, drawings, collages, and digital art pieces, the dogs of Twenty-Six Dachshunds: An Alphabet Book will take you on a journey from Audrey Hepburn to ZaSu Pitts. It's the kind of coffee table book that will get people talking as soon as they see the front cover: a messy sketch of a Doxie in business attire. If you're looking for a conversation starter for your living room, this is it.
---
---
8. The Dachshund Handbook
Whether you're rescuing your first pup or looking for advice on adding a fourth or fifth dog to the mix, The Dachshund Handbook is an all-in-one guide that can serve you well as an owner and companion. As its name suggests, it covers both standard and miniature-sized Dachshunds, and it offers relatable, real-world advice on everything from curbing bad behaviors to finding the right brand of kibble. You might just find yourself coming back to this time again and again.
---
---
9. Hounded: The Lowdown on Life from Three Dachshunds
Part memoir, part dog owner's guide, Hounded tells the story of a man with three Dachshunds who are always getting into trouble. He shares the funny lessons that he's learned from them as well as the sweet and poignant moments that he'll treasure forever. This is the kind of book that'll leave you wiping your eyes at the end because you're just so overcome with how much you love your cuddly little sausage buddies.
---
---
10. Crusoe, the Celebrity Dachshund: Adventures of the Wiener Dog Extraordinaire
As you're probably aware, Dachshunds can have a lot of personality packed into a small body. Such is the case with Crusoe, an adorable pup that's taking the world by storm despite being only six inches from the ground. His owner has chronicled his adventures through books, blogs, calendars, planners, and other goodies, so there's an entire universe to explore with him. Additionally, if you become a fan, you can treat him like a real celebrity and buy all of his merch.

---
---
Wrapping up
These are just a few Dachshund books that will bring floppy ears, long bodies, and adorable little paws into your life. There are plenty more, so don't be afraid to fill your bookshelves and decorate your coffee tables with the very best of Doxie literature.