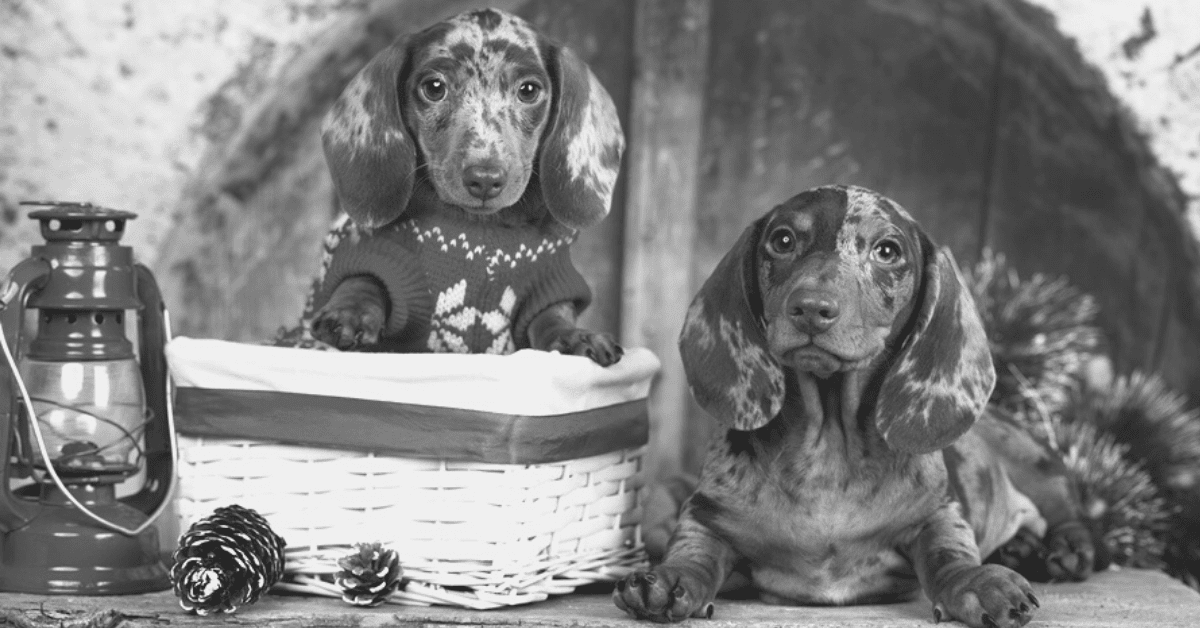 Some people call them Dachshunds. Some people call them Doxies. Other people just call them sausage rolls with eyes!
If you know someone who adores their little Wiener Dog to the moon and back, here are some great gifts for Dachshund lovers.
1. Office Organisers
The funniest gift that you'll ever see is Dachshund-shaped bookends. Perfect for bibliophiles, they're often cut straight down the middle of the body, so one bookend will have a cute little Dachshund face while the other has a long, noodle-y tail.
See this quirky Dachshund bookend from April & Oak: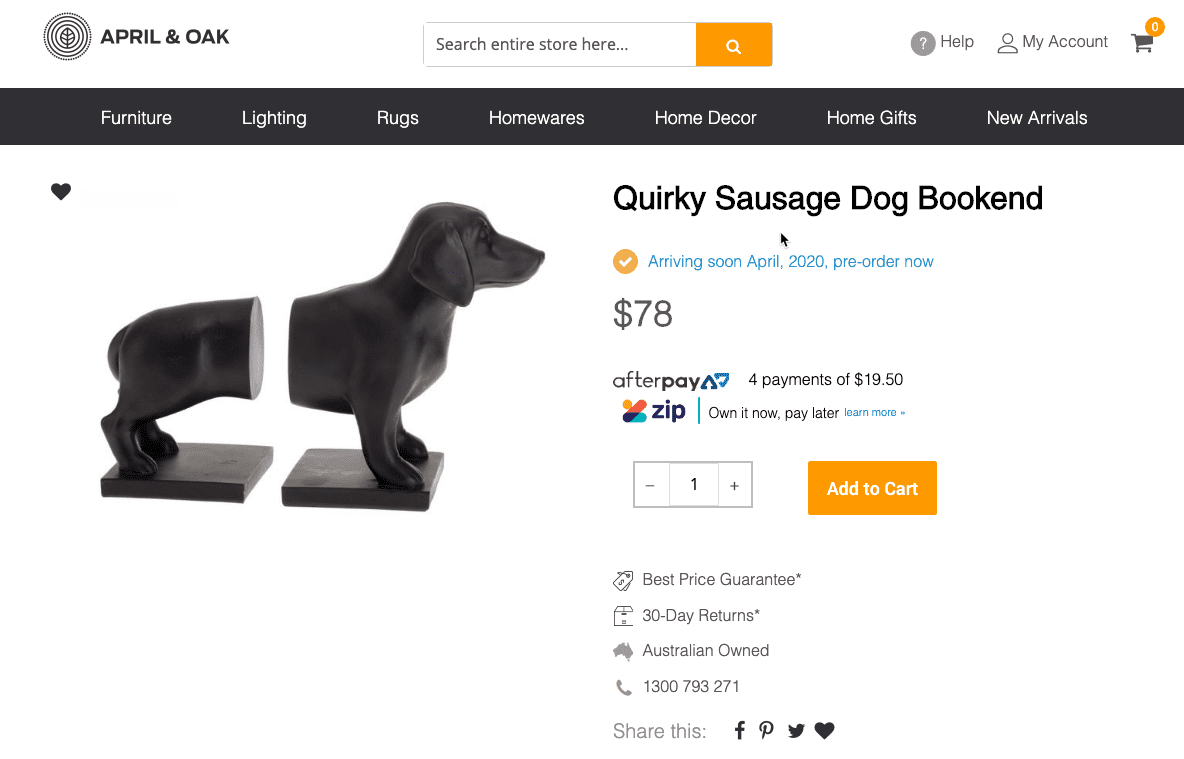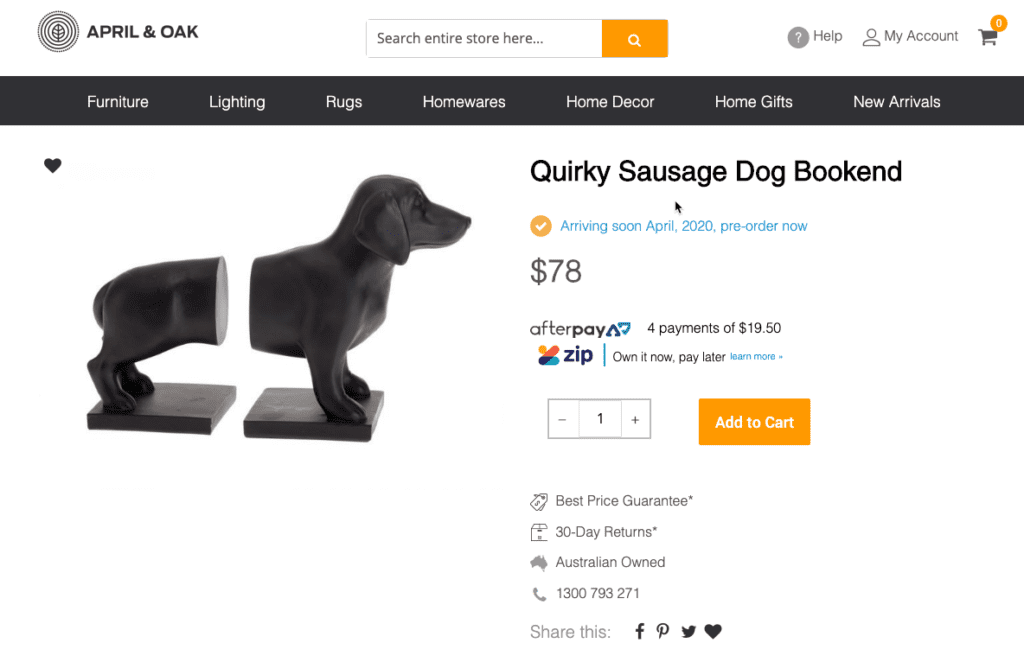 You can find similar designs in other library supplies, too. Dachshund-shaped letter organisers can store notes and memos between the two halves of their body. Dachshund pencil holders will let the pencils stick out of their backsides like tails.
If you know a student, writer, editor or office employee, consider giving them a present that will speak to their heart and whip their workspace into shape.
2. Decorative Displays
From figurines to wooden block signs, Dachshunds are a favourite home decor idea.
Funny decorations take advantage of the Dachshund's proportions. They might be planters with deep bowls or fairy lights with elongated cords, or they might be art pieces with Dachshunds in funny poses as they look for a hydrant or wear sunglasses because they're cool.
More sophisticated decorations will show lifelike Dachshunds. They might be made from resin, ceramic, porcelain or natural stone, and they depict beautiful, hand-carved Dachshunds with realistic details.
With so many options out there, it'll be up to you to figure out which Dachshund decorations will complement your friend's decor. You'll definitely have fun looking through potential gifts!
3. Coffee Table Books
Is there anything cuter than a happy Dachshund? With a coffee table book, you can enjoy the sight every day, and you won't even have to wave a treat over the wiggly little body of a real-life wiener.
The great thing about coffee table books is that they come in many different varieties. With The Book of Dachshunds, for example, you can flip through more than 100 full-colour, high-quality photos that are bound in a stylish hardcover.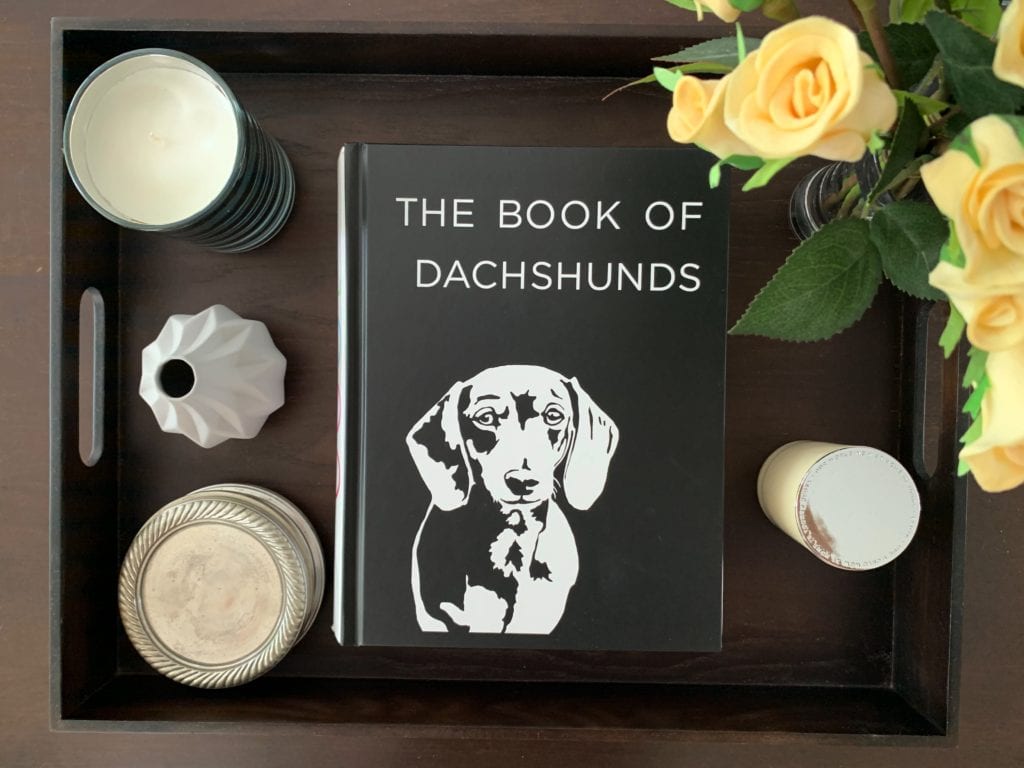 No matter what their content, however, coffee table books can be an excellent addition to modern home decor. They'll also make an excellent gift for Dachshund owners.
4. Jewelry
Dachshund jewelry can range from gaudy to gorgeous. The simpler pieces might have tiny little dogs on a charm bracelet or pendant necklace; the more elegant designs can incorporate Dachshunds into diamond earrings, rhinestone chokers or vintage brooches.
It isn't just for women, either. If you're shopping for a male dog lover, you can find everything from cuff links to lapel pins with a Dachshund design. There are even Dachshund pocket squares to jazz up a suit!
Jewelry can be a tricky thing to shop for, but Dachshunds make it easy. As long as they bring their unique spirit to the piece, it's sure to make a fantastic dog lovers gift.
5. Glassware
"It's been a long day," sighs the wine glass with an extra-long Dachshund. "You're one hawt dog," declares the coffee mug with a Dachshund-shaped handle covered in ceramic mustard.
If you're looking for funny gag gifts, it doesn't get much better than Dachshund glassware. Whether it's tumblers, shot glasses, wine goblets, beer mugs, coffee mugs or water bottles, you can find just about everything printed with Doxies, and they've all got puns ready.
Life is wienerful, isn't it?
6. Kitchen Tools
There's a surprisingly busy market for Dachshund-shaped kitchen tools. Something about their long bodies is just peak comedy when applied to appliances and utensils!
For example, if you've never seen a pair of Dachshund corn holders, they'll instantly elevate the mood of a backyard barbecue. You can also brighten up a kitchen with a Dachshund paper towel holder or salt and pepper shakers.


Do they bake a lot? Buy them a pair of Dachshund oven mitts. Do they love to grill? A Dachshund apron will let them cook some sausages with the help of a sausage dog.
The sky is the limit when it comes to Doxie kitchen supplies. Whether they're a five-star chef or just a person who loves cool collectibles, there are lots of possibilities with this gift option.
7. Clothes
You heard it here first: Doxie fashion is going to hit the cover of Harper's Bazaar. It's only a matter of time. Once designers see all of the fun, colourful possibilities of Dachshund clothes, they'll be putting celebrities in everything from soft hoodies to brightly-patterned shoes.
Couldn't you see Ashton Kutcher in a t-shirt that says "I Love My Wiener" with a Doxie printed beneath it? Wouldn't you love to see Ariana Grande rocking some skirts or leggings with a Dachshund print?
The Doxie will take over the runways (maybe). Buy some Dachshund clothing as a gift, and you'll be putting that person on the cutting edge of fashion.
8. Pillows
Pillows are a good gift because they come in so many varieties that you can find one for every occasion.
Are you shopping for a lover on Valentine's Day? Warm her heart with a customised throw pillow that includes photos and messages from her Dachshund. Do you want something fun and festive for Christmas? Put an antler-wearing Dachshund on a huggable body pillow.
You can even find jazzy, sequin-covered pillows with Dachshund themes. They'll bring a sense of fun to any home decor. Just make sure that the resident Dachshund isn't a chewer!
9. Treats
The unique shape of the Dachshund makes them a favourite among dog-themed bakers. From cookies to cake pops, you can find lots of extra-long snacks with that signature look.
Some treats are even suitable for man and man's best friend. If you know a dachshund owner who likes to pamper their pup, consider giving them a pretty, gift-wrapped jar of organic snacks that they can share with their dog while they're vegging on the couch.
The way to a person's heart is through their stomach, so if you want a gift that speaks volumes, make it edible!
10. Games
Park Place is old and boring. It's time to put some chew sticks on new properties! With Dachshund-opoly, players race across the board to collect toys and bones while avoiding squares such as "Bad Dog" and "Kennel."


If you're shopping for someone who doesn't care about board games, how about a card game? Wonderful Wieners is a set of playing cards with cute little dachshunds printed on both sides, so they can whip someone at gin or poker while puppies laugh at the loss.
There are also Dachshund-themed puzzles, slinkies, craft boxes, building kits and colouring books. The basic ones are plastic novelties; the more elaborate ones are 3D marvels made from crystal. There's really no limit to the games and activities that are available to Dachshund lovers.
11. Keepsakes
Keepsakes are one of the most precious gifts that you can give to a Dachshund owner. Not only will they immortalise the pooch, but they'll also immortalise you as a sweet, thoughtful person who recognised the importance of a dog in their life.
As for the keepsake, you'll have to decide for yourself which kind is best. You can find all sorts of figurines, ornaments, journals, pillows and memory boxes with Dachshund themes.
For an added touch, you can even have the gift personalised. Whether it's inscribed with names, dates or quotes, your loving words will be the cherry on top of a sentimental gift that they'll never forget.
12. Lounge Wear
Everyone appreciates a comfortable pair of pajamas. If you give them some cozy flannel sleepwear pants with little Dachshunds printed on the fabric, they'll be able to enjoy the sight and the softness.
Another option is giving them a pair of Dachshund slippers. The most common design is to stretch the long, long body across both slippers, but you can also find 3D slippers with little Dachshund heads and tails fluffing up from the fabric.
Last but not least, don't forget the ever-popular dachshund robe. It's the perfect way to end a shower, especially topped with Dachshund slippers, socks, undies and PJs!
13. Linens
Towels, tablecloths and tray covers! If you know someone who is always looking for new ways to spruce up their living space, consider some Dachshund-themed linens.
Bedspreads are available with everything from bone patterns to paw prints. Decorative blankets can be used for cuddling on the couch or camping out with friends. Towels can range from gigantic, kid-friendly beach towels to subtle and sophisticated tea towels that are meant for garden parties.
You can also look into sheets, drapes, napkins, dishcloths and shower curtains with a Dachshund theme. Linens are a truly versatile gift!
14. Bags
Bags are always a fun present. Both fashionable and functional, they'll serve a practical purpose while also infusing new energy into a person's wardrobe.
Dachshund purses come in all shapes and sizes. Dachshund clutches can be used for keys, cash, makeup, and other essentials. Dachshund luggage is perfect for travelers who always pine for their Doxies when they're away.
You can also find cool, uncommon gifts if you look for things like Dachshund laptop cases or Dachshund grocery totes. If you're aiming for pragmatic, these bags will add some stylish charm to everyday activities!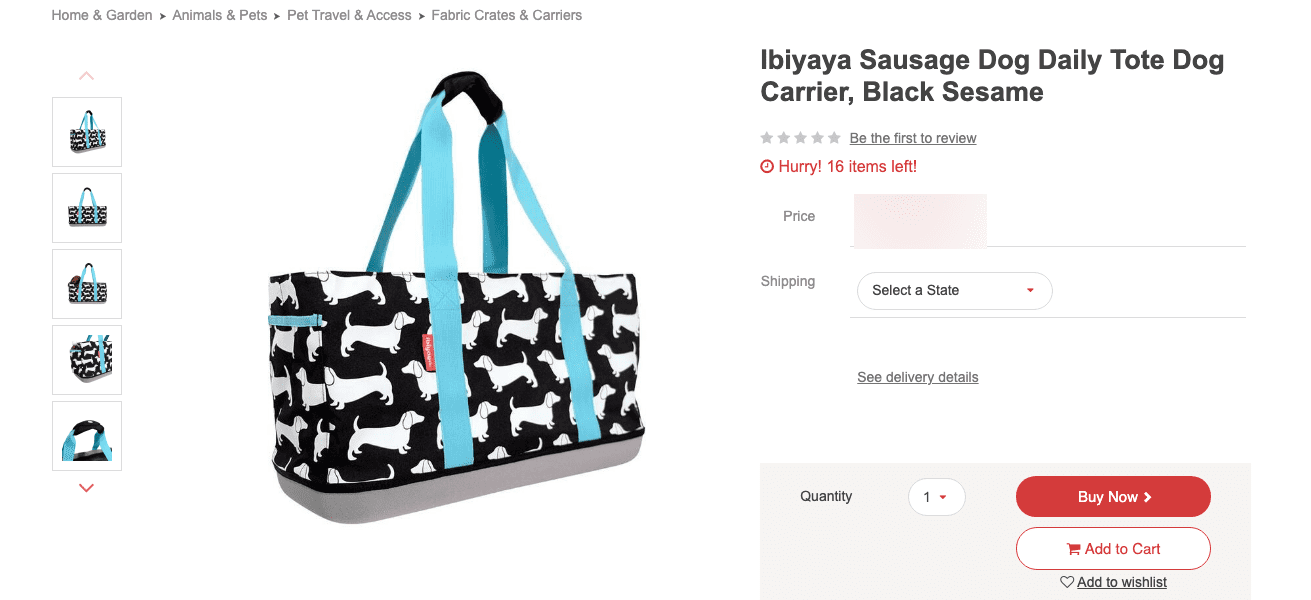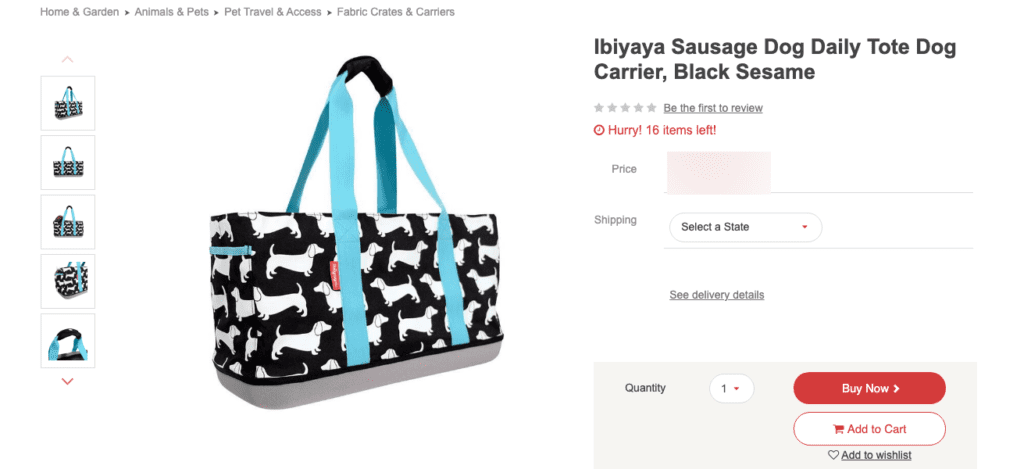 15. Calendars
Calendars get a bad reputation as a "generic" gift. It's time to blast away that misconception with some amazing, one-of-a-kind Dachshund calendars!
Have you ever seen a wooden block Dachshund calendar? Instead of flipping through pages, you flip around wooden cubes that have been painted with individual numbers. They're reusable year after year since they aren't beholden to any particular date.
If they do like paper calendars, you'll have plenty of options there as well. From cartoon puppies to real-life photos of Doxies wearing costumes or doing yoga, you can help them decorate their wall in countless ways.
16. Art
The artwork in a home can tell you a lot about what the owner values. Fortunately, there's plenty of Dachshund-themed art to make sure that your favourite Dachshund lover is able to declare their passion to the world.
Prints and portraits can be framed on the wall. Tapestries can be draped, displayed and decorated. Sculptures can be put in the home and garden.
There are even things like wood blocks and silk hangings that can really add a little creativity to someone's home design. Depending on the way that they incorporate Dachshunds, they can run the gamut from "cute and cartoonish" to "stylishly high-end." The choice is yours.
17. Media
Dachshunds have captivated the world since their first waddle. If you know someone who likes to collect books, movies and other forms of media, you'll have plenty of options for adding to their shelves.
Lord of the Wiens is a "Dachumentary" that follows the annual Wiener Dog Race in Buda, Texas. The Ugly Dachshund is a classic Disney movie from the '60s that follows the exploits of a Dachshund family.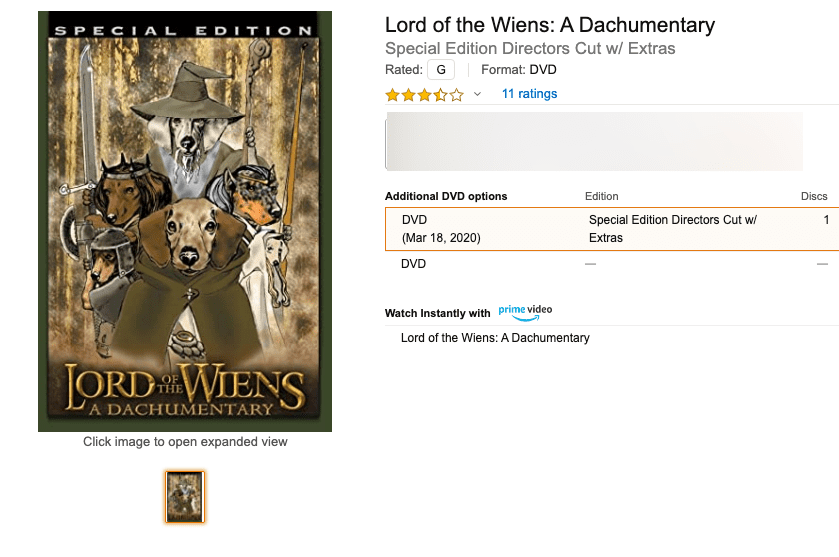 Dachshunds for Dummies is a must-have for new owners. The Downside of Dachshunds is a rom-com about a woman who prefers Doxies over dudes.
These are just the tip of the iceberg, too. The world of Dachshund media is a vast one. Your next movie night can be epic!
18. Keys and Hooks
A key ring can be a nice, low-key present for a Dachshund owner that you don't know very well. They also make great stocking stuffers and gift basket fillers.
Another option is to buy a key holder of some kind. Trinket trays are nice for dressers and coffee tables; wall-mounted organiser racks can be used for keys, coats and other things that hang. They're all available in extra-long Dachshund shapes for colour and charm.
Wrapping up
You don't have to splurge on expensive gifts to bring a little joy to a Dachshund lover. As they already know, wonderful things can come in small, furry packages!
These ideas are just a few gifts for Dachshund lovers that will inspire them to kiss and cuddle their fur baby like there's no tomorrow. Good luck with making your choice!
From Our Store