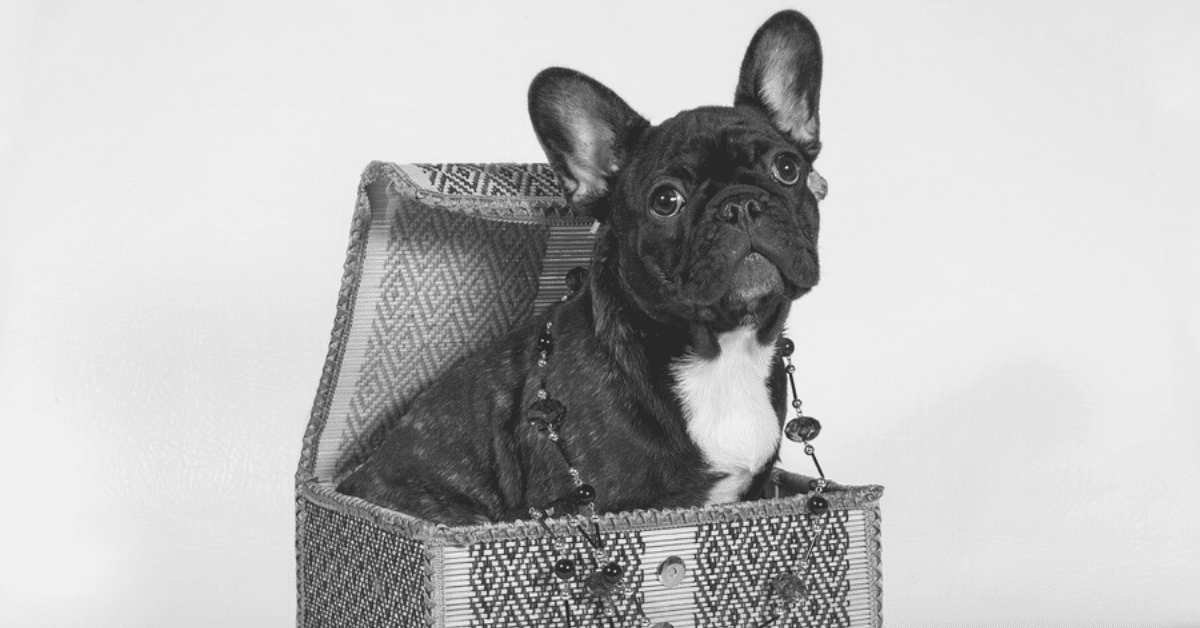 There's nothing like the scrunchy little face of a French Bulldog to make you smile.
If you want to bring that kind of joy to a special someone on a special occasion, here are 17 gifts for French Bulldog lovers! There's an idea for all the Frenchie-obsessed dog mum's and dad's in your life.
1. Clothing
Frenchie fashion hasn't hit the runways of Paris or Milan, but those designers don't know what they're missing. It's always a delight to rifle through the latest in French Bulldog clothing.
The most obvious gift idea is a t-shirt. They come with all sorts of funny designs, including Frenchies doing yoga or Frenchies rolling on their backs and just saying "nope."
If you'd like something a little more creative than a t-shirt, you might consider Frenchie-patterned hats, hoodies, scarves or scrunchies. Loungewear is available through leggings and pajamas. They even make Frenchie baby bibs! Like this one from AmyBabyCreations: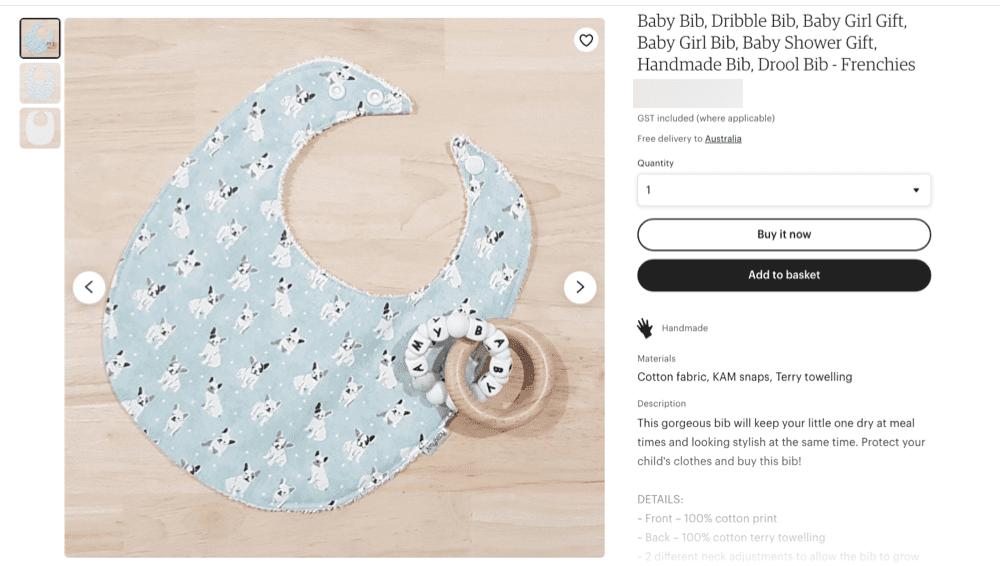 The sky is the limit when you want to add French Bulldogs to someone's closet. The hardest part will be choosing just one or two things and not replacing their entire wardrobe.
2. Box Signs
Box signs are becoming one of the trendiest elements of contemporary home design. Not only do they come in a variety of colours, patterns, designs and materials, but they're versatile enough to decorate any room. Plus, they're portable and can be moved throughout the house as you see fit.
Box signs for French Bulldogs are always very creative. The funny ones might have a slobbery photo or quippy saying; the stylish ones have pop art Frenchies in the style of Andy Warhol.
Another option is to have a box sign customised with your loved one's Bully. You can add a photo or inspirational message that speaks to them, so it'll be a thoughtful, one-of-a-kind dog gift to an important person on an important day.
3. Coffee Table Books
Coffee table books are a must-have in modern home design. Not only will they add sophistication to their setting, but they'll also serve as a conversation starter among guests, relatives, neighbours, and other visitors.
French Bulldog coffee table books come in many different varieties. The Book of Frenchies, for example, has a sleek black hardcover with glossy, full-colour images inside.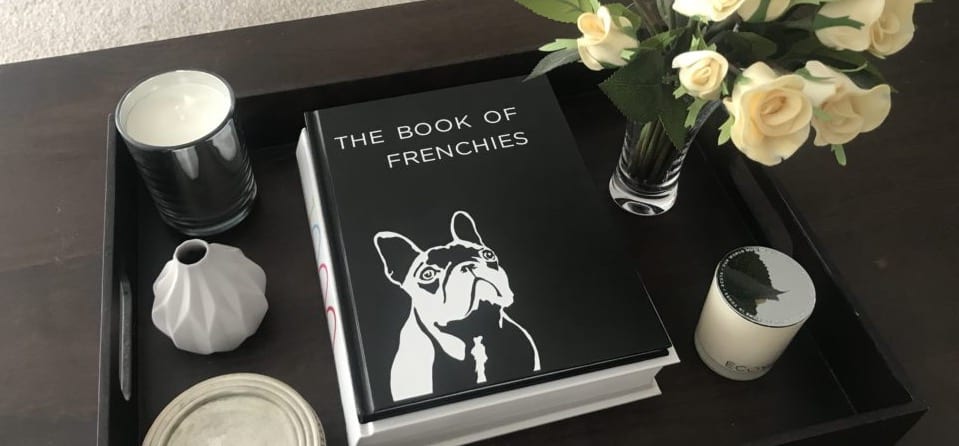 Other Frenchie books can range from cute to kooky. It depends on whether you're looking for something stylishly chic or adorably wholesome. As we all know, Frenchies can be both!
4. Calendars
Calendars can make lovely gifts for French bulldog owners. The trick is to avoid the generic ones at the grocery store. Instead, buy fun, fresh calendars that put a unique twist on timekeeping.
For example, die-cut calendars come in the shape of French Bulldogs. Desk calendars can be flipped through goofy Frenchies making faces or cartoon Frenchies having adventures. Wall calendars can be in a traditional one-picture-a-month format. Or you can find poster calendars with all of the months neatly printed under a single photo.
Say goodbye to the boring calendars of yesteryear. It's time to do something different with your gift. If you choose correctly, you'll give them a memorable present that they can cherish all year long!
5. Linens
From towels to tablecloths, you'll have your pick of the litter when it comes to French Bulldog linens.
Fuzzy blankets can warm them from the inside out with cute little patterns. Tea towels can be displayed in the kitchen, and bedspreads can be fitted in private rooms. You can find both cartoon sheets meant for children and subtler, more stylish duvets for adults.
I personally love this quilt set from Adairs!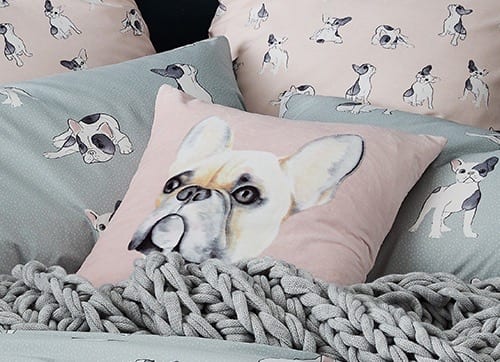 Pillows are another big seller. Throw pillows are the most common, but you can also look for travel pillows and body pillows with Frenchie designs.
Long story short, you won't be hurting for linens that embrace a French bulldog theme.
6. Games
French Bulldogs are some of the funniest dogs on the planet, and when you buy Frenchie-themed games and puzzles, you can bring even more entertainment to their owners.
You've probably heard of Frenchie-Opoly, the board game that riffs on the old classic by asking players to collect toys and bones while avoiding the kennel. If they like tabletop fun, you can also buy them a surplus of Frenchie puzzles.
Another option is to invest in something cool and unique like a 3D building kit. Additionally, you could try Frenchie origami or crochet.
Do they lead stressful lives? Consider a Frenchie colouring book. They aren't just for kids, you know!
7. Travel Gear
Do they spend a lot of time away from home because of their job? Or maybe they just have itchy feet and a fondness for new places. Either way, you can make their travels more comfortable when you add some French Bulldogs.
Luggage tags are a quick and easy gift if you need something for a birthday that snuck up on you. Eye masks and neck pillows are generally well-received as well. They might not be things that the person would think to buy for themselves, but they'll be grateful to have them when they get them.
People on the move might also appreciate purses, backpacks, duffel bags, makeup bags and laptop carrying cases. Anything that makes their life easier is a plus!
The K9 Sport Sack is a great gift for the adventurous Frenchie lover (Yep! That's me and my dog, Frankie):
Want gift ideas for a man in your life? Read our article that lists dog gift ideas for him for more inspiration.
8. Mugs
A practical gift doesn't have to be a boring gift. In fact, with the help of a scowling little Bulldog face, it can become one of the most entertaining presents under the tree.
Funny sayings can include "Pardon My Frenchie" and "I Only Care About My French Bulldog… and Like Three People." Little ceramic Frenchies can cling to the side of the mug or peek out from its hollow interior. There are even 3D mugs with ears and tails.
The fully functional coffee mugs can be tossed in the microwave or the dishwasher. The novelty mugs can be used as display items or pencil holders.
If you're looking for good French Bulldog gifts, consider a mug. They offer a lot of options, and shopping for one will be just as entertaining as gifting one.
9. Jewelry
If their soul sparkles like a jewel, you should get them some jewelry to match it.
There's no limit to the fashion accessories that you can find with Frenchie faces on them. Whether they're a fan of traditional necklaces or trendy toe rings, there's a Frenchie version out there.
Crystal Frenchies are on pendants. Colourful Frenchies are on charm bracelets and stud earrings. You can even find Frenchie brooches for vintage ensembles! The pin below from ARTDOGshop certainly has some attitude: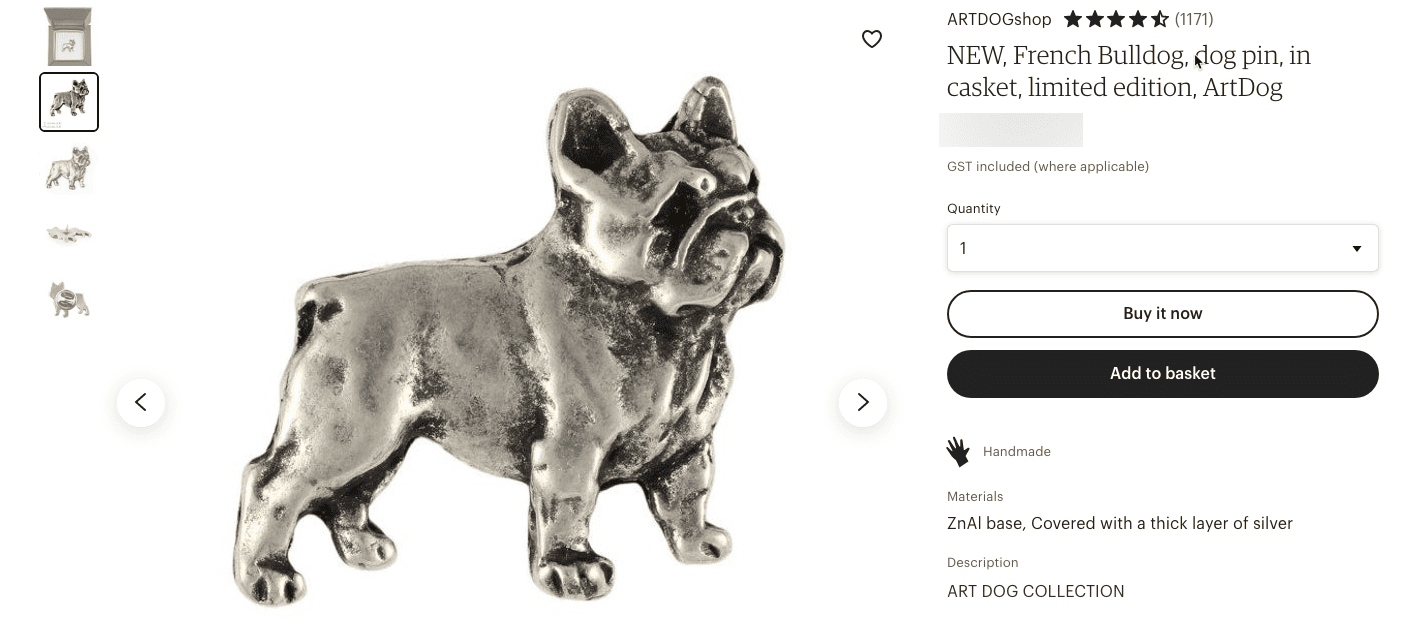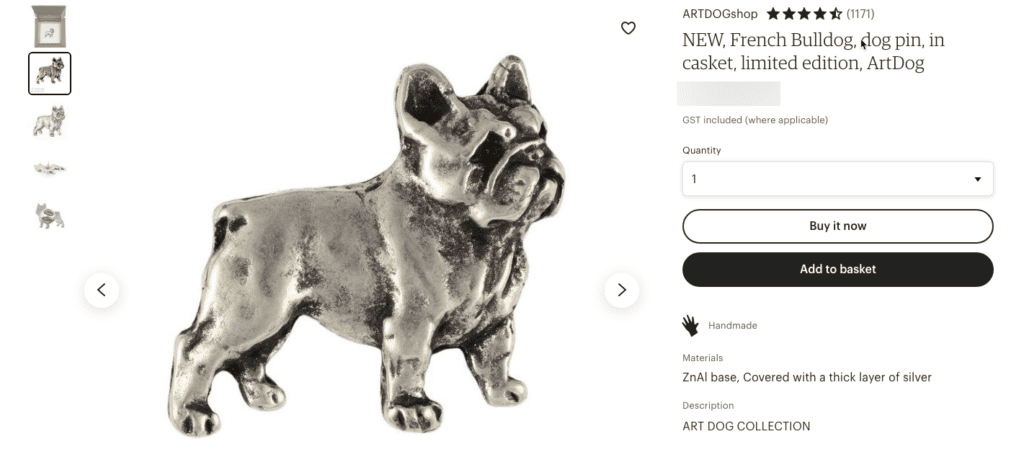 You really will have an endless array of options when you go shopping for French Bulldog jewelry.
Read our article that lists dog gift ideas for her for more inspiration.
10. Office Supplies
No one likes the drudgery of school or office work, but you can make it a bit more bearable with a Bulldog.
Do they take a lot of notes? Consider a Frenchie-themed notebook. Do they like to doodle when they should be listening to bosses, teachers or lecturers? Get a Frenchie-topped pen to silently judge them.
There are also Frenchie-flavoured pencils, journals, mouse pads, sticky notes, nameplates, and washi tape. If you can dream it, it probably exists. Go nuts!
11. Socks and Slippers
French Bulldogs can be nice toe-warmers on their own, but for the chilly evenings when they don't want to cooperate, a thick pair of socks can do the trick. Fortunately, there are many fun varieties of French Bulldog socks, so it's just a matter of choosing the patterns and materials that your gift recipient would like.
Are socks not enough? Consider upgrading to slippers. The simpler ones are just patterned with Frenchies; the crazier ones will have big, fluffy Frenchie heads bobbing along with every step.
Winter doesn't have to be cold and lonely. When your feet are being hugged by French Bulldogs, it'll feel like high summer!
12. Alcoholic Accessories
If they like to have a good time, they might appreciate a marriage between the bottle and the Bulldog. There's no limit to Frenchie-inspired gifts that can be used for parties, brunches, book clubs, game nights and other social gatherings.
A bottle opener will get the festivities going. A bottle stopper will keep the leftovers fresh when they're done.
Frenchie shot glasses can be used for quick pick-me-ups; Frenchie tumblers, wine goblets, and beer mugs can be brought out when they really want to get buzzed. Like this Frenchie beer stein from Zazzle: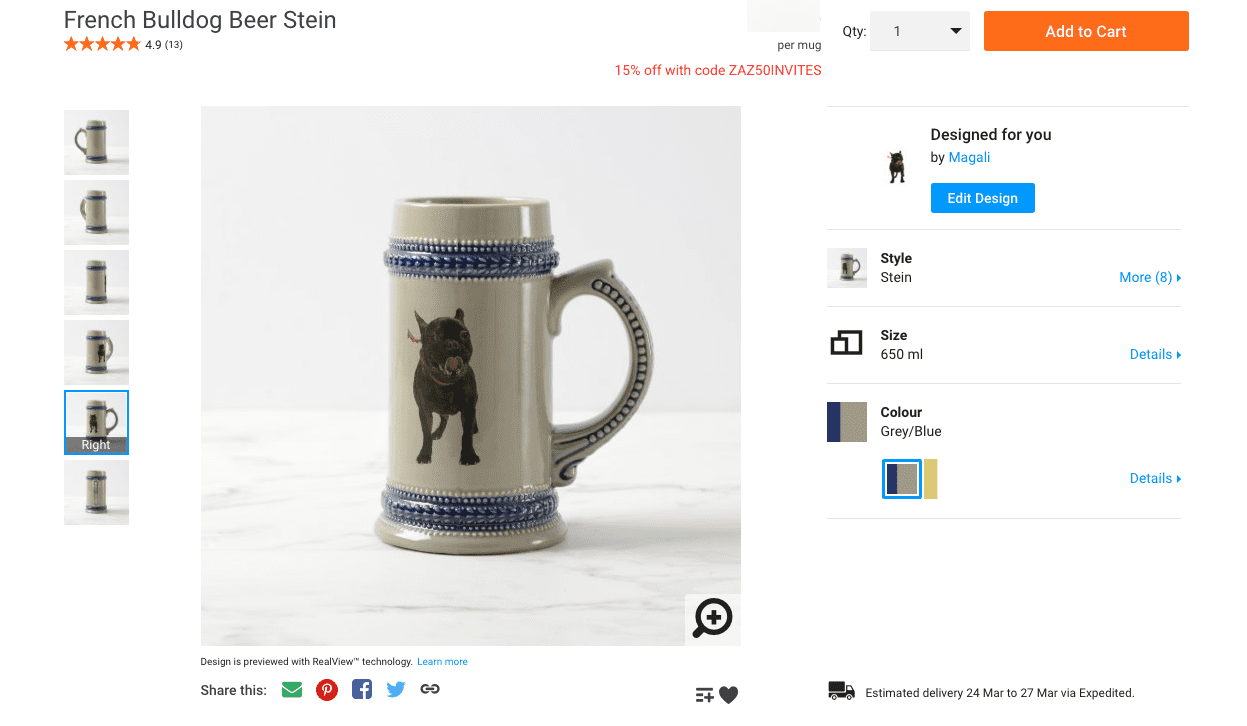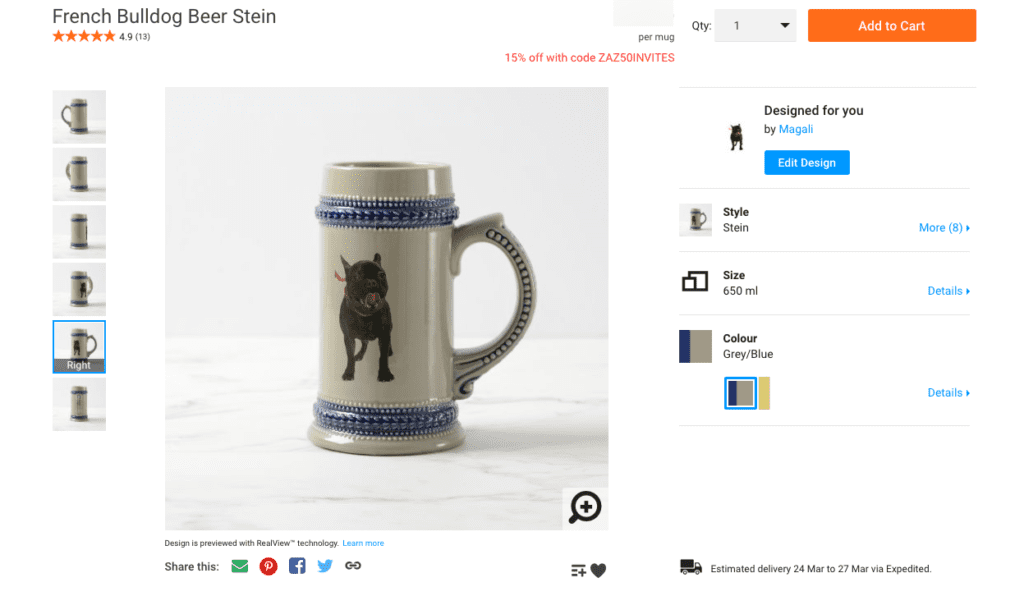 When you've picked out the perfect alcoholic accessories to give to your dog lover, throw in a set of Frenchie coasters to seal the deal. You'll want to protect their furniture from drink rings, after all!
13. Figurines
You get what you pay for when it comes to French Bulldog figurines. The cheap ones might serve as stocking stuffers or generic gifts for an office holiday party, but if you're looking for something special, you'll need to be willing to luxury shop.
Look for figurines made of resin, porcelain, ceramic or natural stone. Make sure that they're finely detailed and that they come from a reputable seller.
For a real "wow" factor, consider a French Bulldog figurine that stands out from the crowd. Maybe it's made of geometrically sculpted metal, painted in shimmering colours, or accented with 24 karat gold. If it makes your gift recipient say "oooh" when they take it out of the box, it's a good gift.
14. Light Fixtures
There are lots of lamps with French Bulldog themes. The simple ones will have a sculpted base or patterned lampshade; the more elaborate ones will boast colour-changing LED power with a futuristic design.
Lamps aren't the only light fixtures for a Frenchie home, however. There are sconces and candlestick holders; there are hanging light signs that can go on a wall and portable night lights that can be plugged into an outlet.
Their French Bulldog already brings light into their life. You're just making that fact a bit more obvious.
15. Accessory Holders
Do you know someone who is always losing their keys? Have you listened to a thousand rants about misplaced earrings, bracelets, coins, and other trinkets?
French Bulldog accessories can save the day and look super cute as part of someone's home design. For jewelry, consider a porcelain ring holder with a proud Frenchie standing guard over the tray. For shawls and purses, a Frenchie-shaped rack can be hung on the wall with individual hanging hooks.
If you really want to splurge, consider a high-class jewelry box or trinket holder. They can be made with such beautifully ornate designs that they look like fine antiques from a royal household!
16. Kitchen Items
The way to a Frenchie's heart is through their stomach, and if your friend has already figured that out, they probably spend a lot of time in the kitchen. Why don't you give them some cute little kitchen accessories to brighten up the space?
A porcelain Frenchie can hold the salt and pepper shakers between its paws. A ceramic Frenchie can serve as a spoon rest while their owner whips up a big batch of doggie treats.
There are cookie cutters shaped like French Bulldogs. There are plates, bowls, saucers and teacups with Frenchie designs. Buy an entire set and your friend can enjoy Frenchies with every meal!
17. Picture Prints
Last but not least, if you're looking for a gift that will truly rock their socks off, consider a picture print of their own French Bulldog. It doesn't get more meaningful than a commemorative portrait of man's best friend.
Basic prints can be framed and mounted on the wall. Artistic prints can be edited through Photoshop with names, messages, doodles and colour corrections.
You could even use a print to immortalise a French Bulldog who has passed away. They'll never forget the good times with their sweet little pooch when they have a beautiful print to hang above the mantel or display on their desk. Not only will they think fondly of their Frenchie whenever they see it, but they'll remember that you gave it to them.
West & Willow are one brand who offer stunning personalised pet portraits: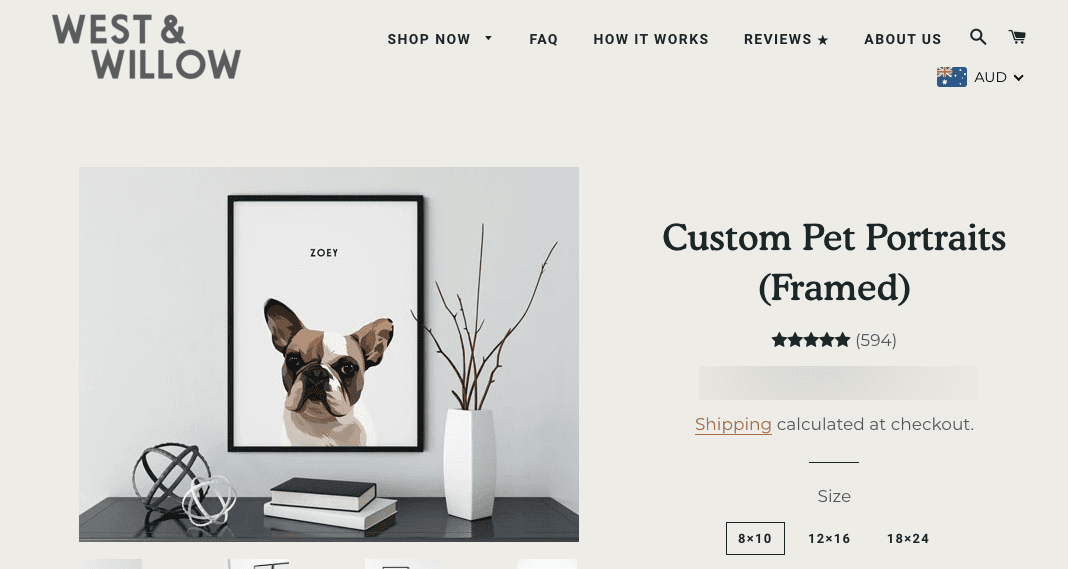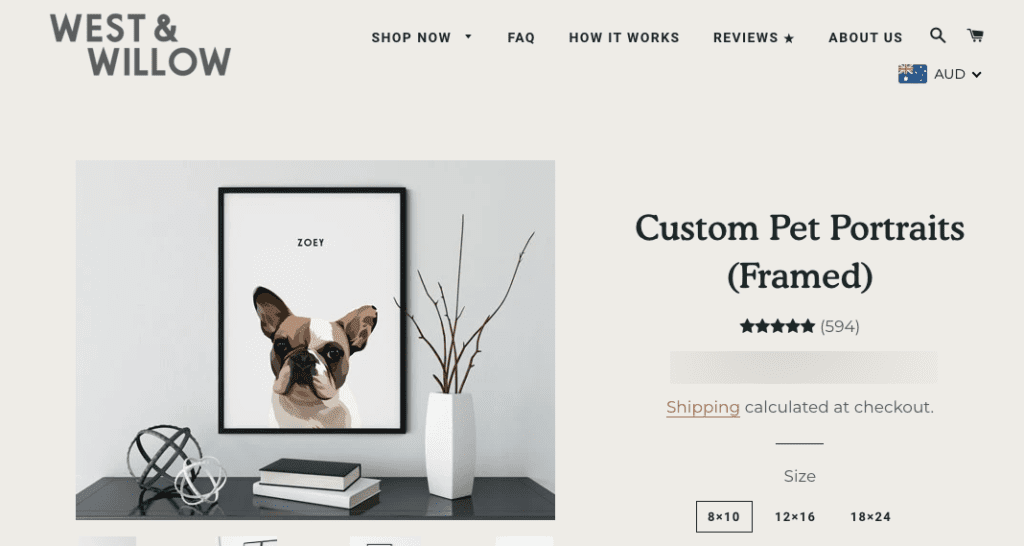 Wrapping up (literally!)
French Bulldogs are some of the best companions on the planet, but their owners need some regular human-love too! Consider these suggestions if you're thinking about gifts for French Bulldog lovers.
From Our Store