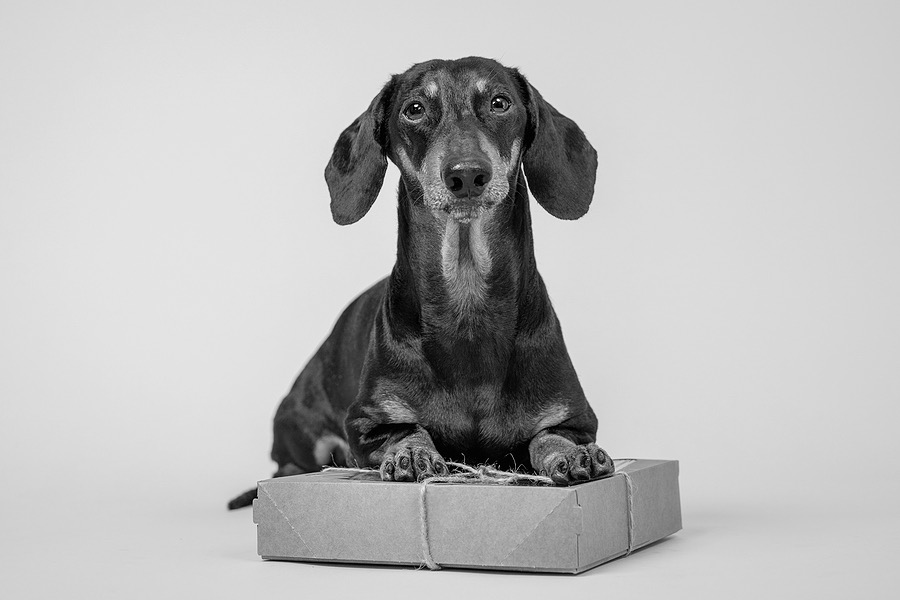 Dachshund stationery is some of the cutest and most creative that you'll ever see.
It's a bit like the breed itself: utterly unique and overwhelmingly adorable.
Here are just a few goodies that you can add to your stationery table to really embrace the quirky cuteness of Doxies!
1. Sweater-Wearing Dachshund Stationery Set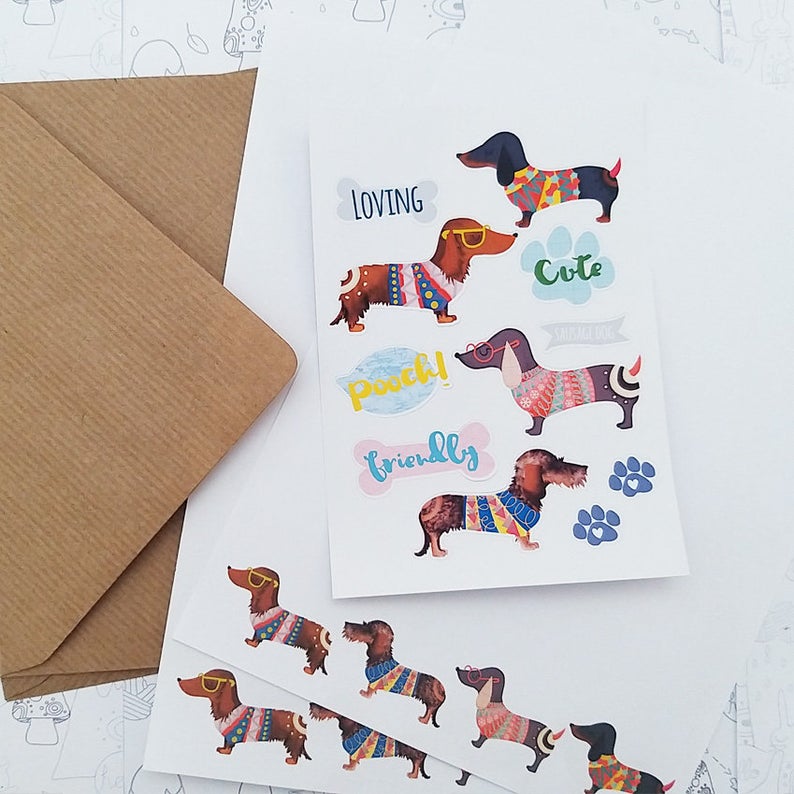 The only thing cuter than a Dachshund is a Dachshund wearing a sweater, and this stationery set harnesses its full power. Offering cards, envelopes, and stickers, it comes with everything that you'll need to write letters or start a new crafting project, and it's all covered with sweater-wearing Doxies. Each one has a unique sense of fashion to boot, so they have a personality as well as charm.
---
---
2. Dachshund Long Week Planner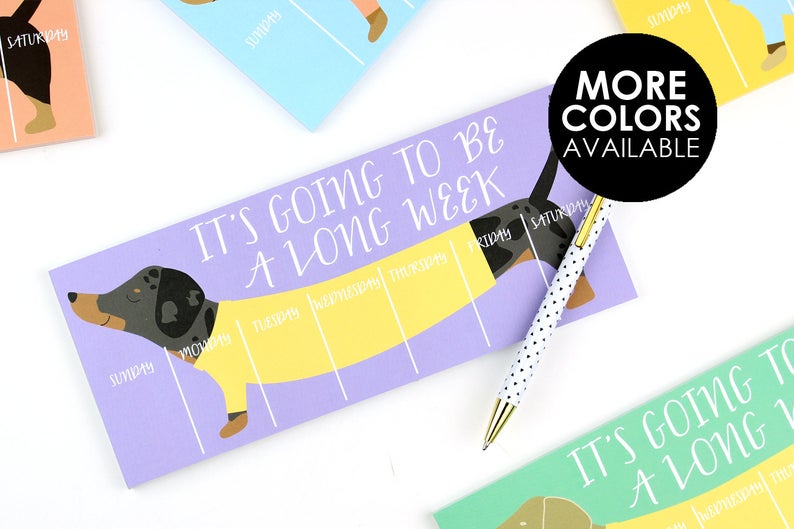 "It's going to be a long week." Printed over the cute, colorful cartoon of a Doxie, this notepad measures 3.6 x 8.5 inches long and has separate writing spaces for each day of the week. There are 50 sheets in total, so one planner pad will last almost an entire year. You can order different colors as well, so prepare for an agonizing mental debate about the cuteness level of a dappled dog in purple versus a cream-colored dog in green.
---
---
3. Dachshund Hardcover Notebook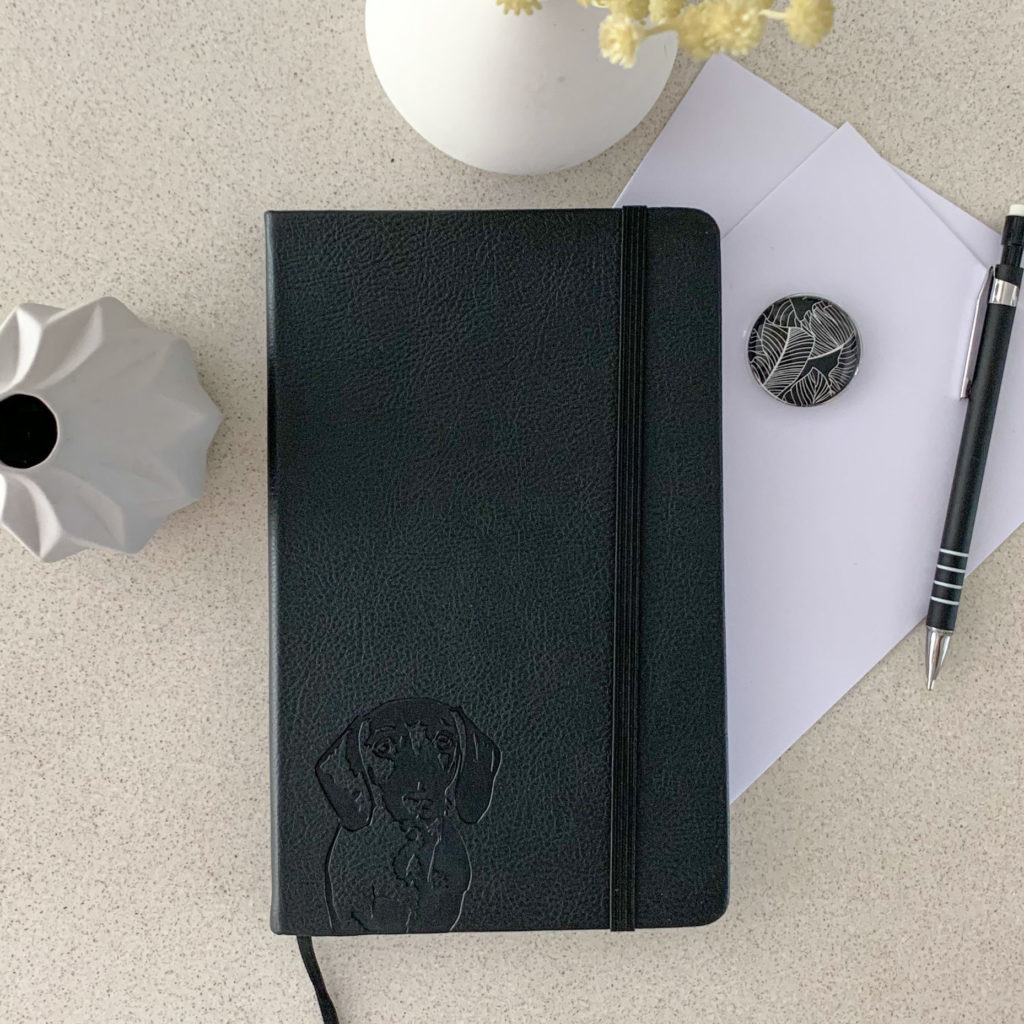 A good notebook can be used for everything from studying to journaling, and this one is definitely among the elite. Its faux leather hardcover is thick and sturdy, and its fabric cord can serve as both a placeholder and a bookbinder when you're on the go. A small Dachshund has been stamped on the front to make it irresistible to dog lovers. It'll be ideal for writing, doodling, list-making, and more.
---
---
4. Customized Dachshund Note Cards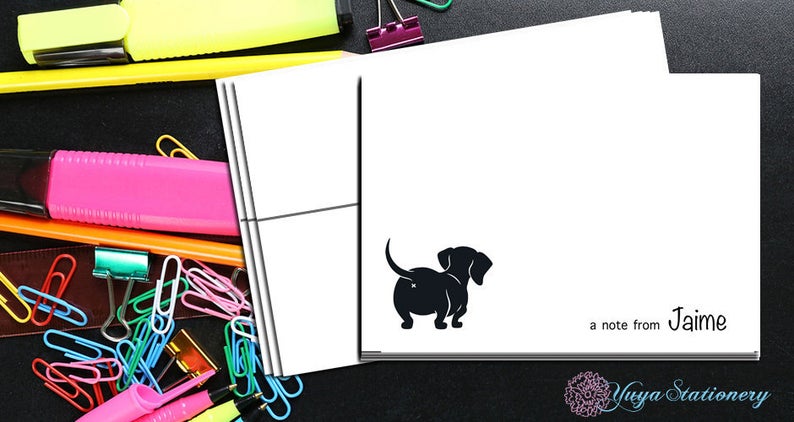 Send a brief with a Dachshund butt! Each one of these cards measures 5 x 7 inches and is adorned with the waddling backside of a cute little Doxie. You can personalize the cards by having "a note from (your name)" added to the bottom. Share recipes with them; attach them to school or work memos; use them as party favors or thank you cards. The possibilities are endless.
---
---
5. Dachshund Design Chrome Pen Box and Two Pens Gift Set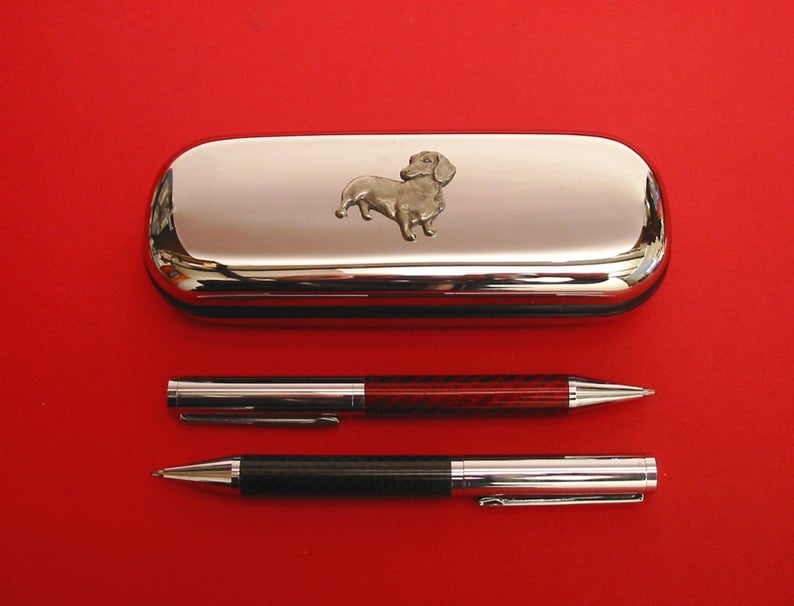 Effortlessly stylish, this pen box is made from a glossy, high-polished chrome that opens to reveal a fabric-lined interior with two ballpoint pens nestled together. Its rich design wouldn't look out of place in a CEO's office, but the adorable Dachshund on the lid will give it a quaint and charming quality. Wrap it up as a gift or keep it yourself as a display item for your home, office, or library.
---
---
6. Illustrated Dachshund Bookmark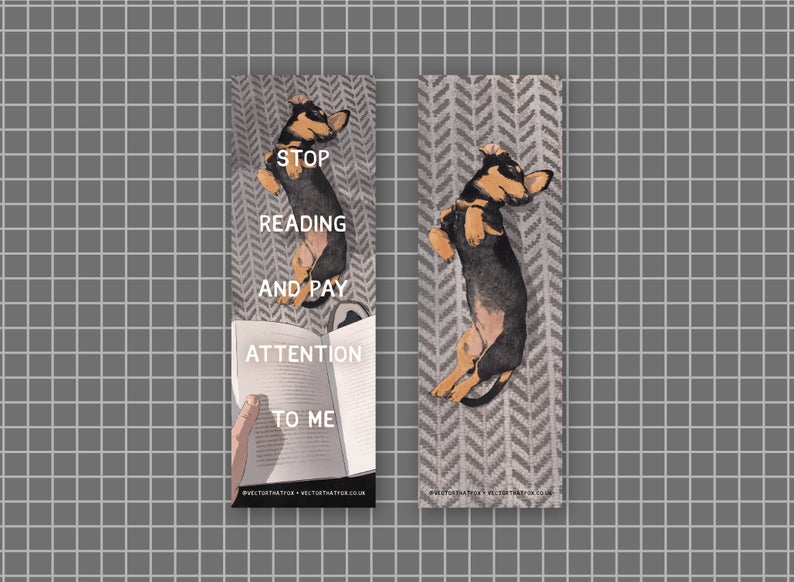 Dachshund bookmarks come in all shapes and sizes, so whether you're looking for magnets, laminates, or hand-knitted fabrics, you can find one to suit your preferences. This one is particularly funny, however, if you need a place to start your bookmark search. It has a belly-up Dachshund with a simple demand: "Stop reading and pay attention to me!"
---
---
7. Cute Dachshund Sticker Sheet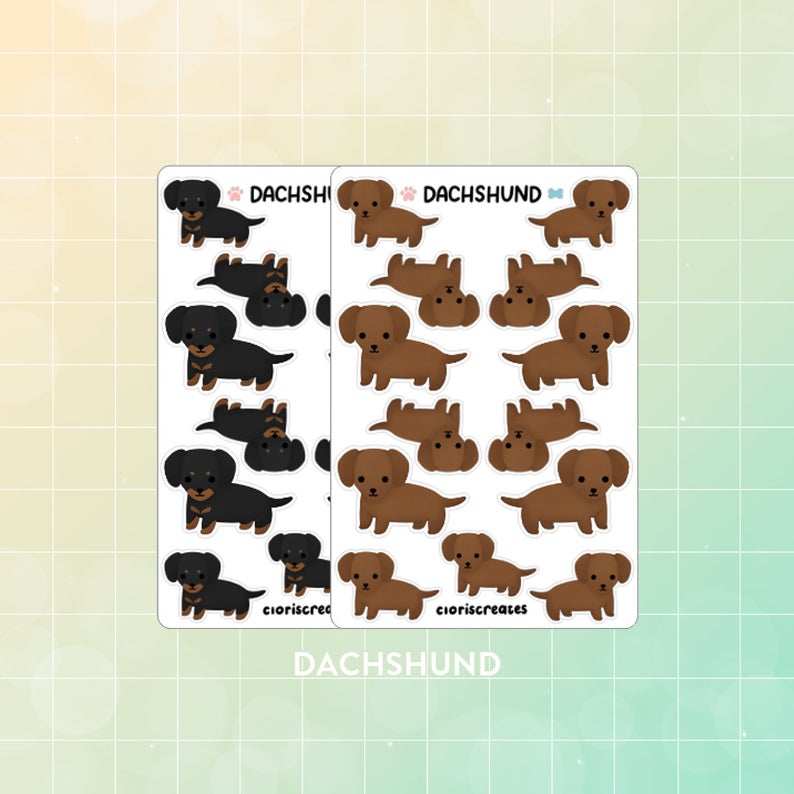 Never miss a vet appointment with these adorable Dachshund stickers. They come in both black and brown, and they're small enough to fit on a variety of calendars, planners, memos, and sticky notes. They'll make a great gift for the Doxie lover in your life, or you can hoard them for yourself and pull them out whenever you need a dose of cuteness in your daily routine. They can be stuck to any flat surface, so go nuts.
---
---
8. Dachshund Gold Metal Paper Clips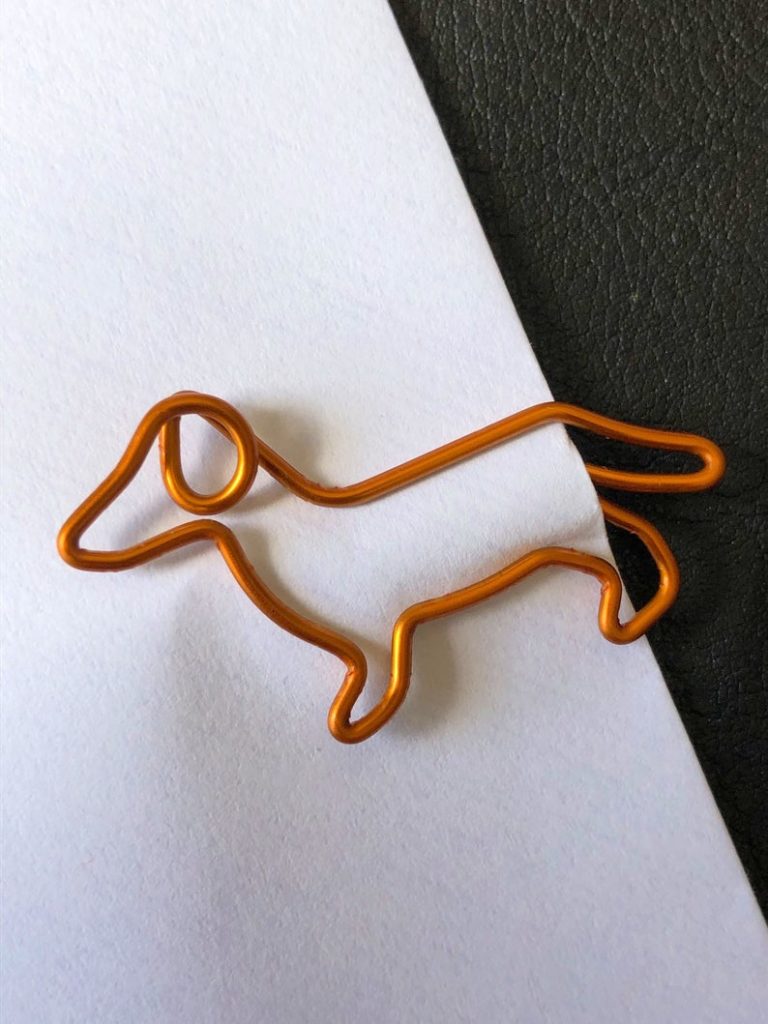 Office supplies have never looked so precious. With the unmistakable shape of a Dachshund, these gold-colored paper clips will add color and cuteness to any stack of papers. They come in a set of 10, so you'll have plenty to go around, and their sturdy material means that they can be used over and over again without getting warped. Use them for filing, journaling, scrapbooking, crafting, and more!
---
---
9. Personalized Dachshund Stationery Set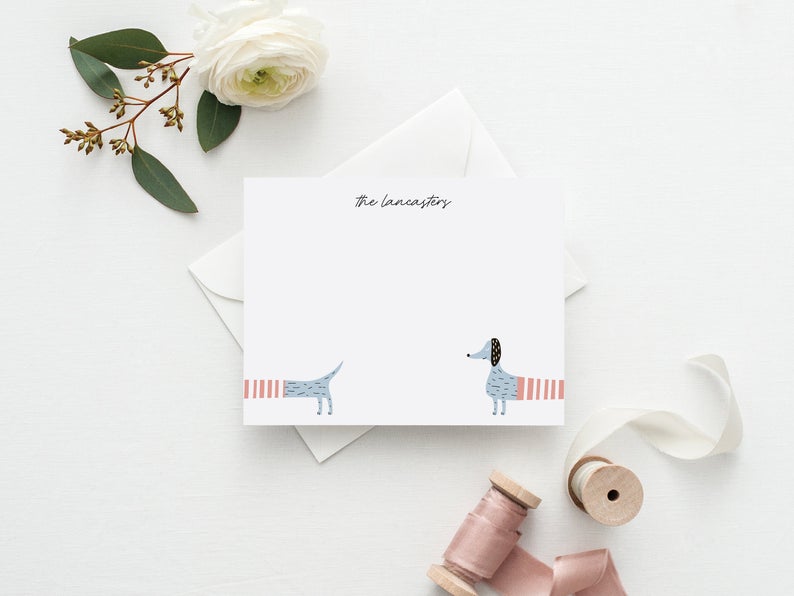 Add some personality to your letters with this Dachshund-themed stationery set. The cards have a colorful, sweater-wearing Dachshund wrapping around the corners with an ultra-long body, and the envelopes can be customized with your name and your choice of either pointed- or square-cut flaps. It's a stationery set with a lot of potential, especially if you're looking for Dachshund gifts.
---
---
10. Customized Long Leather Sausage Dog Bookmark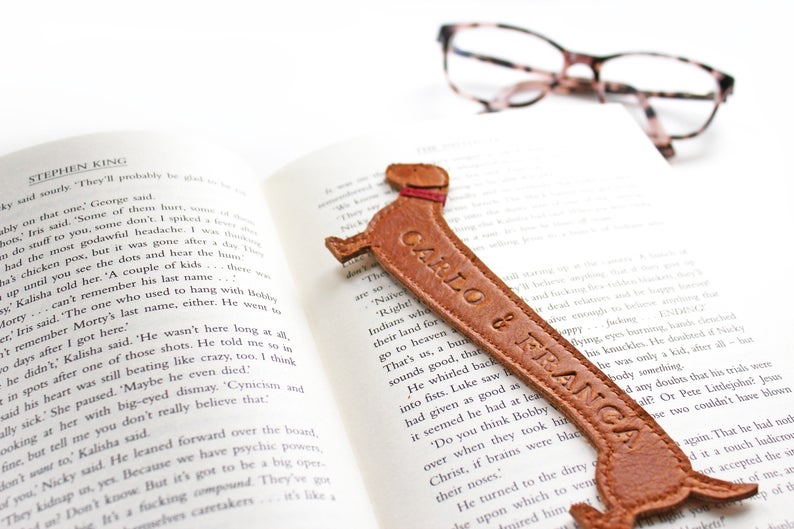 This leather bookmark will be a wonderfully unique collector's item for a Doxie lover. Not only does it have the laugh-out-loud shape of an extra-long wiener dog, but since it's stitched by hand, every order is one of a kind. You can even message the shop owner and have it customized with different names and fur colors. It's DIY crafting at its best.
---
---
11. Dachshund Metal Letter Holder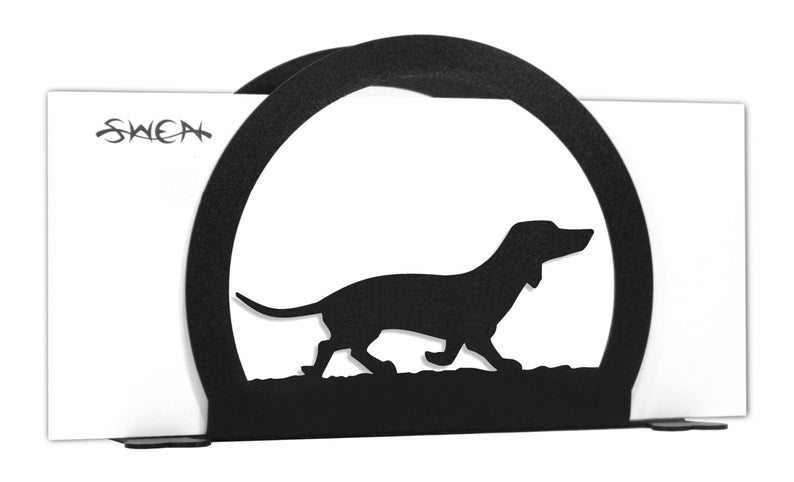 Suitable for letters, cards, folders, or even napkins, this letter holder will be an excellent organizational tool for your home or office. Its stainless steel frame is covered with a black powder coat to give it a handsome, hefty appearance, but it's actually quite light and portable, and it's cut into the shape of a young Dachshund roaming through a field. It's the kind of desk accessory that will definitely get compliments from admirers.
---
---
12. Personalized Heart Dog Wrapping Paper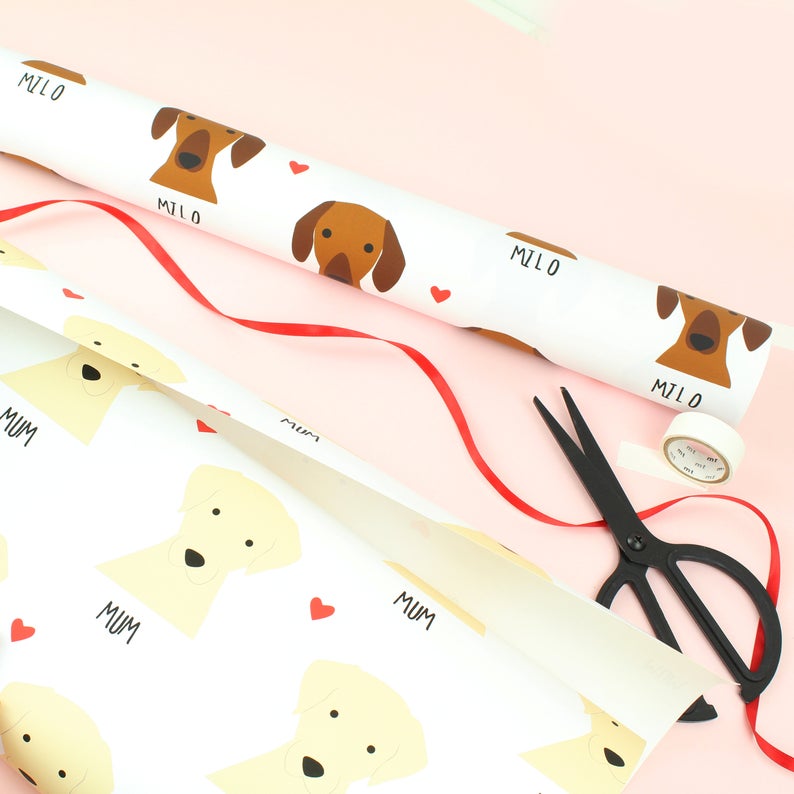 While there's no shortage of holiday- or birthday-themed wrapping paper with little Dachshunds wearing Santa hats or blowing out candles, these products can be somewhat limiting in terms of usage. You can only pull them out on the right occasion. This wrapping paper is more neutral – It just has a Dachshund face with a heart and a name. You can use it anywhere and anytime, so you'll probably find yourself coming back to it again and again!
---
---
13. Dachshund Desktop Calendar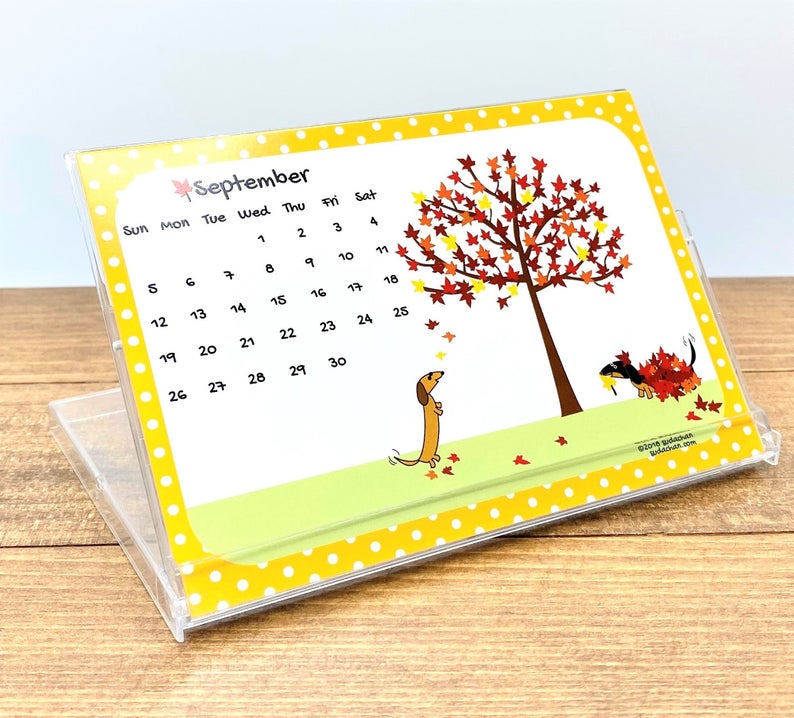 Filled with hand-painted illustrations, this desktop calendar will make you smile every time you look at it. Each month has a pair of Doxies doing something fun during a relevant season or holiday, so you'll get to follow their year-long journey as they eat, drink, dance, swim, skate, and travel. As a bonus, it's a self-standing calendar, so there's no assembly required. Just prop it on your desk and enjoy!
---
---
14. Customized Red-and-Blue Dachshund Poster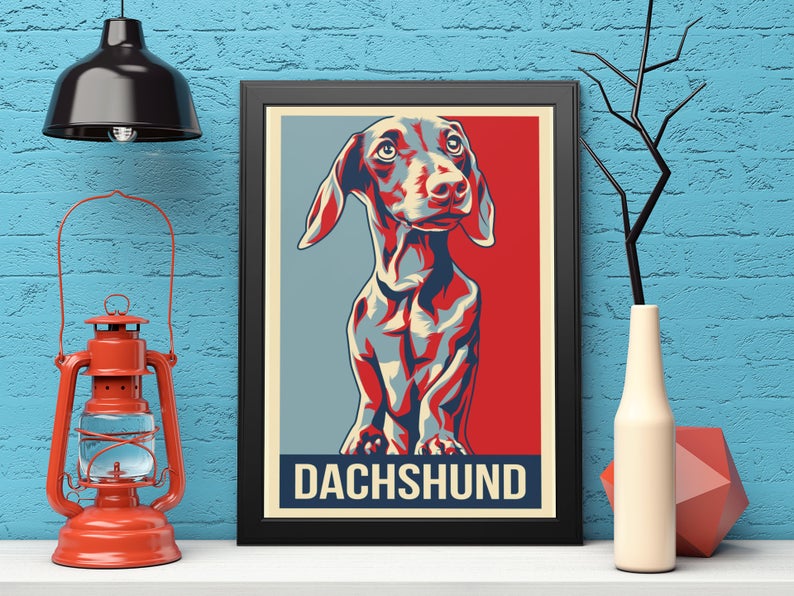 This noble Dachshund can hang on the wall or watch over your desk as a guardian of your hard work. It's available in both a 12 x 18 and 24 x 36 print, and can be customized with a name or just left alone to say "Dachshund." It'll be a cheeky sort of gift, but Doxies are a cheeky sort of dog, so it all works out in the end.
---
---
Wrapping up
These are just a few pieces of Dachshund-themed stationery that will bring the charm of soft paws and fuzzy noses into your life. Whether you're writing letters, sending memos, or starting a dream journal, these accessories can help you do it with flair!