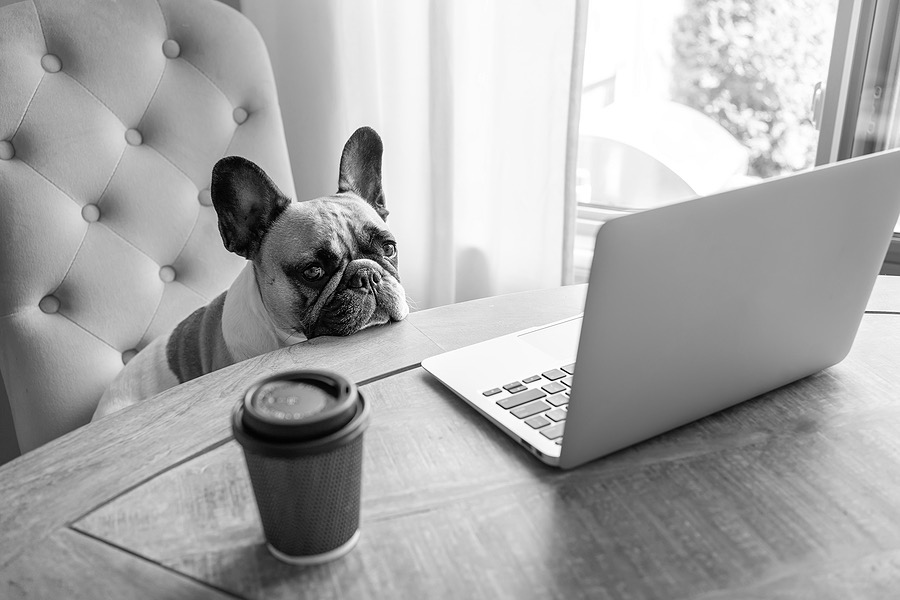 Everyone likes to add a touch of dog to their office, especially when working from home. Whether you're working from home or you've already returned to a traditional office, here's some insight on how to bring some character to your workspace with dog-themed office products.
---
1. Wall Art
Owners love to show off their pets just as they would a brand new baby or a car. Personalized items such as wall art are a great place to start. Even if they aren't pictures of your dog, you can get drawings or paintings of the same breed as your dog. Some artists have dressed up different breeds of dogs in dresses, suits/ties, and bows/hats to give them a little more of a "human" look.
One of the many comedic options for wall art is a picture of your dog or the same breed dressed up in a full suit and tie. This option will get you quite a few laughs from coworkers and your clients who walk into your office.
Wall art signs are another fun way to spruce up the office to show off your love for your dog. Sayings like, "All You Need Is Love… And A Dog" or "I Work Hard So My Dog Can Have A Better Life" can give a little chuckle when you're having a bad day.
---
---
2. Desk Calendar
One must-have office item is a calendar, and a desk calendar is one of the best ways to showcase your love for dogs. 12 months of the year means 12 different cute dog pictures to enjoy. There are so many options to choose from, and some print shops even let you customize your own.
---
---
3. Stationery
Personalized dog-themed office stationery is also a great option! You can get stamps, embossers, paper, address labels, and envelopes with your favorite dog breed on them. You'll be sending notes all over the office just because the stationery is so cute.
Notebooks and binders can be matched together to go along with your breed-themed stationery, fitting all of your office needs.
Not to mention, you can customize your business cards with your dog's face, or just a paw print border around the outside.
---
---
4. Business Cards and Card Holder
There are many business card designs out there that can incorporate adorable images of the puppy dog of your choice. You can even customize your own and include your furry friend on your business card. It'll definitely spark conversation.
While dog-themed business cards are cute, they may not be suitable for every occupation. If that's the case for you, don't be discouraged. You can still choose a dog-themed business card holder to showcase your cards and your love for dogs.
---
---
5. Dog Mouse Pad
Whether you're at home or at the office, if you're on a computer, you'd benefit from a mouse pad. This dog mouse pad is not only functional but also adorable for your dog-themed office space. A pup holding a Starbucks cup is very fitting for the office and coffee culture. It has a non-slip rubber base, making sure it does its job as well as it looks.
---
---
6. Dog Mugs
When it comes to dog-themed office products, you can't forget mugs. Whether you prefer tea or coffee, having a dog-themed mug can brighten your day. There are mugs with paw prints or dog photos, and there are mugs sculpted in the shape of a pup. Make a statement with your mug, and let your coworkers know how great of a dog mom or dad you are.
---
---
7. Welcome Mats
Welcome mats come in every breed known, and can be personalized to fit an exact picture of your pup too! Some come with cute sayings like, "How doodle you do?" or have paw prints around the border. Any size mat you need for the office is a great way to show off your love for your furry friend.
---
---
8. Bookends
Bookends can all be customized into specific breeds to match your liking. Some even sport the look of a balloon dog animal instead of a particular breed of dog, which can be a fun addition to any office, home, or at work. Here's an example of Dachshund stationery in the form of a bookend.
---
---
9. Cardboard Dog Organizer
Plastic organizers help keep your office space looking neat, so you don't have items laying all over your desk or lost in random drawers. But a cardboard dog organizer does that and looks fun and chic. Its DIY component makes this office product a great puzzle pastime as well.
---
---
10. Dog Lamps
Floor and table lamps can be modeled after your dog's breed or designed after a physical picture of your canine. Dog-themed lamps are a creative way to show your pride as a dog owner in your office.
---
---
11. Dog-themed Ties
Just because you're at work in an office, doesn't mean you can't have a little fun with what you wear to work. Dog-themed ties are HUGE! All breeds are available to be printed on neckties.
---
---
12. Dog-themed Socks
Socks are a fun way to show off your canine as well, but a bit more discreetly. The same thing as the neckties, you can get any breed or your own dog printed on the socks. You can get any length of sock you want, in any size you need for women or men.
Not to mention, this is a great dog-themed product to include in gift baskets for your dog-loving coworkers!
---
---
Takeaways
Now that you know more about how many dog-themed office products are out there, it's time to start shopping and give your office some character. Being a dog owner is something to be proud of, show that pride in your office.
Author Bio: Hey, guys! My name is Jovan and my dog's name is Robby. Robby is from a small town in rural Colombia and came to live with me in Brooklyn. I decided to embark on this quest to help other dog lovers such as myself, find the best tips on how to have your pup live its best life.