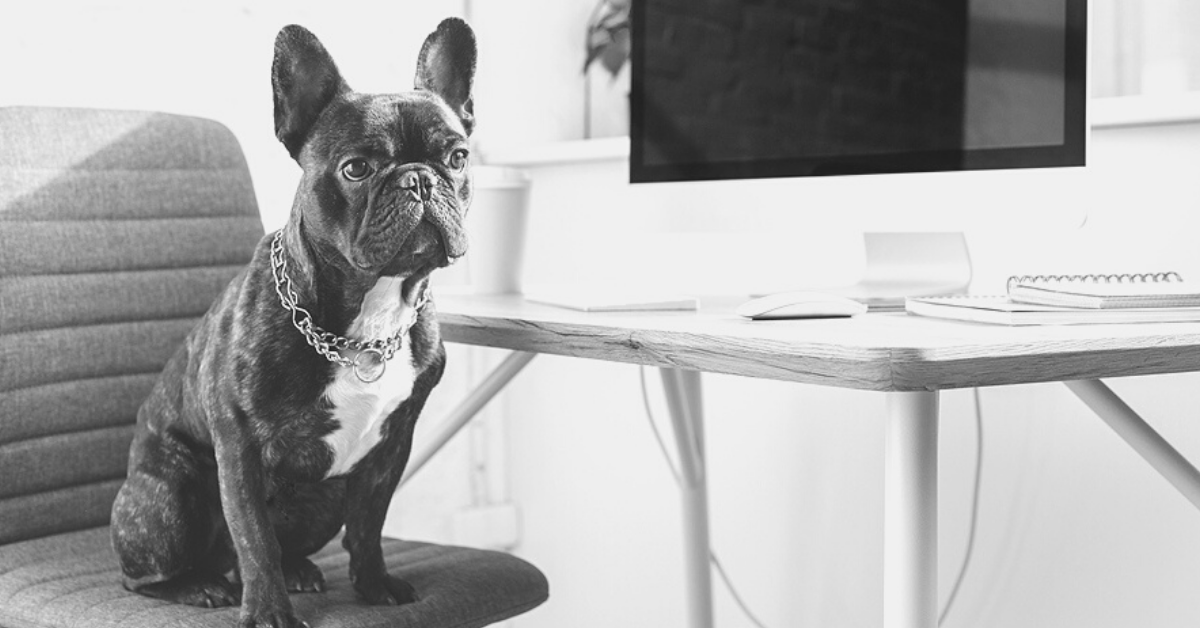 Do you love collecting pens, pencils, stickers, and post-it notes? Do you take joy in sending off cute letters or putting together adorable scrapbooks and photo albums?
If your desk could double as a stationary stand, here are just a few French Bulldog stationery items to put your own unique paw print on it!
1. Mini French Bulldog Bookmarks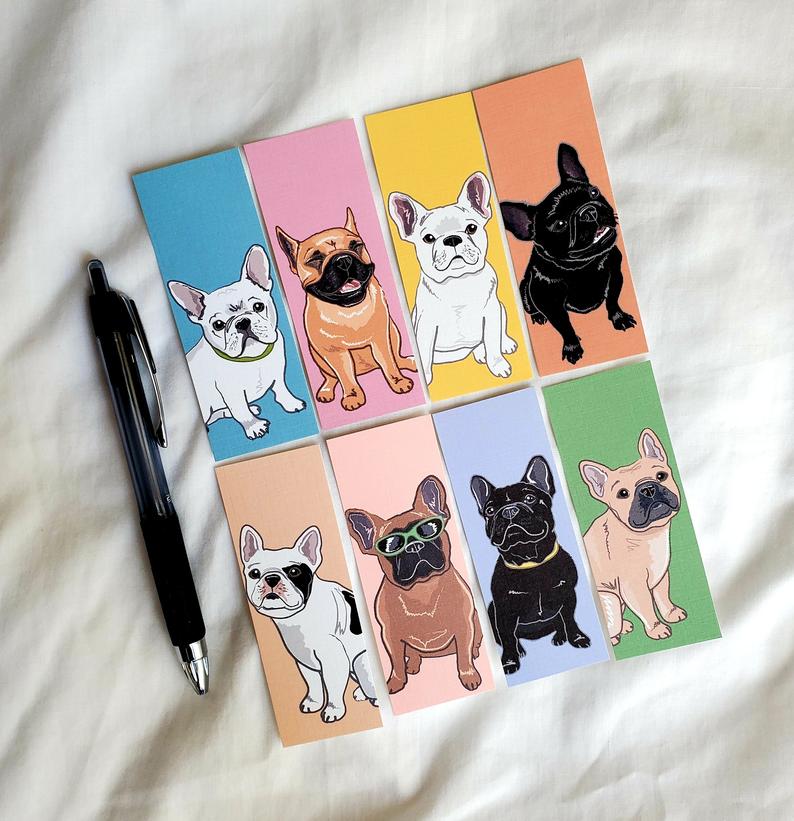 If you're looking to totally transform your bookshelf, consider these mini-bookmarks. Each one is printed with a different kind of French Bulldog on a fun, colorful background, and together, they'll have an almost Warhol-like feeling with their bright rainbow squares of whiskered cuteness.
---
---
2. French Bulldog PU Leather Notebook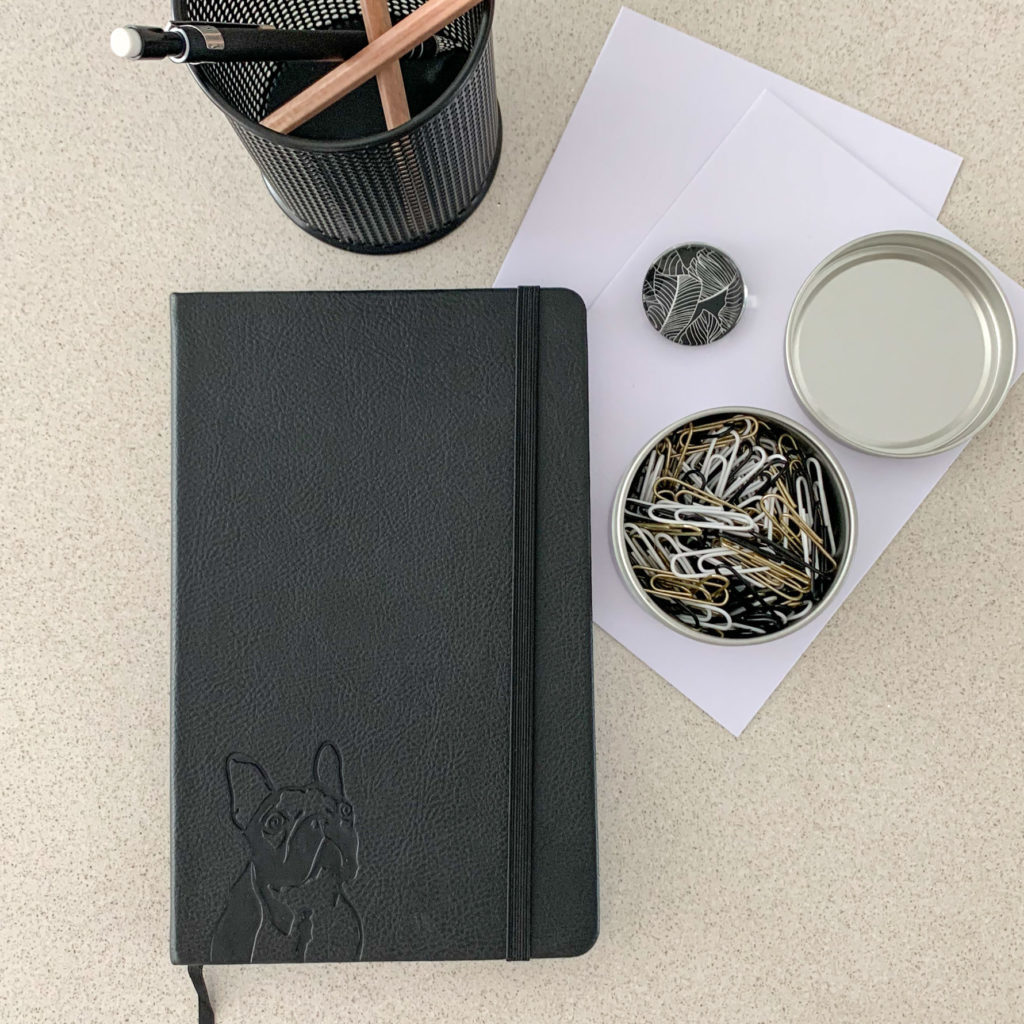 With a matte black hardcover, this notebook will be a stylish addition to your home office. It has a small, sophisticated silhouette of a French Bulldog in the bottom corner, and dogs are printed in gray on the first few flyleaf pages. The rest of the notebook has white, lined pages that are just begging for your ink. If your personal sense of style is more "cultured" than "cute," this is the notebook for you.
---
---
3. French Bulldog Sticker Sheet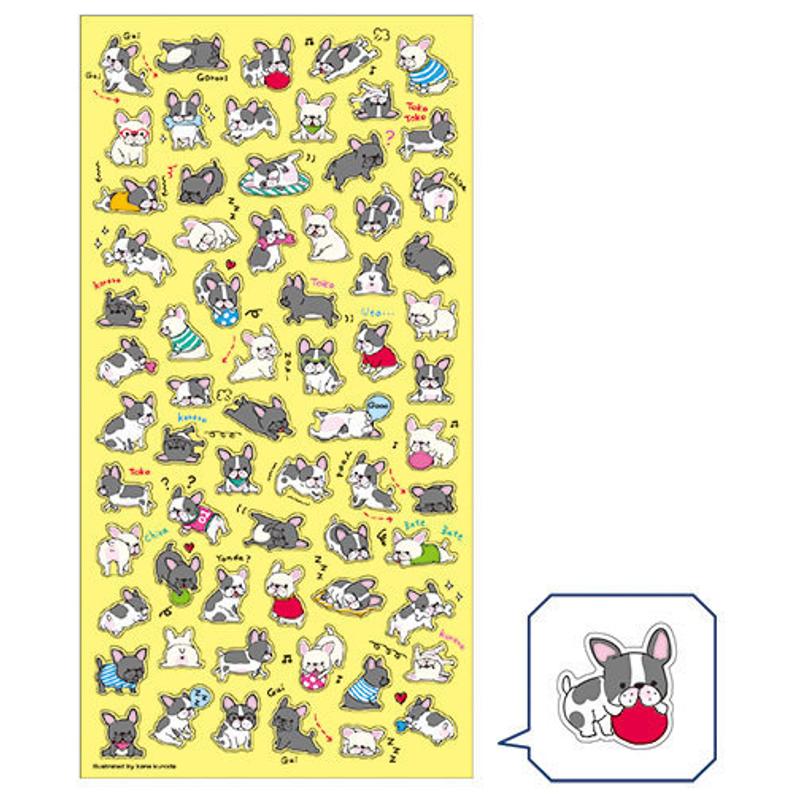 A joyful Frenchie chases a ball. A lazy Frenchie rolls over on their back. A gaseous Frenchie lets out a toot! These are just a few of the adorable, kawaii-style stickers that are on this sheet, and thanks to their delightful diversity, you should have no problem finding uses for them on books, planners, calendars, and other desktop items.
---
---
4. Sky Blue French Bulldog Notepad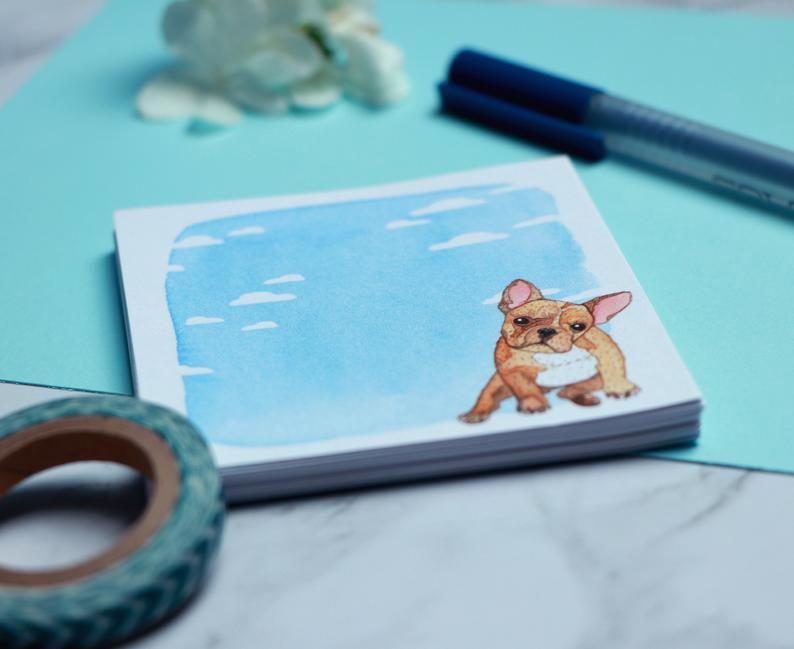 Everyone knows the Frenchie head tilt, and this notepad immortalizes it forever with a sweet, gentle piece of artwork. The Frenchie in question is a little brown ball of love, and they're printed against a soft blue sky strewn with clouds. You can use them for all sorts of lists, reminders, and appointments. You might even find yourself making excuses just to use them. Who can resist this wholesome little face?
---
---
5. French Bulldog Minimalist Wrapping Paper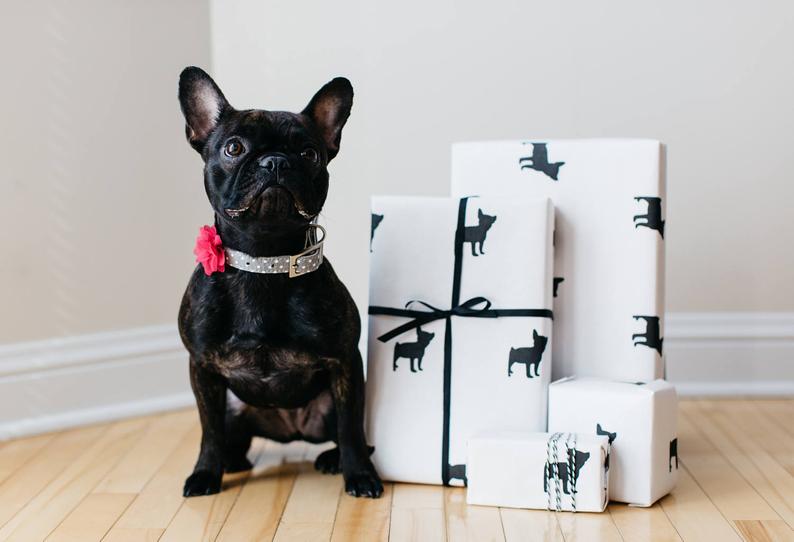 French bulldog wrapping paper comes in all shapes and sizes, but unlike others that have birthday hats or Christmas trees, this one boasts a very minimalist design. A simple black Frenchie is printed in a repeating pattern on a white background. It'll be appropriate for any occasion, so whether you're celebrating a birthday, anniversary, holiday, graduation, or "just because" moment, this could be the perfect purchase.
---
---
6. Love You Like a Frenchie Greeting Card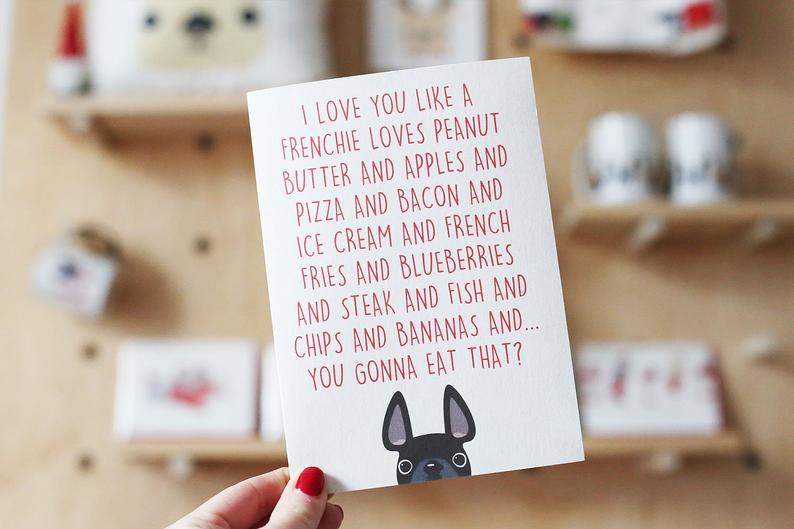 All French Bulldog owners can relate to this one. "I love you like a Frenchie loves peanut butter and apples and pizza and bacon and ice cream and…" There's a full litany of foods, and at the bottom of the card, a hopeful little face peers at the reader and asks, "You gonna eat that?" It'll be a delightful gift for someone who knows the treat-destroying powers of the Frenchie.
---
---
7. Double-Sided French Bulldog Magnetic Bookmark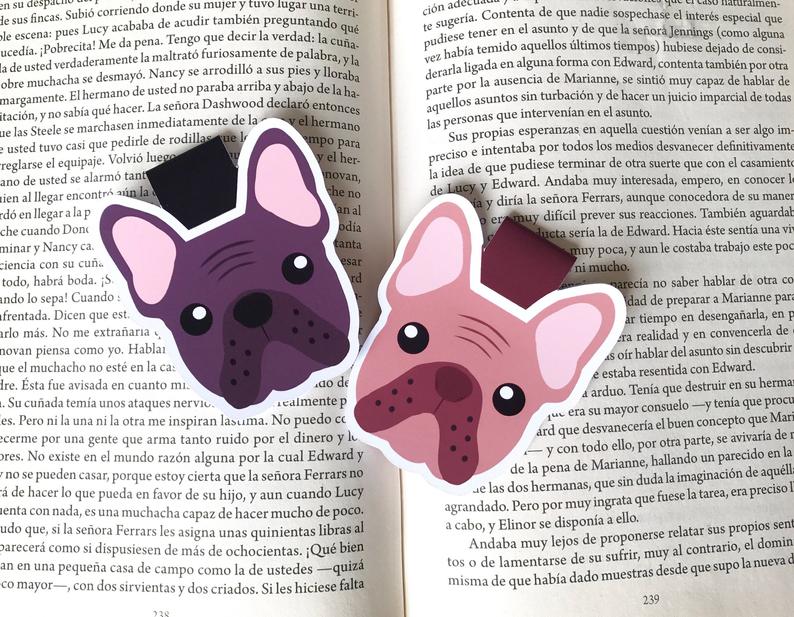 Another great gift for bookworms and bibliophiles, this bookmark uses a magnet to hold itself in place, so you won't lose your spot in Pride and Prejudice even if your book goes tumbling out of bed and onto the floor. Even better, it's shaped like a French Bulldog head, so it'll be fun as well as functional. There are two in total, so feel free to order both and have a matching set.
---
---
8. French Bulldog Butt Pencil/Pen Holder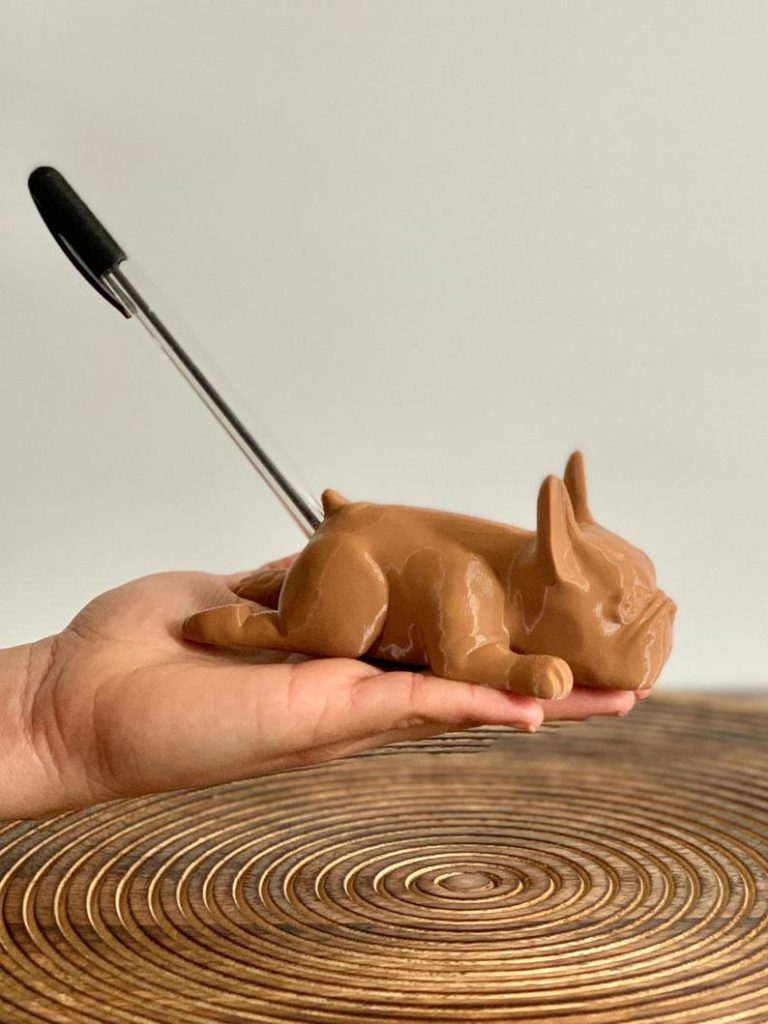 Storing your stationery tools can be just as important as buying and using them. Fortunately, this pencil holder makes it easy! It'll let you stash your writing utensils right in the adorable little butt of a French Bulldog. As a bonus, it won't give you a look of deep, personal betrayal like your real Frenchie does when the vet needs to poke around back there.
---
---
9. French Bulldog Photo and Memo Holder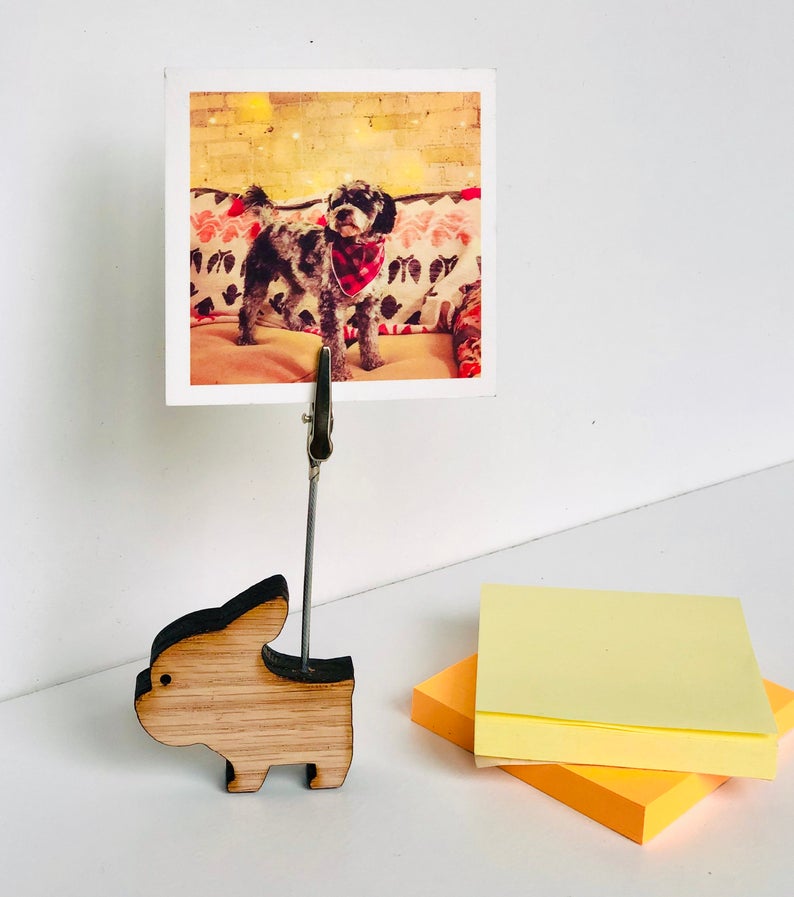 If you're always looking for cute, kitschy items to add to your cubicle, this French Bulldog photo holder is an absolute steal. It's shaped just like your favorite breed, and is wired up to hold pictures, photos, art prints, and any other kind of mementos that will fit within its clasp. It's made from a burnished wooden material, but feel free to paint it in whatever colors you'd like.
---
---
10. French Bulldog Sketchpad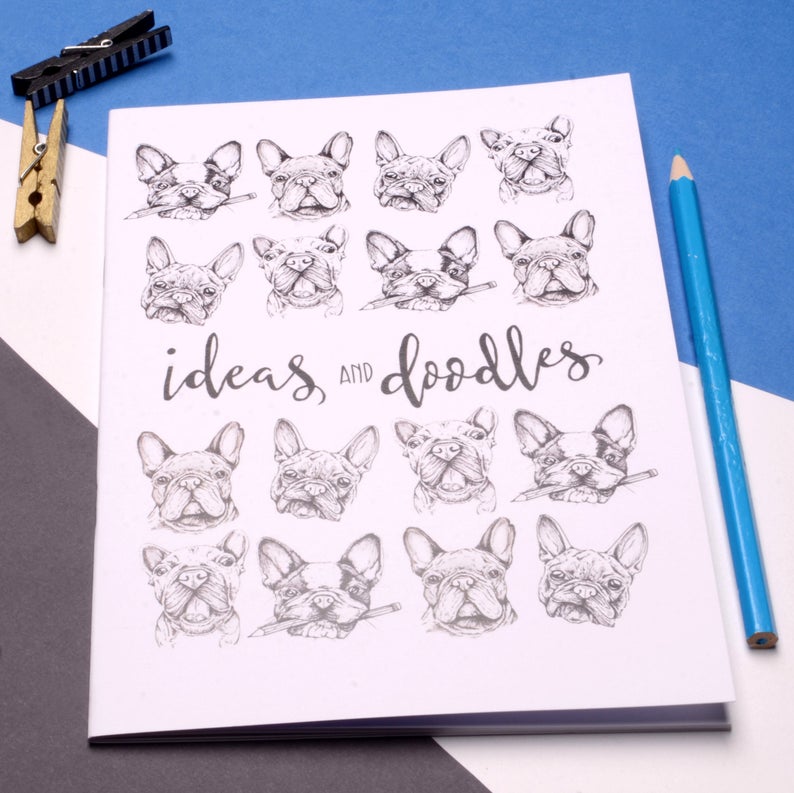 Bring your artistic visions to life with this French Bulldog sketchpad. The cover says "Ideas and Doodles" in a pretty, curling font, and a dozen different Frenchies frame it. Some even have pencils in their mouths like whiskered little Picassos. If you're ready to write, draw, paint or just let your pen wander in aimless circles as you pretend to pay attention in a Monday morning meeting, this can be a great resource for you.
---
---
11. French Bulldog Mini-Calendar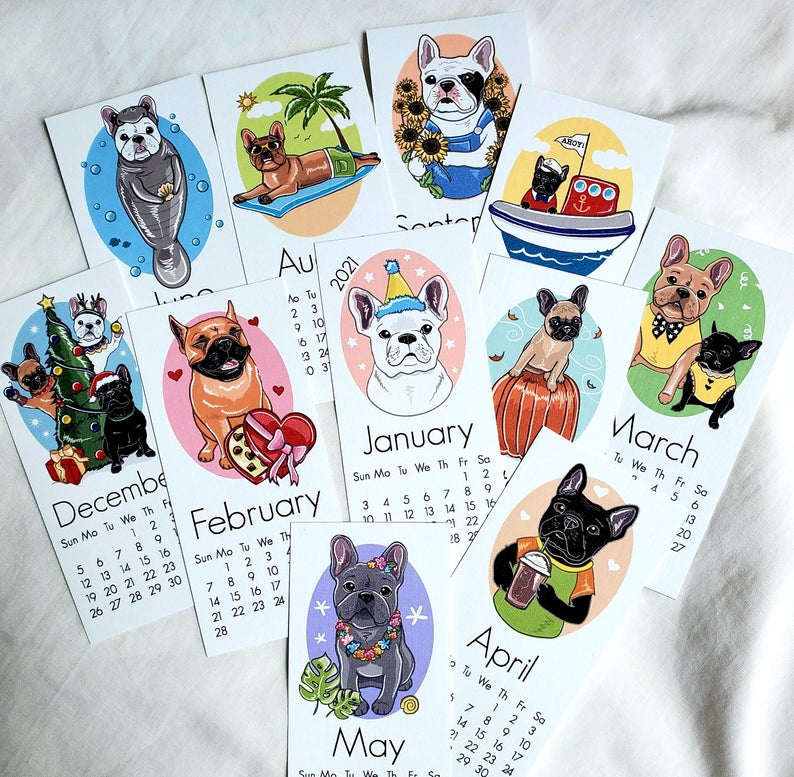 If you're in the market for a French Bulldog calendar, you'll have plenty of options, but this one is definitely worth a second look. Each month has a colorful, cartoon-style Frenchie, and they're all doing something special that incorporates the season. For example, February's Frenchie has a box of heart-shaped chocolates while June's Frenchie is dressed in a seal costume for the summer. The entire year will be one adorable experience after another.
---
---
12. French Bulldog Dog With Heart Square Rubber Stamp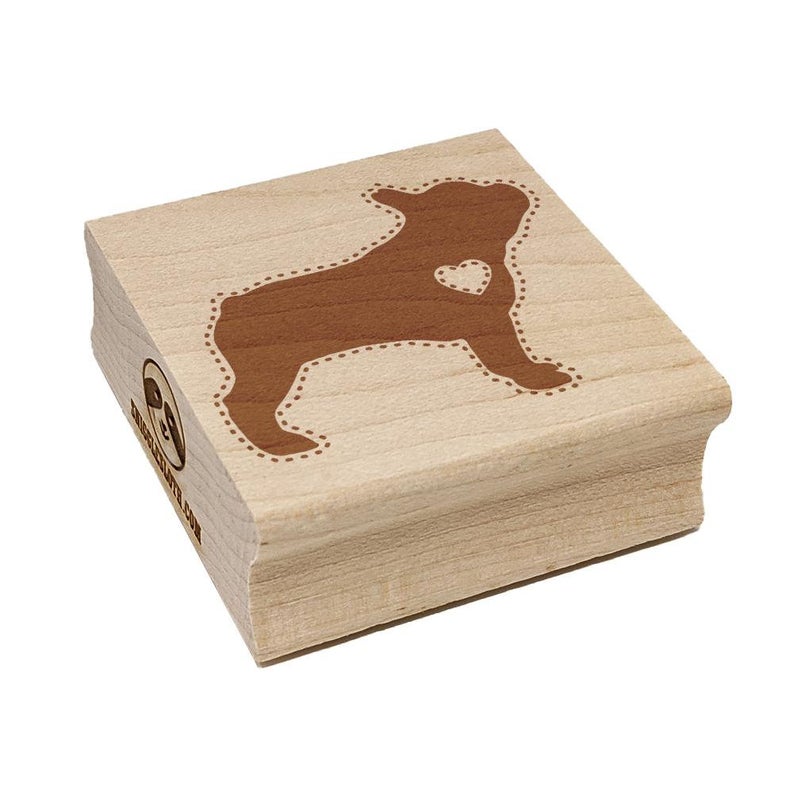 This French Bulldog stamp comes in the form of a rubber square that masquerades as old-fashioned wood. You won't even tell the difference until you pick it up and feel its squishy, lightweight design. It'll be perfect for Frenchie lovers who enjoy cute stationery accessories but don't want heavy or excessive clutter on their desks.
---
---
13. French Bulldog Round Mouse Pad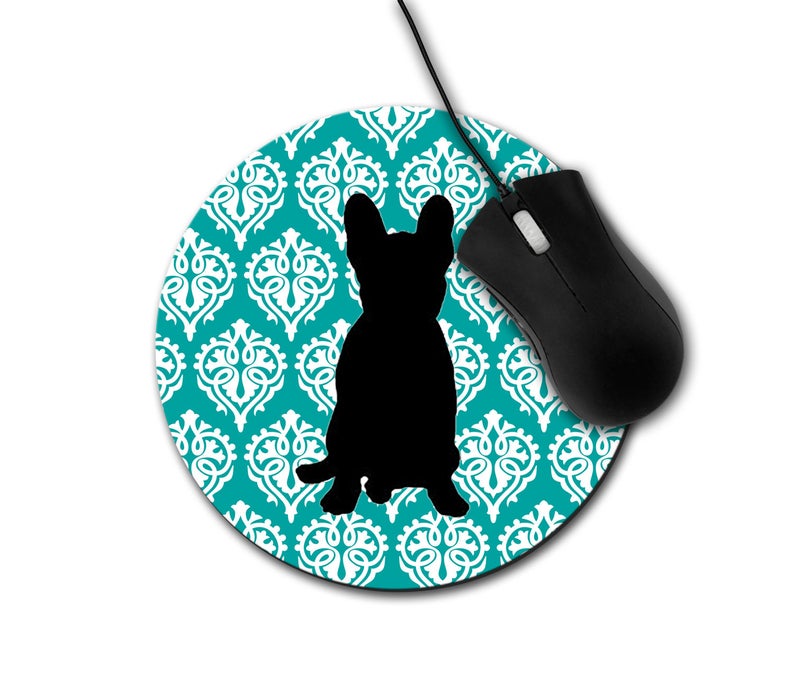 This one is for graphic artists, web designers, and anyone else who uses a computer to unleash their imagination. A good mouse pad can be critical for digital work, and fortunately, this French Bulldog is here to act as your guardian against carpal tunnel. The soft polyester fabric will be gentle against your skin, but its neoprene rubber backing will keep it from sliding all over your desk as you work.
---
---
14. Personalized French Bulldog Notebook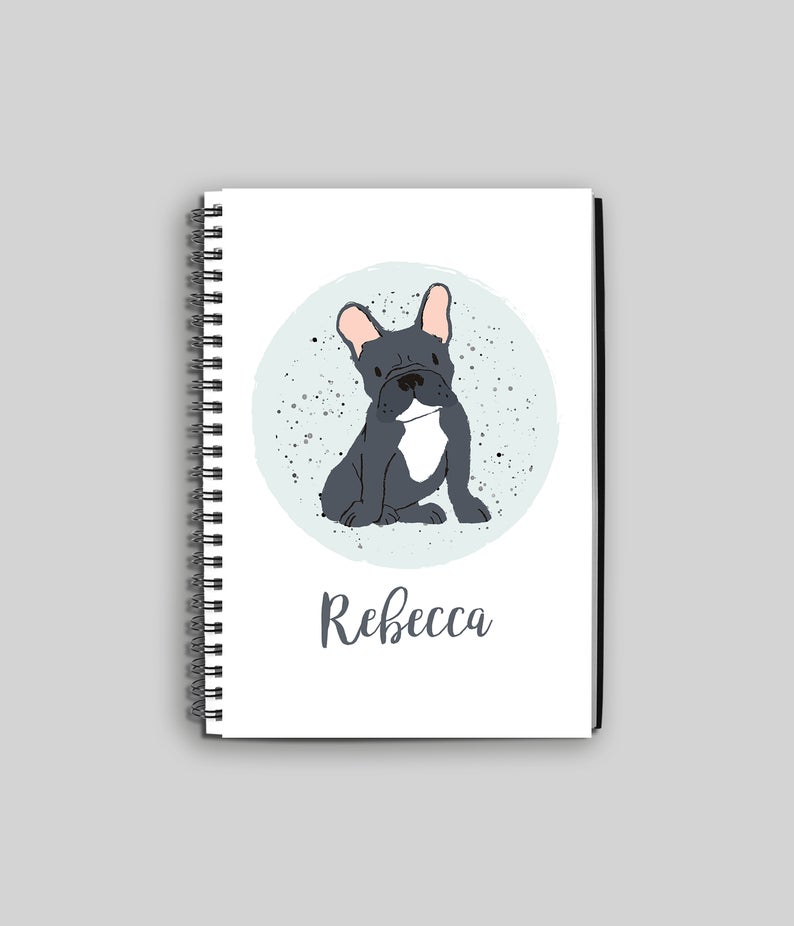 If you're looking for a personalized gift for a special someone, this notebook offers plenty of ways to make it your own. Not only can you add a name to go along with the adorable French Bulldog on the cover, but you can also customize the colors of the binding wires that hold it together, and choose whether its pages are lined or unlined. Everything about this gift will allow you to put a personal touch on it!
---
---
15. Custom French Bulldog Return Address Stamp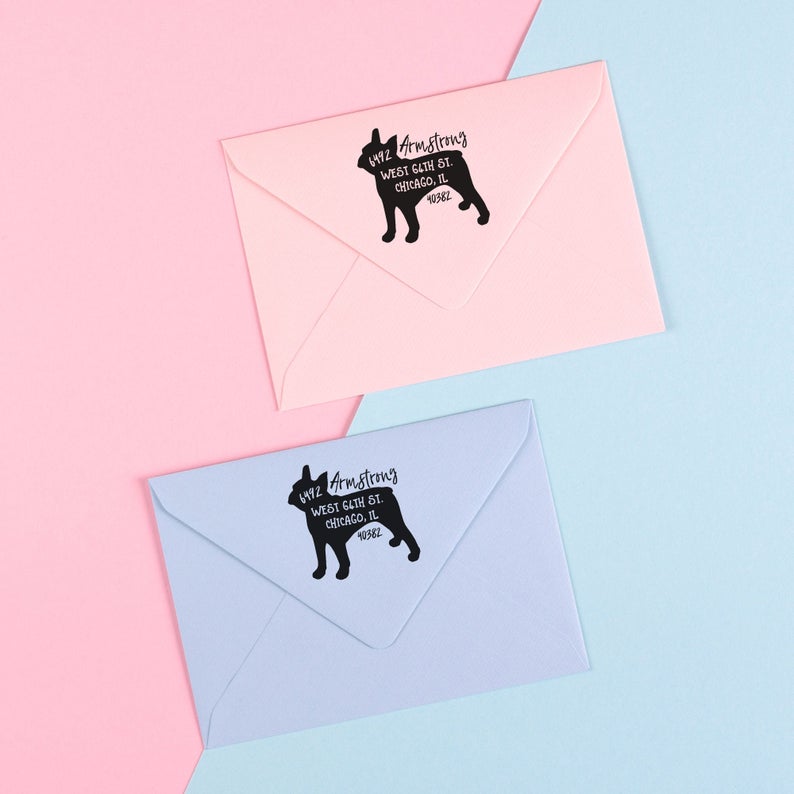 Mailing a letter has never been so cute! With the help of this stationery stamp, you can decorate all of your envelopes with an adorable little Frenchie that has your return address at the ready. Just plug your information in the order form to have everything customized for you. You can even ask for different ink colors if you want to coordinate your envelopes, stamps and stickers.
---
---
16. French Bulldog Flower Crown Vinyl Sticker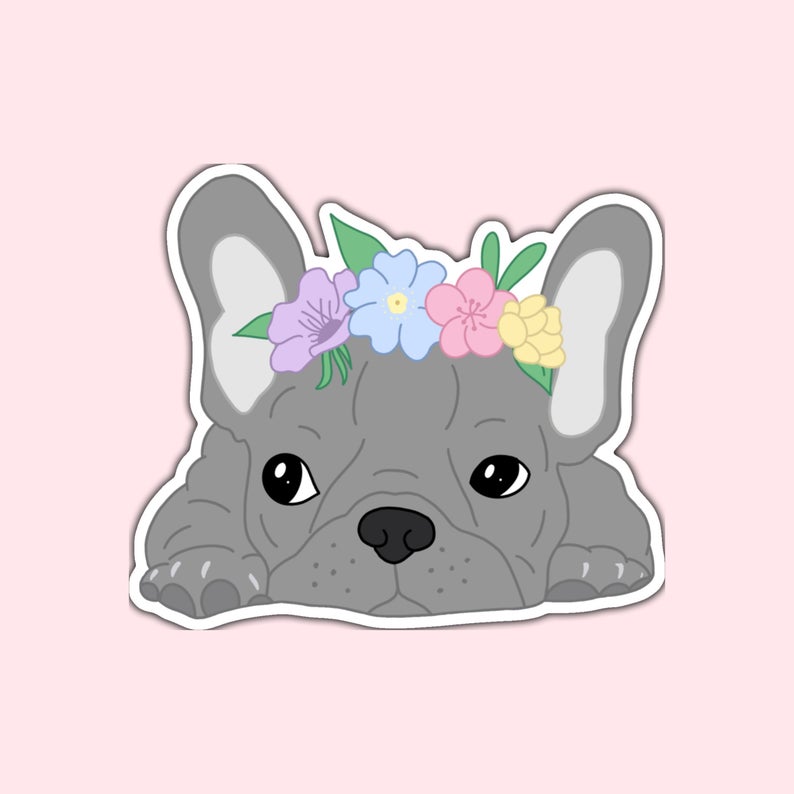 Last but certainly not least, if you've never jumped aboard the "flower crown" bandwagon, it isn't too late! This cute sticker is perfect for laptops, lockers, dorm rooms, and any other place that could benefit from a pouty Frenchie with a pastel makeover. It'll bring instant cheer to the space, and you'll be able to show off your identity as a proud French Bulldog owner.
---
---
French Bulldog stationery can range from cute and cuddly to sleek and sophisticated. No matter what your tastes, you can find plenty of pens, pencils, stamps, letters, notebooks, and bookmarks that are adorned with the world's cutest dog breed. Happy shopping!