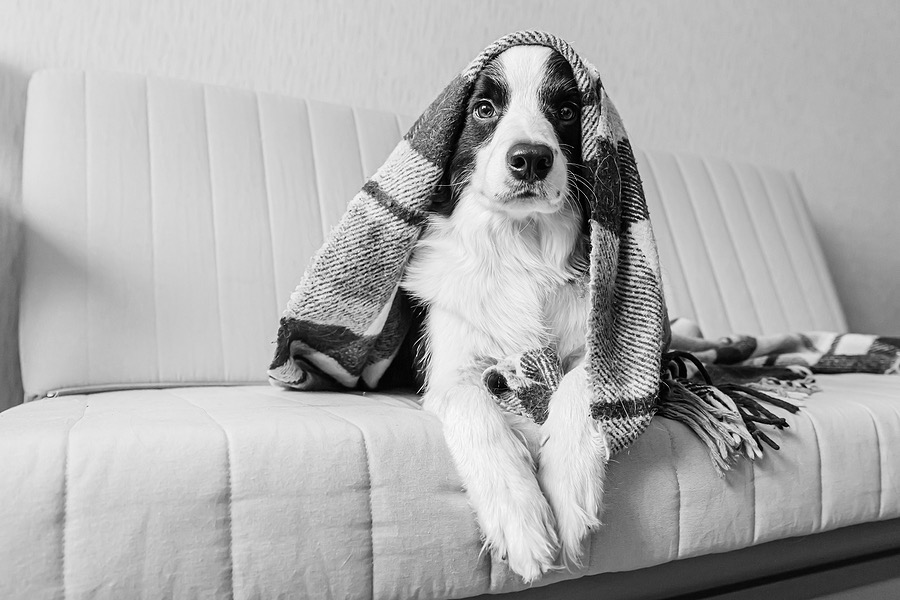 Are you devoted to dogs? Do you want your home decor to reflect your love of man's best friend? If so, you're in luck! Here are just a few dog accessories for home that will embody that sweet, snuffly kiss and tail-wagging enthusiasm.
1. Personalized Wooden Dog Leash Holder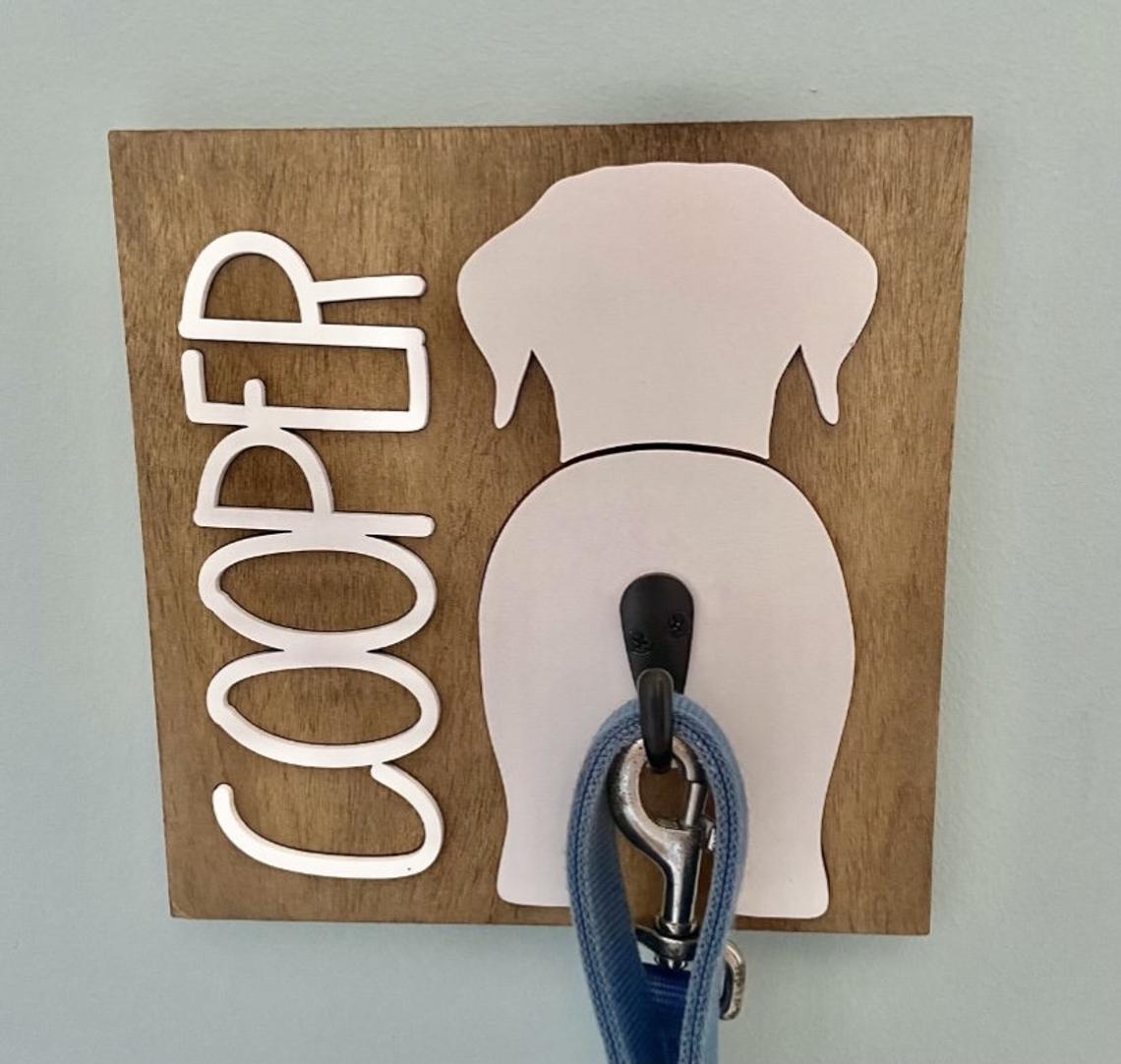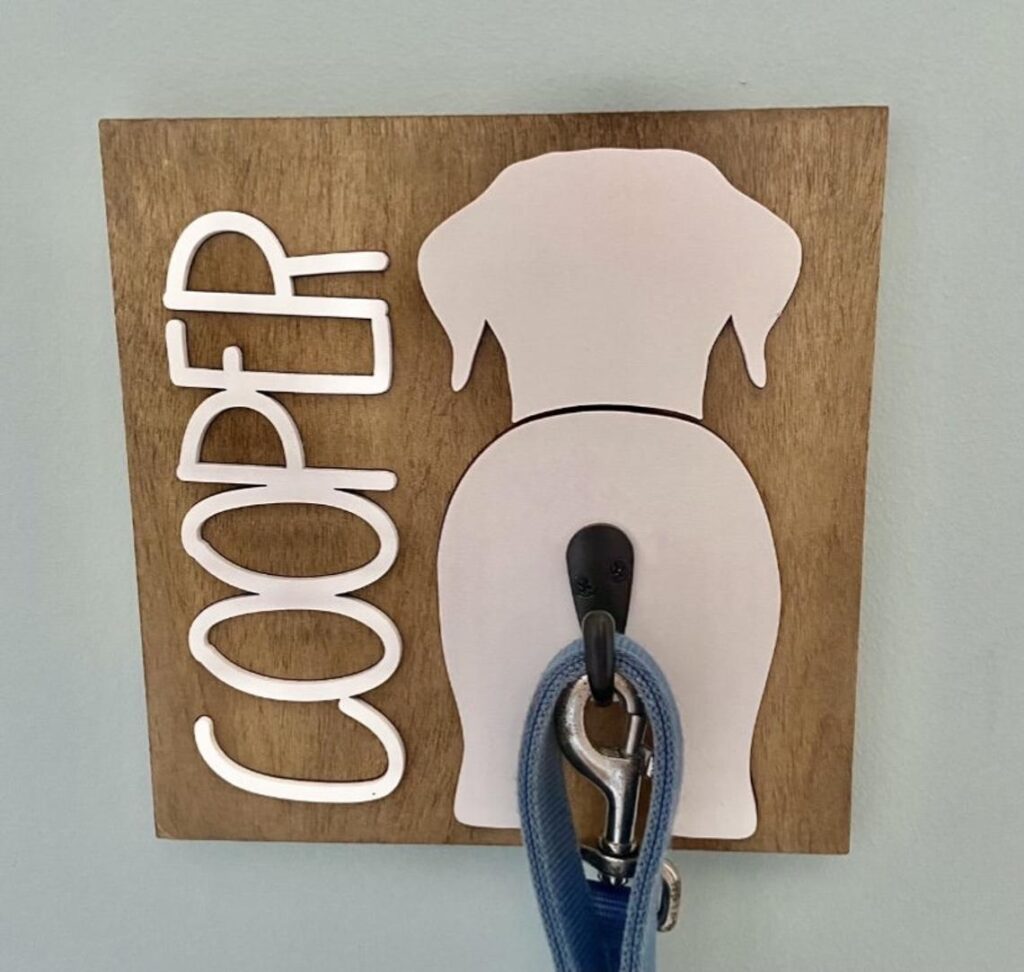 There's nothing cuter than a caboose, and this wooden leash holder isn't afraid to show it off with a full backside view. The leash hook even serves as the dog's tail! You can customize it with the silhouettes of different dog breeds. For example, you can get a from-behind look of a Beagle's droopy ears or a Corgi's distinctively fluffy tush. Add your pet's name for additional cuteness.
---
---
2. Resin Balloon Dog Home Desktop Ornament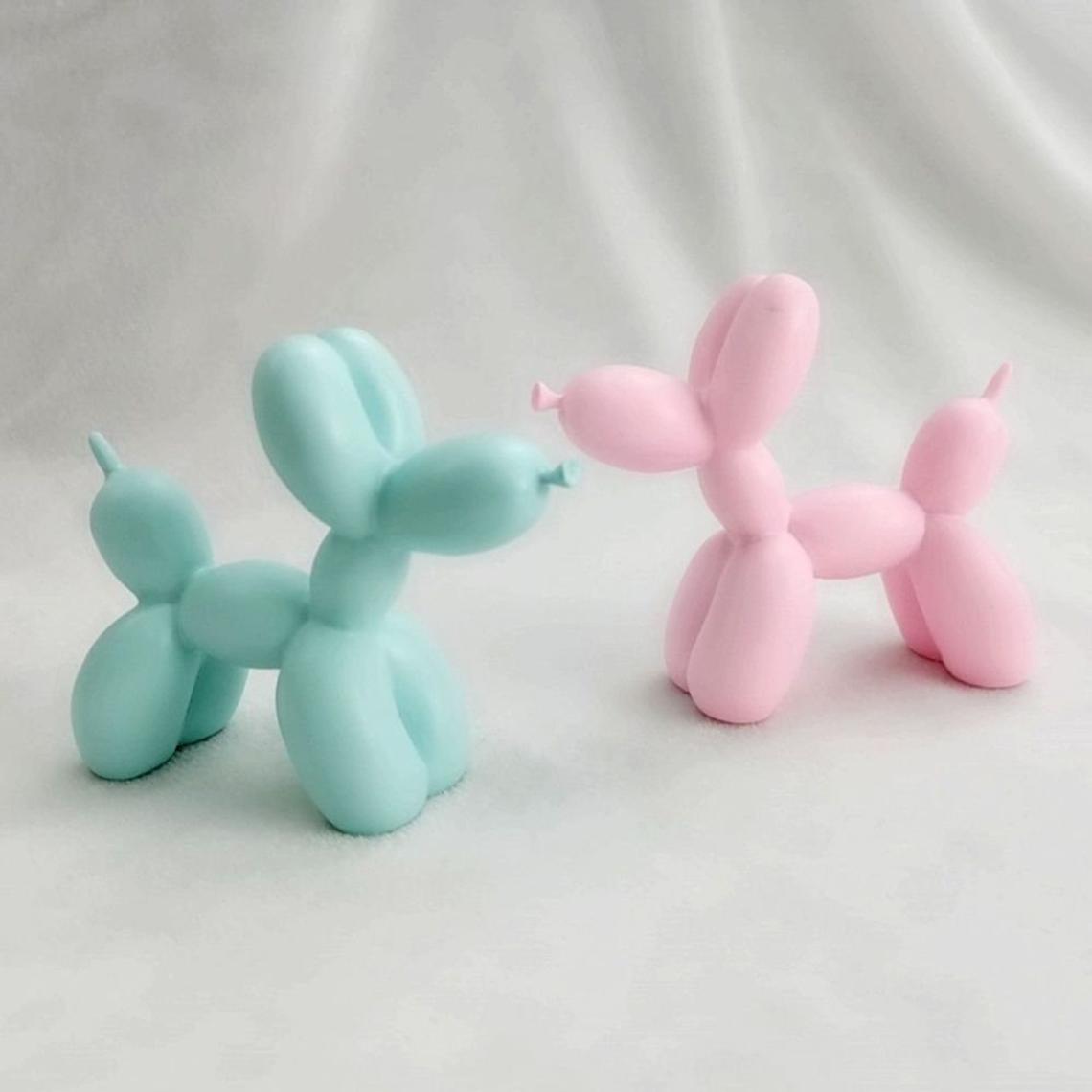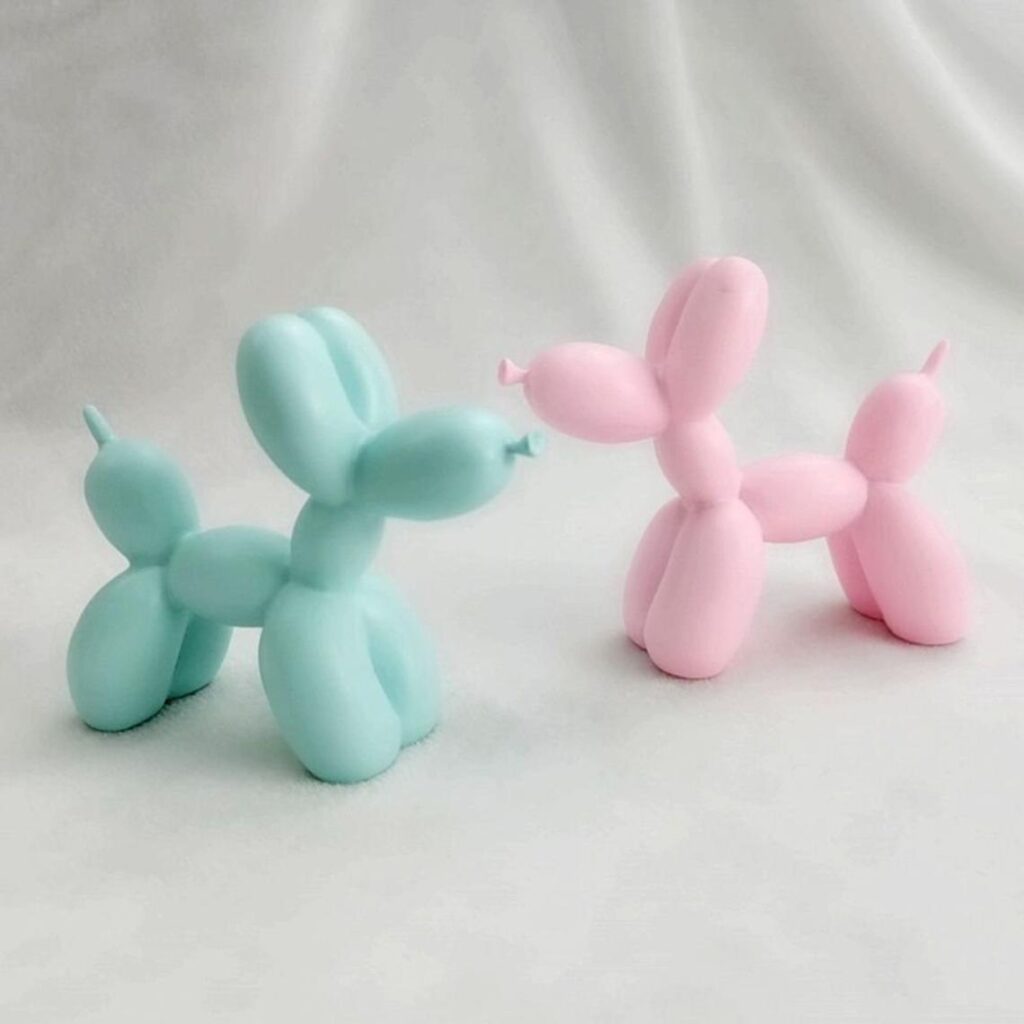 If you have fond memories of getting balloon animals at county fairs, you can recapture the magic in adulthood with this balloon dog figurine. Despite looking just like the real thing, it's made of a smooth, sleek resin, so it won't pop. You can use it as a decorative item for desks, shelves, mantels, and more. Buy the whole set of colors to create a litter!
---
---
3. Cavoodle Notebook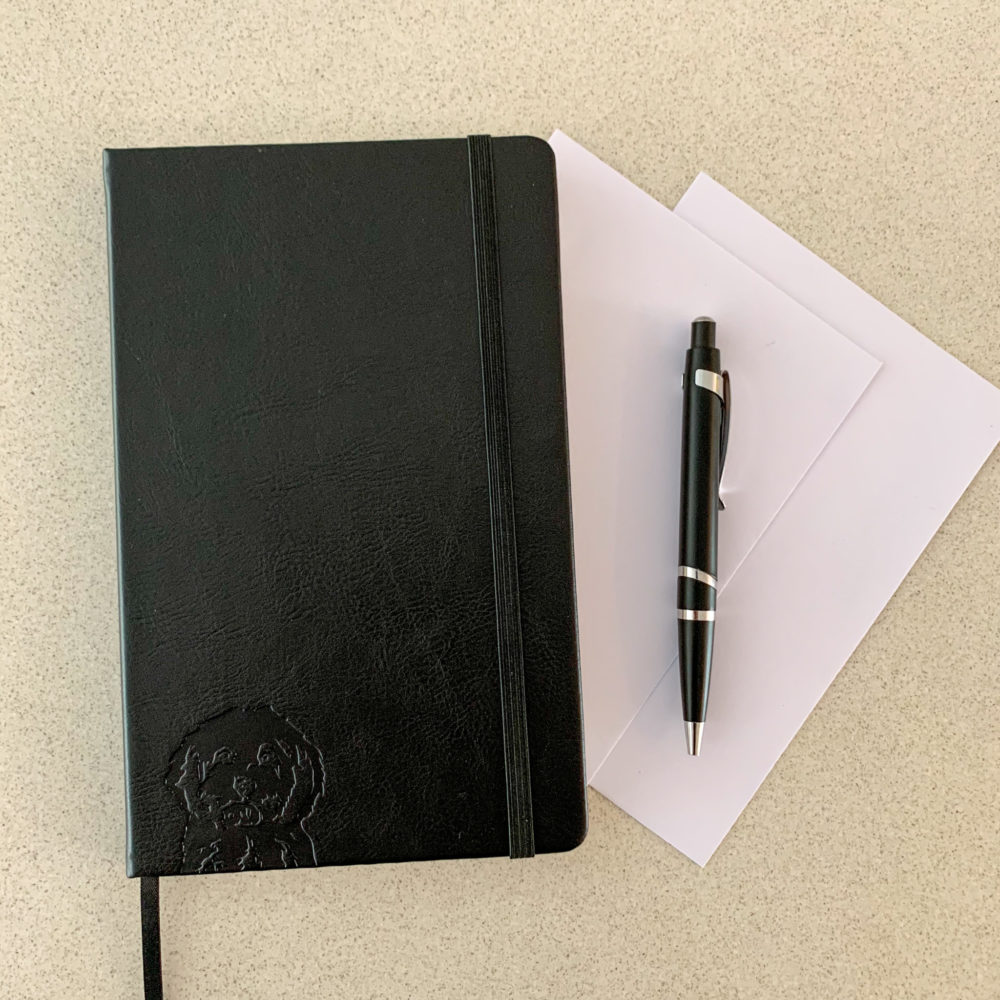 Who can resist the big, soulful eyes of a Cavoodle? With this notebook, you'll be able to take them everywhere that you go. The faux-leather hardcover will be nice and durable while you're on the move, but the compact size will ensure that it stays portable. There are also "extras" like an attached bookmark and an elastic band to wrap around the cover and hold it tight. If you're looking for a notebook that's fashionable and functional, you've just hit the Cavoodle jackpot!
---
---
4. So That My Dog Can Have a Better Life Colorful Coffee Mug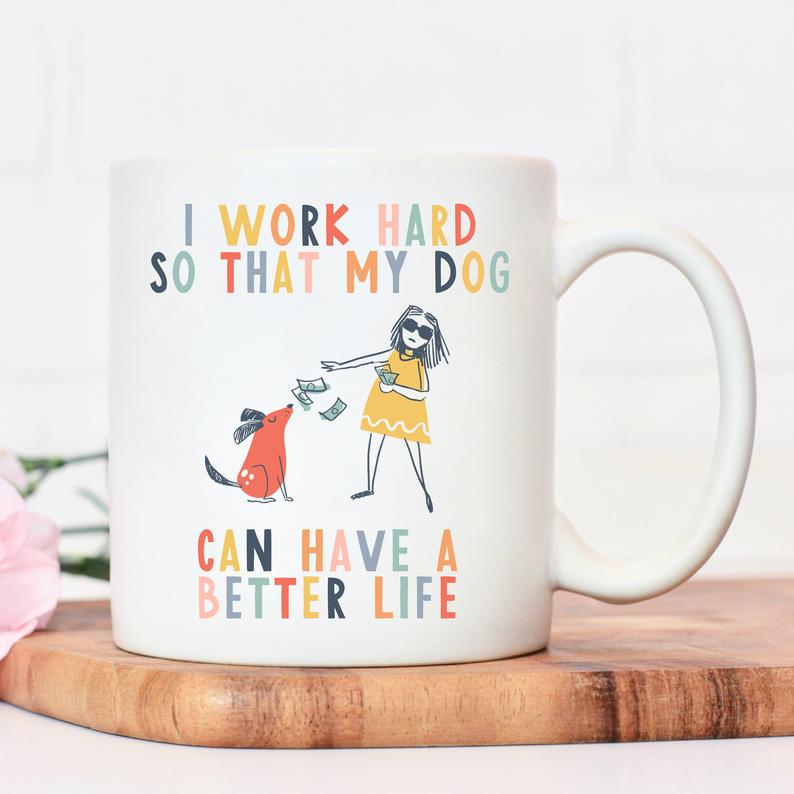 "I work hard so that my dog can have a better life." It's a sentiment that many dog owners would agree with, and with the help of this coffee mug, you can remind yourself of your life's purpose every day. It has a cute, colorful design with a woman showering money over a tail-wagging dog. Everything is printed in fun pastels on white ceramic. It can serve as a fully functional coffee mug if you're a java junkie; otherwise, feel free to repurpose it as a pen or candy holder for your desk.
---
---
5. Three-Piece Dachshund Wall Print Set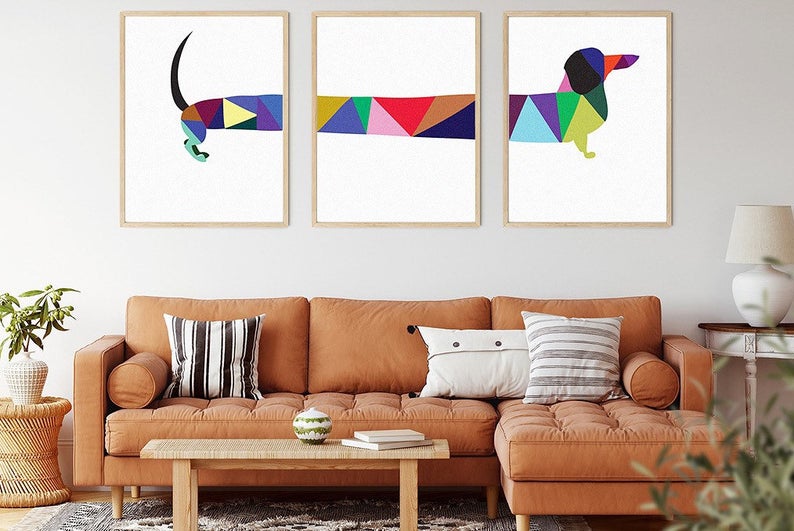 You've never seen Dachshund decor quite like this! The artwork takes advantage of its long, slender body and stretches it out to three different squares. Additionally, it's comprised of multicolored geometric shapes, so it'll have a splashy art-pop feeling against a white wall. It comes unframed, but you can add those yourself. Are you ready to embrace every hilariously long centimeter of a Doxie?
---
---
6. No Need to Knock Customized Dog Doormat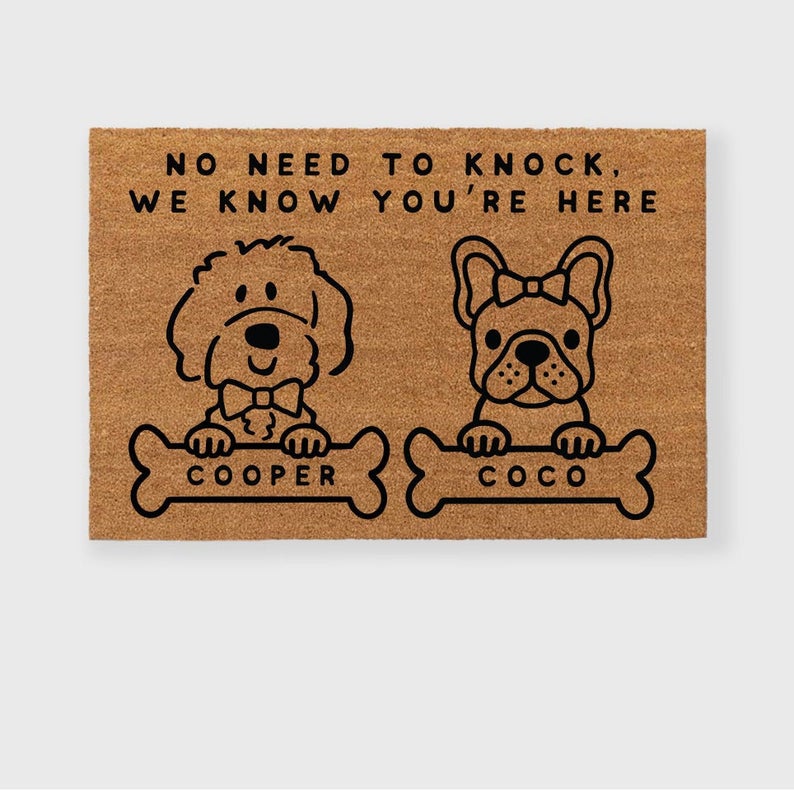 "No need to knock. We know you're here." If your dogs could talk, they'd definitely say something like this to your visitors, which is why this welcome mat is so funny. Another great thing about it is that you can customize it with the names of your dogs and cartoon images of their breeds. For example, you can put Buster the Border Collie right below the text. You can even add ties or bows to mark their gender.
---
---
7. Four-Pack Pit Bull Coasters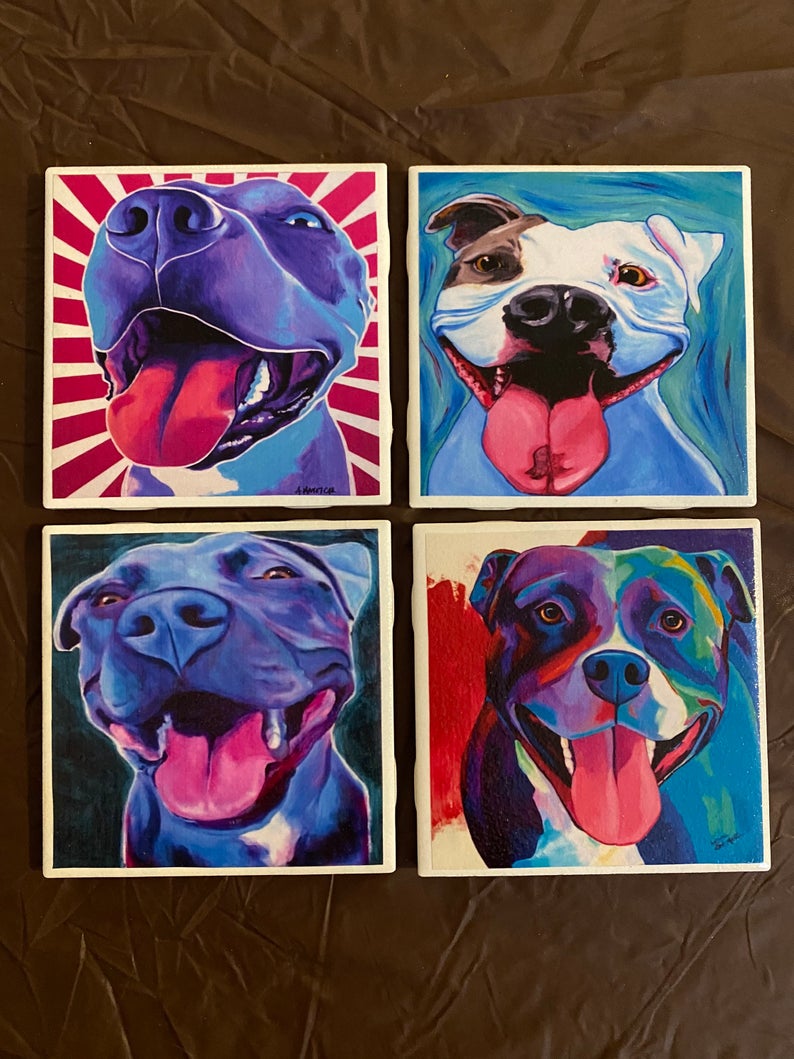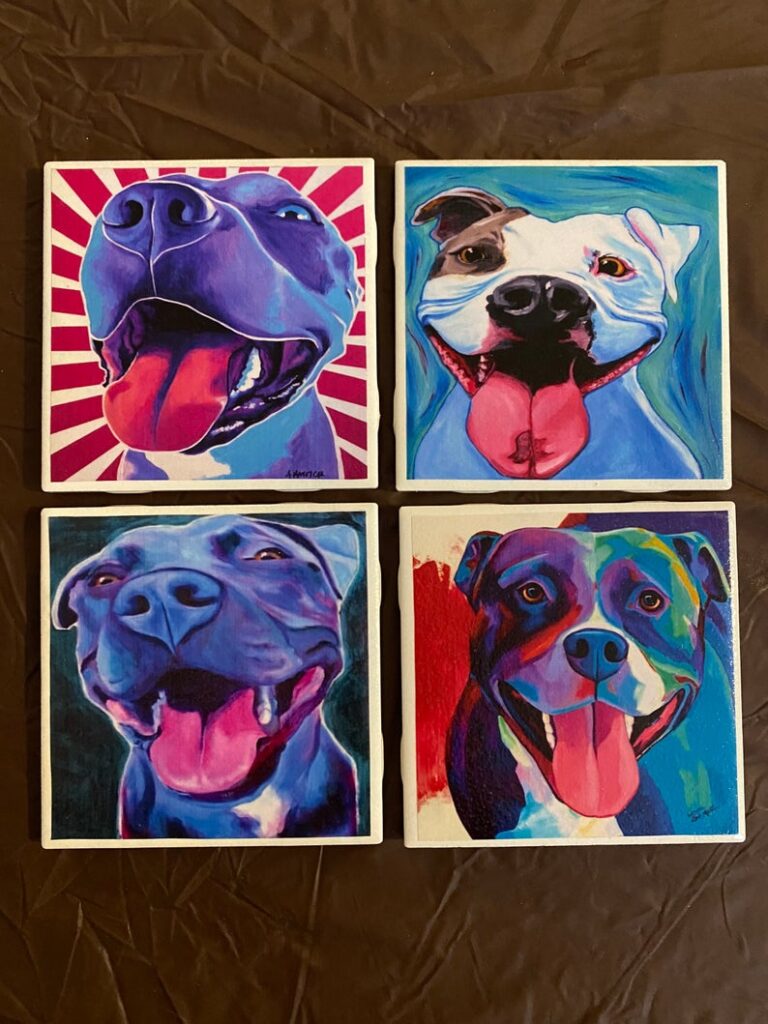 Dog coasters come in all shapes and sizes, but these are especially cute. They have Pit Bills with big, tongue-lolling grins. They completely shatter the stereotype of angry Pitties, and what's more, they do it four times over. Each coaster in this four-pack has a different print. From the good boy bopping your nose to the sweet girl smiling at you with half-closed eyes, these Pit Bulls couldn't be any more adorable or any more unique.
---
---
8. The Book of Frenchies Coffee Table Book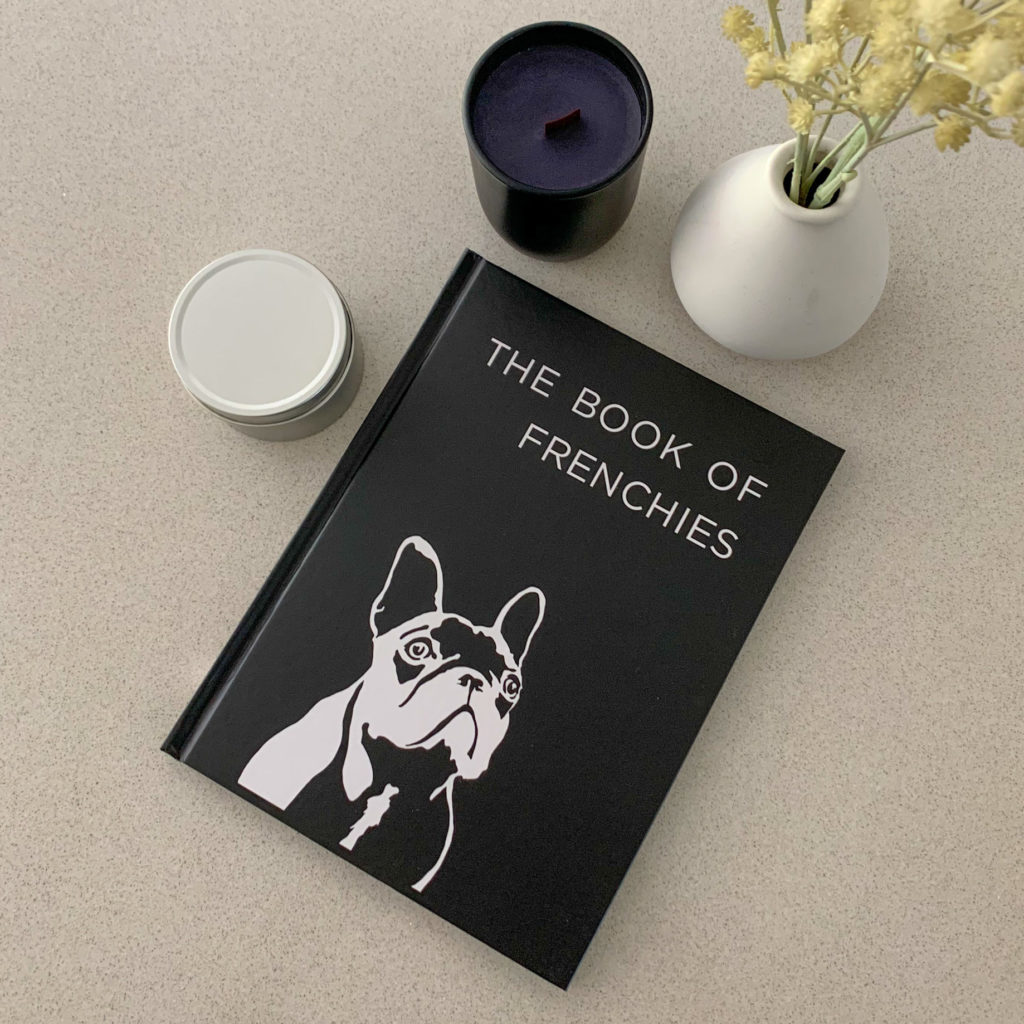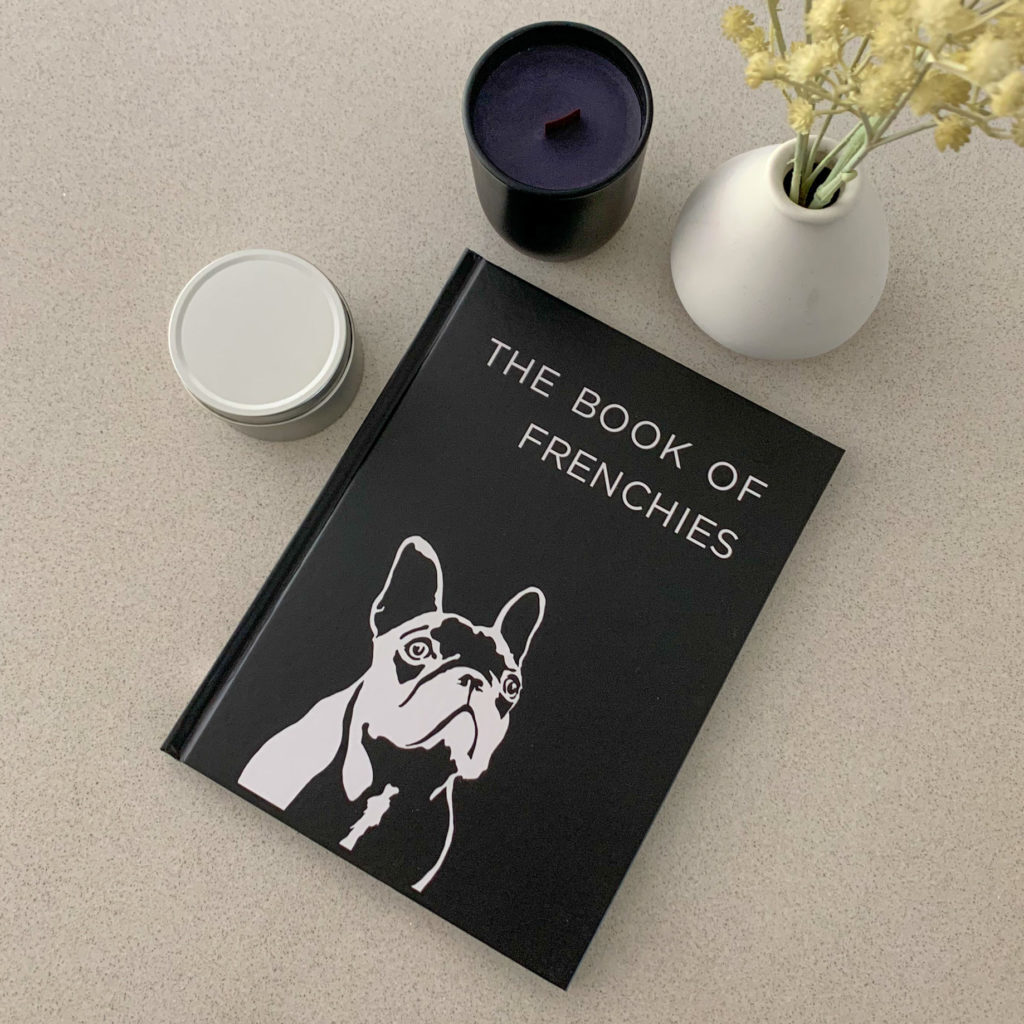 If you're into sleek and stylish French Bulldog decor, The Book of Frenchies will be a way to bring some contemporary chic to your living room. It's a coffee table book with a matte black hardcover decorated with the white silhouette of a French Bulldog. Inside, there are pages and pages of full-color photos, and "Frenchie Facts" are printed alongside them as interesting little nuggets of knowledge. Your guests are bound to be entertained as they flip through it.
---
---
9. 10-Pack Dog Push Pins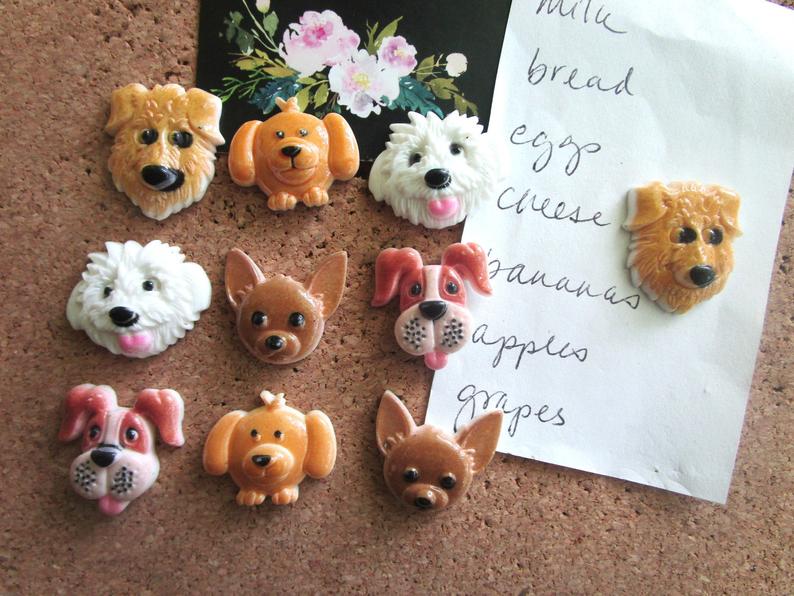 Another great stationery accessory, these push pins are perfect for the dog lover who spends a lot of time writing, crafting, journaling, or scrapbooking. They can be used with any standard corkboard, and they'll stay exactly where you put them as you pin up all of your memos and reminders. There are 10 in total, and each one depicts a different breed. Which one is the cutest? You decide!
---
---
10. Dog Head Rattan Storage Basket With Lid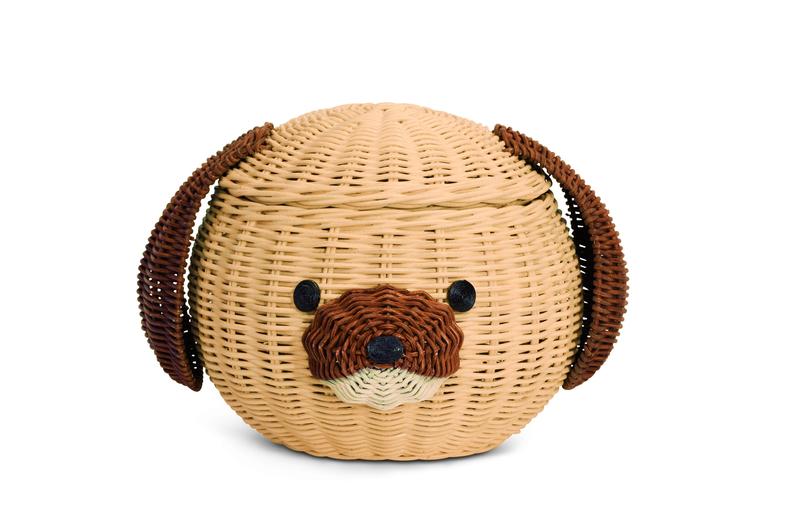 Do you spend most of your life doing laundry? If so, this storage basket is for you. It's made of a rounded brown wicker with fabric attachments that resemble a dog's ears and snout, and it comes with a lid to protect its contents when not in use. You don't actually have to use it for laundry; you could just as easily stash toys, towels and linens inside. The possibilities are endless with a basket this cute.
---
---
11. Canine Confetti Wood Engraved Sign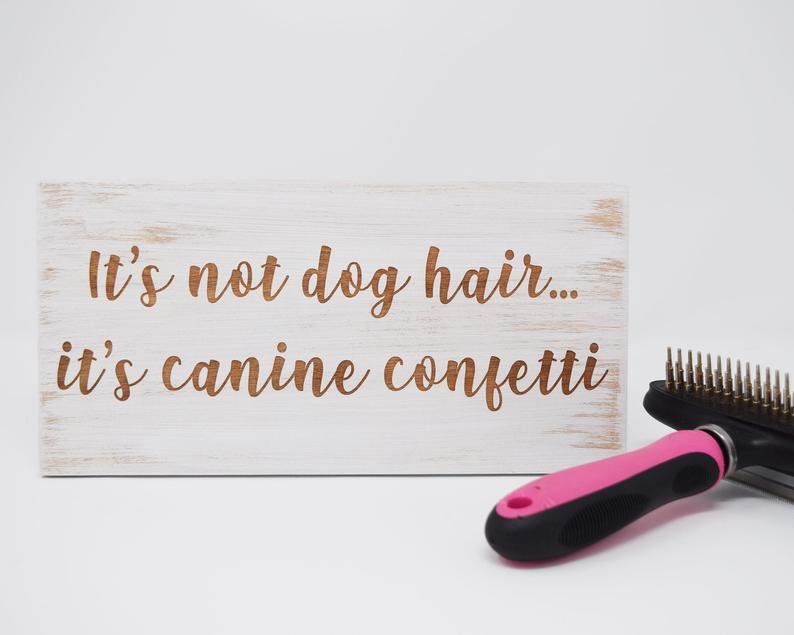 Box signs are one of the hottest trends in modern home decor, and this one is perfect for dog lovers of all types. It says "It's Not Dog Hair… It's Canine Confetti." You can order it in multiple colors that will complement its wooden construction, and different sizes are available depending on whether you want it to be a small living room decoration or a major feature in your foyer. You can even order it with or without a box trim.
---
---
These are just a few dog accessories for home that will show off your love and passion for our furry little friends. There are plenty of others out there, so don't be afraid to browse shops on your own or check out our other lists of dog-themed gifts and goodies!