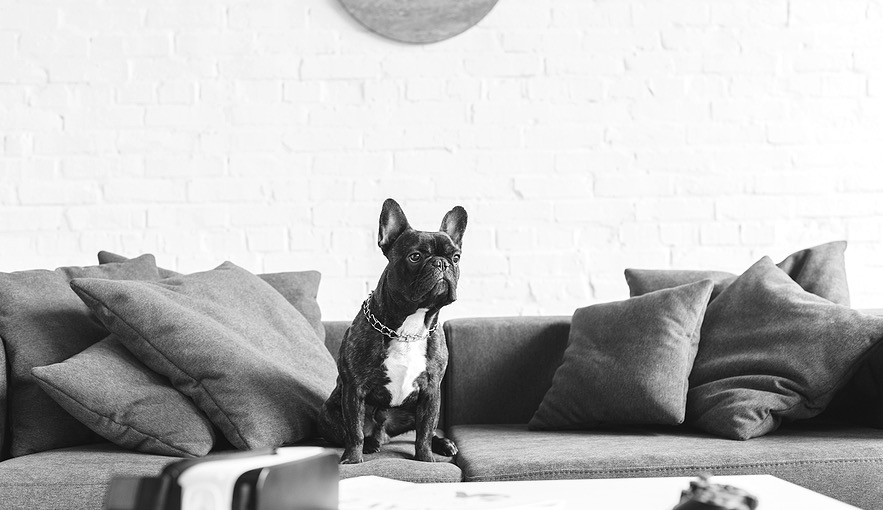 From cute little figurines to sophisticated art prints on gilded paper, the world of French Bulldog decor ideas is vast. It's just a matter of which products are best suited to your unique home style. Here are a few suggestions to get you started with modern Frenchie designs of all types!
1. French Bulldog Gold Jewelry Tray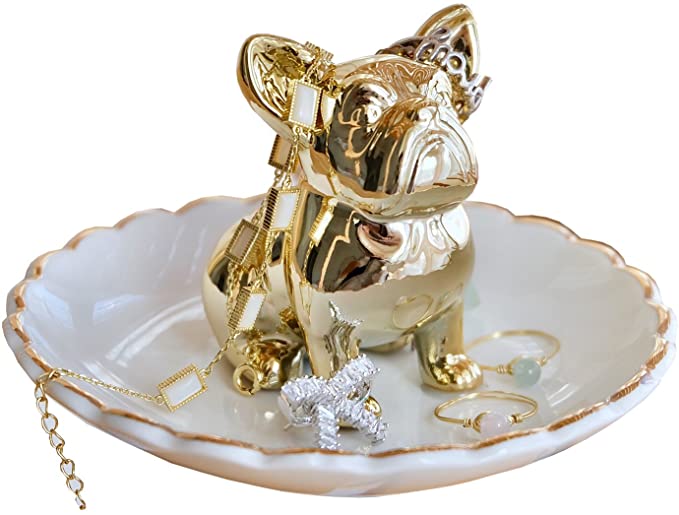 Made with white and gold ceramic, this jewelry tray will be a stylish addition to any vanity. It has a stout little Frenchie sitting atop a saucer with its ears perked high, so it's in the perfect position to hold rings, bangles, bracelets, and other pieces of jewelry. The saucer can be further used for things like pressed flowers or other trinkets or keepsakes. It has a delicate beauty, but it's also quite utilitarian, so it'll be a great dog decor item that ticks multiple boxes.
---
---
2. The Book of Frenchies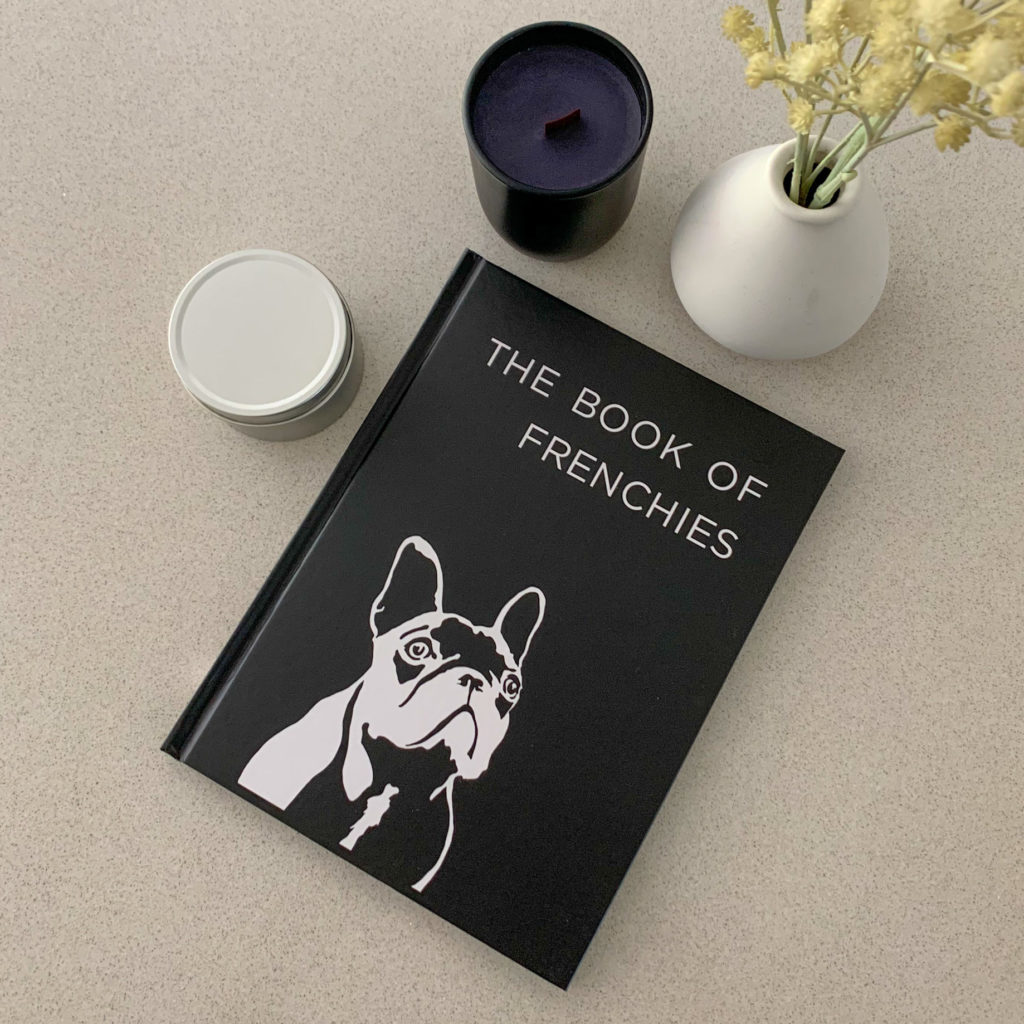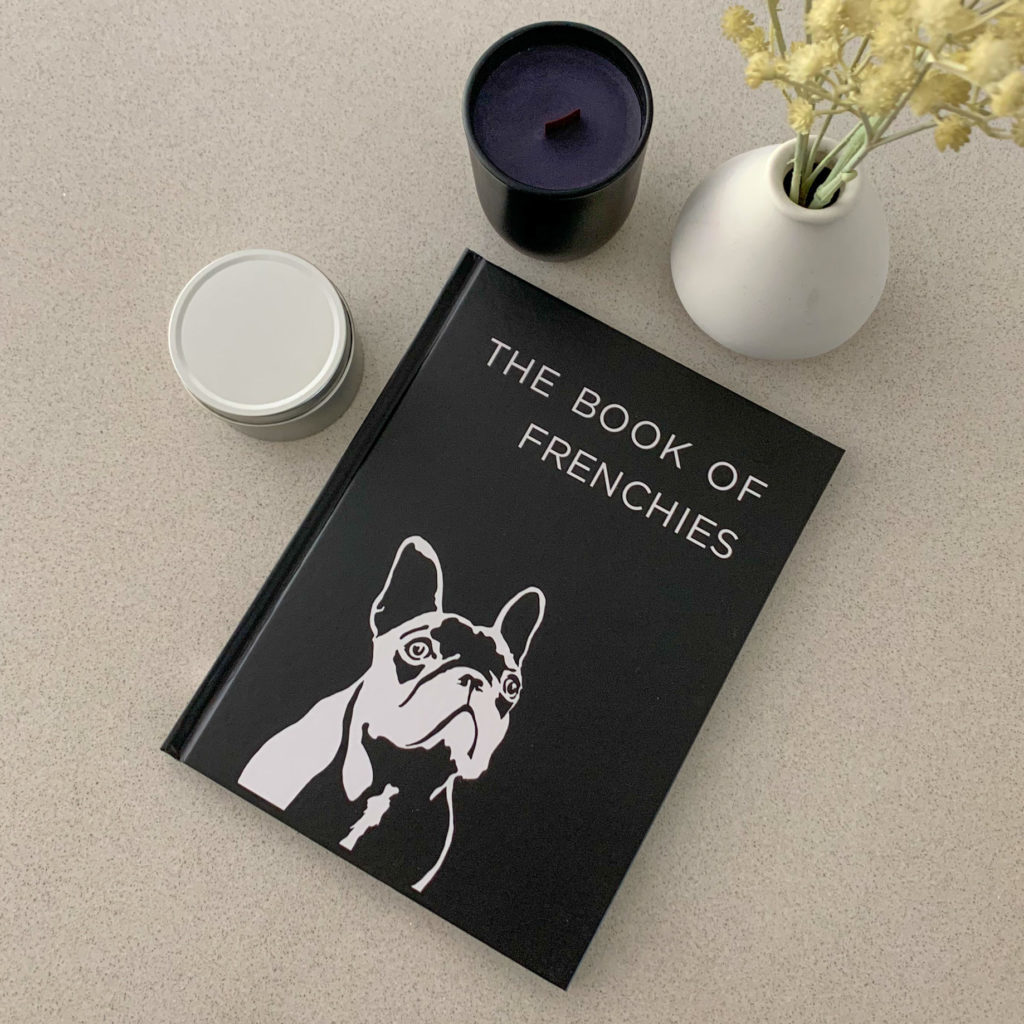 The Book of Frenchies has a sleek black hardcover filled with colorful, high-quality photographs. It's exactly what you'd expect from a coffee table book, and it'll pair wonderfully with a vase of flowers or some attractive coasters.
It offers more than just a stylish appearance, however. Its photographs depict a wide variety of Frenchies, and it's filled with fun facts and trivia about the breed. You might even learn a thing or two about your favorite pups!
Put The Book of Frenchies on your coffee table for a neat, entertaining book that will lend both style and substance to your home.
---
---
3. Concrete French Bulldog Statuettes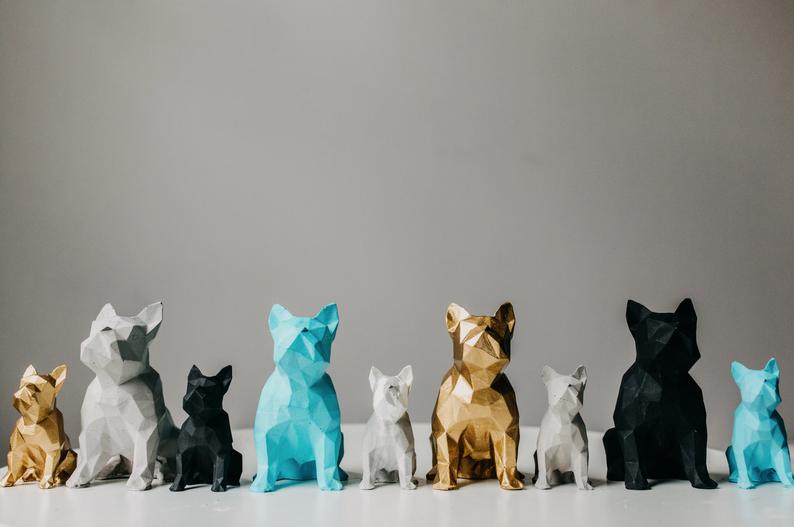 Available in multiple colors, these eye-catching figurines are sure to become talking pieces in your living room. They have bold, angular designs that are almost geometric, and they're made with painted concrete rather than the usual porcelain or resin. Each one is carved by hand, so there's a human element to their design as well.
French Bulldog figurines can be found in all shapes and sizes, but if you're looking for something a little outside of the box, consider these handcrafted, one-of-a-kind decor items. They're much more visually interesting than some of the others that you'll see on the web!
---
---
4. Rectangular Storage Basket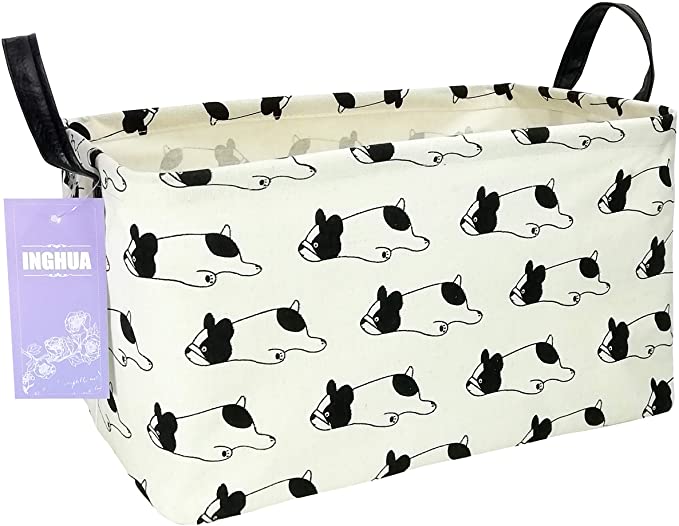 Maybe you have lots of laundry. Maybe you need a place to stash your kid's toys or your spouse's collection of fashion magazines or throw pillows. The great thing about this storage bin is that it can be used for a wide variety of organizational needs, and since it's made with a soft fabric instead of a hard plastic, it's suitable for bedrooms, nurseries, offices, linen closets, and more. It won't even take up that much room; it measures just 14.9 x 10.2 x 9.05 inches. You can add a little Frenchie spirit to your home without sacrificing a ton of floor space to do it!
---
---
5. Home Frenchie Wood Sign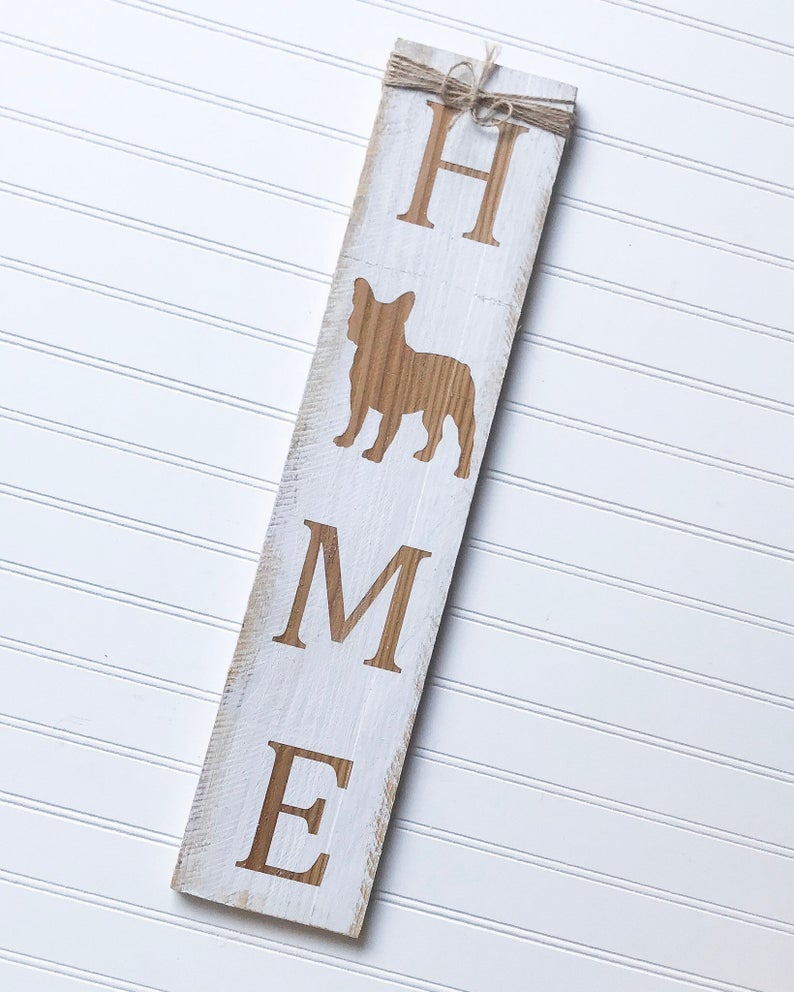 With its painted wood and twine, this rustic, vintage-style sign wouldn't look out of place in a farmhouse. The good news is that you don't have to live in the country to appreciate it! It'll pair nicely with any simple, fashionable home design, especially if you have a French Bulldog to match its "H-O-M-E" lettering where the "O" has been replaced with a Frenchie. Its rustic charm is just as sweet as it is quaint.
---
---
6. French Bulldog Sniffs Decal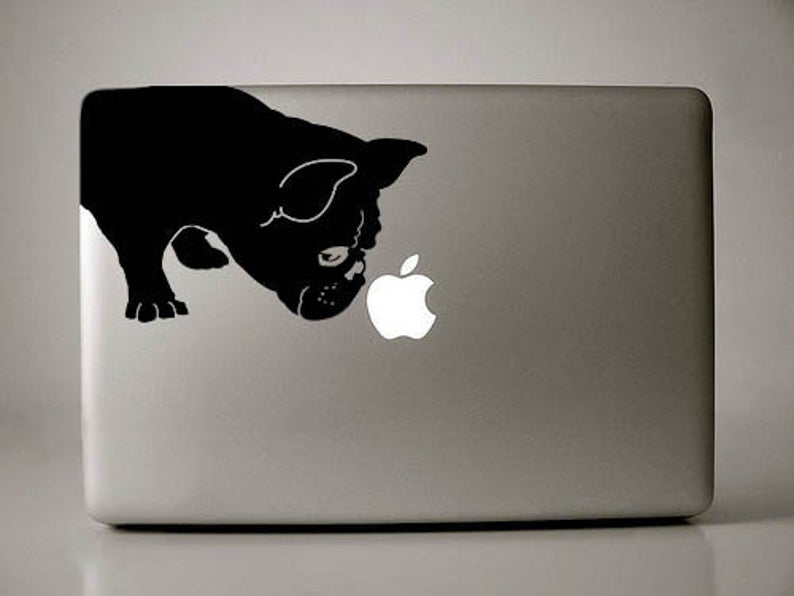 Though they're advertised as laptop decals, you could stick these cute little suckers anywhere. They're made with a glossy, high-grade vinyl adhesive that will attach to any flat surface, so they'll work just fine on walls, windows, desks, bumpers, lockers, skateboards, and other similar areas. Best of all, the French Bulldog is in "sniff mode," so you can turn them into a clever joke by having the pup sniff at a light switch or lock!
---
---
7. Four-Pack Sleeping French Bulldog Refrigerator Magnets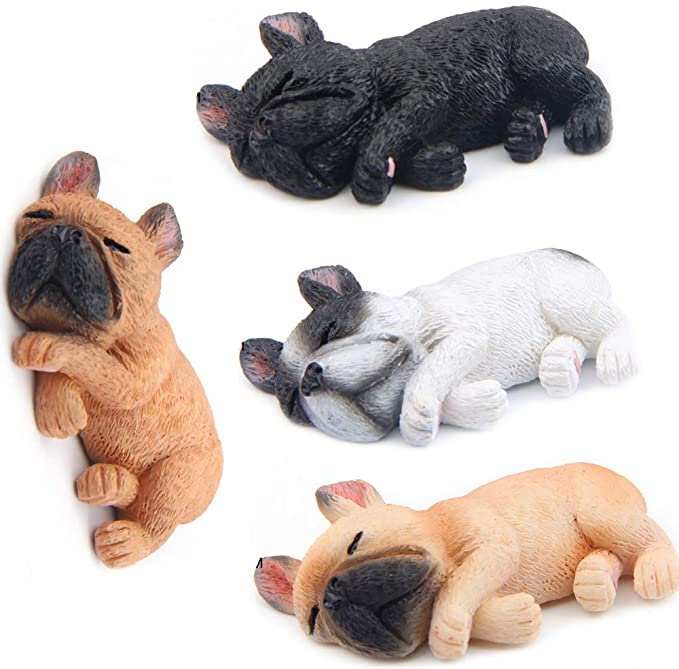 Is there anything cuter than a sleeping Frenchie? If you answered "yes," these fridge magnets will prove you wrong.
Each one depicts a French Bulldog taking a snooze, and is more adorable than the last. Not only do they have sweet and surprisingly lifelike details, but they're 3D, so they aren't just printouts of pictures on a flat-faced magnet. They're real little Frenchies that you can cradle in your hand as you attach them to notes, appointment reminders and your children's drawings.
If it's time to upgrade your fridge magnets, you know what to do. Give them a French Bulldog makeover!
---
---
8. French Bulldog Puppy Watercolor Towel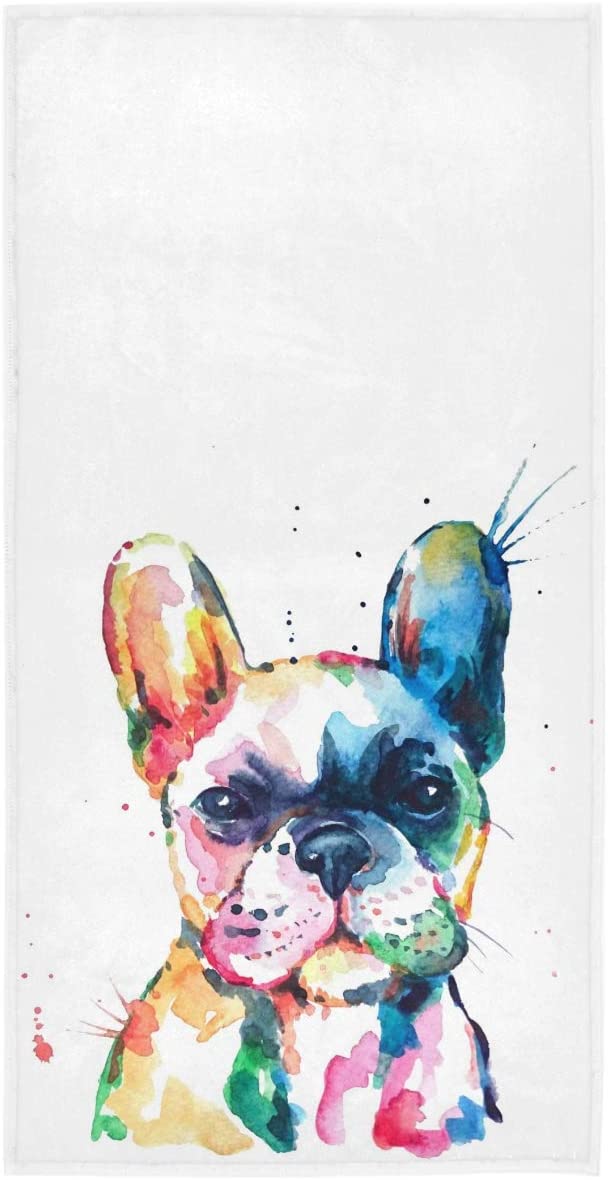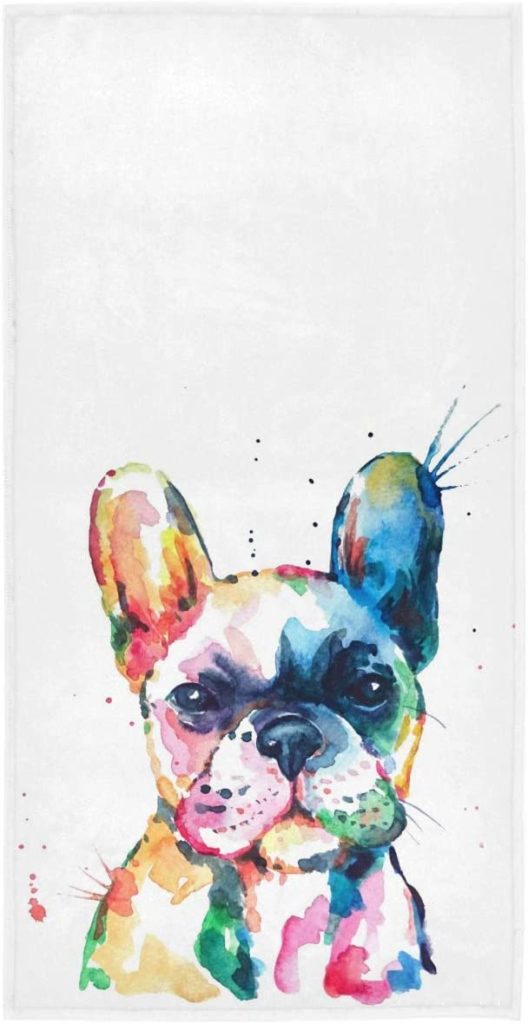 There's no shortage of French Bulldog towels out there, but there's something special about this one.
Maybe it's the soft watercolor design that says "chic" rather than "kitsch." Maybe it's the microfiber material with the non-toxic, water-soluble dye that will make you feel good about being eco-friendly.
Maybe it's just the fact that you can use this towel for everything! From the beach to the bathroom, this French Bulldog will have you covered. It'll be a great purchase for yourself and an even greater purchase as a French Bulldog gift for someone else.
---
---
9. French Bulldog Key Rack and Dog Leash Hanger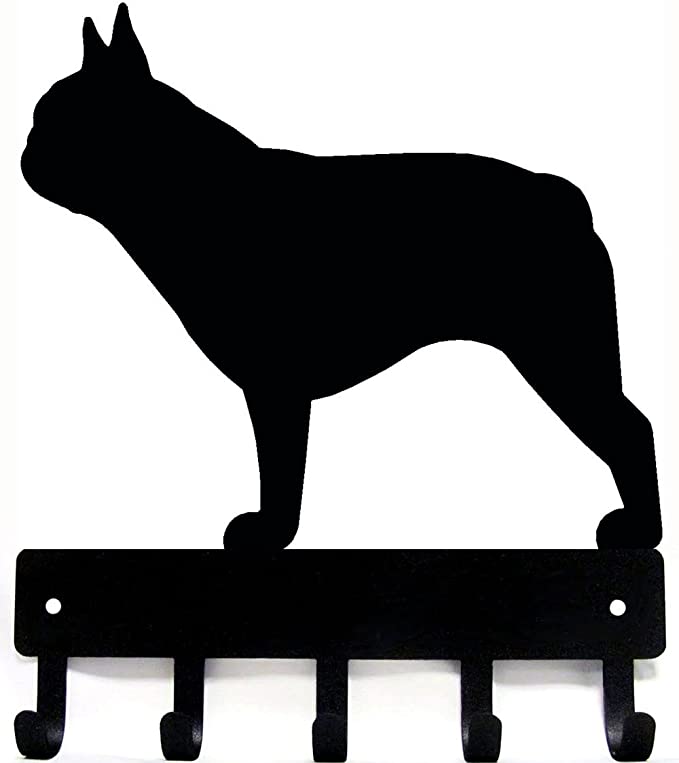 Another great tool for home organization, this hanging rack can be used for keys, coats, hats, scarves, and more. You could even use it for your pup's collars and leashes! It's available in two sizes, so depending on the needs of your family, you can upgrade or downgrade its length and its total number of hooks. Either way, the powder-coated steel silhouette of the French Bulldog will remain the same. It will faithfully guard your belongings until you need them again.
---
---
10. Bright and Colorful French Bulldog Four-Panel Hippie Wall Art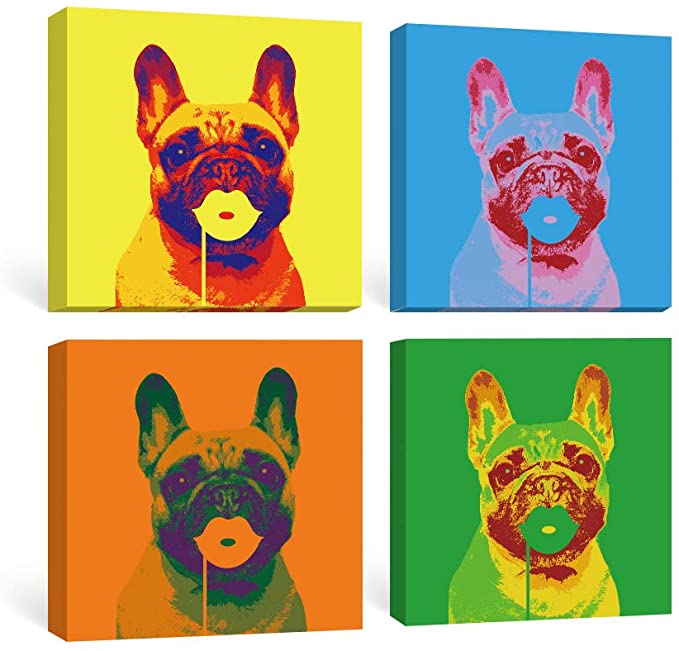 You can't miss these art pieces when you step into a room. Painted with bold, florescent colors, they truly live up to the name of "pop art" by popping off the wall with their dynamic designs. They're almost Warhol-esque with the energy and vibrancy, especially when you consider the kiss-ready lips that have been put over the Frenchie faces.
There are four pieces in total, so you can arrange them as you please. Shape them into a square on a feature wall; line them up in a row over the fireplace. There's a lot that you can do with artwork like this, so the creative possibilities are endless.
---
---
These are just a few suggestions for French Bulldog decor in the modern home. Whether you're looking for cute, trendy accessories or elaborate feature elements, you can find plenty of goods that will celebrate your love of Frenchies and your love of interior design. Happy hunting!