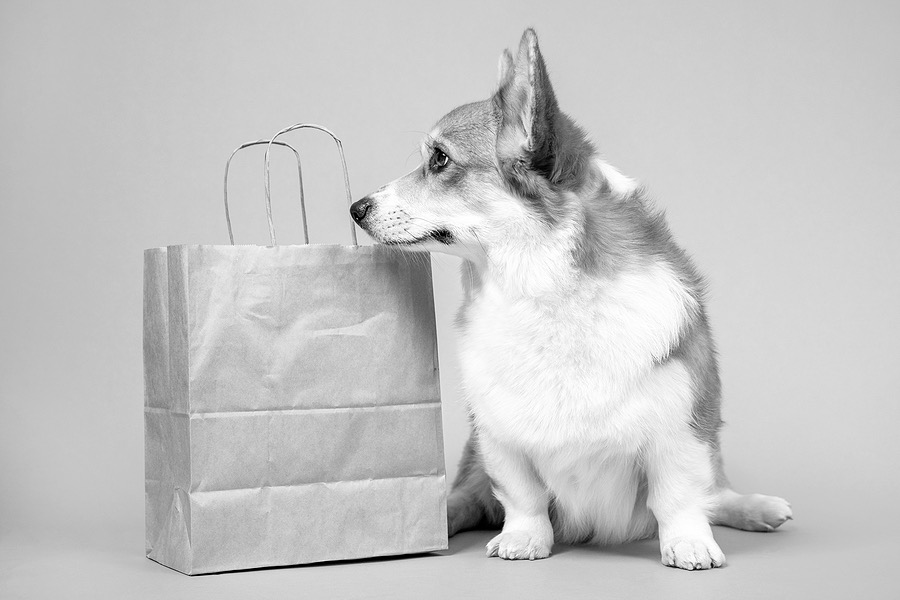 They're cute. They're fluffy. Their butts are widely recognized as some of the funniest in the world. If you know someone who goes coo-coo for Corgis, here are just a few gifts for Corgi lovers that are sure to get their tails wagging!
1. Corgi Cookie Cutter
Do you know someone who loves to bake? You just found their newest cookie cutter. Despite the name, it can be used for a lot more than just cookies; it can be pressed into all kinds of rolls, buns and batters to create numerous tasty treats. Your baking buddy will be able to decorate all of their goodies with a Corgi face! As a bonus, the material is soft and flexible, so clean-up will be a breeze as well.
---
---
2. Guess What? Corgi Butt! Coffee Mug
Corgi owners are very familiar with the cuteness of their rear ends, so if you're looking for a gift that really embodies the spirit of the breed, this is the coffee mug for you. The front says "Guess What," and the back says "Corgi Butt." It can be used for drinking coffee, stashing pencils, or even hoarding candies at an office desk. No matter how it's utilized, it'll be an absolutely adorable present for someone who loves to snuggle with a fluffy little Corgi with a cute tush.
---
---
3. Corgi Hardcover Notebook
With a matte black hardcover that can be bound together with a fabric cord, this notebook is a stylish way to take notes, set appointments, make grocery lists, and chronicle goals and dreams. It has a Corgi imprinted on the front, so it'll be a great gift for a dog lover, but it can also serve as an elegant addition to a desktop or stationery table. Pair it with a coffee table book for the maximum aesthetic!
---
---
4. Welsh Corgi Super Soft Women's Slippers
Laugh in the face of winter with these ultra-soft Corgi slippers. Their ankle fluff will trap heat inside of the fabric, and the fabric itself is so warm and gentle that it'll feel luxuriously soft against your skin. The funky Corgi print will just be a bonus to the very real comfort that these slippers can provide.
---
---
5. Four-Pack Corgi Hair Scrunchies
Perfect for a '80s or '90s kid, these vintage-style hair scrunchies will take them back to the glory days of baggy shirts worn over rainbow leggings and high tops. Each one has a fun, bright color and a Corgi print to add even more flair. Your gift recipient will be the flyest new kid on the block!
---
---
6. Corgi Pendant Necklace
Available in gold, silver and rose gold, this necklace will shimmer with delicate beauty even as it showcases the wearer's love for animals. The pendant is small and discreet, so it isn't a kitschy piece of jewelry; it has a sophisticated style that will pair well with a high-class wardrobe. It just so happens to be shaped like a Corgi when you look a little closer.
---
---
7. Corgi Etched Glass Coaster
Jade coasters can complement almost any kind of interior design, and these have even more style with their beveled edges and frosted-glass Corgi prints. You can also customize them with a name or date if you want to go the extra mile and give a personalized gift. These coasters are so nice that the other person might not want to use them at all. They might just become decorative display items!
---
---
8. Corgi Cutting Board
Made with recycled materials, this Corgi cutting board is both elegant and eco-friendly. You can order it in multiple colors, including white, black, grey, brown and marble, and each one is sleekly functional with a non-porous surface and rubber feet on the bottom. Give it to your favorite chef and let them enjoy a little bark with their food.
---
---
9. Super Fluffy Corgi Portable LED Light
Drift off into dreamland with the gentle glow of this LED light. It's shaped like a round, friendly Corgi, and it operates on a built-in timer that will turn itself off after you've fallen asleep. It'll be suitable for Corgi lovers of all ages, so whether you're shopping for a kid's nightlight or an adult's reading lamp, this little guy can get the job done.
---
---
10. Best Corgi Dad Ever T-Shirt
Women aren't the only ones who can appreciate a good Corgi gift, and this t-shirt will be a wonderful way to celebrate the dog dads in your life. It says "Best Corgi Dad Ever" with a colorfully retro print of a Corgi fist-bumping its owner. It's casual enough to be funny while also showcasing real love for a guy who takes care of his pets.
---
---
11. Corgi Personalized Doormat
Another great option in personalized gifts, this welcome mat says "(Name) Lives Here With His People" under the silhouette of a Corgi. You can also have it customized with other pronouns, including "she" and even "they" if the other person has multiple dogs at home. The material is soft coir, and the print is big and bold. It'll be an awesome gift for the whole Corgi family.
---
---
12. Life Is Short Corgi Magnet
If you're looking for a small, affordable gift that can serve as a stocking suffer or party favor, this magnet might do the trick. It has a cartoon Corgi lounging on a bright purple background, and its text says, "Life is short. So are my legs." It'll be a fun little present for a Corgi owner, but it won't break the bank if you need to wrap up something quick and easy.
---
---
13. Corgi Succulent Planter
A smiling face can do wonders for the longevity of your plants, and with the help of these cute little Corgi planters, your agaves and aloe veras will always be raised with joy. You can order them in both "standing" and "sleeping" positions, and you can fill them with whatever you'd like. It doesn't have to be soil and seeds. You could also use them for storing things like paper clips, hard candies, and pencil erasers.
---
---
14. Corgi Frosted Glass Bottle
Anyone can buy a water bottle with a cheap joke printed on it. If you want something that's truly fashionable, get a frosted water bottle made with borosilicate glass. This one is decorated with small, adorable Corgis, but its design doesn't at all detract from its splendor. It's the kind of gift that will definitely become a centerpiece in a stylish kitchen.
---
---
15. Personalized Corgi Dog Treat Jar
This is a gift for someone who spoils their Corgi rotten. It's a ceramic treat jar with a mahogany-finished lid, so it's quite stylish, but it's functional as well. No dog will be able to gnaw away its lid and sneak a snack ball. As a bonus, you can customize it with a name and a different-colored Corgi depending on the appearance of your buddy's dog.
---
---
16. Hello Corgeous Peeking Corgi Sticker
Last but not least, if you want to put a smile on their face, buy them a sticker with an irresistibly cute Corgi. This one says "Hello Corgeous" with a happy, bright-eyed puppy peering over the edge and letting their tongue roll out. It's the kind of sticker that demands an "awwww," so it'll be perfect for desks, walls, windows, cups, lockers, and anything else that could use some pick-me-up energy.
---
---
Maybe you're holiday shopping. Maybe you're looking for an amazing birthday or anniversary gift. Whatever your reason for browsing dog-themed presents, consider some of these gifts for Corgi lovers!