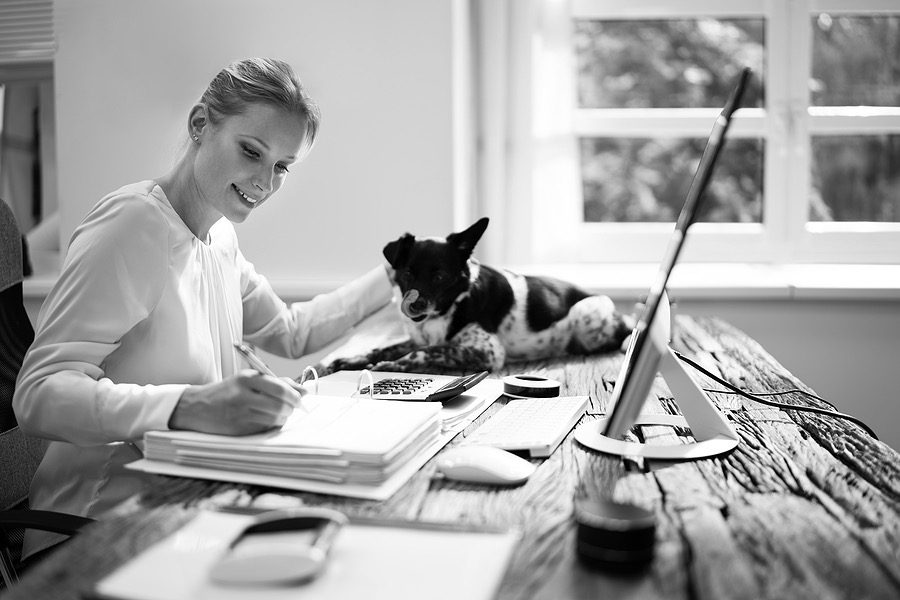 Maybe you're a fan of old-fashioned letters and postcards. Maybe you send a lot of memos at work and are wondering how to put your own personal stamp on your correspondence. Maybe you just like collecting diaries and planners for the fun of it! Whatever your reasons for seeking dog stationery, here are a few that are sure to leave paw prints on your heart.
Frenchies are usually comical, but this planner does something different with its stately portrait of a French Bulldog gazing into the distance. Its debossed leather hardcover is the definition of chic, and it invokes a minimalist style even as it's filled with organizational tools such as tabs, pockets, pen loops, and ring binders. You'll look cool and poised with this Frenchie tucked under your arm. (See other French Bulldog gift ideas here)
---
---
Corgis are already cute, but when you give them a kawaii-style makeover and put their smiling faces on lemon-colored washi tape, you've just guaranteed a cuteness overload. If your heart can handle it, however, you'll find this washi tape to be fun and functional for all of your crafting, journaling, and scrapbooking projects. (See other Corgi gift ideas here)
---
---
Available in sets of 12, 24, and 48, these "thank you" cards have color and warmth that give a truly personal touch. Each one is decorated with the soft pastels and blurred edges of a watercolor print, and different dog breeds are framed in their center by floral borders and gentle butterflies. As a bonus, each card comes with an eco-friendly envelope made from recycled twig, so you'll be helping and healing the planet with your gratitude.
---
---
Everything about this notebook is luxurious. From its stylish take on a Dalmatian print to its thick white pages lightly lined in gold, this is the kind of notebook that elevates stationery into an art form. It's so beautiful that you might be reluctant to actually use it!
---
---
The top of this writing pad has your name, and the bottom is lined with cute cartoon puppies of various breeds. You can also customize your notepad in multiple ways, so if you want different sizes, colors, or lined/unlined spaces, you can play around with the order options until you find something that looks just right.
---
---
Just about bursting out of the box, this planner kit is chock-full of organizational aids, including labels, stickers, checklists, date covers, notebook headers, and washi-style strip tape. There are even specific stickers for things like habit tracking and reminding you of your bills and due dates. The sweet cartoon dogs cheering you on are just icing on the cake.
---
---
If you run a home or delivery business, you're probably familiar with poly mailers. Did you know, however, that you don't have to send your goods in dull brown mailers? You can order bright, joyful mailers like this one, which is printed with black-and-white dogs as well as bones and paw prints on a vividly orange background. No one in the post office will lose this package.
---
---
With its petite measurements and no-nonsense wire binding, this notebook is just as cute and compact as the dogs depicted on the cover. It lives up to its description as a bullet journal by being a handy writing tool that you can take anywhere. You can even customize its pages with lines, dots, or grids depending on whether you want to write, draw, or graph. This cute little notebook is ideal for all kinds of tasks.
---
---
Cheekily nicknamed the "wiener dog collection," these stickers are cute, colorful, and utterly irresistible. There are 48 in all, and each one depicts a Dachshund in a patterned sweater or body warmer. The remarkable thing is that no two patterns are alike, so you'll be awash in stripes, florals, and checkmarks in a variety of prints. (Check out more Dachshund gift ideas here)
---
---
"Be The Person Your Dog Thinks You Are." It's a funny yet surprisingly inspirational mantra, and with this notebook, you can keep it close to you. Dogs decorate the front cover in a bold and dense pattern while the quote is stamped front and center. You can add a name at the bottom to customize it for yourself or others.
---
---
With its straight-spined hardcover design, this journal is both dapper and durable. It's debossed with the print of a Vizsla and offers almost 200 pages for thoughts, ideas, lists, stories, doodles, and more. Another nice feature is the A5 measurements that will keep it nice and portable for scribbling on the go, so if you've got places to be, this is a notebook that can keep up.
---
---
With a friendly golden lab on eggshell-colored paper, these notes are just as cute as they are convenient. You can even personalize them with your name or a short introduction like "a note from ___" or "from the desk of ___." Each note comes with a fitted white-and-yellow envelope covered in paw prints, and you can upgrade your order to include envelope liners for extra style and security.
---
---
Greyhounds are known for being long and lean, and this notebook matches their style with its slender 14.5 x 9 x 1.5 cm measurements. It's small and thin enough to slip into your back pocket! Despite its size, however, it's a very functional notebook that comes with everything from an attached bookmark to an elastic fastener. Its appearance is deceiving.
---
---
Perfect for a newly-adopted dog, this memory book is part planner, part scrapbook, and part diary. It has room for both photos and stories about a new pooch as well as organizational spaces that chronicle likes, dislikes, habits, preferences, and more. It'll be a lovely gift for a recent dog owner, or you can buy it for yourself and reap the benefits of a homemade doggy memoir.
---
---
For something a little different, consider this notebook. Not only does it boast a wooden cover, but a paw print is cut from the bottom to reveal a colorful flyleaf underneath, and you can choose from black, turquoise, or bone print patterns for extra pizzazz. Three metal binder rings hold it all together, so you can add or remove pages at will. It'll be a uniquely stylish notebook for dog lovers of all types. (See more unique dog lover gift ideas here)
---
---
Whether you're shopping for a gift, sprucing up your office, or putting together an epic writing desk, these are just a few pieces of dog stationery that will bring paws and snuffles to the task. Enjoy!